In today's world of left and right swiping, it's not surprising to know that a breakup email brings value to the sales process. On one hand, it's a simple way to end the conversation and allow you to feel better about letting go. On the other hand, most break up emails are cheesy at best and completely suck at worst. Truth be told, I applaud them, love them, use them, and think they are great.  
I know that in 2017 people break up by text, at least that's what I hear happens. And in certain ways I'm probably a bit jealous of that technology. But let's face it, that only works in certain situations.
Maybe it's me, but at what point does a phone call or text break up not meet the minimum requirement of respect for the other party?  If you have been dating someone a few weeks, I get it. A few months, maybe. But if you have been dating someone 6 months, a year, or longer, a text will not cut it.
If you can get away with a single and finite breakup moment, fantastic. But let's not kid ourselves, sometimes when we do that, we have broken up remorse. It may not be immediate. Maybe we need to date a lunatic to truly appreciate what we walked away from.
I am sure there are exceptions to this rule, but my gut says we don't have much love for those who've done that to us after investing a serious amount of time into a relationship.
What this means is that real breakups often take time to unwind, or as the therapists call it "untangle", from one another. This means to break up remorse, drunk dialing, drunk texting, and of course the late night, "Hey, can I come over?" At the moment it sounds good, but in reality the next day you are still left with the awkward and uncomfortable feeling of "Oh crap, now what do I do?"  
Many folks wish for a single finite breakup moment. But as you can see, the real world doesn't always allow for that. You think it's a single email. At the moment it feels great, but sometimes when it's over you feel guilty, unfulfilled, and sometimes wishing you hadn't hit send.
Look at it another way. For the last several years in sales and particularly inside sales and the SDR world we have been living religiously by the multiple touches, account-based marketing, sequence creation of getting people just to accept the first meeting. In some cases, the same approach is used to get them into the funnel, even without a meeting.
Yet after 6, 8, 10 touches we think a single break up email is going to cause enough remorse that they will respond. Now, it works; we know it works. But does it work as well as they used to? No. So the first thing wrong with your break up email is that you think it's a finite moment. It's not a single email; it's a series of emails. More on that later.
Falling vending machines, being chased by a hippo, fallen and can't get up. Yup, we've all seen them, and in many cases, we've sent them or one similar to them. Yes, they are funny but in many instances, they have worn out their welcome.
Hint: If you sell into the technology space and are sending cheesy breakup emails then I've got news for you. Bring your A-game. Our experience with humor has moved to the lovable animals, smurfs, or muppets. If you want to find a fun way to get someone's attention. Find a silly picture that's non-offensive and use it in your signature.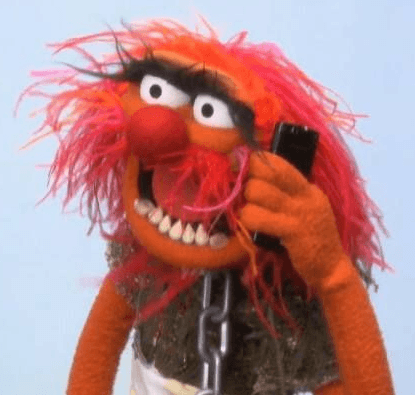 So one email doesn't cut it. Your humor has gotten stale. So now what? What we think is that emails need to be a sequence just like prospecting. We think they should start gently, and then move towards a final moment. Here is an example of a breakup email sequence.
Break Up Email #1 – Are You Ok?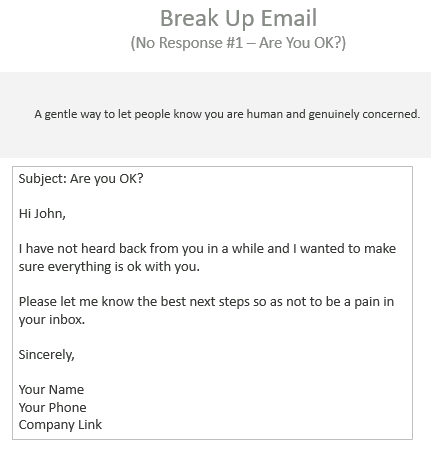 Break Up Email #2 – Multiple Choice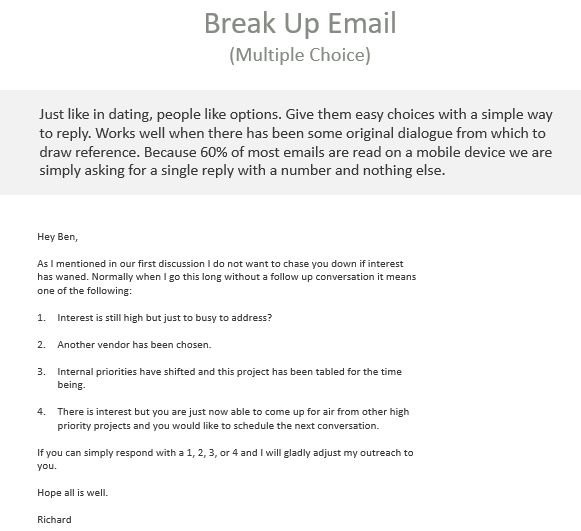 Break Up Email #3 – The Professional Courtesy of A Reply is Requested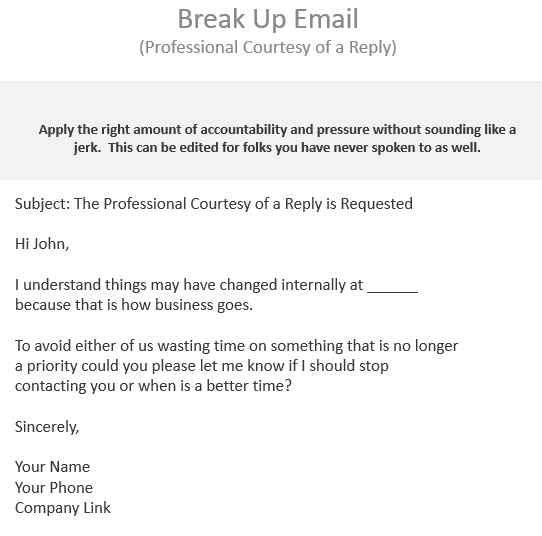 Break Up Email #4 – Going Around or Going Above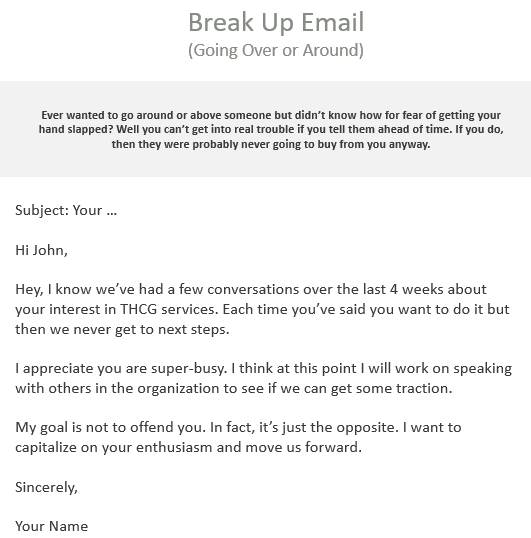 As my mother always said, "It's better to be the dump-er than the dump-ee." As usual, Mom's advice is spot on, even if it may cause a few extra therapy sessions around "commitment issues", but that's for another blog post.  
Would love to hear from you about your experiences with the breakup emails. Can you do it in a single email or do you feel a sequence might be better? What works best for you?