Sales leaders often label high-performing sales reps as having the "it factor".
It's the undefinable yet undeniable secret to why they win. But believe it or not, the "it factor" in sellers is a myth – one that's been embraced for far too long by sales leaders.
The reality for many organizations is top performers thrive and the rest of the team is left behind.
In The New Sales Enablement Standard report from Mindtickle and Heinz Marketing, 280 sales and revenue leaders found that only 14.7% of sales teams hit their goals. There's clearly a problem with both seller performance and quota attainment. You can't fix or ignore one without impacting the other.
So what if sales leaders could figure out the recipe for their top sellers' success and then build an entire team of high performers?
How to build a team of top performing salespeople
Using the survey results mentioned above, we'll dig into the importance of building an ideal rep profile (IRP) and why setting clear performance expectations is critical to seller success and hitting quota every quarter.
What is an ideal rep profile (IRP)?
On one side of the selling experience, there's the buyer. In order to prioritize which buyers have a higher chance of conversion, many sales organizations establish an ideal customer profile (ICP). This profile defines the qualities that make a buyer the best fit for your product or service. When assessing different accounts in the pipeline, sales leaders and reps can compare them to the ICP to qualify and determine how much time and energy should be dedicated to each.
On the other side of the selling experience, there's the seller. Why not set criteria that sellers must meet to increase the likelihood of closing deals?
There's likely a certain set of skills and competencies shared across your top-performing sellers that directly correlate to success. Just like your ICP, an IRP defines the traits a rep in your organization must have to consistently convert buyers and hit their quota.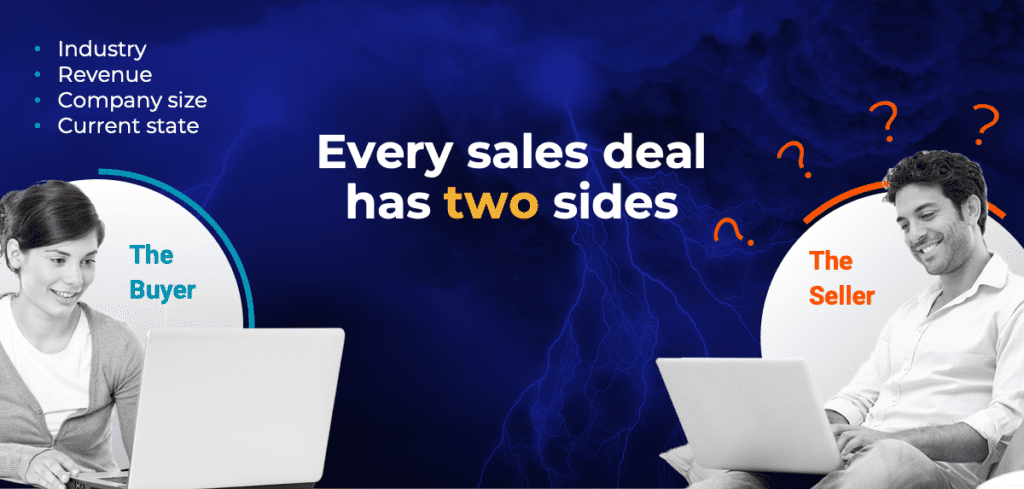 Why do you need an IRP?
Sales orgs often use a one-size-fits-all approach to building reps' skills with training and coaching. But each member of your sales team has unique strengths, weaknesses, and learning styles. Using the same content and format for every seller means the top performers stay on top while others continue failing to meet their goals.
Instead, create your IRP and work backward. Develop relevant learning content in a digestible and convenient format that will directly apply to the seller qualities you are looking to improve. If a certain rep is struggling in overcoming buyer objections, give them plenty of practice by providing opportunities for them to record their pitch or role play with others on their team.
Developing an IRP and altering learning paths for each rep is a costly and time-consuming process. It's no secret that sales leaders are busy and need to focus on initiatives directly related to revenue growth. By setting a baseline for seller knowledge, skills, and abilities, you'll improve win rates and generate more revenue. Sales organizations with highly-defined KPIs have higher success (74%) reaching or surpassing sales quotas.
Defining your IRP and putting it in action
No two sales orgs will have the same IRPs. Observe, track, and document the core competencies practiced by your top-performing reps.
performing reps.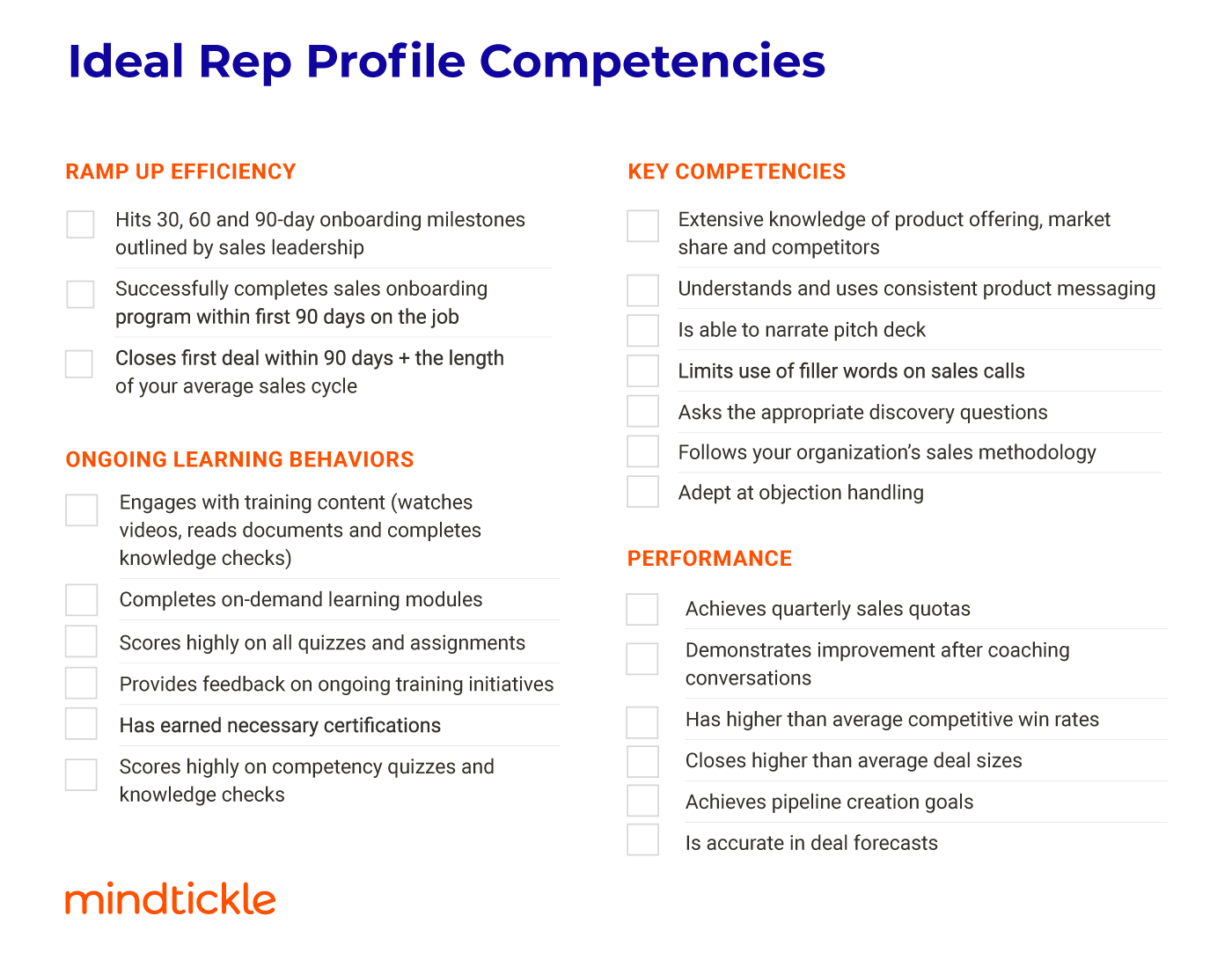 Examples of these include:
Hits 30, 60, and 90-day sales onboarding goals
Has extensive product, market, and competitive knowledge
Uses consistent product messaging
Asks relevant and appropriate discovery questions
Is an expert at handling objections
Accurately forecasts deals
Once you've got your list finalized, establish KPIs around the traits that make up your IRP.
If you want reps to have extensive product knowledge, create a quiz about the product and set a score you'd like each seller to hit. Then you can measure performance against that score or goal, and ultimately, against your IRP. Low-scoring reps will need additional learning and training around the respective products.
With a prescribed list of attributes and skills that lead to success and a tracking methodology in place, you can build an impactful sales enablement and readiness program that includes onboarding, as well as ongoing training and coaching, based on individual performance. Nearly a third (32%) of survey respondents who hit 100% of their sales goals, and 57% who hit 75% of their sales goals, have a dedicated sales enablement program.
A technology-driven strategy
In theory, you could manually deliver, track, and amend training activities, but this would take considerable time and effort. Instead, implement a technology solution that adds efficiency and automates much of the process.
Sales readiness solutions are the next generation of tools that are helping organizations create a continuous state of excellence to grow revenue. These tools shed light on where each rep shines and where they could use improvement in relation to your IRP.
Once skill gaps are identified, sales leaders – along with marketing and enablement teams – can develop customized ongoing training and coaching. Ongoing is key here as 90% of sales teams that hit 75% of their quota participate in monthly sales training, according to the survey.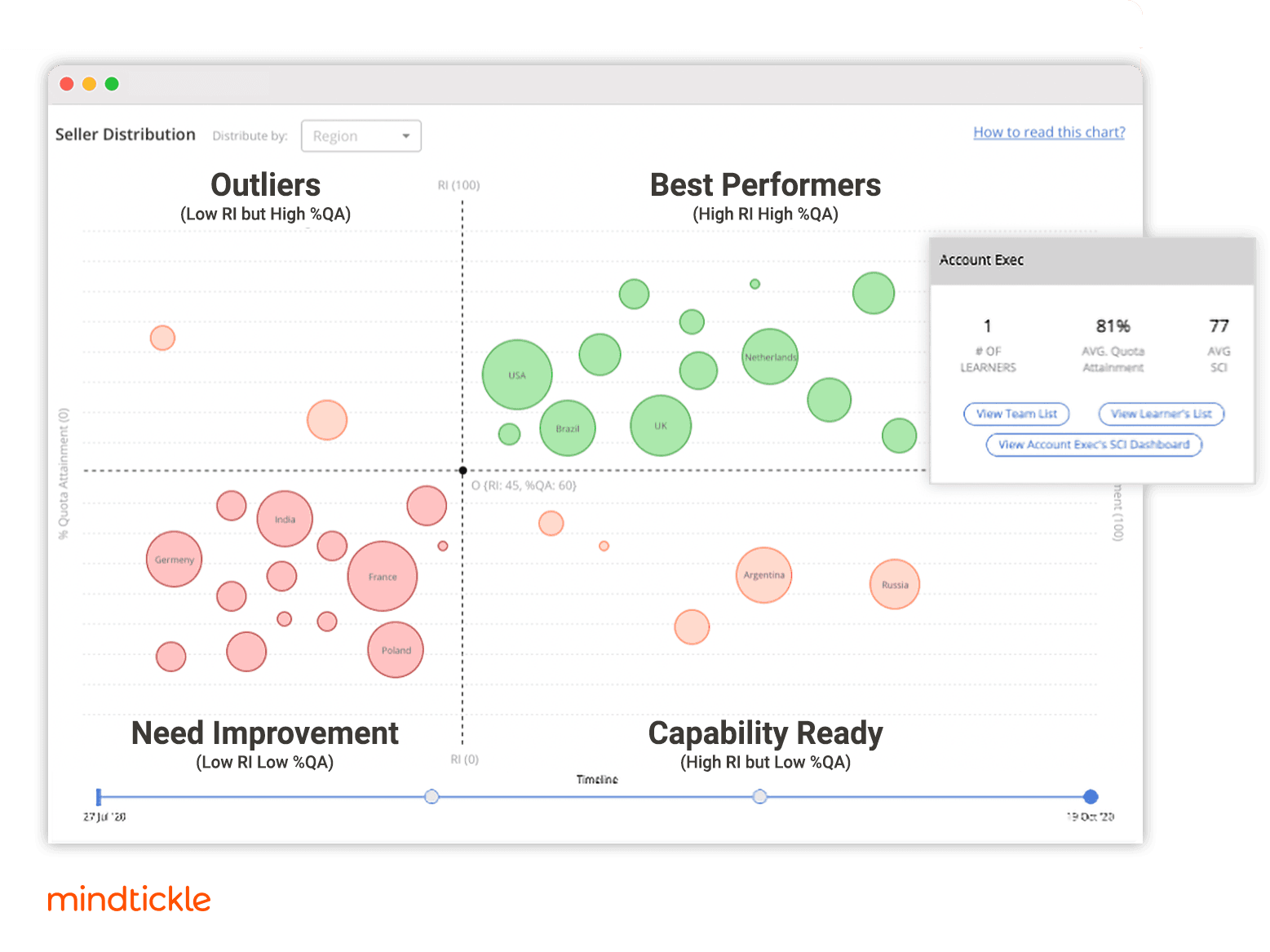 For sellers, using an enablement platform adds ease and convenience to training and practice opportunities. The survey found that over half (57%) of sales leaders with effective practice opportunities see sellers achieving 75% and greater of their sales goals, yet 48% of all sales leaders say a lack of technology is a barrier to building an effective practice program in the first place.
Finally, a sales readiness solution also helps evaluate progress over time. Are the training and coaching modules pushing reps closer to your IRP? You should be able to view every seller's development and, ideally, use of skills in actual buyer interactions via conversation intelligence tools. Based on your findings, reform training and coaching to continue polishing the qualities you want to see in every member of your team.
Make your sales dream team a reality
Leading a team of top sales performers doesn't have to be a fantasy. With the right tools in place, sales leaders can easily specify their organization's IRP, construct a sales enablement program around that IRP, and analyze individual and team performance over time, making that previously unattainable fantasy closer to reality.