No matter the industry, every sales organization needs content.
Content is the single thread that ties together all aspects of your buyer's journey. It is the first experience many prospects have with your brand — and it's also the backbone of the sales strategy responsible for generating your revenue.
Developing, creating, and maintaining this content requires building a team with extensive experience, insights, and strengths. At Outreach, we call this group a content committee.
The content committee drives:
Strategic and consistent content
Increased enablement, adoption, and productivity of reps
Easy reporting and iteration of content that leads to increased ROI
Building your content committee takes time but is well worth the effort. After helping our own customers and building a few content committees of our own, we have built a framework that ensures a successful content committee.
Build your content committee
The first step in building your content committee is identifying the best content writers across your organization.
Here's a step-by-step guide for building your team from the ground up:
1. Identify your strongest content writers
When identifying team members, be sure to include writers from different teams and levels. Each writer brings unique experience, insight, and strategy, ensuring cohesive content that represents every type of customer.
Common examples of roles/levels we see included are:
Sales enablement
Sales management
Marketing
Leadership
Individual contributor
Be sure to choose individuals with strong writing skills and a firm grasp of your value propositions and positioning.
2. Create a content committee charter
As with any new initiative, it's essential to understand your team's overarching goals for success. With content committees, these goals tend to center around:
Content benchmarking and review
Content maintenance and audits
Big picture strategy alignment
With your own committee, consider the importance of the above items and at which frequency you'd like to pursue them. For instance, you could consider a two-part strategy built around a quarterly content audit and a more regular content review session.
3. Set expectations for your content team members
Consider:
Meeting cadence – Meet at least quarterly and ensure that members can regularly attend.
Types of content – Identify the workflow you'll be using and what kinds of content will be needed for each (e.g., sequences, templates, snippets, meeting types).
Team representation – Crowdsource feedback from other teams before meetings to identify their requests, gaps, or pain points. Work as a committee to determine what content will address these needs.
Establish a structure – Organize your content and standardize your review process. Don't forget to look for gaps!
Appoint a content curator – Nominate a member who will accept or reject the final content that goes live in Outreach.
4. Audit and review content
Developing and delivering content is just the beginning!
A key part of your process is continuously reviewing and auditing content based on feedback, data, and updates. Is there too much content in your Outreach instance or not enough? Is your content prompting the kinds of responses you'd like to receive?
Audits are the perfect opportunity to ensure that your overall content reflects customer values and leads to revenue growth. Regular meetups help keep your content fresh, relevant, and up to date. The more often your committee meets, the more effective it will be; find a cadence that works best for you.
See this article on content strategies and auditing techniques that drive value. In addition, discover how to build, audit, and measure the success of your sequence content in this three-part sequence article series.
Operationalize your content committee
Once your committee is up and running, it's time to operationalize in order to keep your momentum.
We have found that there are three traits of successful content committees:
Their leadership has a defined "charter" with monthly and quarterly objectives
There is a workflow for processing content requests
The committee operates with a predictable/methodical communication plan
Create a process for content requests
It's critical to allow for specific and timely feedback from your end-users. There are several ways this can be managed, but we have found the most success with:
Creating a consolidated communication channel, like Slack, that is managed by an admin.
Leveraging form-submission tools. For example, a Google Form allows you to collect and capture content ideas from your users without an endless stream of messages or emails. We've included a snapshot below of what it could look like.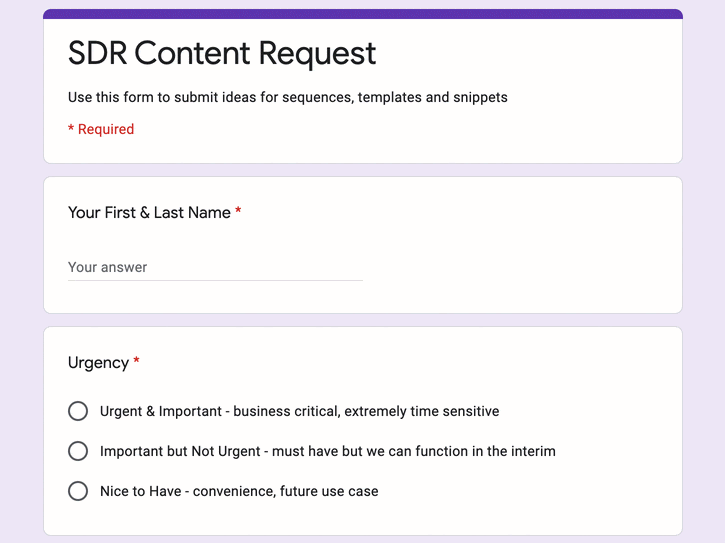 Keep in mind that it is up to the content committee to evaluate the priority level of the content and then act accordingly.
Build a communication and enablement plan
If reps can't find the right content, reps can't use the right content. Make sure all of these content releases, updates, and archives are shared with the users they impact. One best practice we've seen is for content committees to create a recap template that is sent after each session where the content has changed.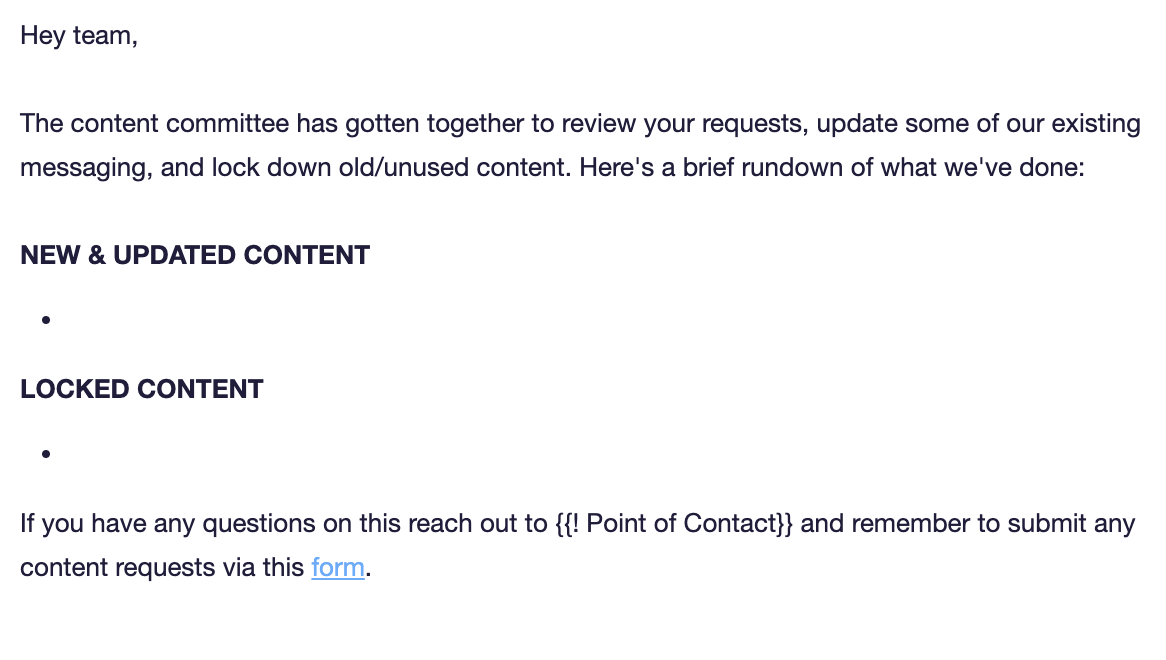 Now it's time to build your committee with strong writers, set expectations to guide them to success, and audit content regularly. Once your team is picking up momentum, open a feedback loop with the end user, and regularly meet with your committee to review requests. Remember, you are creating the foundation for ultimate ROI, you set up the team and take care of the customer, and the returns will take care of themselves.
Want to learn more about creating content? Sign-up for our Content 2.0 university course and learn how defining Outreach Workflows will help you strategize which content to build in our Ebook and Workflows support section.
---
This article was co-authored by:
Sam Davis, Outreach commercial manager of customer success
Sam has been a CSM at Outreach since 2017, where she's worked with a variety of customers ranging in size and industry. As an early adopter of Outreach in previous roles, she has taken her passion for the platform to countless customers, helping them unlock success and fine-tune their sales strategies.
Danny Kisch, Outreach lead services architect
Danny has long been an Outreach champion. Before joining Outreach in 2019, he helped bring the platform to other companies throughout the Seattle area. He's part of the "Content Cowboys," a partnership with Andrew Henningsen that created Outreach's content strategy methodology.