Update from the Editor:
It seems that we once again "knew ye"! We just learned that Corporate Bro's LinkedIn Company Page has been reinstated, mere days after our article was published.
Coincidence? Probably. Who can say?
That's the power of the press, guys.  For the time being, the resolution remains bittersweet, as Corporate Bro's personal LinkedIn page and LinkedIn Group Sales Savages have not been reinstated. However, while their group on LinkedIn is no more, they have decided to launch their own Slack channel. Click here for details!
Now, the original article…
Some compared it to deleting Jesus from the New Testament. Others claimed it was like deleting Luke Skywalker from Star Wars. Others said it was justified as he was "a total violation of Terms of Service." Still others said it was like deleting The Robin Hood of Revenue (ok, we made that one up.)


Corporate Bro, we hardly knew ye.
As of last Friday, January 18, a day that will be commemorated forever in sales history, LinkedIn has officially terminated the account of Corporate Bro, on the grounds that he was "not a real person." Huh. Doesn't it seem like only yesterday an egg's Instagram account got the most likes of any post in history?
As of now, the LinkedIn legend, the VIP keynote speaker, the self-proclaimed err… "boss," is no longer spewing sales S.A.D.N.E.S.S. on the world's most prolific networking site, or in his LinkedIn Group, The Sales Savages, which was also terminated.
(Got a Bro-Shaped Hole in Your Heart? Here is an All-New Bro to Tide You Over: Sales Bro vs. Sales Pro: Hard Sell or Soft Sell Test)
Some salespeople bid a sad farewell. Others felt it was justified. And some salespeople took up their pitchforks and fought back, like Angela Gallitano: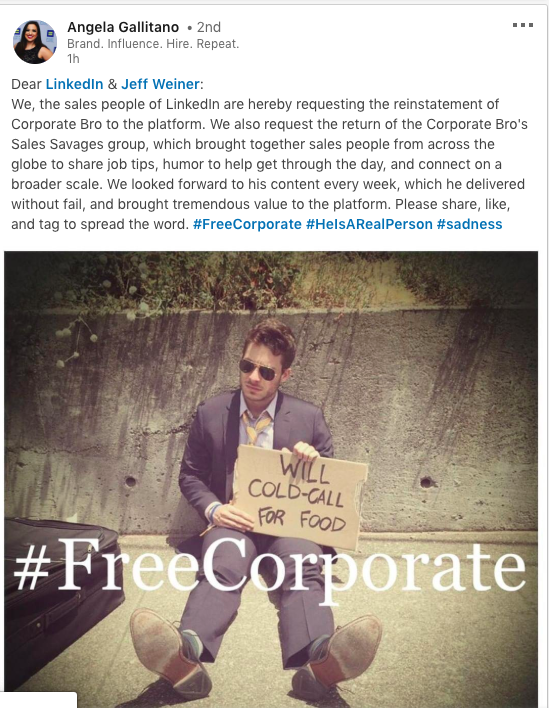 In true fashion, Corporate Bro is not taking this deletion lying down (ok, he is in this picture, but you know what we mean…)
He took to his Instagram and posted the following call to arms to his nearly 60k followers: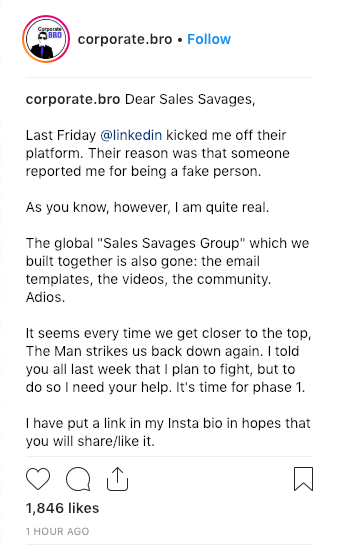 From Keynote and Candlelight to Cold Calling for Food
With the exception of possibly Marie Kondo, no one's had a bigger January than Corporate Bro. Just last week, he was seemingly on top of the world, keynoting the prestigious SAP Concur Ignite event. Has he been struck down in his prime? Or have we truly seen the last of Corporate Bro?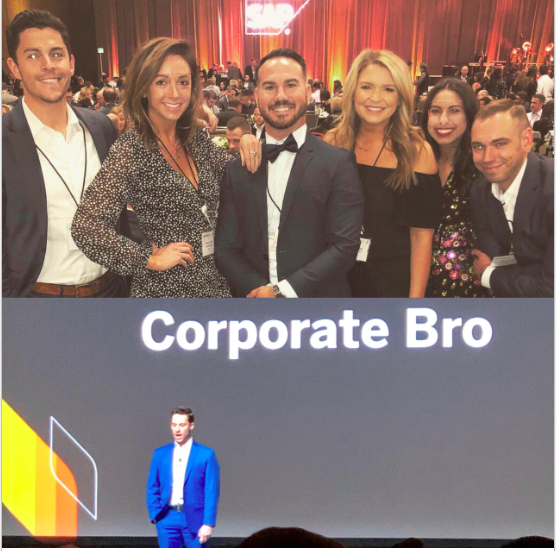 So tell us, Sales Hacker readers, where do you stand on this ever-controversial shadow figure who loomed so large in the Sales Industry? Is Corporate Bro a mockery, a deplorable personification of the very worst of sales… or a hilarious and much-needed diversion for one of the world's most intense professions?
Will you be taking up the #freecorporate hashtag to get Bro re-instated? Or waving a fervent farewell to an industry troll? Let us know in the comments!