Warning: This is not your average sales contest. We know most sales contests don't actually work.
So we're not going to talk about making most cold calls, setting the most meetings, or closing the most deals. The most creative sales contests focus on increasing other, less run-of-the-mill outcomes. That's what makes them creative!
In this case, we are going to talk about a sales contest that builds stronger relationships and accelerates deals.
Because of constructive learning, people are more likely to buy when a product or service becomes personally meaningful. Guiding prospects to reach their own conclusion on how working with you will improve their lives is much more effective than simply listing features.
How you create personal meaning can't be generic. Don't just run through a list of random ROI stats from other customers. Take their specific use case and share some detailed strategies they can use to achieve their goals with your solution. Paint a picture of how their exact pain points will be alleviated, with and without your solution.
But sometimes you need creative help to generate those scenarios for your prospects. That's where our unique sales contest comes into play.
The Best Sales Contest For Your Prospects
At Sendoso, we come together as a team on a weekly basis to hold a contest with a unique goal. Rather than counting activities, we compete to come up with the most creative (and impactful) idea for how our prospects can achieve their goals using our Sending Platform.
We discuss the prospect's use case, what touches they can send that align with their current campaigns, and how to message the value proposition. We also take into account the prospect's go-to-market strategy, target audience, budget, brand voice, and any information that might be relevant for the exercise.
Then we find a way to tell a compelling story. This not only helps our prospects understand that we care deeply about their goals. It also positions us as strategic and technical experts.
For example, one of our prospects was looking to do a "win-back campaign" for customers of theirs that had churned within the past 12 months. Our team got together and came up with a batch of ideas focused on this idea. (Although we're omitting specific details like campaign budget, the image below can give you an idea of how we organize our ideas.)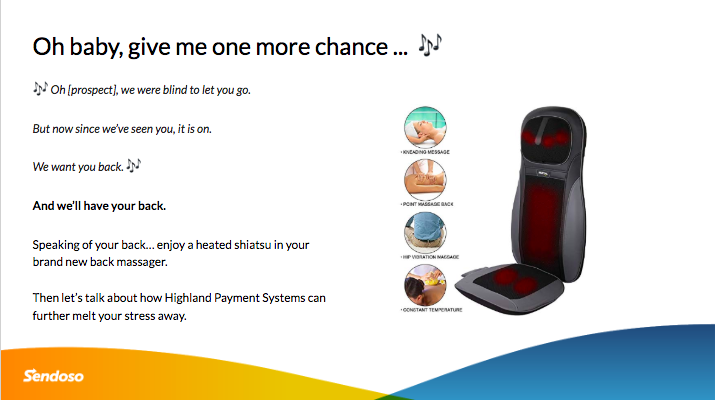 How to Host Your Own Creative Sales Contest
Step 1: Determine the contest criteria.
What needs to be included in each submission? We're doing more than just counting dials, so you need to define a clear guideline of what constitutes a good submission.
We're a Sending Platform, so each of our contest submissions needs to include the item to be sent, the budget per send, and the message that would go along with it. If you run a targeted ads platform, on the other hand, your contest criteria might include the ad copy, timeline, and channels for an upcoming campaign.
Step 2: Set a cadence for your contest
We've found that sales contests are most effective when they happen on a regular schedule. So whether that's once a week, once every other week, or once a month, decide how often you'll run the contest.
We host ours on Wednesday afternoons so that we aren't stressed out by the beginning or end of the week.
Step 3: Choose a contest leader and invite the right team members
Do you want it to only be sales reps? Or maybe include some marketers and customer success managers for different use case ideas and a fresh perspective. In addition, each contest can have a different contest leader.
Step 4: Choose one prospect account to explore in each meeting
Digging into one account together doesn't just give the contest helpful guardrails. It also helps team members learn more from each other's different perspectives. Just make sure you provide the opportunity details ahead of time, so people can generate ideas and submit them (directly to the contest leader or via a tool like SurveyMonkey).
We've found that giving people at least two days notice gives them enough time to fit some brainstorming into their schedule.
Step 5: Meet on your scheduled day
The contest leader should present all the ideas to prevent bias. We like to showcase each of our ideas in a single slide presentation (assembled by the contest leader), but you can choose whatever format works best for your team.
Step 6: Vote
Have everyone in the contest vote anonymously for the idea they think is best. We like to reward the winner with a small gift card. Then your sales team can either present their prospect with the winning idea, or a combination of the top few!
In our experience, this exercise generates an enormous amount of excitement for decision-makers. Not only do they get a clear idea of what success will look like for their team, they also get a demonstration of your team's expertise and dedication. It also gives them specific ideas for how they can immediately start leveraging our platform.
Step 7: Repeat!
One contest like this isn't enough! It needs to be repeated, so you can create a culture of going above and beyond expectations for your prospects. And why wouldn't you want to repeat it?
When your prospect sees how much time and effort you've put into helping them see their future success with your product, they will definitely fall in love.
So here's the (potentially) multi-million-dollar question. What kind of creative sales contest can you use to help your prospects understand the value your product/service can offer, and how will you set that up?
Want more ideas for successful contests? 7 Steps to a Successful SDR Cold Calling Sales Contest (Case Study)