A few months ago we wrote about Zoominfo's acquisition of Datanyze in an effort to strengthen its sales intelligence engine. Well, along comes another fish to swallow the first two! DiscoverOrg, a best-in-class B2B contact database founded in 2007, acquired Zoominfo, another best-in-class B2B contact database which was founded in 2000, in early February. This is a little different, though. Rather than one solution scooping up a complementary, younger solution, as was the case with Zoominfo and Datanyze, DiscoverOrg and Zoominfo were longtime, fierce competitors who have also been facing a bigger foe in the past decade, LinkedIn.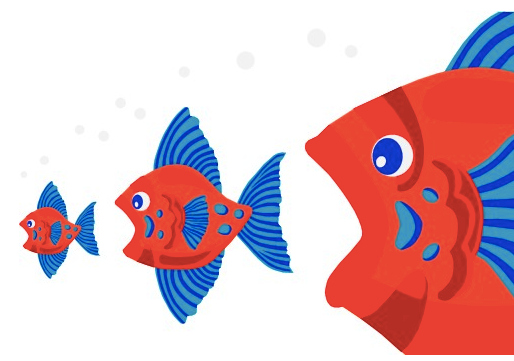 (Image source: here)
This acquisition also further validates a key theme we mentioned a few months back with the previous acquisition: we're continuing to head into a heavy period of sales stack consolidation and more mergers and acquisitions are going to happen amongst players. Not only does it reinforce that theme, but it does so in a bigger way due to where these two sit on the competitive landscape. Let's check out G2 Crowd's "Sales Intelligence Tools" positioning chart: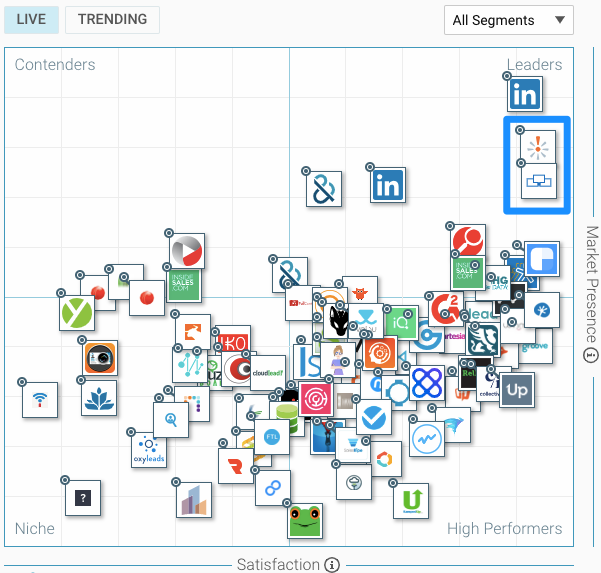 In essence, these two basically have the largest market presence behind LinkedIn for sellers looking to find rich contact information, and they just combined forces. This is mostly good, but there are also some challenging themes arising here, so let's take a look at a few of them:
1. "Am I losing my edge?" – Sellers Everywhere
If all sellers use the same intelligence tools to find contacts and compelling reasons to reach out to them, then is there any advantage left when prospecting at the top of the funnel?
For the creative, intelligent, and multifaceted sales teams, the answer is, "Yes, of course, you can still find an edge. Embrace evolution!
Explore social listening tools to find prospects who are signaling compelling purchasing behavior in real time. Work with marketing to set up lead scoring to figure out who is ready to engage. Build a partnership ecosystem to source warm leads with your allies. Do half a dozen other things beyond simply cold-calling folks you found in a database!"
For those who are less experienced though, or overly reliant on database tools and single channel outreach, you're definitely losing your edge and you will continue to struggle. The decision between "Should I buy DiscoverOrg or Zoominfo?" doesn't exist anymore, and that means that the barriers between you and your competition having the same (now, much richer) database are that much lower.
2. Speaking of tools, your tech stack is getting easier to purchase, implement, and manage, with some caveats.
With more and more consolidation, we see a mixed, but mostly good outcome for teams purchasing technology tools to support sales and marketing. You're making fewer decisions and implementing consolidated solutions faster into your workflow. You're also leveraging a larger and smarter database, with more integrations into tools you already love or use.
That said, these two giants now have more pricing power due to a better product and less competition against each other too. They still face LinkedIn and the longer tail of solutions of course, but these are the economic results of leading providers consolidating in any industry.
Additionally, I think this puts more pressure on the best "lead engagement tools" out there to eventually scoop up a large, high-quality contact database. If we're going to flood channels further with messaging to prospects now that we have more plentiful high – quality contact information, we might as well do it with smarter tools – those that are already consolidated with said databases, that help us plan our sequences in intelligent ways, with metrics to help us improve too.
3. What about the investors and entrepreneurs behind Sales Intelligence Tools?
If you're an investor, do you still invest in tools like these? If you're an entrepreneur, do you set out to build one? I don't know!
If I'm an early-stage SaaS investor, who typically looks at a 7-10 year investment horizon (spoiler alert: I am, this is what we do at Bowery Capital) then I'm very wary of the competitive landscape here and oligopoly that sits at the top. Other wrenches include GDPR threatening the legality of how certain databases are built and executed on, AI and machine learning models replacing certain human functions at the top of the funnel, and more.
Gartner just recently predicted that by 2020, 50% of European marketing lists will have been reduced by 30%. Ouch.
At the same time, they also predict that slightly further down the road, by 2022, B2B sales organizations using AI-based data intelligence solutions for prospecting will cut the amount of time spent on prospecting by up to 50%. Woo! There may be opportunities here, but they don't look the same as what exists in the market today.
By the way, some later-stage investors did make a good and quick return here! Great Hill Partners, a PE firm, invested in ZoomInfo in 2017 and reportedly made a 6x return on their investment two years later. Great job, Great Hill!
So with this new M&A activity just months after the earlier acquisition we reported on, what are some goals we can now set as sellers and marketers to evolve and thrive?
Again, if you're not setting goals quarterly around trying new prospecting and outreach techniques, you will not evolve quick enough. If you're not empowering and motivating your team to crowdsource best practices here, you're missing out on exponential learnings. So set these goals, make it fun (gamification!), and make it happen.
As hinted at previously, I've been testing social listening tools, new partnership strategies, and fresh lead scoring methodologies with Bowery's companies, and it's been both fun and impactful at the top of the funnel. Direct mail has been working out well too, with no call to action in the mailer, but an outreach touch a week later. Solidify experimentation as a goal for your sales and marketing orgs.
Perhaps you should set a technology consolidation or efficiency goal too. One thing that will kill your sales velocity faster than anything else is moving too slow on deals, and dragging sales cycles out. Technology that isn't connected, consolidated, or lacks an internal owner leads to sluggish teams where more technology actually hurts.
One way to combat this is to select consolidated solutions, assign owners (maybe it's sales ops, or someone who aspires to learn this function) to oversee all of it, and invest the time in setting up API connections (hello, Zapier) to make sure it all works together. "Interconnectedness" should be high on your list of criteria these days when selecting new providers.
Partnerships and channel sales are more important than ever, so also set a goal here and find a way to set these up. Establishing these will allow you to play friendly with GDPR, create a warm-intro engine, and align good brands to break through the marketing noise together.
Our advice: start small and don't bite off more than you can chew. You don't have to start with a 10 page revenue-sharing agreement or a fully integrated suite of complementary products. How about co-writing some blogs together, or creating a shared Slack channel to speak on learnings in the market, and introductions you can make to your friends in the space?
In conclusion, we believe this acquisition is a healthy one for the ecosystem, despite the fact that it does produce some challenges as well. We're excited to see what happens in 2019, and are confident this won't be our last article on sales and marketing providers combining forces to create better solutions for all of us!