Let's start off with a hot take about follow-up emails. Ready?
Sales sequences don't belong after the first call in a complex sale.
I'm talking automated templates, checking-in emails, and "Thoughts?" bumps.
They're easy, I know. You already have them set up in your sales engagement system, I know.
But if you're working to level up and land larger deals, it's time to leave all those behind.
Stay top of mind and start multithreading with this framework for world class follow-up instead.
Why buyers ignore your follow-up emails
You're probably feeling skeptical. After all, sales sequences are the gold standard.
They're loved by every seller prospecting and managing a pipeline of SMB-size deals. And old habits die hard as sellers rise through the ranks to tackle more strategic deals.
Here's the thing. The higher the contract value, the higher the bar for thoughtful follow-up.
But the reality is, prospects don't forget to follow up with you. Instead, they de-prioritize the people who aren't helping them get their job done in that moment.
Yet most sales sequences read like a series of reminders.
"If they didn't book a follow-up five days after the demo, let's bump this up."
But the reality is, prospects don't forget to follow up with you. Instead, they de-prioritize the people who aren't helping them get their job done in that moment.
When a buyer reads a bump email, they're running a mental calculation. "Is the value I'm getting from this interaction worth the time I'll invest into it?"
For example, you want your buyer to organize a call with three senior-level people — thousands of dollars of time invested. But the value will only come after a purchase six months later. So why should they reply?
Related: How I Closed 50% More by Systematizing My Sales Follow-Up Process
A workflow for world-class follow-up emails
Here's your alternative: Write each follow-up email to answer the question, "How will this help my buyer get their job done today?"
Pick a handful of deals in your pipeline. Next, open up their activity history. Look at the last two emails you sent after your discovery and demo calls.
Now, run them through this framework. How many of those emails make it to the end?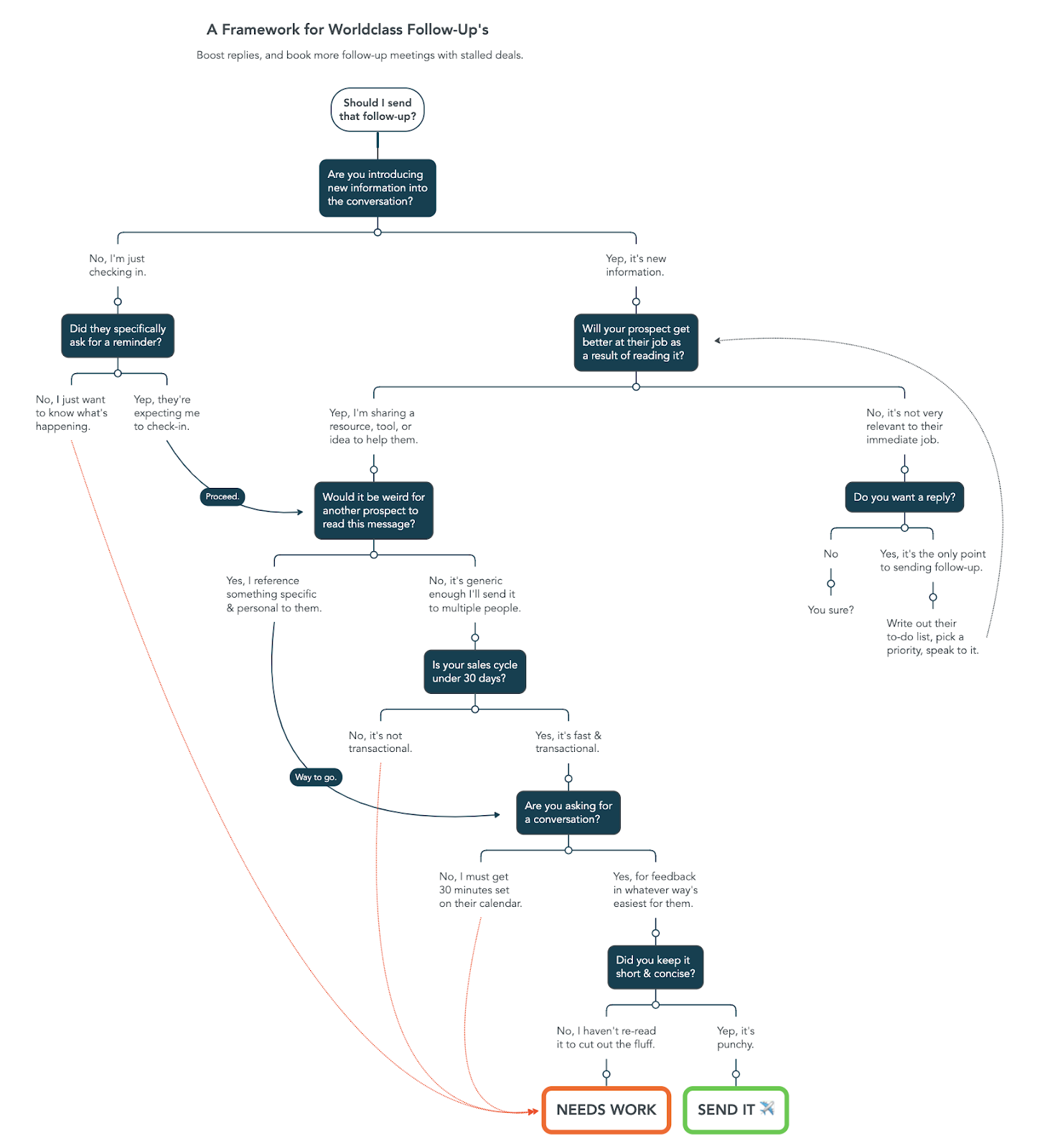 ---
Six steps to a forward-worthy follow-up email
Every sales leader wants to see their reps multithreading. This is the mark of a truly helpful follow-up email — it's forwarded around, not deleted.
Here are six, surefire practices to help your buyer get their job done, deliver immediate value, and hook other members of the buying team.
1. Always introduce new information
Go back to the emails you just reviewed. Were you rehashing what's already been said? Or introducing new information?
You have a unique vantage point. You see where customers struggle, where the industry's heading, and what top performers do differently. Which gives you an opportunity to share a new point of view.
Use your follow-up emails to create curiosity and a feeling of, "Every time I hear from ___________, I discover something new."
Think of a kid on Christmas morning, ready to open a present and see what's inside. That's the feeling you want to recreate.
Think of a kid on Christmas morning, ready to open a present and see what's inside. That's the feeling you want to recreate.
2. Address the immediate
Try to write down your prospect's to-do list for today. No, really. Actually do it. What does it say?
Now, look back at your email. What does it say? If there's no cross-over, time to revise your content.
When your follow-up shows that you understand (and can help) what's most pressing to your buyer, they'll trust you with their time. Time for a reply, or for that meeting you were hoping for.
Speak to their greatest priority today, and you'll get prioritized on their calendar tomorrow.
3. Leave them better off
Will your message help your buyer do their job better than they could do it before?
Most times, value to buyers is delayed until the point of purchase — when they can start using a product. But there's an incredible opportunity to make the buying process valuable, too.
People go where value is, so make your process that place. Introduce a template, feedback, data source, or other resource that's hard to find.
4. Write long, revise short
The next time you're drafting a follow-up email, pause and count up the words. How did you write? Less than 200? Keep writing.
It's pretty easy to write a short check-in. But it's difficult to write 200 words of value without doing points 1 – 3 above.
Written over 200 words, without any fluff? Great. Now see if you can cut it down to 50.
It's like Blaise Pascal once said, "I would have written a shorter letter, but I didn't have the time."
5. Use your buyer's language
If you use a call recording tool, play back the last call. Which phrases did your prospect repeat multiple times? Which words did they use that were different from other prospects'?
Zero in on those words. Weave their language into your message, to show you heard them and you know what makes them unique.
This increases the chance your message will be forwarded around their team — tapping into a narrative their team is already familiar with.
6. Audit your ask
How did you close your last email? Were you asking if they saw your proposal? Got your Calendly link? Or if their boss read your case studies?
Cut it all. Instead, ask them for feedback, an opinion, or a conversation about the topic in your message. I often like to add in my call to reply:
"Your calendar's crazy, no doubt, so I'm happy to trade emails on your feedback, if it's easier than a chat?"
---
Finally, as you follow this framework, move to a new place to write. A different space can help you break out of the well-worn mental tracks you use to pump out tasks and reminder emails.
This is key if you're hoping to engage key employees and other decision makers with your follow-up.
The reason is that your prospect's biggest problem isn't always their company's biggest problem. So you'll want to write "bigger" by focusing on the large, strategic problems you discovered.
If the information, tool, or new point of view you're sharing in your email resonates at this level, your follow-up will truly become forward-worthy.
Then, watch the replies start to roll in.
Related: 11 Must-Follow Rules for B2B Email Introductions
---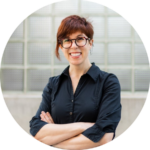 Edited by Kendra Fortmeyer @ Sales Hacker 2022 (but barely — Nate's an astounding writer)