Did you know the average employee of a business sends 10,000 emails annually? And that's just the average! If a sales rep spends 28% of their day reading and responding to emails, then it's likely they send much more volume than that. In fact, according to Radicati Group's Email Report, 112 BILLION business emails are sent daily. No, that doesn't include emails that you subscribe to via a newsletter or mail list.
These are personal, high-touch communications sent from each employee's email client (think Outlook or Gmail). These are emails sent directly to your most valuable business contacts: customers, prospects, vendors, partners, investors, and so on. And what do each of these emails include? An email signature.
Email Signature Marketing Works
Campaigns in email signatures can play a very important role in helping to brand, educate, and drive awareness to your company's most important initiatives.Your company likely spends an incredible amount of time and energy creating amazing content: whether ebooks, webinars, events, videos, case studies, or material about your great company culture. Why not let the email signatures work for you?
Feature visual campaigns promoting your most important company initiatives in the hundreds (or thousands) of one-to-one business emails your employees are sending every single day. Let these email signature campaigns be a conversation starter to help your most important company contacts feel further connected to your brand.
Email signature marketing campaigns often have a much higher conversion rate than other types of paid advertising such as rich media (.27%) or overall display ads (.06%) according to Smart Insights. The average click through rate for email signature marketing campaigns is .5%, but some campaigns can reach upwards of 3%.
Imagine if your company had 100 employee, each sending 10,000 emails annually (or 1M emails across your employee base). Just a .5% click through rate would generate 50,000 clicks to your most important content, from your most valuable contacts! What is that worth to your company? Angie's List uses the power of email signature marketing for over 400 account managers and saw 2M displays in just 6 months. Find out how Angie's List did it.
Give it a Try
No matter the size of your company, whether a large enterprise with thousands of employees or a startup with 10 people, you can get started with employee email signature marketing today.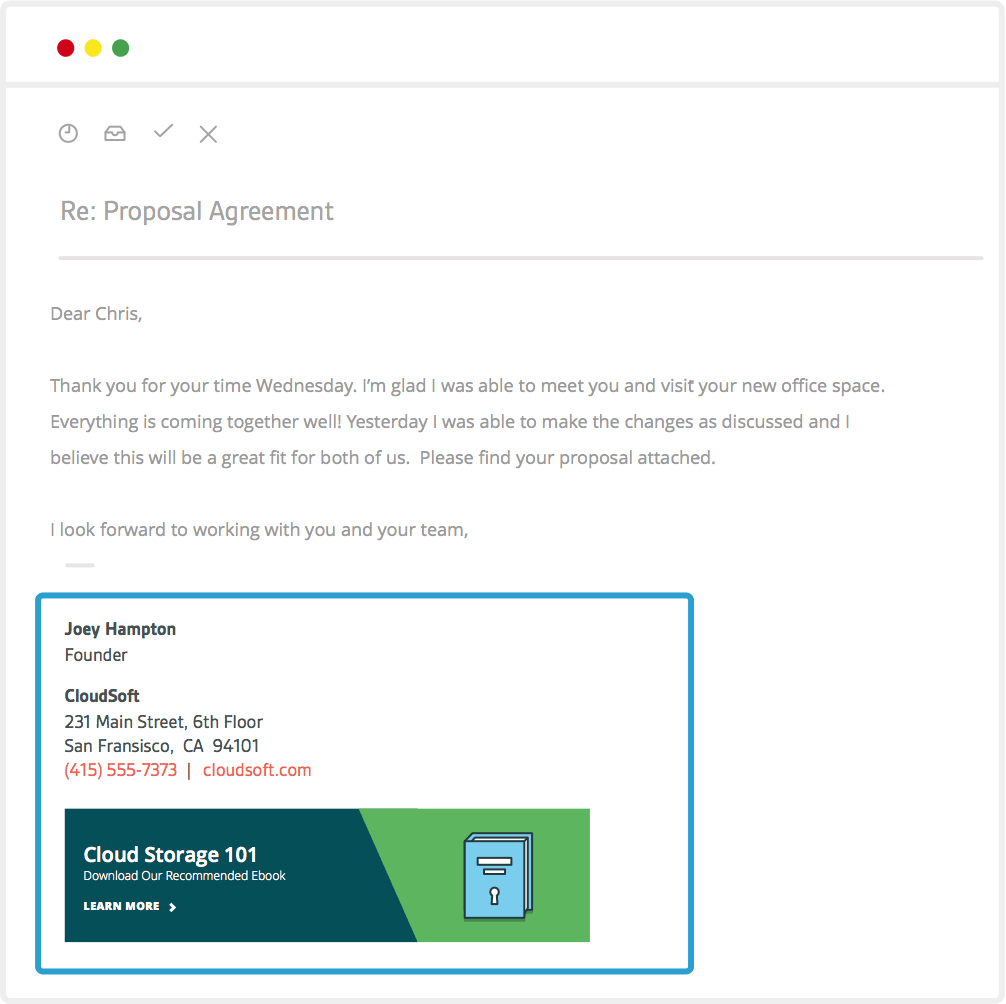 For small companies, it may be most economical to create a simple graphic promoting a blog post, ebook, or open positions at your company for your employees to include in their email signatures. Create simple instructions including how to copy and paste the graphic into the email signature area in the Settings section of your email client, and provide them with a link to a landing page or website to hyperlink to the image.
If you're a larger company or have employees spread across different office locations, it may be difficult to communicate instructions for how to copy and paste the email signature correctly. Let alone swapping out the content on a regular basis and ensuring all employees have up-to-date content (a best practice is to ensure new content is promoted every few weeks – if not more often!).
Try using an email signature marketing platform that allows the admin to create content and automatically add it to all employees' signatures simultaneously, choose which groups should promote which campaigns, and update to a new campaign in seconds. If you'd like to give it a try or simply want to measure the impact of campaigns by tracking impressions and click through rates, try a provider like Sigstr, which also lets you give the solution a spin for a free 30-day trial before you commit.
Generate Sales Opportunities
What kind of company wouldn't want to generate more sales opportunities for both existing and prospective customers? Believe it or not, the email signature can be a prime opportunity to educate and promote your brand without any extra effort on behalf of the sales reps or account managers. On average, it takes a sales rep 7 touch points to turn a prospect into a qualified sales opportunity.
Each of these touch points is a critical window of opportunity for a sales rep to not only educate the prospect on the value proposition of their product or service, but also build the credibility of the company they represent. Similarly with account managers, education on new products or services can be challenging. Email signatures, which are included in every single business email sent, are an ideal space to capitalize on this opportunity and turn prospects into revenue through education, rather than hard selling. There are three key ways to take advantage of this space, as well as manage it effectively.
1. Control the Marketing Message
By injecting marketing calls-to-action into each employee email signature, marketers are ensuring that their hard work is displayed in every email touch point – automatically.
The power of email signature marketing lies in the ability of the marketer to update these campaigns for all employees in real time in just a few seconds. This puts the control back in the marketers' hands and removes the possibility of sales reps not updating their signature content.
2. Measure What Works – and What Doesn't
Analytics are an important facet in any sales process to understand which marketing campaigns are converting prospects into opportunities or customers into upsells.
Email signature marketing platforms, such as Sigstr, provide this data in real time, allowing marketers to understand which content resonates with the end audience. This information is critical in knowing how to change messaging or where to allocate resources in the future.
3. Maintain Brand Consistency
Each of the thousands of emails sent to a prospect is an impression of your company. Consistency throughout employee email signatures is a key way of protecting the company's brand. A professional email signature is not a place to reflect an individual's personality. The way to prevent this inherent risk is to have insight into all employee signatures and standardizing them to represent a unified, consistent brand.
Employee email signatures are an ideal space to inject marketing content, know how the content is being received, and protect the company brand. By capitalizing on this opportunity, your company has the power to marry personal one-to-one email communications and your company's most important initiatives or content to produce qualified sales opportunities without any additional effort.