Editor's Note: Guest post by Craig Jordan, Co-Founder at Red Bridge.
You might have noticed a number of changes over the past few months to the Sales Hacker website, blog, and across the web. In December of last year, the team set out to completely overhaul Sales Hacker with the following goals:
New Branding and Logo
Relaunch the Website
Update the Newsletter
Grow the Community
We wanted to move this community forward into the new year with a brand we could really be proud of and to build on the success of 2014.
Branding and Logo
Our team created the new logo and branding to really embody the Sales Hacker community. We started by trying to come up with a symbol that would be easy to recognize across our site and content. Surprisingly this was a big challenge for us.
The design team went through probably 50 different icon variations to figure out a symbol for what it means to be a Sales Hacker (briefcases, gears, ties, gears in ties, etc). Looking back it was pretty hilarious. But we finally decided that simplicity trumped all and chose this final version:

The "Wedge".
Credit to our designer for putting together a logo that not only symbolizes growth, but also has a bit of an edge to it. Like any good Sales Hacker would.
*Be on the look out in our Sales Hacker LinkedIn Community, we need your help in naming this symbol.
The New Sales Hacker Website
Welcome to the new Saleshacker.com!
The old site was a broken WordPress Blog that lacked formatting and consistency. The purpose of the new website is to serve this community as a platform for industry related content, events, and jobs.
We have completely changed the look and feel of the entire site to match the new branding, and took a mobile first approach in development. We would love your feedback, let us know what you think in the comments below or on Twitter!
The Blog
Our primary goal with the relaunch was to expand on the core elements of the Sales Hacker blog, in order to create a much better experience for our users. We achieved this by cleaning up the formatting and providing more opportunities to engage with other pieces of content (events, relevant blog posts, jobs, etc).
We also wanted to do a better job of highlighting the thought leaders that make Sales Hacker all possible. By giving them better profile pictures, bios, and social links.
Job Board
The job board got a fresh coat of paint compared to the old site. The team will continue to curate relevant sales jobs going forward and we will soon be rolling out a new email program with some of our sponsors. Think LinkedIn Job recommendations but much more targeted.
Events
The Sales Hacker Series and Conference schedule in 2015 will be focused on one thing Expansion. We created the Series and Conferences pages to serve as an aggregation for all our events across the world. Eventually we will post all event information on Sales Hacker, but for now you can find out everything for each event on Eventjoy.
The Sales Hacker Newsletter
The Newsletter was a big priority for us to try to get right. The first thing we set out to do was to make the email mobile responsive since so many of you are on the go.
In the new website design, we had this theme of using content blocks/cards and we carried that over into the newsletter. The intent was to make the content easier to read and find exactly what you care about.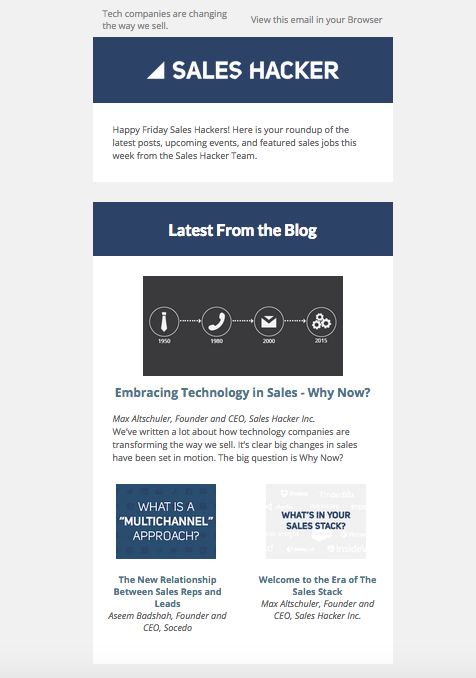 The newsletter will continue to go out on a weekly basis highlighting our latest content, events, and featured jobs.
Our Growing Community
In early January we launched the LinkedIn Sales Hacker Group, and within the first few days hit 1000 members. We were shocked at the avalanche of support. There have been a number of really amazing discussions related to a variety of topics such as sales tools, comp plans, and strategies to name a few. If you haven't already definitely go check it out.
You guys are awesome and we can not thank you enough for your continued support.
Conclusion
As Max pointed out in his recent post, we think 2015 is going to be the year of the SDR, and it is our goal at Sales Hacker to provide you with the latest in B2B Sales tools, content, strategies, and jobs to jumpstart your professional careers.
We have some ambitious plans for 2015 and we're excited to share everything with the community over the coming months.
What do you think of the new Website, Newsletter, and Logo? Do you think we captured what it means to be a Sales Hacker or missed the mark? Let us know in the comments below.