If you're in outbound sales, you know how hard it is to stand out among the automated emails, dodged phone calls, and busy schedules your prospects are juggling.
Email, voicemail, follow-up emails…
Maybe a bullhorn? How do you break through the noise?
Today, more and more sales professionals are turning to one-to-one video messaging.
One-to-one videos are short, personal video messages sent through email, social media, or text message. And (good news!) this video sales strategy is simple.
Your videos don't have to be highly produced or scripted. They are simply a way to put a face to a name and grab attention where emails and phone calls fail on their own. Since videos add depth, immediacy, and creativity to your communication, they really stand out — which means they can save you time.
In fact, reps using personal videos are reporting a huge uptick in response rates.
40% higher open rate
37% higher clickthrough rate
3x reply rate
You can even use them to rescue deals gone dark.
If that doesn't have you chomping at the bits, nothing will. So let's look at how you can get these same results.
Here are five tips for using personal videos in sales prospecting:
Let's dive in.
1. Use Personalized Videos to Grab Attention and Create Curiosity
Nothing creates more interest and curiosity than a personalized video. It tells your recipient that you didn't just plug their name into an email template. Instead, you took the time to create a custom message.
So how do you create a personalized video for sales prospecting?
It starts when you identify a prospect that you know you've got a shot with. Then, it's time to go above and beyond. This is your opportunity to break through inbox clutter and stand out.
Tips for doing it right
Create a thumbnail image for your video that includes the prospect's name or their company name. You can use a selfie, of course. But tools like Vidyard GoVideo let you select a frame from your video or take a picture to use as your thumbnail image or animated GIF.
Make sure your message continues the personalization. At the start of the video:
And to keep them engaged, keep it brief. Hit your points but nothing else to respect your prospect's time.
You only get one shot at a first impression, so it's important to make an effort. By sending an authentic and personalized video, you can build trust, which makes the prospect more likely to open up to further discussion.
Example: curiosity-building personalized video
2. Screen Capture Relatable and Relevant Video Content
Speaking of grabbing attention, screen captures are a highly underrated type of personalized video.
Talk about personal! With this video, you'll make a screengrab of you browsing your prospect's website, LinkedIn profile, or annual report. This demonstrates that you've taken the time to do your research and lets you open the dialogue on familiar territory.
Tips for doing it right
Don't forget to drive curiosity through the thumbnail image. You can do this by:
Featuring the prospect's LinkedIn photo
Typing their name in an empty Word doc at the start of the video
Besides personalizing your first touch, screen capture videos allow you to demonstrate what you're talking about in a very clear, visual way.
Example: screen capture video
3. Think Like a Marketer, Communicate Like a Sales Rep
If you want to leverage the full storytelling potential of video, create a creative campaign-style video. This method can be risky, but the risk is well worth the reward!
It requires you to put yourself out there with something truly unique. For instance, try using props or accessories to drive home a point. Be clever. Look for visual metaphors and humor to grab attention and express your ideas.
Tips for doing it right
There's no one-size-fits-all set of instructions for this type of video, but a good place to start is to ask yourself:
What are the specific pain points you can solve?
What are the unique benefits your prospect stands to gain?
Then look for the points of intersection.
For example, if you can save them time through efficiency, you might record your video while suntanning (sunglasses, sunscreen nose, sun reflector, and all). Then create a thumbnail image with your sunglasses and a bottle of sunscreen.
When the prospect sees the thumbnail, they'll want to know what sunscreen has to do with their efficiency problem. That's going to make them click…
Then, after they press play, your video will tell them about all the time suntanning time they'll have after they try your product!
The more specific and relatable your content, the better.
So if your company deals with animals, bring in the cutest puppy you can find, just like Amelia from Rant & Rave did in the example below!
Example: campaign-style personalized video
4. Scale Up by Pre-Recording Video Templates
We get that you're busy. Sometimes, you just need some quick pre-recorded videos that still sound like you made them one-off. Fortunately, it is possible.
Tips for doing it right
The key to successful pre-recorded videos is three-fold:
Make them relate to your most common pitches.
Keep the language generic enough to apply to a range of prospects.
Make them as fun and interesting as your one-off videos.
The example below is an entertaining pre-recorded video from AlayaCare. It's full of self-deprecating jokes and sight-gags — along with useful information about their product. Yours doesn't have to be this elaborate, of course, but it's something to work toward!
Example: pre-recorded "personalized" videos
5. Have a Plan
Like any great endeavor, everything is easier with a plan. Even though you want to appear off-the-cuff, having a plan in place will help you feel comfortable creating and sending personalized videos. It will also help you come across more naturally on camera.
Here's a brief checklist you can use when planning your personalized videos.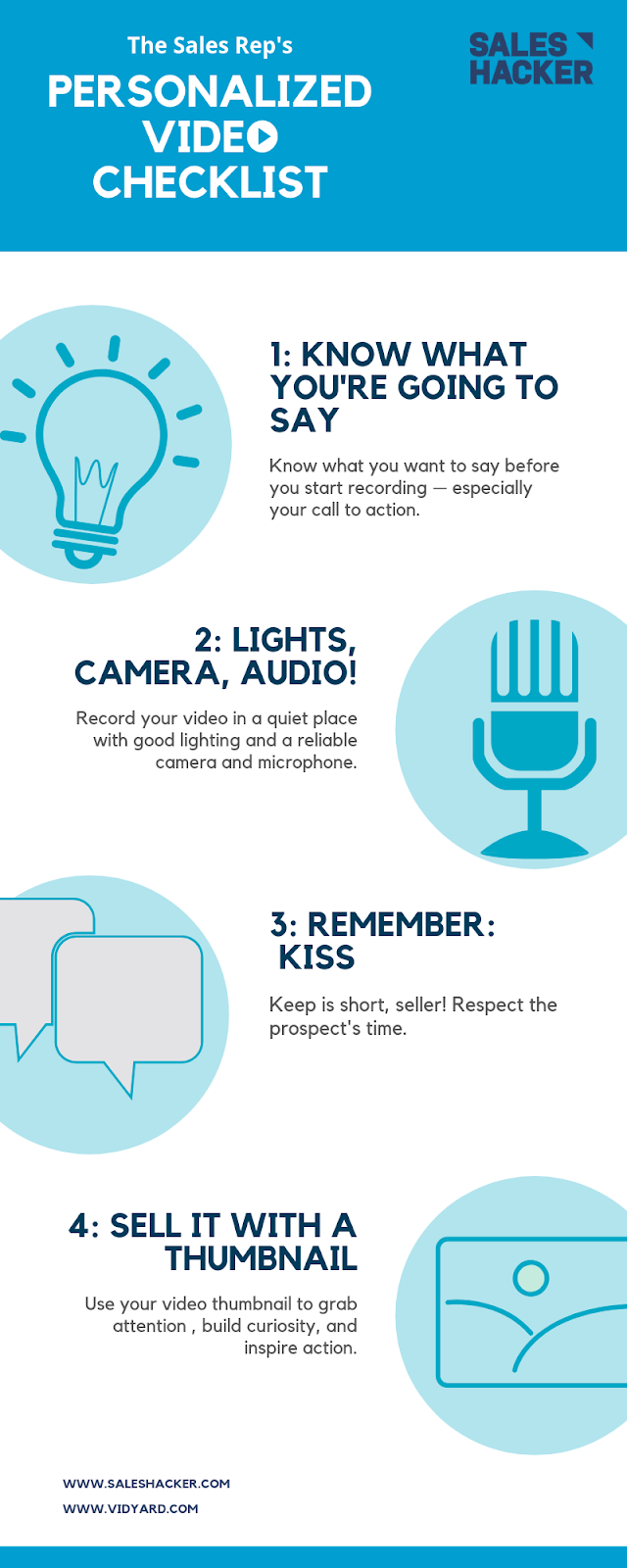 The sales rep's personalized video checklist
Know what you're going to say: Don't memorize anything word-for-word, but do have a rough idea of what you want to say. Be sure you've rehearsed your call to action and can deliver it smoothly.
Lights, camera, audio! Set up to record in a quiet place with good lighting and a reliable camera and microphone. You don't have to go Hollywood with it, but things like poor audio quality can really take away from the viewer's experience. Set up in the same place every time for consistent quality.
Remember to KISS: Keep it short, seller! Brevity is key.
Sell Your Video with the Thumbnail: Never forget the power of the thumbnail to create curiosity and inspire action!
Having a plan and sticking to it will make it easier for you to keep making quality videos. And the more you practice, the better you'll get.
Ready to "Videoify" Your Own Pitch?
To get your prospect's attention and actually start a conversion, you need to make it as easy on them as possible to respond.
Let's be honest: Pressing play is easier than reading a wall of text or playing a game of phone tag. Plus, with one-to-one video, you don't have to be talking face-to-face to spark their interest.
Your message gets delivered and consumed on their time — without losing any personality or abusing the prospect's valuable time.
Time to start videoifying your pitch today.