Requests for proposals (RFPs) generate a whopping average of 35% of annual sales revenue, according to Loopio's RFP Response Benchmarks and Trends Report.
The research, which surveyed 650+ teams, found that despite economic uncertainty over the past year, RFPs will continue to be an integral part of sales growth. However, keeping up with RFPs can be a challenge at the best of times. Busy technical experts, tight deadlines, and tricky approval processes can all throw a wrench in the sales cycle.
6 ways to transform RFPs into opportunities
So how can sales teams focus on speeding up their response process while still increasing revenue for the year ahead?
Keep on reading for the six best practices sales teams can implement to transform those pesky RFPs from obstacle to opportunity in 2023, based on behaviors of top-performing teams uncovered from Loopio's research.
Table of contents
1. Designate an RFP lead
When it comes to responding to RFPs, it's all about building efficiencies in your process, which should begin before you receive a request. Research shows that top performers have a designated RFP team or sales team member(s) owning the response process.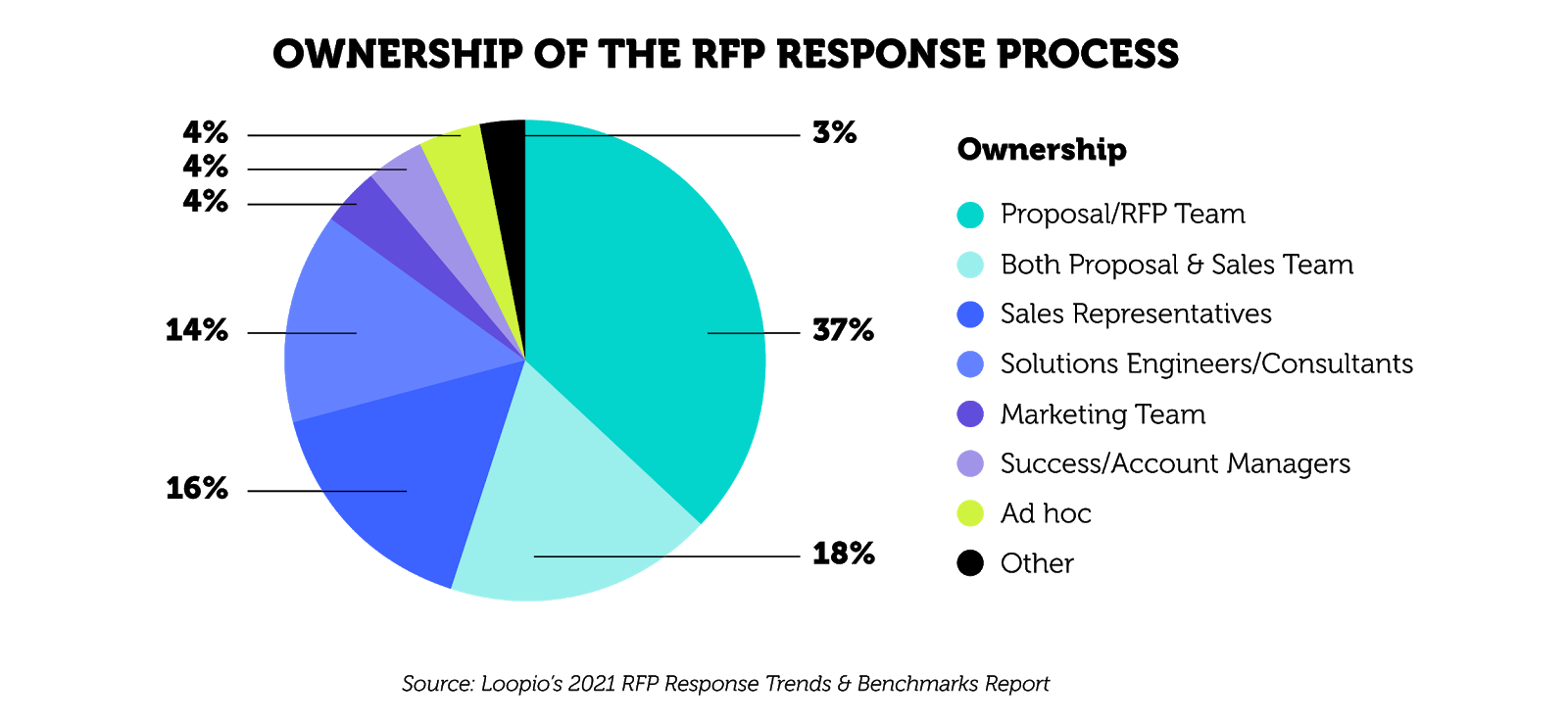 When the RFP process is owned by a dedicated individual or team, the data reveals that stress levels decrease in comparison to those with ad hoc ownership.
But do stress levels actually impact performance? The answer is yes. Teams with more manageable stress levels have 5% higher response rates (meaning they can respond to more RFPs annually) and 10% higher win rates than other teams. Basically, a designated RFP lead helps sales teams respond to more RFPs, faster.
Make sure your team has someone tracking and owning RFP projects so they don't get off track or forgotten, whether that's a specific team member at the company or a salesperson that incorporates this responsibility into their role.
2. Be proactive, not reactive
An important lesson to remember: your response process shouldn't start when you receive an RFP. Whether you're making a new connection, or have a relationship with an existing customer, chances are that they've dropped a hint or two about an upcoming RFP.
Take a moment to proactively notify your team about a potential RFP on the horizon. It will provide an opportunity for your team to make room in their schedules for this project and consider key themes needed to win the bid.
If your team doesn't have a standard way of taking on RFPs, try creating a simple intake form to proactively manage the upcoming work.
Here's what to include in an RFP intake form:
Company name
Sales routing information (geographic region, vertical, and company size)
Format for responding to the sales request (web-based portal, Excel spreadsheet, or Word document)
Due date
Prospect's needs and potential key themes (i.e. themes that differentiate your company from competitors)
3. Be selective about which RFPs are worth responding to
Responding to a higher percentage of bids isn't a straight shot to success. The average RFP has 115 questions and takes 23 hours of writing time to complete, so it's simply not in your best interest to spend this kind of time on bids that aren't likely to win.
So how should you assess if an RFP is worth responding to? It's all about customer fit. Seventy-two percent of top-performing RFP teams (those who win more than 51% of their bids) use a go/no-go decision template to determine which RFPs to take on.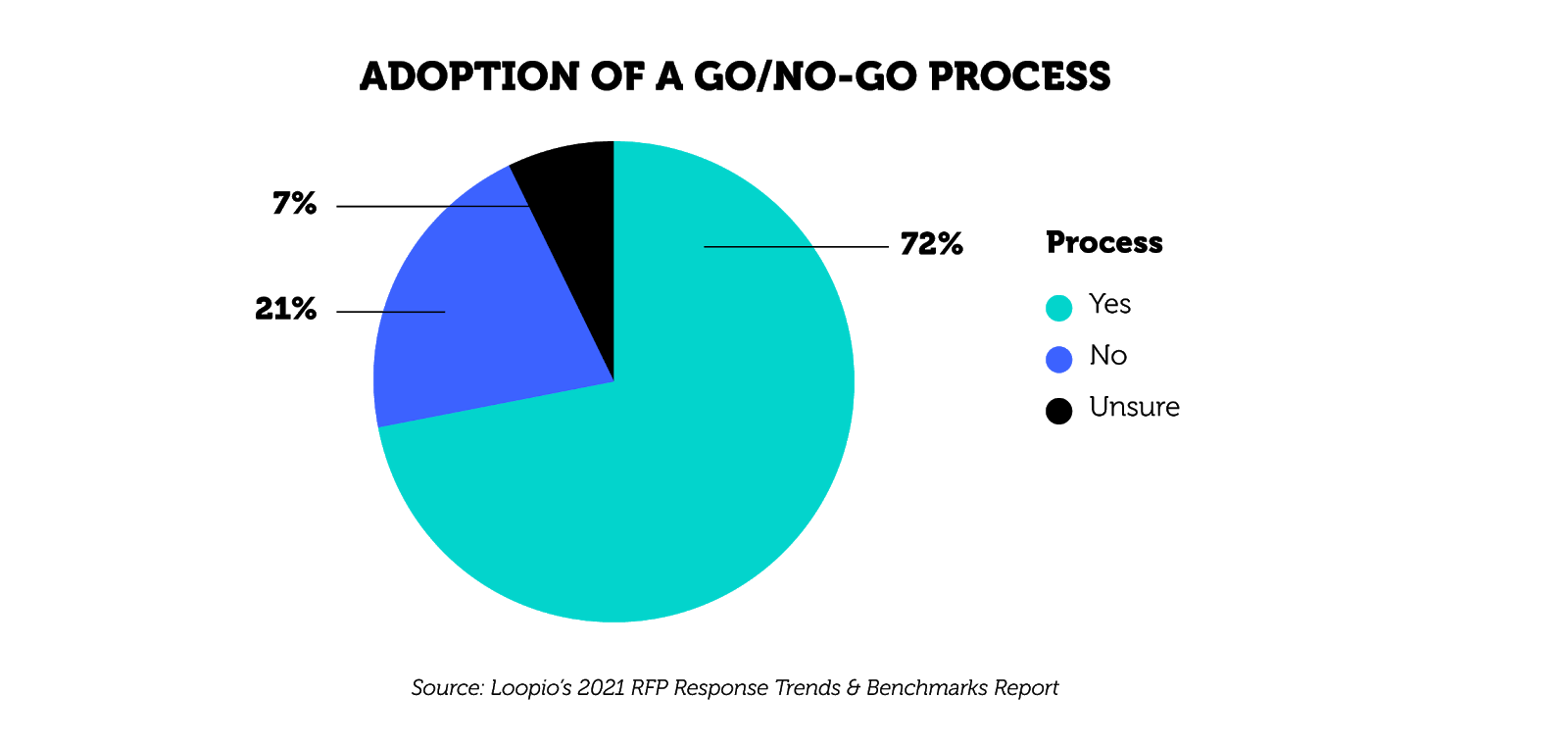 By implementing an effective decision-making process up front, you can focus on quality opportunities that make the most sense for your business. Plus, a streamlined and efficient process will free up more time to focus on what matters most—closing deals and hitting targets.
Developing a scoring system will help your team quickly decide which RFPs to take on. Loopio's free go/no-go decision template is a great starting point. It covers the main factors sales teams should consider when evaluating the likelihood to win an RFP.
4. Automate your response process
The right software can help sales teams prepare a first draft RFP in minutes instead of hours. In fact, research shows that teams using dedicated RFP response software submit an average of 43 more RFPs annually, in comparison to those who don't have software.
RFP software automates tedious parts of the response process through smart libraries that auto-detect and autofill answers to questions based on past responses. It also helps centralize projects in one spot for better collaboration and to eliminate version control issues.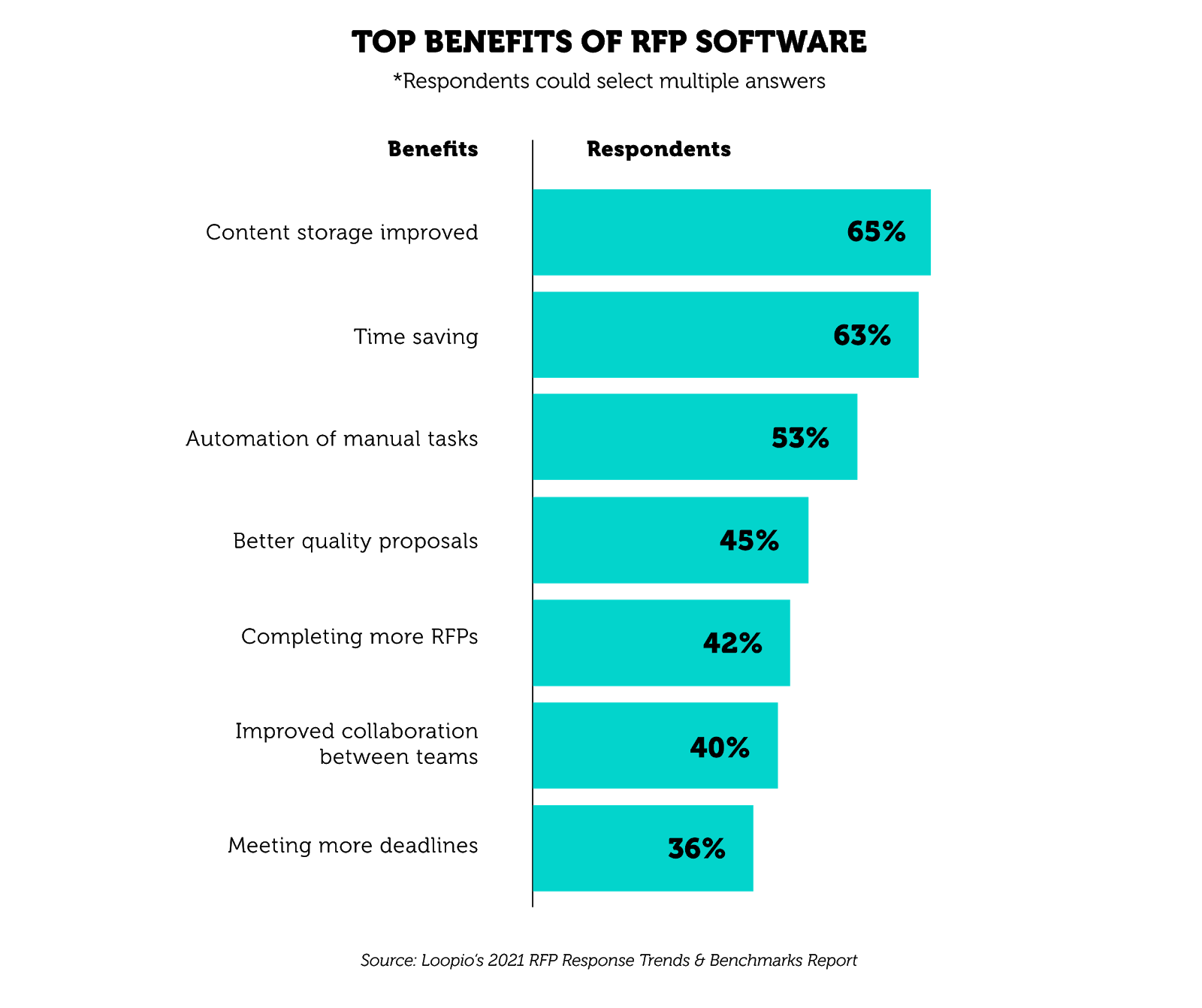 No surprise: 69% of top-performing RFP teams use response software to streamline their process. Probably because software was also found to lead to better proposal quality and improved efficiency, both of which tie to higher win rates. But there's an important qualitative benefit, too: employees at organizations using RFP software are 11% more likely to say that their team has manageable stress levels.
Here's how to tell if your team could benefit from an RFP solution:
Do you answer more than one RFP or security questionnaire each month?
Do you involve five or more contributors in each RFP? (Don't forget to count legal, security, and exec approvals.)
How often do you answer repetitive questions in your RFPs? (Is it 40% or higher?)
If you answered yes to the questions above, your team would likely benefit from using RFP automation.
5. Create an RFP content library
When asked what their top challenges in the RFP process were, the most common issues respondents cited were finding accurate answers to questions quickly, collaborating with internal subject matter experts (SMEs), and choosing the right answers from a group of potential answers. When thinking through actions their company could win more RFPs in 2021, 27% of teams suggested making improvements to how they store and search their RFP content.
Having a centralized library of accurate, pre-approved, and up-to-date sales content that's easy for your sales team to access and search can be a serious game-changer. A content library enables your team to organize the most reusable and relevant content in a way that's easy for other team members to find whenever they need it for a proposal, email, or sales call.
Building a library of RFP content is easiest through a dedicated RFP response software solution, but Microsoft 365's SharePoint or a shared Google Drive folder can also work as a temporary solution.
Growing the library will take time, but the effort will be worth it. Eventually, you and your team can use this library of internal expertise to quickly pull together a rough draft for a proposal. Then, you'll simply just recruit your SMEs for light reviews and fact-checking of the final bid.
Start by adding answers from your five to 10 most recent proposals since these answers will be the freshest. Then, any time you complete a new RFP, add the new answers to your library.
6. Build a big bench of experts to improve proposals
The saying might be that too many cooks spoil the stew, but that's not the case when it comes to RFPs. In fact, it's actually the opposite. Research shows that best-in-class RFP teams involve an average of 10 contributors.
More collaboration means that proposals are more likely to include knowledge from across an organization, which improves overall proposal quality and your chances of winning.
It's important to keep in mind that contributor numbers change with company size.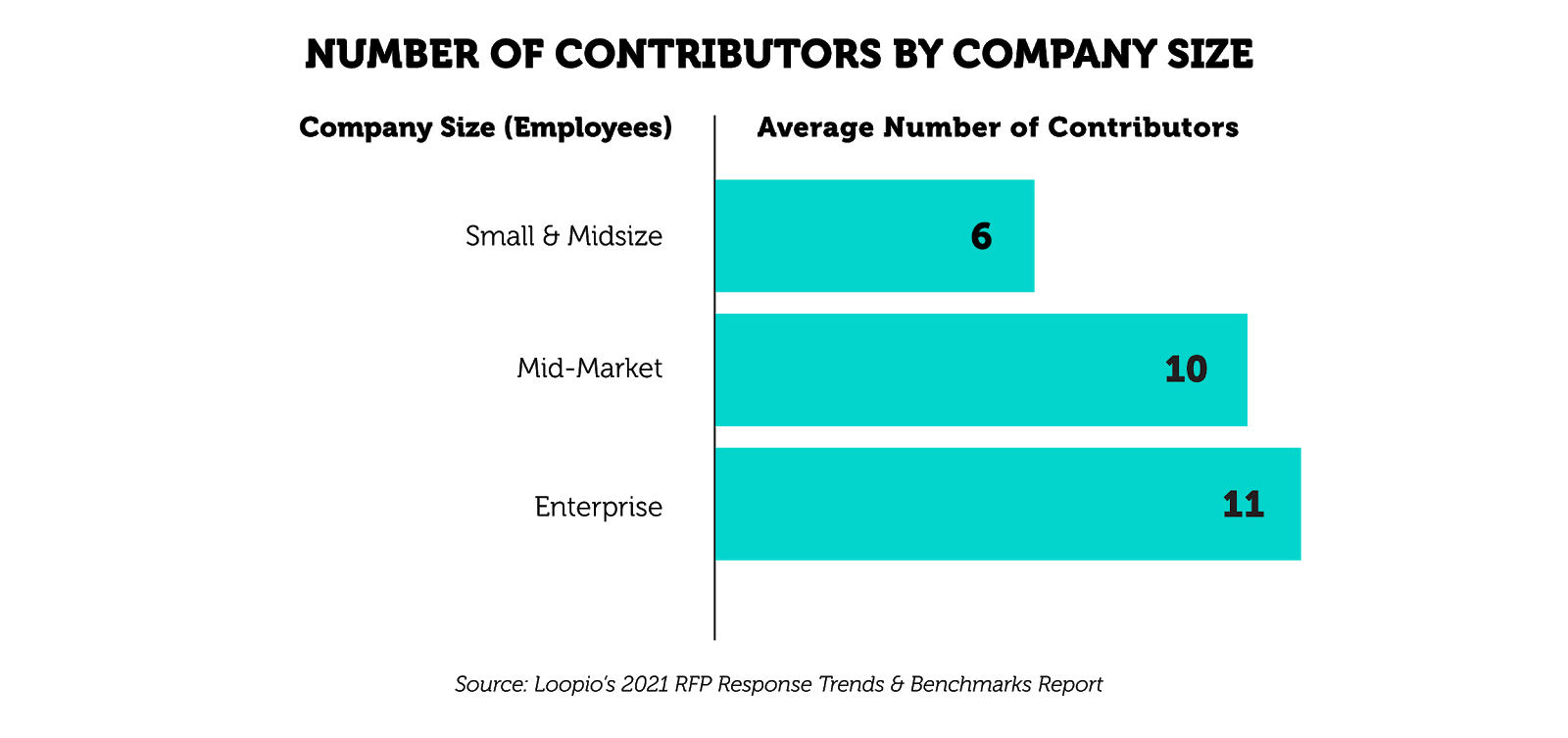 Although more collaborators are proven to lead to higher win rates, it's not without its challenges. When asked what actions their company should take to win more RFPs in 2021, the top action respondents chose (29%) was requiring internal SMEs to answer requests in a more timely fashion.
Some ways your team can combat this potential roadblock and improve collaboration include:
Improve your team's communication
Use tools to create a feedback loop about RFPs with teams, like a dedicated Slack channel. This way, team members are easily notified each time they notice an RFP answer is outdated, or missing information that could help you win in the future (sharing competitive intel in this channel is key). Bonus points if they're integrated with tools your sales team already uses.
Enlist the help of your SMEs ahead of time
When an RFP is coming, be sure to prepare your SMEs in advance and clearly communicate important deadlines. Hosting a kickoff call can be an effective way to get all stakeholders to agree on the timeline and their level of participation.
Schedule regular content reviews every quarter
A content library of fresh and up-to-date content is what'll help you respond to RFPs quickly, with far less effort. Plus, the content won't need as many updates and you'll avoid back and forth communication when you're down to the wire on a deadline.
Published March 2022. Updated January 2023.