In Part One, we established how taking a marketing automation approach to sales is dated and destined to fail. We introduced how successful salespeople deliver relevant content to both empower the buyer and initiate a mutually beneficial relationship.
Predictable Revenue: End of an era.
Traditional sales theory taught us to use Aaron Ross' Predictable Revenue as a model for our sales outreach. The message is clear and simple: go high and ask for the referral. I can speak to the use-case for this approach and have deployed it to generate revenue; however, this method was used at Salesforce.com in 2004.
We're at the tail end of 2014, today's buyer expects a different experience. A relationship that begins with an education on how similar companies are addressing the same challenge.
This is challenging for Sales professionals to implement at scale, as the prior theory simply required templates and a delivery mechanism. The success of this method has lead to an undercurrent around sales intelligence. Sales professionals are starting to ask questions:
How many emails does it take to generate a reply?
How long should I engage with a buyer?
Who should I engage with within an organization?
These are important, but I'd like to focus our attention in a different direction.
Are you an Outreach user? Read: How to Do Personalization at Scale with Outreach
The Number of Emails Means Nothing
In a webinar in April, I introduced the concept that it's not the number of emails, rather the content that drives engagement. Information overload leads buyers to want one email, not ten. It's simple: send one email instead of ten – just make the one email 10x better.
Sales communication through email boils down to two types: (1) "Nurture" messages to educate the buyer and (2) "Activation" messages to incentivize buyer action. (1) is in your control, while the buyer's existing business environment affects (2).
With the release of LinkedIn Sales Navigator, sales professionals now have access to a treasure trove of data, and possess the ability to push organizational and individual trigger events to their inbox.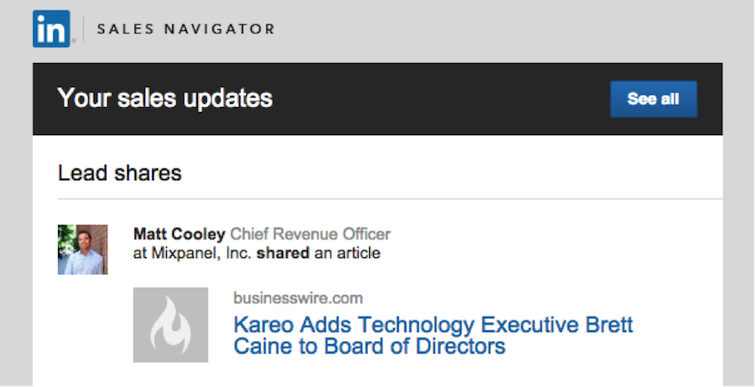 Breaking through the buyer's status quo is tough. I'll defer to Jamie Shanks on how he defines the six trigger events that lead to action:
Company gets acquired
Competitor releases new product/solution
Incumbent sales rep leaves
Prospect changes decision maker
Prospect wins large account – increased capital availability
Capital raise
Using these events, sales professionals can determine the right messaging and engage the buyer at the right time to activate an action.
But, how do companies achieve personalization at scale?
There is a common thread throughout the fastest growing companies. Individuals who are able to deliver personalized messages without sacrificing value – while somehow magically painting broad outreach strokes – are infinitely more successful.
The 10/80/10 Model.
The philosophy is widespread, but the concept has never been articulated. This method was implemented at Responsys and drove revenue from 80M to 200M over the course of 16 months. The concept draws on several themes: Hoffman & Barrows' Why You Why Now; Elias' Shift Selling; Grant's Give & Take.
The Breakdown:
10: Spend the most energy on your message's opener – the first 10% of your email (including your subject line) should enchant your buyer. The first sentence of an email has one purpose: engage the reader to read the second. How do you enchant your buyer? We've all heard the mantra: make it about them. This goes beyond mentioning one tidbit from their LinkedIn profile, rather employs leveraging technology to push trigger events to your inbox and intertwining the message with something hyper-relevant to the reader (e.g. a recent Twitter post declaring National Sandwich Day or perhaps a link to the Neil Diamond classic Sweet Caroline for those lucky enough to hold the name). Get creative.

80: If your reader continues, it's because (1) Your 10 sparked a level of curiosity or (2) your 10 indicated utility in solving their current challenges — but best communications combine both curiosity and utility and weave in your value proposition for product/service. It's imperative that you tailor the message to the persona of the buyer.
For example, if you're trying to reach a VP of Marketing, focus your message so that it describes how your product/service would solve strategic challenges. Conversely, if you're contacting a Manager or Analyst, refine your message to illustrate how your product service would solve day-to-day challenges of a tactical position.

10: If they're still reading, they've crossed the chasm and now need confirmation that you're credible (1) individual and (2) marketplace contender. You've piqued your reader's interest, told him a bit about your company – now, tell him how you're helping his peers — and make it easy for him to join them. At this moment, the reader would like to engage with you – make it easy for them. This doesn't involve a call-to-action of "what time would work for you next week". Make it easy for the reader to review your proposed times, and check their calendar to confirm if one of the times works with their schedule.

We're all human, and it's time to treat your reader like one. Personalization requires personality, and as salespeople, it's our job to form mutually beneficial relationships. Let's leave automation to the Marketing team and strive for personalization at scale.