It's that time of the year again! Time for Sales Hacker's Annual Top 10 Sales Trends and Predictions for the Future of Sales in 2019. Due to the proliferation of modern sales technology and people's love of it, I added a new element this time. This new element is, "Companies to watch". You know, since it's extremely apparent that the sales technology landscape keeps growing like wildfire.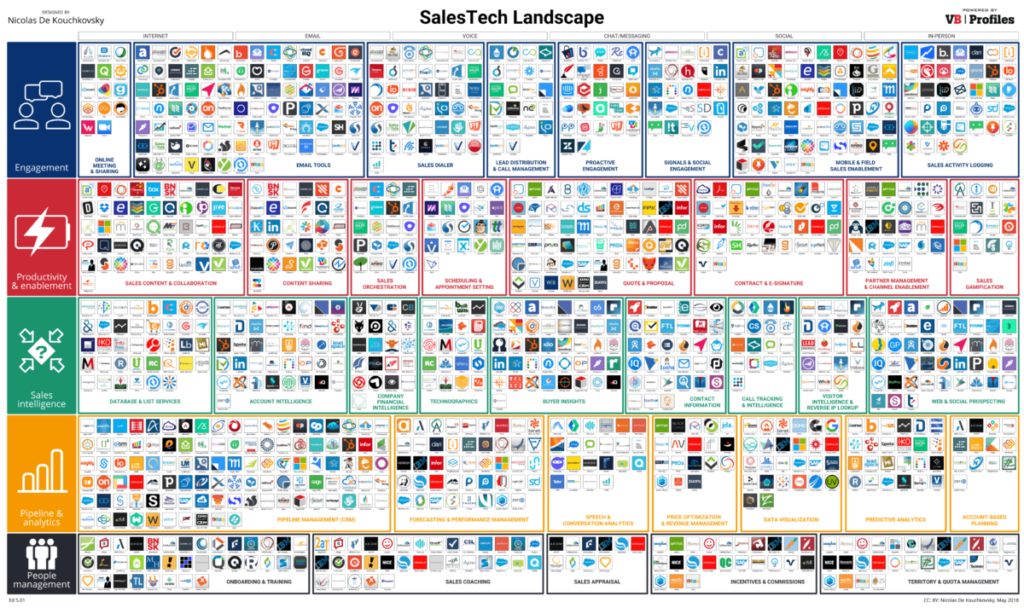 *the 2018 sales tech landscape
When growth is as rapid as this, things change quickly. In some cases, they even change back to how they were a few years ago! Our predictions are made up of the trends we're seeing in the marketplace and sales ecosystem. With over 106,000 subscribers to Sales Hacker in dozens of different industries, we are truly beginning to see what all salespeople are talking about, not just those at tech companies.
Without further delay, here are our predictions of the biggest sales trends in 2019.
Top Sales Trends & Predictions for 2019:
Trend #1: Relevance Overtakes Personalization
People always talk about personalizing their messaging. Cool, but it's really about making your messaging RELEVANT! Technology that allows users to surface relevant content and intent data will rise beyond just early adopters. I think we'll start to see more training and conversations trending in this direction.
I know it's in our upcoming Sales Engagement book in a big way.
Companies to watch: Educational resources like Sales Hacker, new training and copy companies like CopyShoppe, and intent data companies like LinkedIn, Bombora, Signal HQ, and Demandbase.
Trend #2: The Rise of Omnichannel Sales
We did our recent Sales Engagement Survey and found that LinkedIn messages and InMail are essential when it comes to modern outreach. Call it "social selling" if you want, but it's simple: the best sales reps today just understand that they need to be where the buyer is. Finally, tech is being built to make that easier than ever with personalized video, direct mail, LinkedIn, etc. These are underutilized new (and old) channels worth testing as phone and email get even more saturated.
Companies to watch: LinkedIn as a channel. Vidyard, Videolicious, OneMob, VidGrid, and BombBomb for Personalized Video. Sendoso, PFL for Direct Mail Platforms. Outreach, SalesLoft, and any Sales Engagement Platforms that can tie it all together.
Trend #3: Doubling Down on Efficiency (Revenue & Operational)
Let's just say it's been a bull market for a long time and at some point, it'll likely slow down. When it does, sales teams with the highest level of revenue efficiency will be left standing. Don't wait for it to happen first. Start building efficiencies into your sales process and sales org now, and make it recession proof!
Companies to watch: Any companies that allow you to automate processes or allow your reps to spend less time doing manual tasks.
Trend #4: B2C Inspires B2B Influencers
Get ready for the rise of B2B micro influencers and industry-specific Trusted Advisors. Everyone can be an influencer, thought leader, trusted advisor, or subject matter expert now with the rise of LinkedIn as a network, the platform of Sales Hacker, and forums like MSP and The Revenue Collective.
People to watch: I'm including twelve up and comers here since you can see the more well-known LinkedIn Top 10 Voices of 2018 for the usual suspects. In no particular order, others include…
These are hard because I always leave people out, but those are the twelve I see cranking out a ton of solid content week in and week out that first come to mind.
Trend #5: Lower Friction Sales
Buying power is continuing to become less centralized, and in some cases, everybody can be their own decision maker. I think we're really going to start seeing even companies that sell to the Enterprise or high-value items remove a ton of friction in the sales process and allow people to purchase easier, or even go freemium (use with fewer features) or free trial (try before you buy). One piece of easy friction to remove is lead forms and rely on chat that can be picked up immediately. This one isn't just a sales trend, but also a buying trend: more people will begin to expect to access products and services this way.
Companies to watch: Leading the way are Drift, Intercom, and LivePerson.
Trend #6: Next Best Action
Not a big buzzword guy and Artificial Intelligence is definitely one of them but really Machine Learning and Natural Language Processing are being developed for sales at a rate we've never seen before. New tools that can accurately tell you the Next Best Action to take are coming and coming quick. One of my favorite use cases is sales conversations.
Companies to watch: For now, the ones doing it best are in the leaders in the Conversation Intelligence space – Gong, Chorus, Dialpad, ExecVision, and Avoma.
Trend #7: GDPR Comfortability Drives New Channel Growth
I think we've had some time now to see if GDPR would really affect things. For those who it did affect, they found new channels – and in some cases old channels – to leverage in order to connect with buyers, like direct mail. They found new data sources like Intent Data, Surge Data, etc. I think we will see these channels and sources take off in 2019.
Companies to watch: DataGrail for protection, G2 Crowd, TrustRadius, Signal HQ, and Bombora for new data sources, and Sendoso, PFL for Direct Mail. Will see how the known reliable data players like DiscoverOrg, Zoominfo, and even smaller ones like LeadIQ react.
Trend #8: Sales Leadership Goes Deep
As the VP Sales tenure decreases, down from 27 months in 2010 to 19 months as recently as 2017, more sales leaders will look beyond high-level sales strategies and will seek to understand the deeper inner workings of their sales orgs. Visibility, empowerment, coaching and cloning reps backed by an ever-growing amount of data. This is where the most successful sales leaders are going to be able to set themselves apart.
Companies to watch: Atrium HQ, Clari, People.ai for insights, Ambition for visibility and leaderboards, and Xvoyant for coaching. Mindtickle, Brainshark, and LevelJump for Training.
Trend #9: Technologies Aligning Sales and Marketing Get The Spotlight
This is the first time since I started publishing these sales trends that I've been a VP of Marketing at a larger company. Now, I have a whole new angle to gain perspective from. Sales and Marketing alignment gets more critical every year as the lines get more blurred between the two. More and more Sales Development teams are starting to roll up to Marketing. Target Account collaboration is a team sport! Any technology or best practices that can enhance that relationship will be future-proof for a long time.
Companies to watch: Sales Enablement solutions like Showpad and Highspot. Target Account orchestration solutions like Lucidchart. Opensense and Sigstr for email signatures to keep messaging consistent.
Trend #10: Buyers Have More Power Than Sellers
There's really no debate anymore. The pendulum has finally swung. The buyer has more control than ever before with review sites, peers of theirs who have already adopted your solution, the internet, and having more options than in previous years.
Sellers, it's ok. Embrace it. Gone are the days of the aggressive, used car salesmen. It's time for the trusted advisor. Treat every deal like a partnership – one that will keep coming back, even when they change companies. Treat every lost deal as an opportunity to do better by the buyer in the future. The winners will be the ones who show up, genuinely offer help, and see business as more than just a paycheck.
Companies to watch: None. This is on you, the seller, to do better, be better, and show up. I watch it happen daily now. There are no software shortcuts. My advice is to be on LinkedIn sharing your expertise and engaging with others. Be on planes and show up in person. Find your "why" and do it because it means something to you.
The innovators and early adopters (and ironically, more "traditional" salespeople) are already doing the above. I think 2019 is the year we finally cross the chasm in modern sales. What did I miss? Let me know on LinkedIn!