Hiring has changed, big time. Old school recruiting is out, social recruiting is in. I think this is the first time I've actually realized just how true that is. I haven't had a resume in years. Many of my hires in the past have been through the network and hired out of opportunity, not necessarily need.
That's why, when faced with needing a new head of partnerships a few years ago, this was a relatively new process for me. Instead of asking people what to do, or researching it, I decided to start from scratch and do it the way I thought would be best for a modern hiring process.
But let's get straight to the question you want the answer to:
How did I get 375k views & 150 candidate applications in 3 days?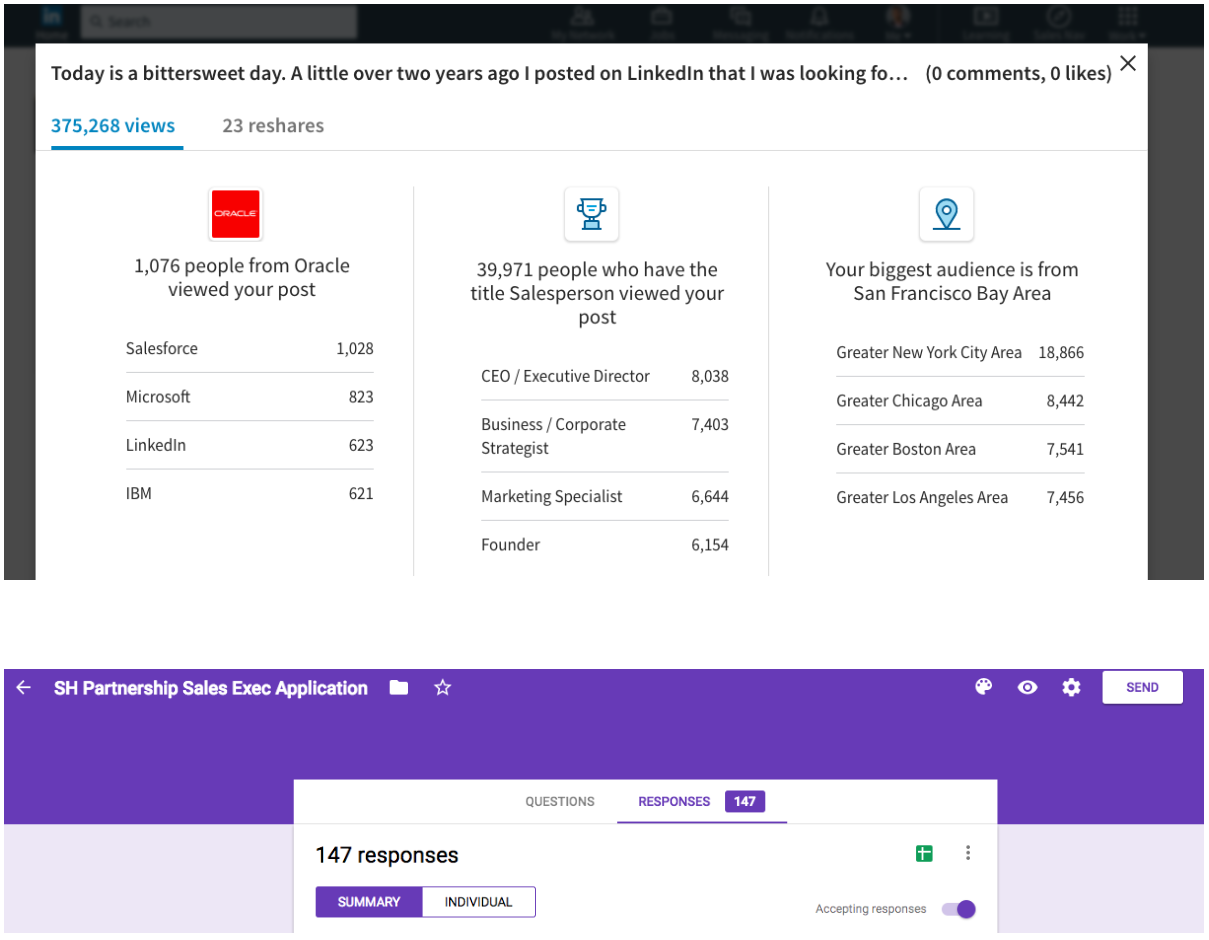 I got 375k views on my job post, leading to over 150 applications in the first 3 days, all while building goodwill in the community (well, except with one person who I'll get to later in the series).
Even more impressive, I could have probably happily hired about 30 of them. Some were really, really good. It was very hard to whittle it down to 10, to 4, to 2, and eventually to 1. I'm not complaining. This was a GREAT problem to have.
So how exactly did it happen?
It was very important for us to hire through the network. The people in your network are familiar with your business and the ecosystem you work within. They also have multiple common connections and value similar things to what you and your business value.
So the first thing I did was to rewrite our company's core values. This was needed anyway as we had grown in headcount and mission quite a bit since the beginning. Once these were written, I had the basis for our job post.
The job post consisted of our core values, mission, and role. As you can see, we care about things that normal, good human beings care about. We obviously geared this towards who we wanted to hire — it's important to hire people who value the same things as your business and current employees.
*You can see the job posting here for reference*
After that, I made a similar Google Form for the application, as you can see here. Yes, it's super short, and I didn't ask for resumes or anything other than their LinkedIn, start date, and homebase location. Why?
Simple. Your LinkedIn is your resume in today's business world, especially in sales. If you're proud of the work you do, it should be on display. This not only shows your competence, but also your passion and dedication.
The reason I asked about start date and home base are to further weed out people who aren't based on a US timezone and who can't start until after October. You know they'll apply, so this helps disqualify them quickly.
The next step was to get this out to the network.
Here's the LinkedIn post that I wrote for it.
"Today is a bittersweet day. A little over two years ago I posted on LinkedIn that I was looking for our first sales hire, second full time hire overall.

I received quite a few responses for a small company. One eager fella caught my eye. He was junior, but I put him through some homework and he passed. I hired him and told him if you put in two years with me, you'll get whatever job you want.

This week, Jake Spear did. He's going to be a Sales Manager at one of the fastest growing B2B companies in LA, and will be working with some amazing VPs Kevin Dorsey and Dan Salazar.

That's the dream for me. To build a mini-mafia like the guys at PayPal. You put in time with Sales Hacker, and we'll be a stepping stone to a successful career.

So today I look for our next amazing salesperson. Give me two years, and I'll give you an education that will set you on a path you really can't get anywhere else.

You'll work closely with me, and other Founders, VP Sales, and VP Marketing. So whether your next step is to start your own company, or be a leader at one in hyper-growth mode, you'll be ready.

We're growing fast, are bootstrapped, and have incredible momentum.

Will likely hire through the network, so please send your top salespeople our way!
The key elements of the post are:
Vulnerability and honesty.

Praise for previous and current employees.

Emphasis on what's in it for them and what makes this opportunity unique.

Why our company, why our business. Elude to our mission/core values.

Clear way to apply and link to the job post.
If you follow this model, I truly believe you can find the best talent in your employee's networks.