The sales follow up is a classic conundrum. How do you effectively follow up with a potential client to maintain momentum without being annoying?
It's a tough question and varies based on the situation, but there are a few things you can do to increase your chances of maintaining an open communication flow, and decrease the dreaded "gone dark" scenario.
Try my proven sales follow up techniques and watch what happens!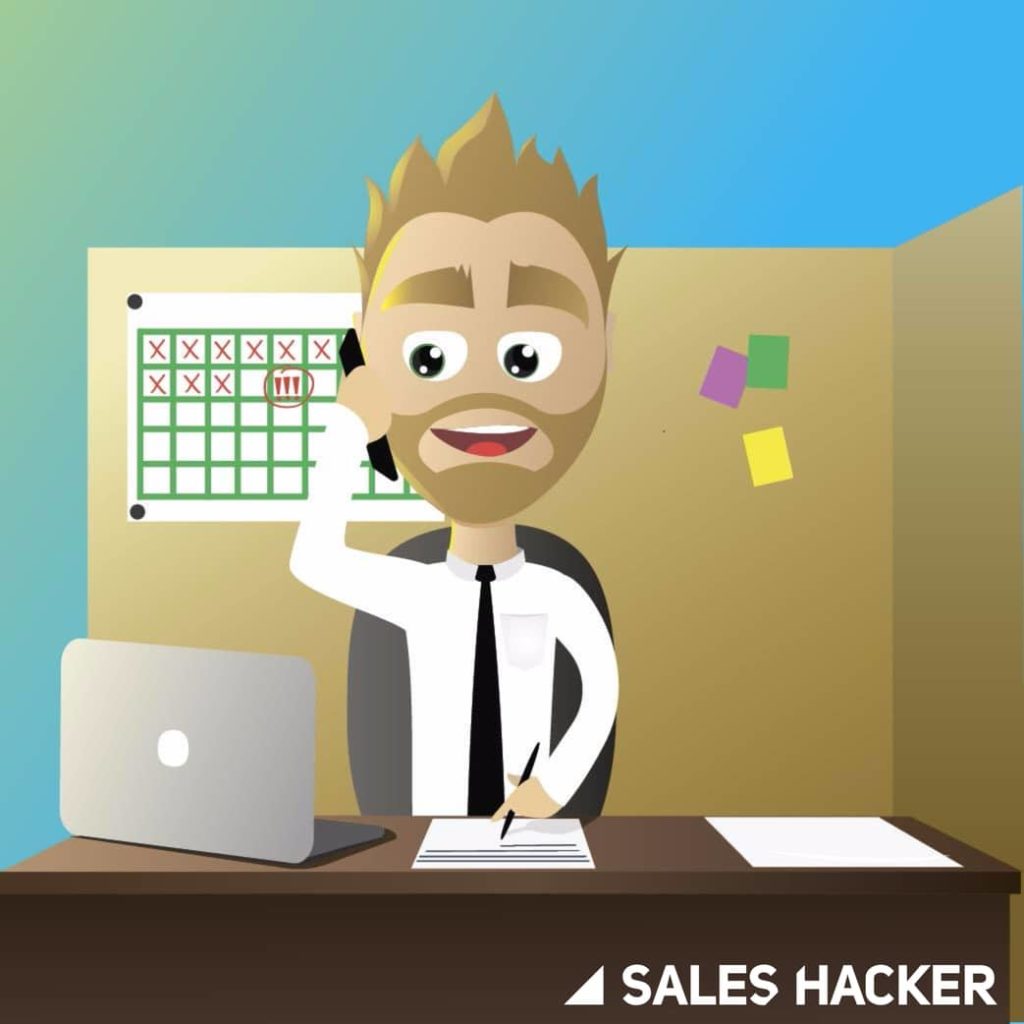 1. Ask for guidance on the best way to follow up with them while adding value and not being annoying.
People ask me all the time: what's the best way to follow up with a prospective client?  I have some ideas but I don't know the client, the situation, or any of the details.
All I can really do is give a few suggestions based on my experience.  You know who does know how to effectively follow up with the client? The client. Ask them.
If you get off an intro call with a prospect and there seems to be a potential fit for your services but not in the near future, ask them how you can stay in touch with them without being annoying.
The one thing you should remember to avoid being annoying: focus on adding value.
Is there specific information that might interest them about the industry, their role, your solution, etc?  Are there milestones they're looking to reach and once they do, will they be ready to talk?
Find out how you can add value to their world. Do the research, don't guess. Your sales follow up will ultimately fail if you take the lazy route.
[Tweet ""You know who DOES know how to effectively follow up with the client? The client. Ask them.""]
2. Ask what their preferred form of communication is and if they will respond.
This is very different than asking about the sales follow up method itself; it's about their preferred form of communication and getting them to commit to a level of responsiveness.
This is usually more appropriate after you've had a discovery call and it seems like there is an opportunity in the short to mid-term.
I literally ask people – "what is your preferred form of communication moving forward here? Is it cell, e-mail, text?"  I usually get "e-mail" as the answer.
This is fine but I want to make sure I know how to stand out from the 200-300 they get every day, so I'll say something like:
"You probably get 200-300 e-mails a day like I do. Is there something I can put in the subject line that will help me stand out and get you to open up my e-mail?"
I had one guy who told me to put "Green Light" in the subject line and he would open it every time. Another woman told me to send her priority e-mails and another told me that text was by far the best way to connect with her.
Last but not least I want to set the expectation for responsiveness so I say something like:
"What should I expect for a response timeline on e-mails that I send to you? I'll commit that I will respond to you within 24 hours of any e-mail you send me.  Is it realistic to ask the same from you?"
Establish a rhythm of communication early in the sales process. Earn their commitment immediately.
If you get them to tell you how they like to be communicated with, they'll respond in a timely fashion. Then, it's much easier to hold them accountable throughout the rest of the process.
3. Make sure you always end each conversation with a clearly defined next step.
It kills me how often I see reps get off the phone after a good conversation with a prospect without a clearly defined next step scheduled on the calendar.
The easiest time to get a commitment on a next meeting is at the end of the meeting you just had.  Hopefully the conversation went well and they agree to continue the conversation and take the next step.
It's almost a guarantee they have their schedule in front of them or at least handy on their smartphone.
Capitalize on that moment. Lock them down to a next step by asking when they have time to meet next. Send an invite while you're still in front of them so they can't avoid it.
If they want a proposal, ask when they want to schedule a call to review it. Don't let them get away with the old "send it over and we'll get back to you."
Once they leave without committing to anything on their end it becomes a game of cat and mouse as we try to follow up, and get them re-engaged.
4. Summarize your conversations and get written confirmation.
This is one of my favorite sales follow up tips.  At the end of every decent conversation I have with anyone in sales, I always send a summary e-mail that summarizes what we talked about and asks for their confirmation.
This is the best way to make sure your sales follow up remains focused on value based on previous conversations.
There are a few reasons I do this:
My Notes Are Chicken Scratch – Aside from that, I have a terrible memory. If I don't summarize the discussion immediately afterwards, I'll look back at what I wrote and have no idea what I was thinking, or what they were saying.
To Prove I Understood Their Needs – I want to make sure I actually heard what I thought I heard during the call, and show them I was really listening.
Hold Your Prospects Accountable – I want to hold them accountable for what they told me in the most professional way possible.
By summarizing our conversation and getting their confirmation, I accomplish all of the above while keeping us both on the same page.
5. Always have a specific reason to contact your prospect. NEVER just call to 'touch base' or 'check in'.
I am on a personal crusade to get 'touching base' and 'checking in' out of the vocabulary of sales professionals.
Those awful sales phrases simply mean one thing: there is no reason for your call. Therefore, there is no reason for me to speak with you.
We should always have a reason to contact our clients, prospects or whoever. This is why I always track my clients and prospects.
Set up a Google Alert to be notified when something is happening in their business that you might be able to make a connection to.
[Tweet "Always have a reason to contact your prospect. NEVER call to 'touch base' or 'check in.'"]
I even start all my calls with this specific phrase: "The reason for my call today is…"
I love this intro because it forces me to think of the reason for my call. If I can't come up with a good reason, then I try to figure one out.
And if you can't get them on the phone, be sure to leave a voicemail and follow up with an email.
When my sales follow up is not 100% focused on me, my response rates and engagement numbers increase significantly.
*Editors Note:  Guest post by contributor John Barrows – Sales trainer for Salesforce, Marketo, LinkedIn, Box, Zendesk and more of the worlds leading tech companies.