Now that more and more people are getting vaccinated, it may be time to think about getting back out there. Whether they are 100% virtual, 100% in person, or more likely a hybrid of both in this "new normal", trade shows provide great ways to gain new customers and strengthen relationships with existing clients. On the other hand, if not executed well, trade shows can be a cost center and a huge flop. So let's talk about trade show marketing today. We share some trade show success tips and strategies to make the most out of your next trade show, whether it is virtual or in-person.
But before we look at trade show marketing ideas, let's first define what a trade show is.
What Is a Trade Show In Marketing?
A trade show is an exhibition event that brings businesses together to demonstrate and showcase their newest products and services to trade members and other businesses in the industry. It's an excellent opportunity for businesses to exchange ideas and discuss emerging trends in sales and marketing.
These business events bring you head to head with your competitors and allow you to learn from the industry's greatest minds at seminars, putting you in an extremely valuable position. Trade shows provide valuable time and opportunity to:
Create and develop relationships
Trade shows provide the opportunity to network and mix with key players in your field.
Raise brand recognition
Not only do you get key stakeholders to interact with your product or service, but you also get the liberty of sharing your brand's vision. Furthermore, you acquire the chance to converse with current and new customers, extending your reach wider than ever before.
Acquire leads
This is your opportunity to entice potential customers and sell them on your product or service and company. You improve the likelihood that they will contact you after the trade fair to do business by developing a personal relationship with them.
Finalize on deals
It's vital that you make the most of this chance by determining who your sales team should communicate with ahead of time to make the closing process as straightforward as feasible.
How Do You Market a Trade Show?
Trade show marketing can be quite the task. From planning the basics to setting and then following up on potential customers, not only is it time-consuming but utterly labor-intensive.
You will need to conduct thorough and intensive research so that you identify all the potential pitfalls and advantages, come up with a clear list of goals you'd like to meet, publicize your brand, among other things.
What Are the Marketing Planning Steps to Plan for Trade Shows?
Below are the trade show success strategies and marketing steps to follow to ensure everything goes smoothly.
1. Formulate a plan for trade show marketing success
Having a plan is essential for success. Sure, your team has been invited to the local or international trade fair, but what exactly do you intend to gain from it? A plan gives you a clear vision of what you want to achieve, ensuring that all staff members are on board.
Typical goals for trade show include driving and improving sales and building brand awareness and increasing site visitors after the event. A thorough budget should also be included in your plan consisting of a breakdown of all the costs you'll incur. Determine which trade exhibitions are suitable for your company's sales and marketing objectives.
Examine the specifics of each trade show, such as the number of businesses exhibiting, the average number of attendees, attendance demographics, and so on. Interview firms who have previously exhibited at the event and get their views and feedback on occasion.
2. Identify the communication channels you will be using
Publicity! It's an essential component of all trade show success tips. Make a list of all existing channels and identify any new ones that will be using to market your event. Advertise your attendance at the trade show to :
Confirmed attendees
On your website,
Through email campaigns, newsletters,
Blogs
Social networking sites such as LinkedIn and Twitter.
Be sure to entice your audience, contests or prizes to get them to visit your booth. If it's a virtual event, you could come up with ideas on how to engage others through impromptu meetings or breakout rooms in Zoom. The rewards should relate to your brand's product or service while appealing to potential clients. Make sure your website is user-friendly and simple to navigate. It should also be mobile-friendly to accommodate clients who may not have the convenience of a computer.
3. Create a theme for the event
The next step is coming up with a theme. Have a meeting with your sales and marketing department and determine an aesthetic for the trade fair. Incorporate your brand's colors into the look and feel of your trade show booth (or virtual booth). It should also reflect on the staff's uniforms and promotional tools such as leaflets and newsletters.
4. Promote attendance to your stand
A great way to entice visitors to your booth is by holding raffles or online contests where clients stand a chance to win exciting prizes. Another option is to do a workshop, Q&A session, or seminar while the exhibit is on view. This increases your business's visibility throughout the event, and you can station brand ambassadors there to entice visitors to your booth.
Consider holding a supplemental event. It increases your chances of speaking with prospects outside the stuffy environment of a trade fair. You can throw a happy hour, cocktail party, or a virtual networking hour in a breakout room.
5. Come up with ways to ensure visitors remember you
Give your customers something to remember you. Whether you give them a ballpoint pen, a notepad, an order book, or some promotional material, they should take something with your contact information on it with them. It also makes it easier during follow-up since customers have a point of reference.
So, how do you get the most ROI from participating at a trade show? Based on my experience as a Director who has executed over 20+ shows with budgets ranging from $5,000 to $65,000 over the course of my career, this can be a daunting task.
Below you'll find 6 trade show success tips for sales and marketing leaders to implement at your next event:
1. Define What Trade Show Success is…Before the Show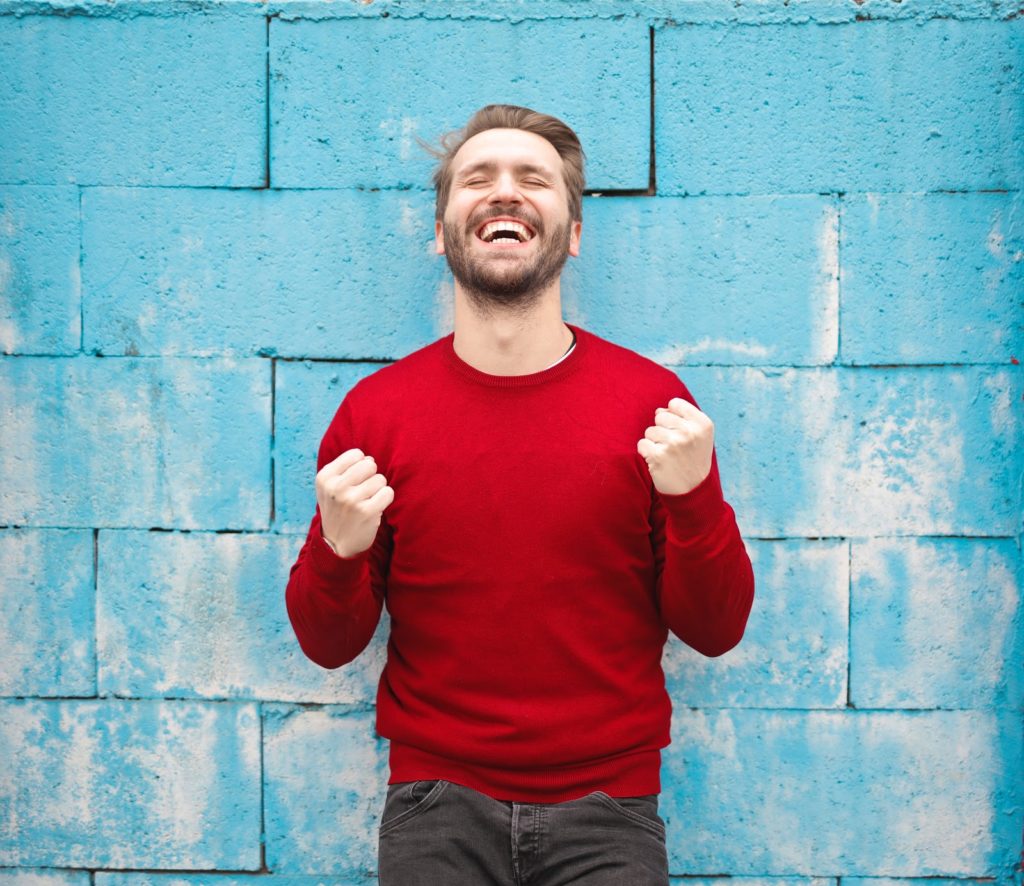 You have planned your pre, during, and post-show strategies. You have finagled and negotiated pricing with vendors and fought upper management for more budget; however, you and your marketing team have not defined what success actually looks like. Create tangible goals for your business objectives. Work with marketing to identify target accounts that will be attending and account management or client success to know what current clients are going to be there.
The Holy Grail Metric
The most important takeaway for your company from your time at a trade show is new clients. The best way to track this is to follow the full "life" cycle of all your conference contacts. Having this, new clients, as a singular metric for marketing and sales ensures alignment between the departments when discussing the outcome of a show.
This will obviously take time depending on your sales cycle, like any other aspect of marketing and sales- it's a marathon and not a sprint. For forecasting purposes, I would suggest meetings attended as a relevant indicator of success. To gauge traction dive into your website traffic- organic and direct, and compare it to your benchmark. A spike in traffic after a show is a positive indication that your efforts were fruitful and that you made an impact.
The Hail Mary Metric
Steer clear from lead collection as a KPI. While booth traffic and leads are good, they are vanity metrics at best and can create a false reality or expectation of what you will deliver post-show. Stick to actionable and relevant metrics that paint a transparent picture for your management team.
In the end, this will help you conclude if this show makes sense to attend in the future.
2. Make Your Trade Show Booth Stand Out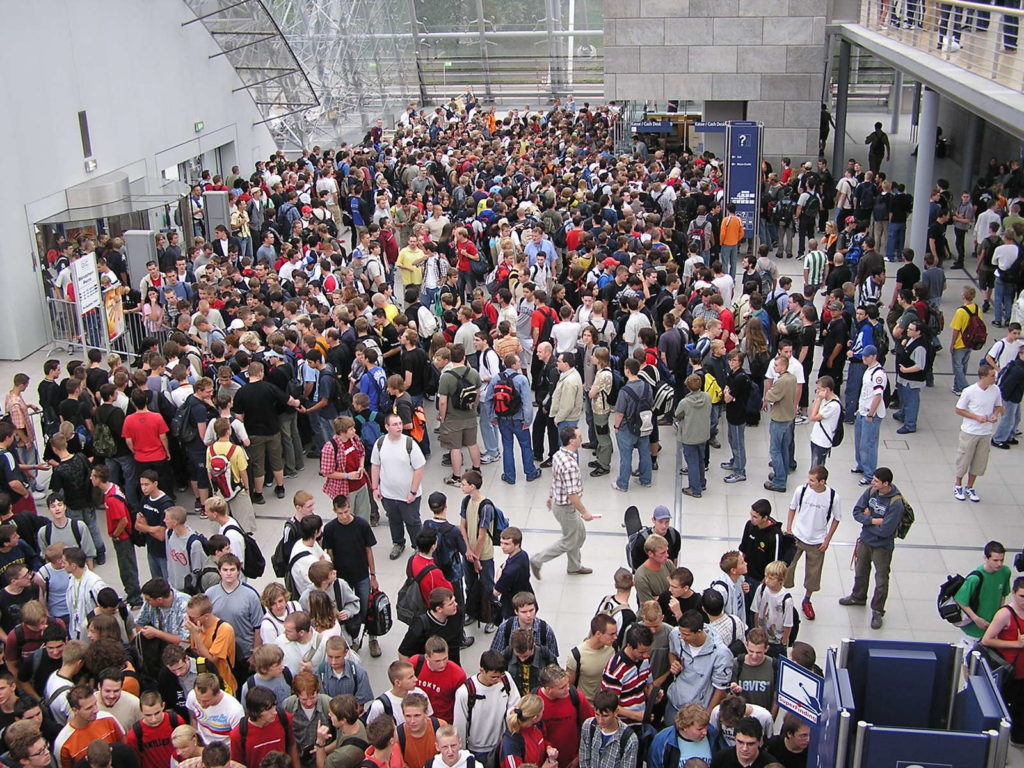 Let's be honest. You're going to have to do something different to stand out from the hundred other trade show displays. So, draw people in with an offer they actually care about or consider promoting a unique competition or mini-events pre-show.  Here are a few award-winning sales trade show booth ideas for inspiration.
Create an energy and atmosphere around your booth that passers-by cannot resist. Once you have their attention, make sure you are prepared to leave an impression. This will be unique to your companies product/service offering.
You need to captivate visitors with a visually appealing booth design that piques their curiosity. Building your brand at a trade show begins with the appearance of your booth and whether it attracts people.
My company Directive recently attended an event where, at our trade show booth, we offered complete onsite audits, which included a full competitor audit, an understanding of where their company currently lied and their potential from an SEO/paid search perspective.
Every attendee who met with us walked away with a printed copy of this thorough research. This is a little more valuable than some branded pens or t-shirts, right?
Another way to stand out is by creating a business theater. A business theater is a tiny theater where sales representatives can give presentations about a company's products and services. Businesses with huge booths frequently include a business theater as one of their attractions.
Sales representatives can use business theaters to provide sales pitches to consumers who have shown a clear interest in what the company offers. Create a buzz by using Artificial or Virtual Reality to gamify and add interactivity to booth experiences for online attendees.
3. Post the Latest Booth News On Social Media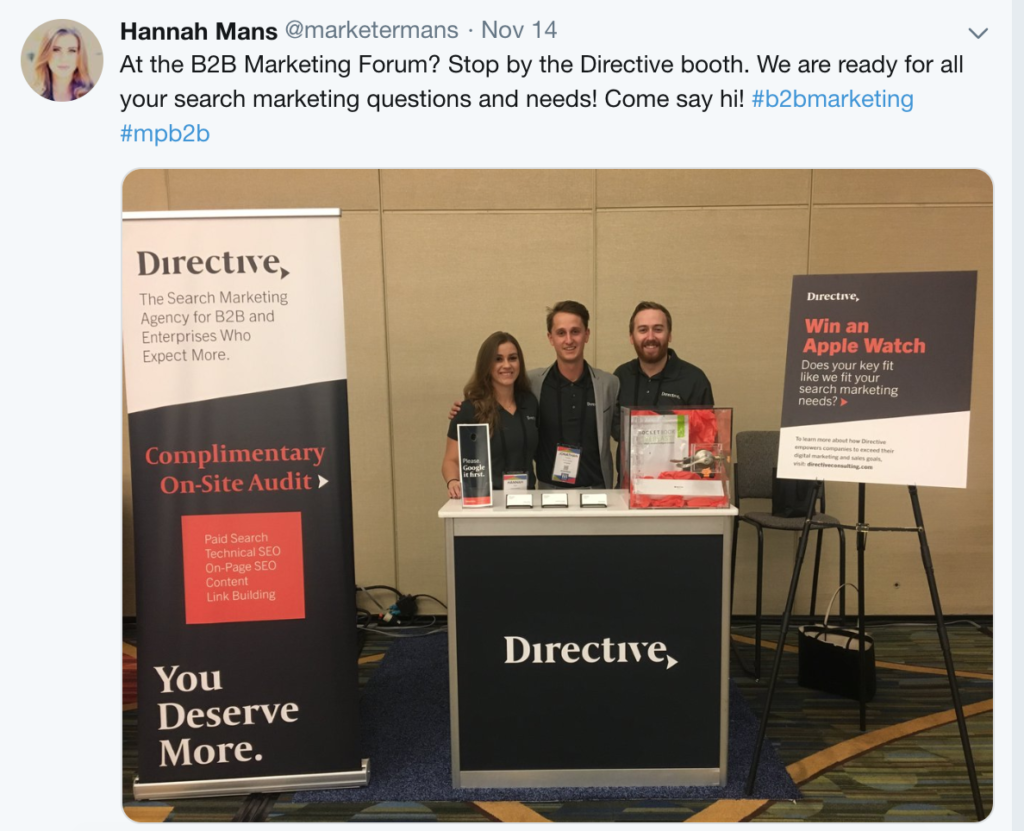 It's 2021, people, and we're just coming out of a pandemic! You should have a social media plan in place long before the event. Start telling and reminding followers weeks in advance where and what you'll be exhibiting, and give people an option to attend virtually.
Give them an irresistible reason to drop by your trade show booth by offering special offers or giveaways only available at the show. Better yet, incentivize people to post something about your stand or have them photograph themselves with your logo. Many new potential attendees will now see your product or logo via someone else's network, plus online mentions or posts are a great way to measure which social media channels generate the most buzz for you.
Use video or livestream to further publicize and increase the number of visitors to your booth. Video is a robust channel of communication for marketers and salespeople. Capture activities such as organizing demos or classes using live video streaming on your company's social media sites.
If budget allows, you can step this up a notch and use a photo booth service, such as SharingBox, that enables your guests to share pictures across all social networks and expose your brand to new audiences.
Another plus? Their reach goes beyond just social and allows you to track qualified data. You have the ability to generate a full report of the event that includes customizable data for you to collect valuable consumer insights, such as mini-surveys.
4. Get Your Trade Show Promotions Ready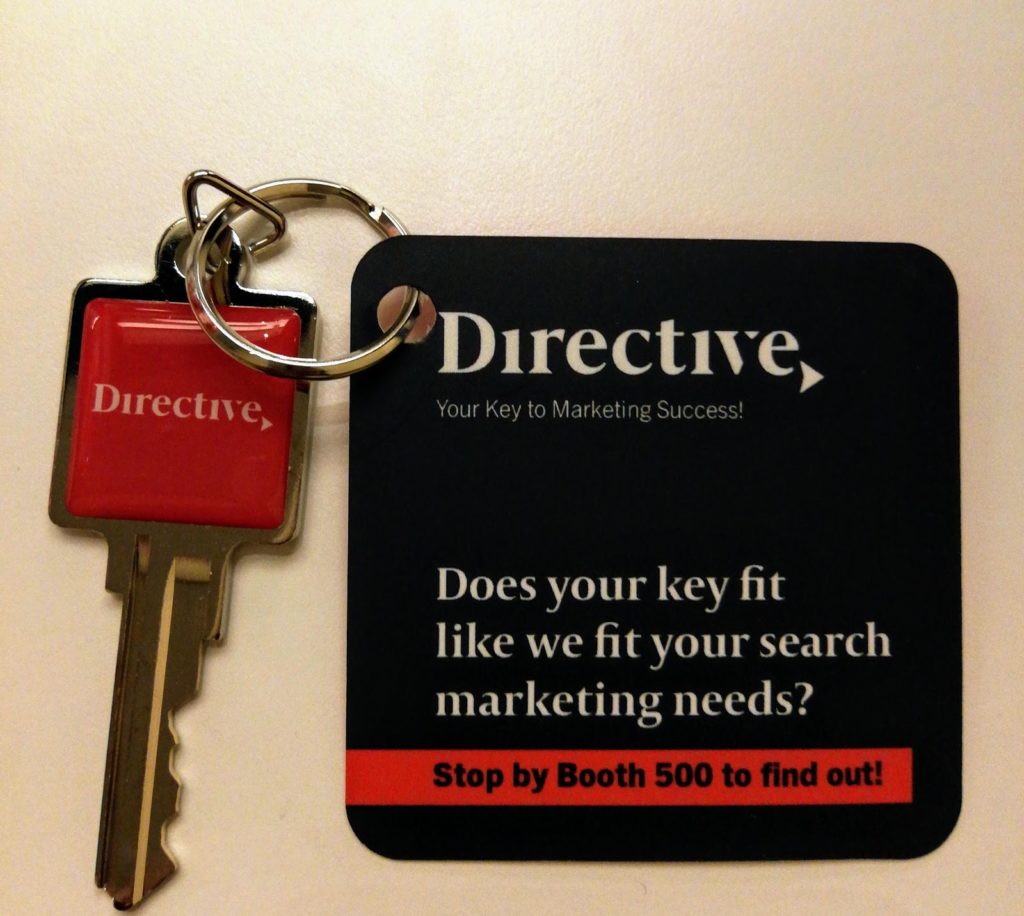 The staple of trade show displays, branded promotional products, aka swag, are often what attendees remember a business by. Choose something unique, purposeful and something your audience will actually have an interest in.
Come up with something exciting that will make attendees think "I want one too". The real test of your marketing creativity is if you can evoke that reaction while still being price-sensitive. I have seen so many companies spend thousands of dollars on their trade show swag to be left with no ROI.
It's a plus if you can leave show attendees thinking, "I need to tell my marketing team what X company did."
Historically at this point, many teams utilize the show's provided badge scanner or simply collect a business card to the traffic you strategically generated to your booth.  Again, it's 2019. A business card in a fishbowl doesn't cut it. As marketers, you are always on the defensive when it comes to proving ROI, especially for cost-heavy trade show.
Being more intelligent, and removing the guesswork out of attendee attitudes is now within our power with attendance tracking technologies. If budget doesn't allow for advanced software, there are now free apps such as Smartr Contacts, that make your smartphone address book smarter by shifting the focus to managing relationships instead of email addresses and phone numbers. You can even keep it simple by employing a Google Doc managed by your conference team! Having some sort of structure around the data collection at a show will help your sales team qualify leads, optimize conversions and eliminate the headache commonly associated with lead management.
Pro tip: Keep your goodies out of arms reach so you get the opportunity to interact with attendees first. If your product is more costly, you may want to substantiate the value of each contact and only give these out to hot leads.
5. Have the Right People on the Floor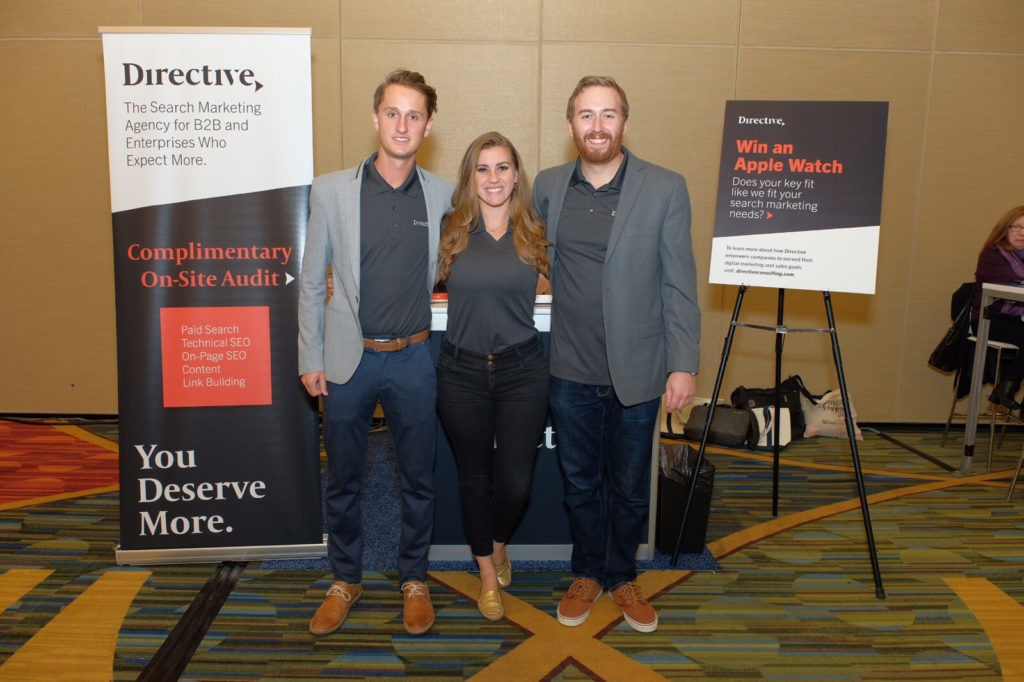 The worst thing is to invest time and money in your show and planning the event, only to get there with less than optimal fits for a conference floor.
I have seen it time and time again, sales and marketing leaders send their best closers or their guy or gal who knows the most about the vertical…only to be disappointed by their performance at the show.  Ouch. For trade shows, personality is just as important as subject matter expertise. Trade shows, conferences, and forums are for your extroverts and charismatic marketing and sales professionals who know how to get the booth going and feeling lively.
A note to all sales and marketing leaders reading this…with all those hours and dollars spent on your booth along with the precision and thought put behind every element sent to the show, you want to be sure you have a representative from the marketing team present. While you are working the floor and conducting your meetings, they are there to ensure that the logistics of the booth build and collateral are flawless. Additionally, they will have ample time to do field research and walk the exhibitor hall to scope out what competitors are doing.. This will help your team get a leg up on the competition.
Our advice is to:
Rehearse! Rehearse! Rehearse!
Practice makes perfect. Do a complete dress rehearsal a day or two before the show to ensure you're fully prepared and avoid stage fright. Getting comfortable in your outfits, practicing your lines, and even becoming better acquainted with local dialects and cultural aspects will help you earn more sales.
Your events marketing manager is your best friend at any trade show or conference. They are there to help you shine!
6. Follow Up and Track Your New Leads
Trade show marketing can result in high ROI if done with some dedicated planning and creativity. Be sure to take advantage of any momentum and follow up with your new contacts. When considering the success of your trade show initiatives, keep in mind that there can be many types of wins.
Make every effort to contact your leads through email within 48 hours, or even better – you could deliver them a handwritten letter on a customized, event-themed postcard.
Obviously, sales and contact gains are the ultimate ROI. So when these are entered into your CRM, make sure you have created a naming convention for these leads. This will make it easy to compare your ROI from the show against your other marketing drives.
But remember to also measure the number of new followers you gained on social media platforms and how many tags in conversations you received. Let your efforts shine! While social metrics can sometimes draw skepticism from your senior stakeholders, stand firm. Those bluebirds and thumbs ups do have business value. Without the top of the funnel, there's no bottom of the funnel. So paint a holistic picture of ROI.
While there are numerous ideas to help you stand out, the important takeaways for B2B trade shows are to be well-prepared and to commit to whatever approach you decide to use.
If your trade show booth was deemed a success, start thinking about what you can improve for next time and what other organizations were doing. If you didn't see what your competitors were up to, hopefully, this means your own stand was inundated with sales and new clients.
7. Sell The Experience, Not The Product!
In a hybrid-type of event where there are both in-person and virtual attendees, the best way to stand out is to design an experience that reels people in. You want them to stop and spend time at your booth with a live camera set up, or in your breakout room. Creating an experience that excites attendees allows you to create a lasting impression.
These encounters also provide an excellent chance for word-of-mouth marketing because visitors are more likely to tell others about them.
8. Review Your Team's Performance
How did you perform based on the goals you listed? How many prospects did you manage to capture and convert? Were the costs of attending the trade show worth the revenue you received? Conduct a debriefing to evaluate all KPIs and assess the true ROI of your trade show marketing strategies.
Final Remarks On Trade Show Success Strategies
Trade shows, both in-person and virtual, are the ideal place to meet new customers. They're also the perfect venue for discovering trends in your field, developing partnerships, and even seeing what the competition is up to! To run a successful trade show exhibit, it's essential that you come up with a set of objectives. In the same vein, come up with a theme for the exhibit and advertise. Social media is an excellent way to get the word around. Lastly, ensure you follow up on leads at least within a few days.
Remember, trial-and-error is the key to any successful marketing campaign, even trade shows. If you spot that a specific part of your strategy isn't working, don't hesitate to switch it up and try something new. That way, you can continually work towards a trade show strategy that perfectly suits your brand, product, and marketing goals.