We're in the middle of a transformational time in the world of technology across all sectors.
From B2C consumer-focused tech to the next B2B enterprise cloud giants, B2B, and B2C technology companies are springing up left and right and sprinting toward multi-billion dollar valuations (whether on the private or public markets) faster than ever.
What's the difference between a VP of Sales and a Chief Revenue Officer (CRO)?
A CRO is an executive with an investor mindset, while a VP of Sales focuses on higher net revenue, booking and retention.
The CRO is a C-level for a reason. One of the primary differentiating factors between a company executive and a mid-senior level leader is the individual's ability to make decisions with an investor mindset — taking partnerships, infrastructure and the entire go-to-market org into account. Your VP of sales may be on the executive trajectory, but it's important to keep the VP of Sales focused on sales leadership without dividing their attention into other elements of the business.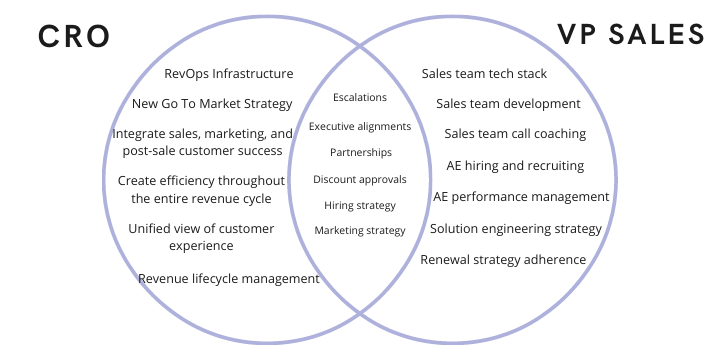 With growth being the top priority of so many companies today, there are a lot of titles that come up in any LinkedIn search that may not be familiar to us. As an ex-VP sales and current CRO, the debate between CRO and VP sales responsibilities is very near and dear to me, so I thought I'd publish my experience with the debate as well as what I've seen while consulting for companies ranging from series A through to series D and later.
The VP of Sales
Great VPs of sales have gravitas and tact, command the room and hold their end of the table regardless of who is on the other side. Upon their first 90 days, the best VPs of Sales will even bring over an army of sales reps, sales managers, and business development professionals who would follow them to the ends of the earth from previous experience as either peers or reports of this individual.
They'll rip apart your CRM and replace your opportunity fields with their proven-and-trusted sales methodologies and scoff if you try to rehearse Sandler, Challenger, or MEDDIC selling to them. And this is exactly why you hired them!
The VP of sales is one of the most highly regarded titles to any sales professional and is often an end-game scenario for reps who are looking to maximize their earning potential and equity offerings from the companies that they work for.
This is why there are many choices when it comes to potential VP candidates. I encourage founders to think carefully about who they hire and what they hire them for. For sales reps interested in the VP of sales career path, it's also important to know what you're working towards and how to work on personal and professional development to be able to take on this role one day.
Singular focus on sales
As the title would hint at, the VP of Sales should focus on sales. This includes roles that are complementary to sales like renewals, customer success, and solution engineering. The mandate of a VP of Sales is to maximize the organization's revenue bookings, renewals, and retention by maintaining control of the entire deal pipeline, from SQL to proposal to negotiation, to commit, to close.
The VP of Sales should possess a broader understanding of the business from a commercial perspective, and their incentives typically consist of margin, cost of sale, and other components that they have an impact on (especially if you're watching your EBITDA for a frothy exit multiple).
The day-to-day of a VP of sales, particularly in a high-growth company, looks like this:
Coordinating with other heads of the business like marketing and customer success to ensure that leads are flowing in, the pipeline is being generated and weighted properly, and customer onboarding is going smoothly so that the account management team can begin cross-sell and upsell campaigns.
Recruiting and interviewing strategic candidates and attending case-study interviews for individual contributors.
Dissecting pipeline with mid-level leaders to ensure and maintain pipeline velocity and accuracy.
Using the aforementioned pipeline metrics to forecast the commercial business drivers well into the future, segmented by the lines of products, market segments, etc to report to the C-level executives and board of directors.
Hands-on coaching of sales leadership and individual contributors.
Participating in account or deal strategy, whitespace exercises, and executive alignments.
Collaborating with operations teams and sales enablement to develop onboarding, training, and up-skilling programs.
The best VPs of sales put a great emphasis on points four through seven.
Their peers
Depending on the size of the organization, the VP of Sales will have peers who are responsible for marketing, customer success, and solution engineering. In smaller organizations, these individuals may roll up into the VP of Sales, but eventually, all revenue-focused mid-senior level executives will roll up to the CRO.
The Chief Revenue Officer (CRO)
The Chief Revenue Officer is a C-level position, typically rolling up to the CEO or COO depending on the organization's structure. The role has exploded in popularity with the rise of SaaS, but it was around before even the .com bubble.
Previously known as President, Executive Vice President, or Senior Vice President, the CRO is responsible for the growth of the company's revenue. This runs the full gamut of revenue and customer lifecycle from marketing and demand generation, to sales, to customer success, to renewal. The CRO even has P&L responsibilities and must set the organizations' comp plan structure for revenue roles.
Big picture revenue growth and retention
The CRO's primary metrics are YoY revenue growth, net revenue retention, and the average lifetime value of a customer. To maximize these metrics, they need to think much bigger than a VP of Sales.
They must be apprised of new potential go-to-market strategies and timing the market as well as an acute sense (or slight paranoia) about the competition and economic factors that can potentially get in the company's way of hitting these goals. With all of this in mind, the CRO is in charge of developing the go-to-market strategy and keeping everyone in the organization apprised of their role in that plan.
The CRO needs to know the top deals set to close, but not simply for accurate forecasting (which of course is important), but also so they can learn about how the customer came to us, what business impact our product will have on them, and collecting as much information as they can to synthesize the customers LTV (lifetime value).
Their job is to take all of that information, couple it with all of the other deals in your pipeline, and create a roadmap to filling the pipe with more customers like them and keeping them not just renewing, but growing in LTV with the company.
Ownership of the entire revenue lifecycle
Demand generation, strategic alliances, marketing, sales, account management, customer success, and solution engineering will all roll up to the CRO to assign complete and unquestionable accountability over the revenue lifecycle.
The CRO's responsibilities on a day-to-day basis are largely centered around:
Collecting and analyzing all forecast and pipeline data aggregated from VPs of sales, marketing, and customer success to synthesize long-term revenue growth and retention.
Coordinating with the CEO about the company's primary targets and strategies, then reporting on the company's progress to those targets.
Researching and analyzing new go-to-market opportunities through organic business efforts as well as through strategic acquisitions, partnership channels, and other methods.
Collaborating with CFO on securing and adhering to budget for the company's cost of sale and EBITDA margin impact.
Recruiting and hiring senior-level leadership and strategic individual contributors.
Coaching and supporting the VP of Sales, Marketing, Success, etc to help improve company metrics from respective business units.
Driving the organization's revenue operations processes and technology to sustain long-term growth and retention. This will include institutionalizing company-wide enablement for processes, systems, and methodologies related to marketing, sales, customer success, and solution engineering.
In other words: growth, always, in all ways.
Their peers
Since the CRO is a C-level, their peers will be any other C-level rolling to the CEO or COO. In many company hierarchies, the C suite is flat reporting to the CEO or Chairman/President of the company.
Tying it all together
Whether you are a sales rep aspiring to become a VP sales or CRO one day or an entrepreneur wondering if you should hire a VP sales or CRO, this blog should provide the level of insight you need to be able to plan accordingly for the future.