Finding out how salespeople work and what keeps them going is big part of our job as the developers of software that should help them sell better. Sometimes, this research brings interesting insights into the different habits of salespeople around the world. This exact situation happened just recently – we analyzed over 1 million anonymized sales activities that were recorded in Pipedrive, and one of the interesting insights we saw was that…
[Tweet "The way salespeople around the world eat lunch and how it affects productivity is different."]
So here goes a side-by-side comparison of 8 countries' lunch habits and productivity, diving head-first into data.
Overall Trends
When we started the research, we had an expectation based on our own anecdotal evidence on what a typical daily productivity curve would look like. Here's what we imagined it to be like: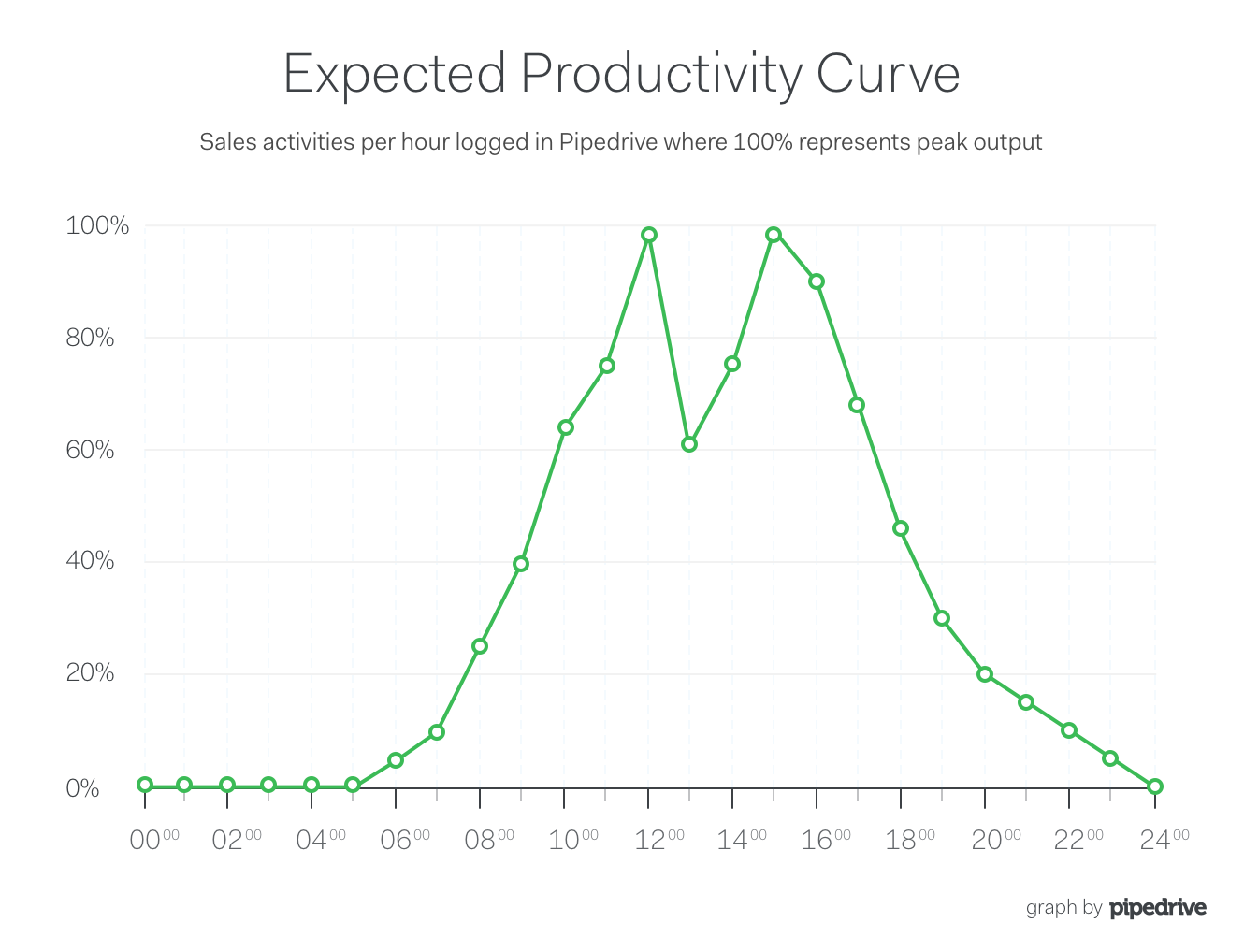 The line represents in percentage terms the number of activities completed, whether they are calls, meetings, emails sent or other. We expected a sharp rise in the activity level during morning hours, then a sharp dip for 2 lunch hours, and then another peak just after lunch. We expected the evening productivity drop to be a little less sharp than the morning rise.
It turned out, however, that while parts of our expectation on salespeople's productivity were correct, there are far more activity level curves around the world than we anticipated.
By and large, all countries fell into one of the three productivity categories:
Those whose peak productivity takes place after lunch, including France and Switzerland.
Those whose peak productivity takes place before lunch, including India, Spain and South Africa.
Those who don't eat lunch (seemingly), including East Coast USA, Poland and Russia.
Consequently, we had three hypotheses about the different lunch habits salespeople have around the world, as well as how the makeup of those lunches affects people's productivity.
Category #1:
In countries where peak productivity takes place after lunch, good rest and hearty foods help salespeople focus better and work harder afterwards.
Take a leaf out of France's book.
In France, salespeople tend to take their lunch breaks (and wine?) very seriously, as the productivity levels drop very sharply from the hour leading up to the break. But productivity rises to an even higher level and seems to last for a long time. The peak business hour for the French is the latest of all the countries researched – 4pm. The level of activity in all hours from 3pm to 6pm exceed the pre-lunch peak taking place at 11am.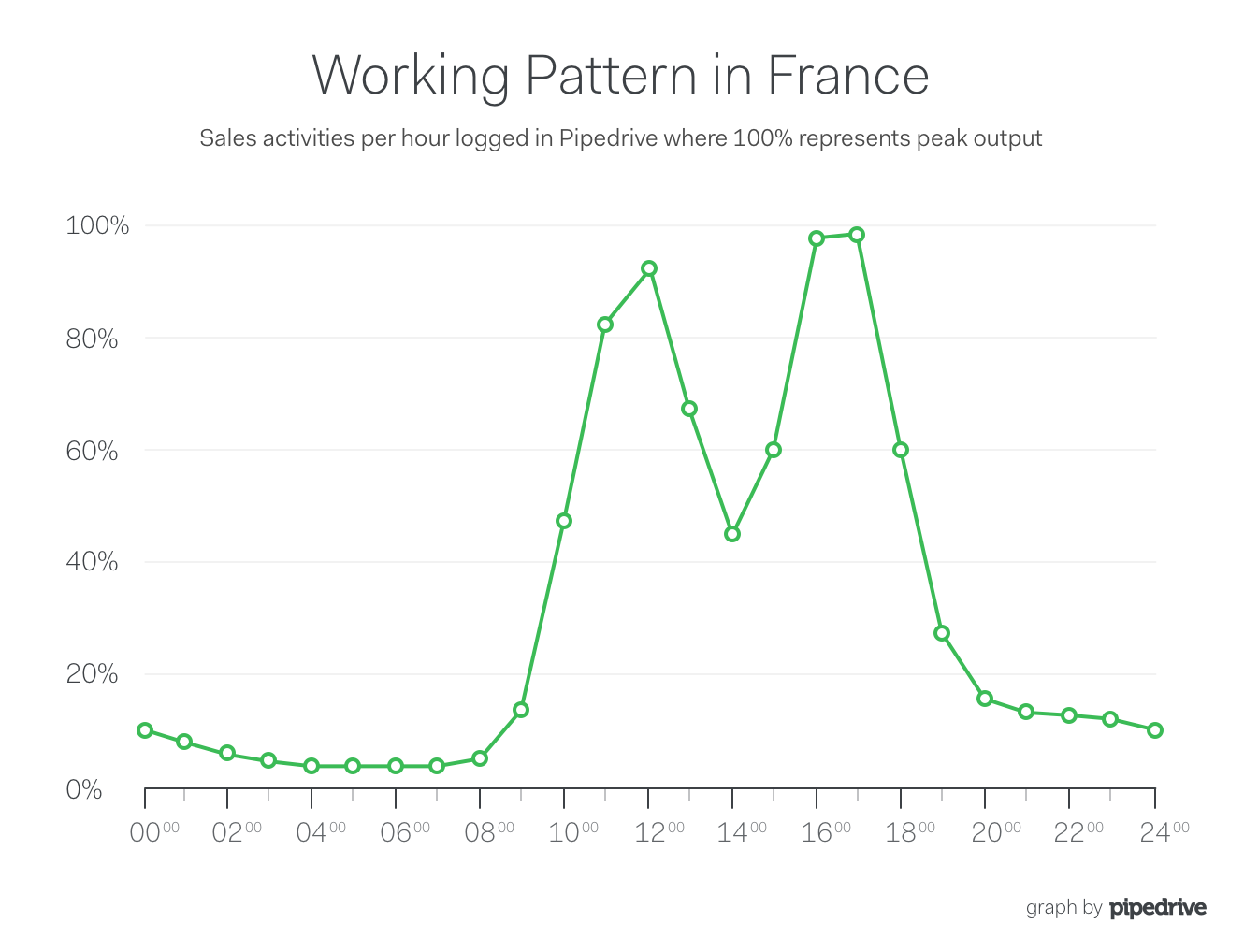 The French lunch with its very low activity level allows for complete relaxation from the working environment. In fact, the productivity in France is lowest during lunchtime compared to any other country researched. As seen from the graph above, when this timeout is complemented with enough nourishing calories, the salespeople in France work like mad after lunch.
The secret to high productivity is the balance between food and break, according to Michael Woodward in an article in Forbes. The simple truth according to Dr. Woodward? "Just like professional athletes, we all need the energy from calories for our minds to function at their best. And we all need a little time to recharge, too."
So take a leaf out of France's book and take the time to enjoy your breaks – this way you'll get to be incredibly productive afterwards.
Relax, take a long break and work till really, really late in Switzerland.
In Switzerland, the general lunch trend is similar to France. They relax during their lunch hour and then ramp up their activity levels to record heights. In the same fashion to the French, the evening activity levels exceed that of the pre-lunch peak, which takes place at 11 o'clock. The only exception is that after lunch, the Swiss work hardest from 2pm to 5pm, rather than 3pm to 6pm in France.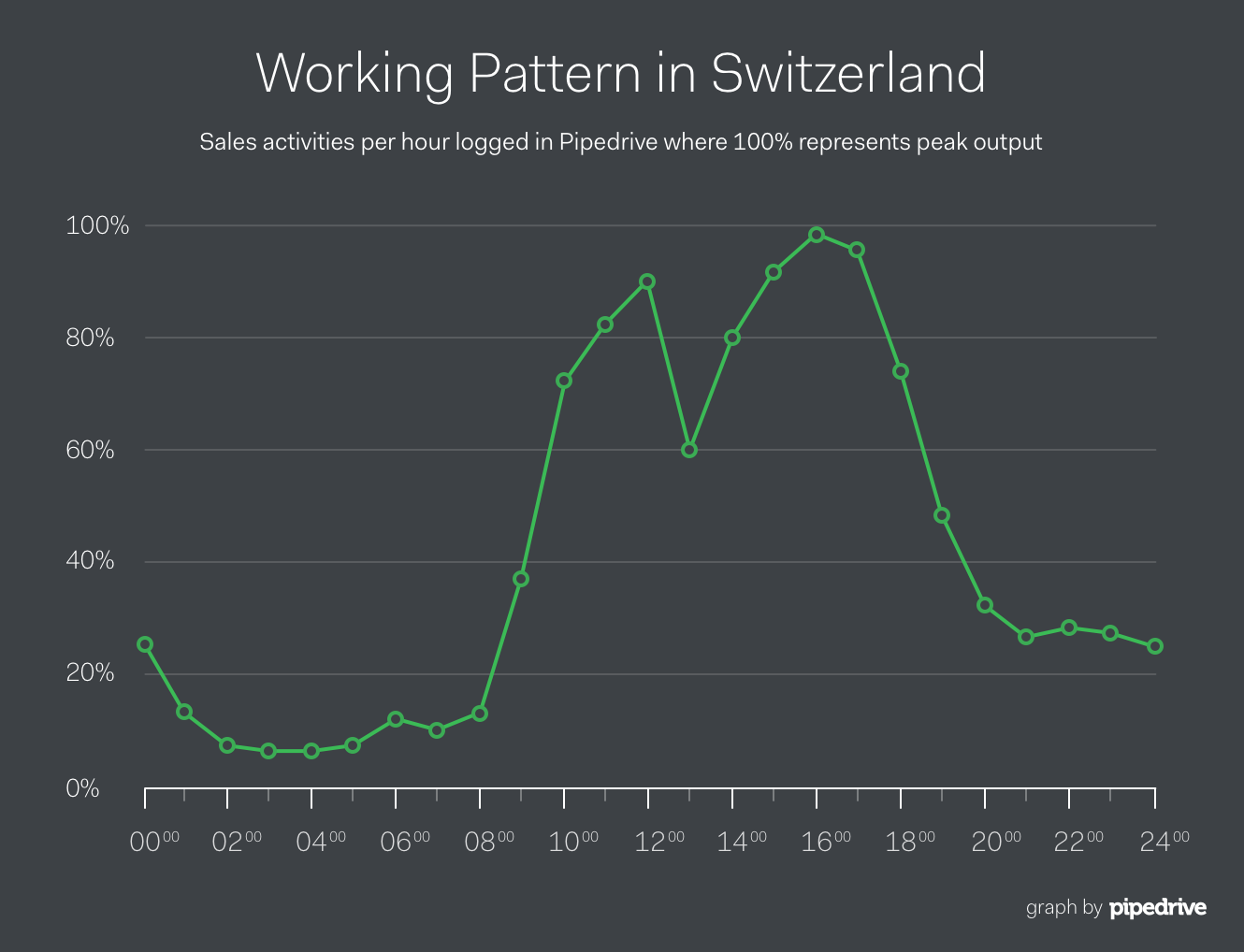 Quite interestingly, salespeople in Switzerland work until very late in the day. If in other countries, activity levels drop down to nearly zero after business hours, then the Swiss simply keep on going. Even between 9-12 in the evening. With this information coming to light, could we say it is true after all that everyone in Switzerland works for a bank or a multinational dealing with the Americas?
Category #2
In countries where peak productivity takes place before lunch, energy is preserved for steady post-break performance.
India – where getting back to work is hard.
In India, great activity heights are achieved just before lunch while lunchtime takes place over two hours, rather than one like in most other countries reviewed. The drop from the pre-lunch peak over the two hours seems pretty steep until you look at the three hours that follow lunch time. Then, a very high average activity curve is maintained, giving some support to our hypothesis that the energy released is not meant for sprinting, but rather for a marathon.
And a marathon it is – in India, salespeople work six days a week instead of the conventional five. What this proves is a hard-working attitude, where food needs to complement long-term working ability rather than a short-term focus.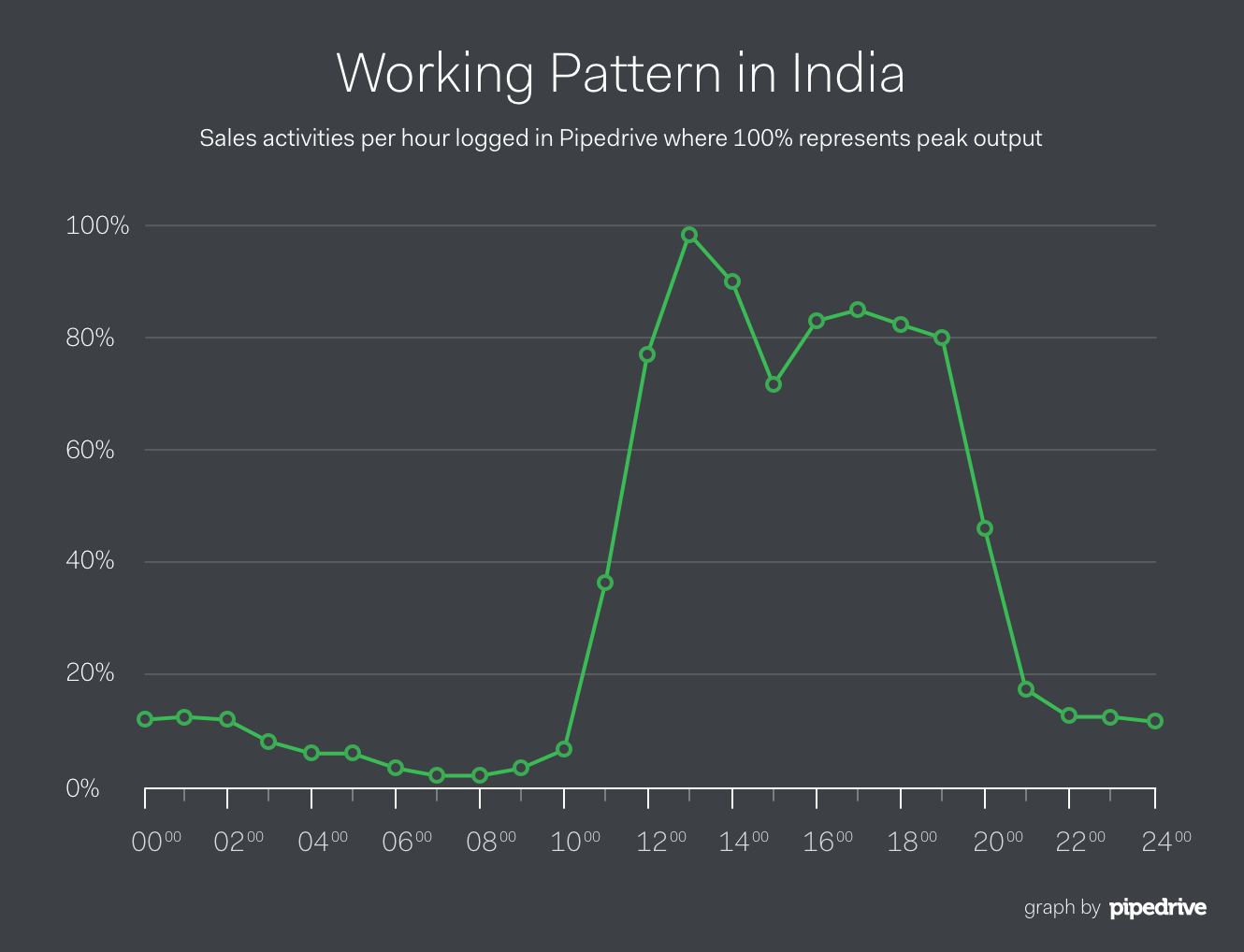 Admittedly, salespeople work a little lighter on Saturdays. Whether that's intentional or depends on the whole country slowing down a little is hard to tell from our data.
However, what this shows us is that it's a good idea to track the activity levels of yourself, as well as your team members' so that you wouldn't miss out on your goals. Read more about how to set sales goals from a recent blog post detailing how you can achieve double digit sales growth by making use of activity goals.
Spain – where business lunch has replaced siesta.
In Spain, lunch is expected to last for up to two hours on business days, according to InterNations, a site dedicated to connecting expats around the world. What's surprising about the data we extracted is that the world-famous siesta doesn't seem to appear anywhere. Though you can clearly see a two-hour break, the lunch-time low to which activity levels drop is among the average around the world, not lower as the stereotypes would allow you to think.
Referring back to Internations, then the explanation can be found from two things. First, the Spanish now use lunch-breaks for business meetings, which means salespeople could actively be engaging with their prospects over some paella. Second, something keeps Spanish people working till very late in the day – according to our data, on average till 10pm in the evening.
South Africans haven't decided on a nationwide lunch-time.
When most other countries seem to have a pretty distinct time of the day, when they head to lunch, then South Africans not so much. The only thing they have agreed upon is that it should happen after 11am, after which a smooth drop in activity levels takes place.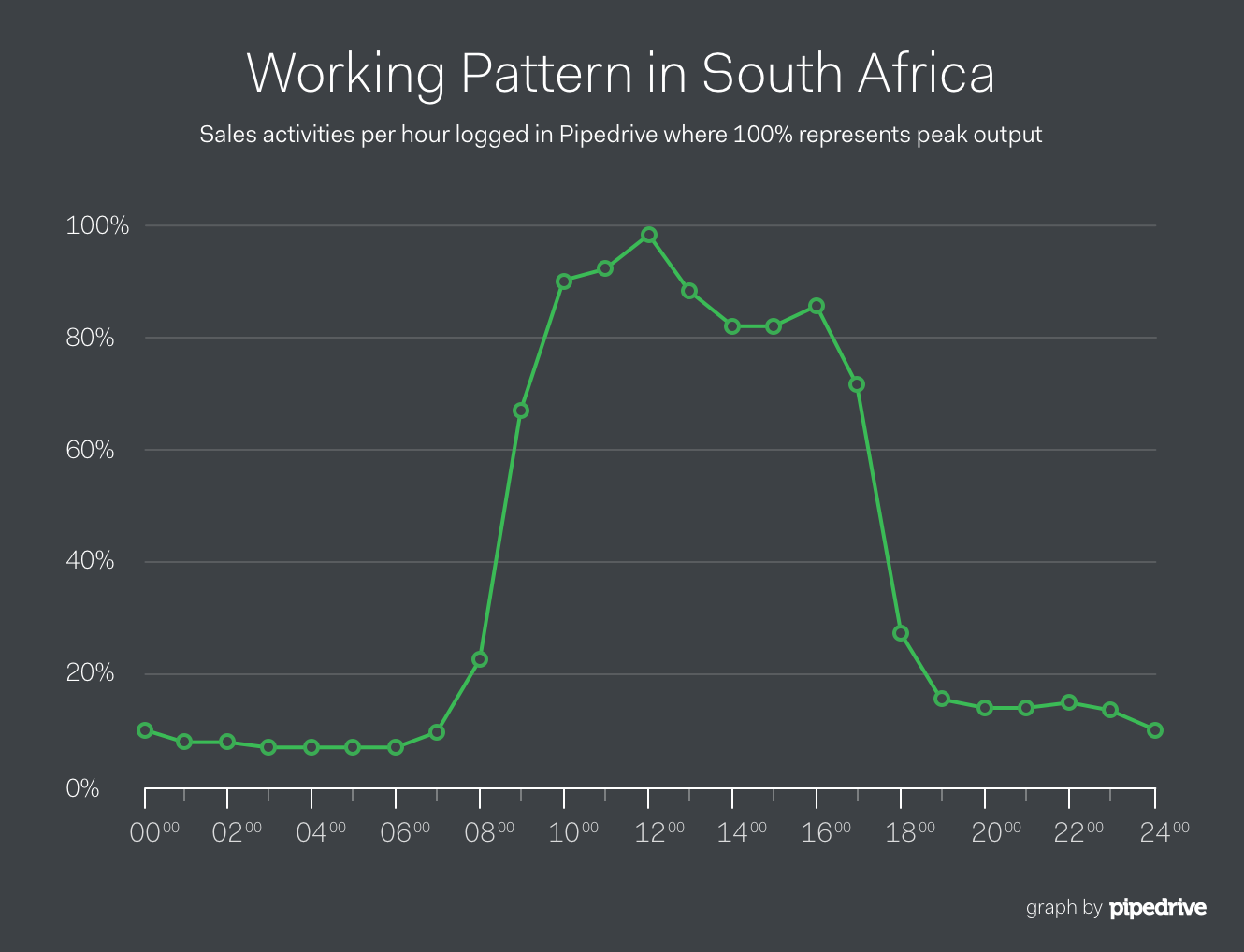 They hit an after-lunch peak at 3pm, but other than that, their performance is quite consistent throughout the day, not hitting incredible highs and not dropping to very deep lows. Looking at our previous research, however, we find that this doesn't matter all that much, because regardless of whichever way the South Africans work, they are the best closers in the world.
Do you reckon they get to drink a lot of coffee?
Category #3
In countries with no distinct lunchtime, salespeople rather have their lunch on the post.
Our final category includes countries with no apparent lunchtime. For different reasons, salespeople in countries belonging to category number three simply don't seem to take lunch breaks.
The Polish don't eat lunch.
This graph tells us that the Polish salespeople simply don't eat – they simply work incredibly hard, logging calls, emails and meetings throughout the day. When speaking of productivity, naturally, what goes up must also come down. The peak productivity takes place at 1pm, while high productivity runs from 10am-3pm, dipping sharply in the hours following.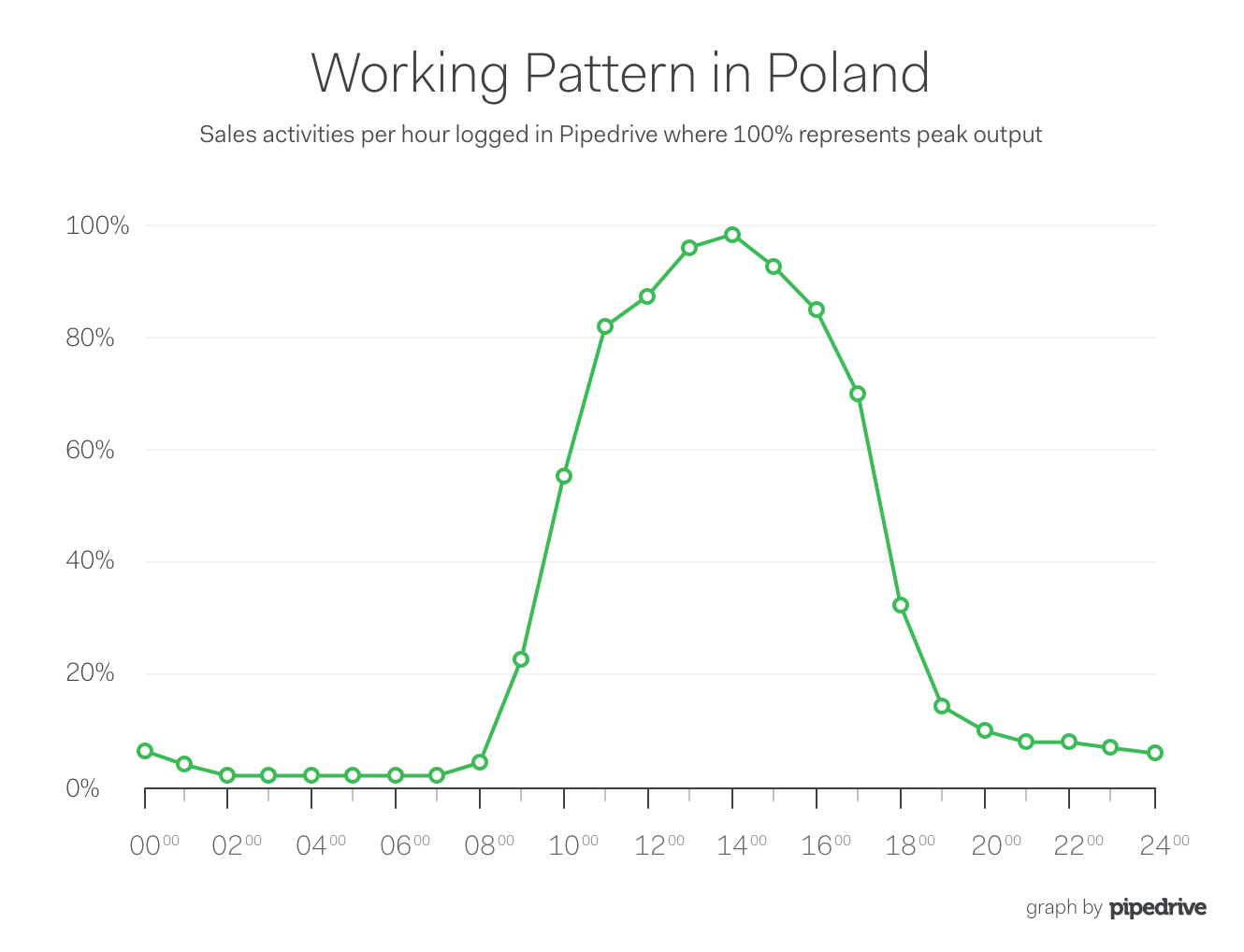 The fact that the Polish don't eat any lunch is, however, likely to only seem so. The reality is that in Poland (and please correct me if I'm wrong), salespeople eat packed lunches on their posts, which allows them to keep on going and work hard even when other people head off to cafés and diners. Altogether, the Polish have a very hard-working attitude.
Pro-tip to Polish salespeople: have a sip of water before your next call to douse that sandwich.
And neither do American salespeople, on the East Coast at least.
American salespeople are renowned for their hard-working attitude. However, it's interesting to note that the lunch habits on the East and West coasts are significantly different. For one, heightened productivity levels for salespeople on the West Coast, mainly in California in our data, come during the morning hours peaking already at 10am. Lunch-time low arrives at 12, after which productivity plateaus until 4pm after which it drops quickly.
Interestingly, 12 o'clock s the peak productivity hour for salespeople on the East Coast. Much like the Polish, it seems that salespeople in New York and Washington tend not to have lunch at all, or they have it at their desks. If Glengarry Glen Ross is anything to go by, then we can assume that lunch really isn't an option for many salespeople – "work hard and keep on going" is how people achieve their targets.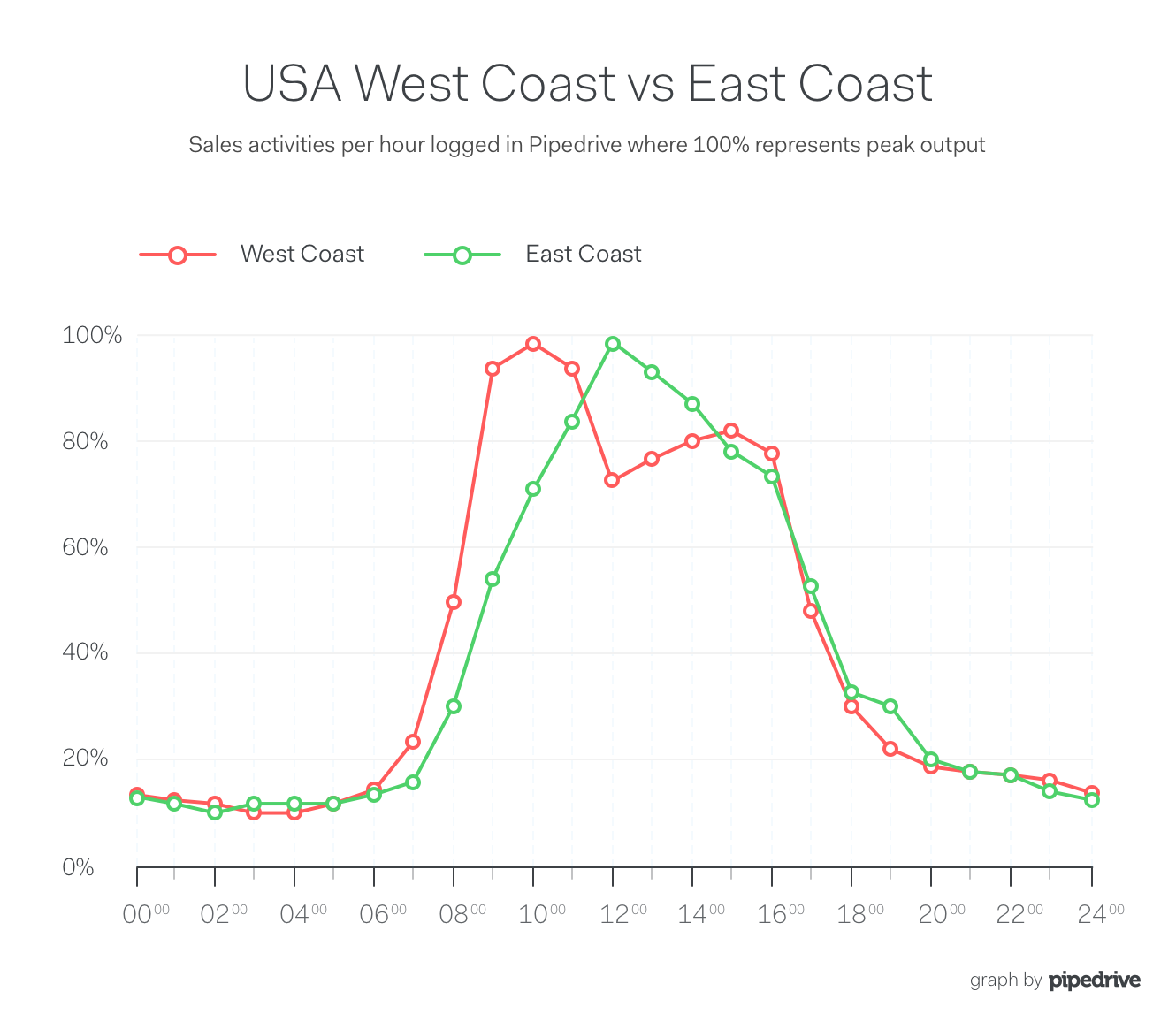 This is further backed up by our previous study on the world's best closers, where we found that the sales environment in the States is one of the most difficult ones – one sale takes very many activities, while the conversion rate is low. So whoever works hardest gets the prize in USA.
Another interesting point to the sales culture in the States is that salespeople in the Mountain and Central time zones have very similar working habits to those on the West Coast. High productivity mornings with plateauing afternoons.
The working patterns in the United States are possibly explained by salespeople on the West Coast waking up early to start selling to people on the East Coast, and thus get to clock out a little earlier respectively. Just as noon (and hunger) approaches on the East Coast, the salespeople there will need to start calling their recently woken-up West Coast prospects, thus missing out on lunch.
In Russia, people almost go to lunch
Obviously, that's more of a joke. However, what we can see from our data is that Russians work consistently hard throughout the day, logging emails, meetings and other activities in a steady pace. While 2pm does seem to look like a lunch hour, the dip in activity levels is barely noticeable.
In fact, out of all the countries that exhibited some sort of lunch break – Russia's lunch-hour low was the smallest, dropping to a mere 91% productivity level compared to the daily peaks. This is why we consider them to be a more likely part of our category number 3, where salespeople either don't have lunch, or eat it at their desks.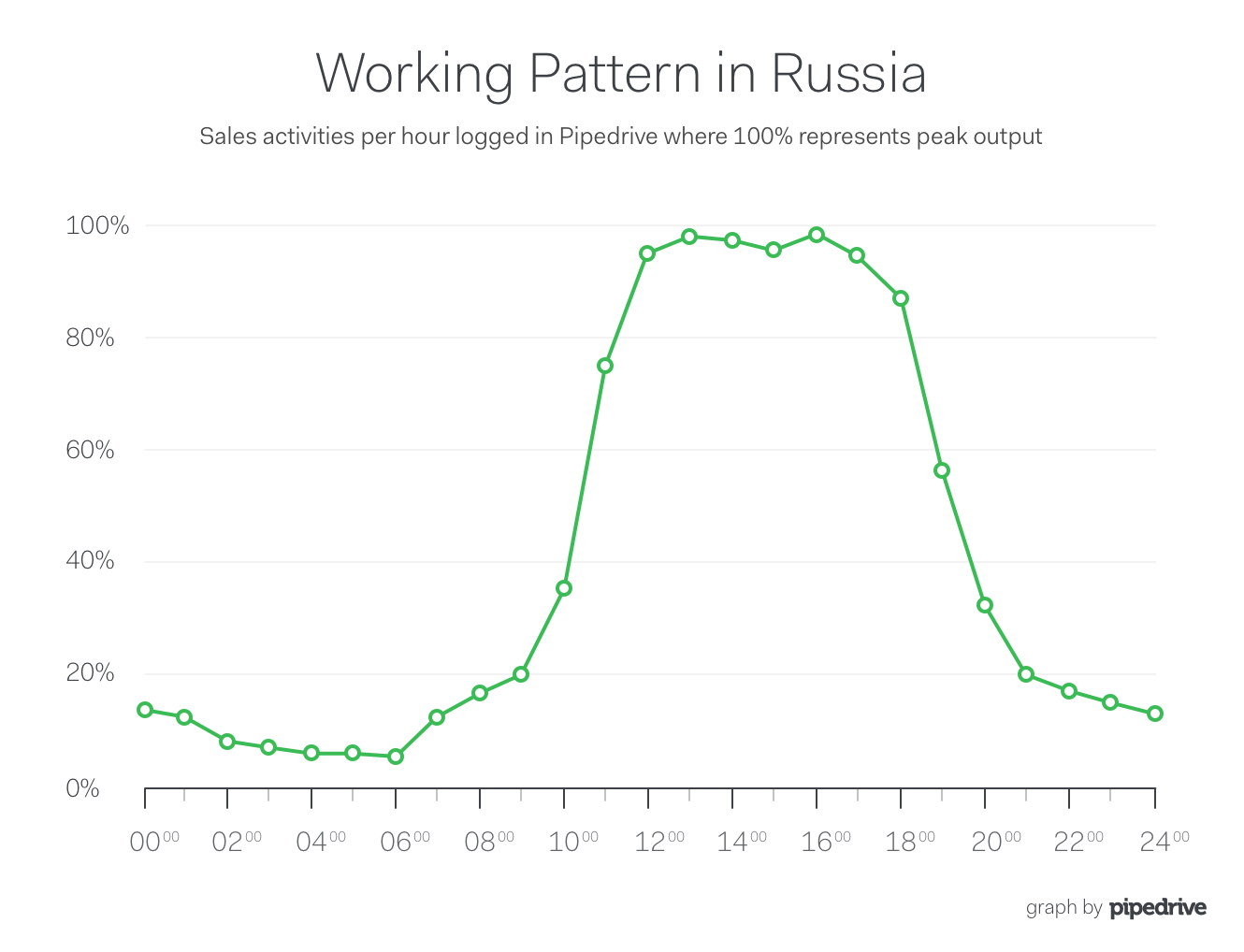 This is further supported by the difficulty of the sales environment in Russia. When you compare how hard salespeople have to work to make one sale (counting the number of activities per sale) and the overall conversion rate, you'll find Russia to have a gruelling sales environment (lots of activities, low conversion).
Notably, all countries where lunch doesn't seem to have an effect on salespeople's activity levels exhibit a similar sales environment – low overall close rate, and lots of activities required for one sale. What this tells us is that rather than lunch affecting the way you sell – the way you sell affects the way you get to eat lunch.
Could it be that what you eat determines how you work?
Well, there's no definitive answer. We can only speculate that if you eat so-called brain-food, you'll be more productive than if you don't.
According to Matthew Johnson's article in Udemy, lunch eaten by the French comes in all shapes and colors. Many like having ham and cheese baguettes, while others savour on 3-course meals accompanied by wine and coffee. With the latter option, the French take business and sales to lunch breaks, holding many of their meetings over a soup, main course and a dessert. With food as good as in France, who could blame them.
Since the food they usually eat involves a heavy dose of bread, rice, potatoes and pasta (all carbohydrates), then our naive hypothesis that the French eat high protein brain food during lunch is a little off. All there's left to explain the high productivity is the aforementioned strong combination of food and rest, both of which are very French. Similar items of food can be found in the lunch lists of the Spaniards, and with long breaks, their high post-lunch productivity is also well explained.
Researching the lunch eaten in Switzerland, we found that it's quite similar to that eaten by the French – they either either bread or a full-blown meal. Of course, with Switzerland you have to take into account the different customs in the different regions of the country. Depending on whether the salespeople live in the German, Italian or French-speaking part of Switzerland, their will cuisine be more similar to the meals more often eaten in those countries.
While in Russia and Poland, salespeople tend to work on the post or grab something easy and quick, the lunch in India has a different story behind it. India is the home to the famed tiffin, which according to an article in The Guardian is a combination of spicy vegetables, dhal, rice, yoghurt, pickles, bread and pudding served on a big steel plate or a banana leaf. Speak about rich lunches.
Key takeaways (pun intended):

If you take a break, do it like you mean it. You'll be far more productive if you drop everything you're doing for lunch time and relax completely.
If you work in a country with a difficult sales environment, keep some hearty snacks ready. Fruits, nuts and wholemeal snacks will help you get through the day without a proper break, while keeping up your productivity.
Since this study is based on anonymized metadata, we'd like to see the anecdotal evidence in the comments section below. What do you have for lunch, normally? Does it affect the way you work, or does the way you work affect how you eat? How much do you think is up to the culture of your country, and how much to the sales environment?
Infographic:

This article was previously posted on the Pipedrive Blog and is being republished with their permission.*