If you've ever seen the cult classic movie "Tommy Boy," you can probably rattle off a half a dozen of the film's most memorable quotes. "Tommy Boy" is the story of an 'odd couple' – Chris Farley and David Spade – who take a road trip across the Rust Belt, desperately trying to sell auto parts in order to save Farley's deceased father's company.
This year – if you can believe it – marks the 20th anniversary of "Tommy Boy" hitting the theaters (and that deer).  And while the film is a comedy, it teaches three common-sense approaches to achieving success in sales, which still hold true today.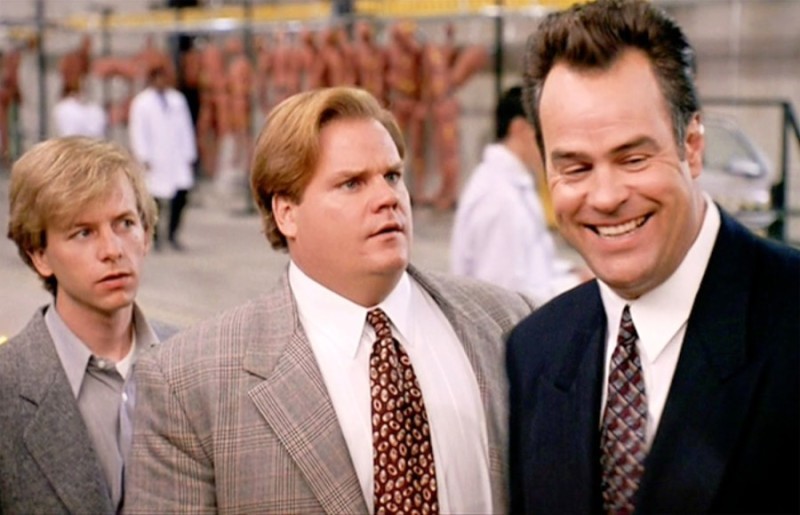 "Brothers Don't Shake Hands, Brothers Gotta Hug"
In this famous scene, Chris Farley's Tommy meets his obnoxious, soon to be step-brother (played by Rob Lowe) and the two could not be any more unlike. Similarly, for years, marketing and sales departments within many organizations have been siloed; focused on their own responsibilities and KPIs; unable to agree on anything and prone to finger-pointing when quotas aren't met.
Many a marketing team has been known to throw so-called "qualified" leads over the fence, dust off their hands and say, "my job is done." On the other hand, sales – who are often the ones with their "feet on the street" – do not feed back to marketing what they're hearing from customers and prospects, and refuse to provide reference customers, not wanting anyone to "touch" their accounts.  The notion of "help me to help you" just does not apply.
This paradigm desperately needs to change. Marketing teams can no longer see their job as ending at the beginning of the sales funnel. Sales teams, in turn, need to leverage their direct customer relationships to inform and strengthen marketing efforts and messages.
[Tweet "Marketing teams can no longer see their job as ending at the beginning of the sales funnel."]
"Helen, we're both in sales.  Let me tell you why I SUCK as a salesman."
A watershed "Tommy Boy" moment occurs when Tommy speaks one-on-one and gets on the same level with a waitress, ultimately convincing her to bring him chicken wings after hours, which is normally not allowed. In an "A-HA" realization, David Spade's Richard – who's given to ridiculing Tommy relentlessly – commends Tommy for his ability to read people, for getting inside Helen's head and telling her what she wanted to hear when she needed to hear it. Ultimately, this led to Tommy successfully making and selling his case – getting his chicken wings.
To succeed in sales today, organizations need to get inside their customers heads. Today, forward-thinking organizations are using a variety of innovative methods to do just this, like Big Data and predictive analytics, which help them to better target and upsell customers at the moment of purchase.
Other capabilities, specifically document analytics, are allowing sales representatives to see their prospects' activity with a contract. Has it been opened?  What sections is the prospect focused on?  Where is he/she inserting questions and comments?  With this information, sales teams can be much more effective in follow-ups. In fact, analyses show that "electronic deal room" capabilities such as this can raise close rates by up to 28 percent.
In addition, marketing can also see this activity and alert sales to new collateral and materials that they may not be aware of, which may help push prospects over the finish line. Document analytics can help sales and marketing professionals gain such an intimate customer understanding that the product sells itself, just like Richard's proverbial "ketchup popsicle."
Mind the gaps
Traditionally, the customer "journey" – from the entry in a CRM system to marketing for qualification, and ultimately to sales and others (including finance and legal) for follow-up and closure – has been prone to disconnects and inefficiencies. A lot can be lost in translation as leads are passed along the continuum.
In this spirit, it can be a mistake to wait until the end of the sales cycle to create a contract. Organizations need to be capturing and building sales documents as the interaction with the prospect progresses, from the very beginnings in a CRM system. When it comes to sales specifically, this is important for several reasons.
First, it enables the creation of comprehensive, personalized and compelling contracts. Second, these documents can be immediately produced for prospects at the end of the sales cycle, reducing their chances of getting "cold feet." Third, the automation of sales document creation has been shown to boost sales productivity by up to 35 percent, while saving at least one hour per quote, proposal or contract. Particularly in start-ups and small businesses, sales resources can be limited, so sales professionals' time needs to be maximized. This means, focusing on closing instead of margins and fonts.
But perhaps most importantly for the purposes of this article, automating. Sales document creation can help eliminate the gap between marketers and sales, replacing it with seamless collaboration that drives the bottom line. It's estimated that up to 90 percent of marketing content goes unused, representing a huge waste of marketing manpower and resources. Marketers need to be actively involved through the conclusion of the sales cycle, where their materials and collateral can have the biggest impact.
[Tweet "It's estimated that up to 90 percent of marketing content goes unused. #sales #marketing"]
And, once the contract is built, everyone needs to be able to sign it quickly and easily, including legal, finance and, finally, customers. Ideally, salespeople – particularly the mobile field force, who are often face-to-face with customers – should be able to initiate and drive these processes, within seconds from a mobile device.
Case in point: Another amusing "Tommy Boy" scene occurs when Tommy closes his first sale, after literally chasing an extremely distracted and busy prospect around his factory floor, vying for his attention. Mere seconds after saying, "you're out of time," the prospect agrees to buy, and Tommy is incredulous. At that point, what would be smarter – getting the prospect to sign right then and there, or telling him it would be another week or so before the contract was ready?
Conclusion: The More Things Change, The More Things Stay the Same – Sort Of
It's true that a lot of the lessons that "Tommy Boy" teaches us are timeless. However, there's one major difference between 20 years ago, and today. With the explosion of social media, the internet, and mobile devices, prospects' attention spans are more fragmented than ever. In fact, a recent Microsoft study showed that the average human attention span has dropped four seconds – from 12 seconds in 2000, to eight seconds in 2015 – and for the first time, humans are more fickle than goldfish (nine seconds).
Within this context, the sales process has become much more hyper-competitive. In each of the three lessons above, there is a common denominator – the need for better marketing and sales alignment and collaboration.  
To succeed, organizations must be double-barreled and their sales and marketing groups must be solidly united in a common goal – generating qualified leads and seeing these leads through to sales. In these types of organizations, it's not uncommon to see sales representatives analyzing social media feeds (traditionally a marketing function), or marketers playing a bigger role in creating sales contracts (traditionally a sales function). Roles are blurring, and that's a good thing.
[Tweet "Sales & marketing must be solidly united in a common goal – generating qualified leads & seeing them through"]
Sound like nirvana? Maybe. But today, there are tools available that are bringing marketing and sales closer together, and one area that stands out is sales document creation. By joining forces here, sales and marketing can leverage their collective strengths and roles to create compelling documents that inspire action and boost the bottom line.