Before we dive into the differences between B2B vs B2C sales, first let's look at each of the two terms and what they mean.
Table of Contents
What is B2B Sales?
B2B, short for Business to Business, refers to companies that sell their products mainly to other businesses, rather than consumers. B2B sales also includes services such as  accounting firms which represent major corporations. There are mainly three types of B2B sales: supply sales, distribution sales, and service sales.
Let's look at these:
Supply Sales
In this scenario, a business provides another with products such as office supplies, equipment and workwear. The companies usually provide these orders in bulk and require authorization from management.
Distribution Sales
In the distribution B2B sales, a wholesaler sells products in large quantities to another company, which in turn sells to consumers. A good example is the relationship between a manufacturing company and a supermarket.
Service Sales
In this case, instead of a physical product, one business provides a service to another. Examples include software, legal counsel.
What is B2C Sales
B2C sales (Business to Consumer) is when a business sells its products directly to the individual consumer. It refers to any sales process that sells directly to consumers, e.g GAP outfitters. These include direct sellers, online intermediaries, advertising, and subscription models.
Direct Sellers such as Amazon and Zappos.
Online Intermediaries such as Amazon who act as a go between between retailers and customers
Advertising sales model where websites are created to generate more traffic by creating targeted ads for users.
Subscription fee-based models such as Netflix which offers content to users on demand at a price.
B2B vs B2C Sales: What's the Difference?
There are plenty of differences, but one fundamental alignment is that selling almost always revolves around the customer.
Because the customer is paramount, the first item on any business' go-to-market strategy should be to know your target customer. Then adopt a sales process with omnichannel technology tools to improve your customer experience.
Fortunately, it is easy to identify the business type based on the kind of customers a company caters to. Most business units follow one of two business models based on the type of customers they engage: B2B (business-to-business) and B2C (business-to-consumer).
Examples of B2B companies
B2B companies are enterprises whose customers are business organizations like themselves. Think airbag manufacturers like Takata and Autoliv who sell their products and technologies to automakers like Ford and Audi.
Or consider Salesforce and IBM Watson, whose primary customers are businesses in need of a CRM solution or an AI platform, respectively.
Examples of B2C companies
On the other hand, B2C companies are those which directly reach out and sell to ever human, sentimental, and often fickle consumers.
The corner cafe is a good example. So is Apple (mostly), with its full ecosystem of digital consumer products. For the cafe owner, establishing a memorable and unique ambiance may be as important as brewing high-quality beverages in keeping the place appealing to customers.
For an electronics manufacturer and software developer like Apple, UX design, hardware aesthetics, online stores and libraries, cutting-edge branding, and customer support spell the difference between failure and success.
Is the distinction between B2B and B2C getting blurred?
Many companies follow a single engagement model but the number of enterprises that adopt elements from both types are increasing. For example, most of the biggest names in tech such as Google, Microsoft, Apple, and Amazon now operate units that focus on consumers as well as units that engage enterprises.
Notably, a growing number of business thinkers believe that the boundaries separating B2B and B2C companies are getting more blurred by the minute.
But before we completely lose sight of the distinction, here's a section detailing similarities and differences of B2B and B2C engagements.
B2B and B2C Engagement: Similarities and Differences
In B2B selling, customers make buying decisions based on rational and strategic considerations. These include how a product or service can generate value for the company (e.g., improve process efficiencies, upgrade services to its own customers, improve profit margins, drive revenue, etc.).
If a B2B seller successfully demonstrates that the value generated by a product or service far exceeds the cost of acquisition, then the prospective buyer will be more inclined to opt-in.
Differences
On the other hand, B2C audiences tend to make purchases based on how a brand establishes an emotional connection. As such, most B2C messaging typically appeal to consumers' personal desires and value systems.
B2B: Longer sales cycles involve multiple decision makers.
Because B2B buyers make a purchase only when a specific set of criteria is met (i.e., functional specifications, business requirements, cost considerations), B2B sellers generally need more thorough product knowledge to effectively engage, educate, and drive conversations with their target audience.
Moreover, B2B sellers also need top-notch communication skills and professionalism to establish meaningful and long-term relationships with all the decision-makers, including executives, authorized by a company to effect a purchase. The upside is that developing long-term relationships between each party can lead to more sales, referrals, and further collaboration.
B2C: Brand matters as a driving factor for purchases.
In contrast, B2C sales don't usually involve longer sales cycles as there is just one individual buyer making a purchase for personal reasons. They are usually viewed as one-off transactions where the focal point is the product pricing itself. Individual consumers may also change their motivations at any moment.
Financially capable consumers will not hesitate to purchase an expensive brand if it matches their aesthetic preferences or fills a need for maintaining social status — even when less costly but equally functional alternatives are available. In contrast, cost-efficiency and functionality are paramount concerns among B2B buyers.

Similarities
Both B2B and B2C sales require comprehensive knowledge and extensive experience about customer service. Salespeople typically deal with clients; with high level executives in B2B sales while in B2C sales, they deal with consumers directly.
In both sales models, the process is centered around the customer. The primary goal between salespersons in both B2B and B2C models is transforming the prospect into a customer.
Another key similarity between B2B and B2C sales is the customers in both processes are considerably well-versed in the products they intend to purchase. A stark contrast to the previous generation of buyers. Customers make the effort to gather as much information about the products so that they can make sound decisions.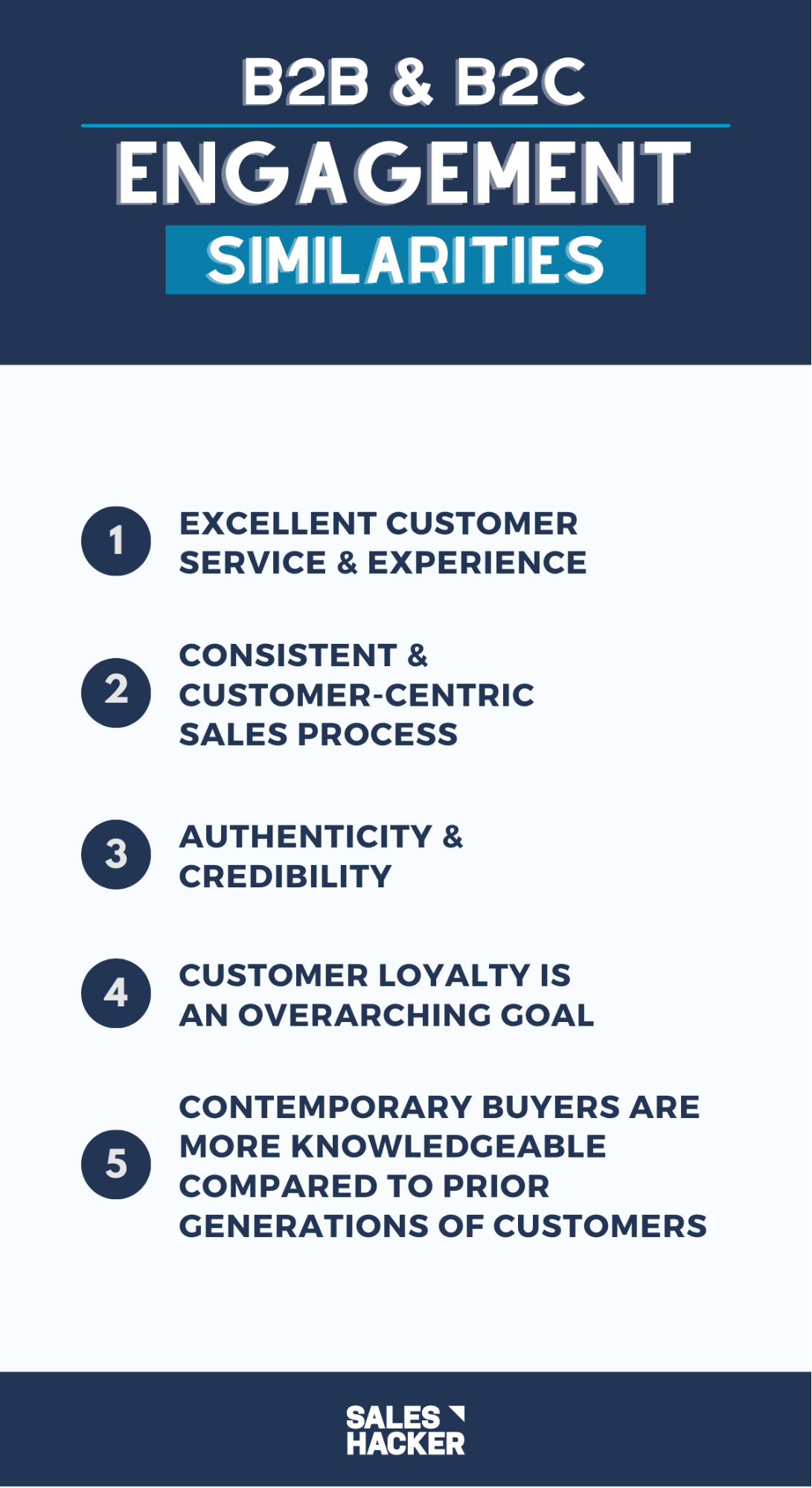 Key Takeaways: B2B vs B2C Sales
Changes in technology and customer behavior — among other things — are blurring the line between B2C and B2B selling. Moreover, people who make up both markets now tend to prefer learning about a product first personally before agreeing to have a conversation with a sales or a marketing professional — if ever.
Adapting to Changing Customer Behaviors
In many instances, saving time by expediting the purchase decision process seems more valuable than having an extended demo about something the buyer is already aware of. Changing business models and diversification are also transforming purely B2C companies into B2B enterprises, and vice versa. Apple, Samsung, and Amazon are excellent examples of brands resonating among both end consumers and enterprise customers.
Under these conditions, the B2B seller may well adopt sales and marketing tactics typically executed by B2C sales teams.
These include:
1) Establishing excellent and meaningful customer experiences at all stages of the sales cycle.
2) Building an emotional connection on top of your product's functionalities.
3) Keeping your brand relevant to your core audience.
4) Enabling convenient customer engagements anywhere and at any time through multiple channels such as mobile and web.
Whether decision-makers are focusing on the rationale behind a product's appeal or the emotional uplift it delivers, the new economy always demands a customer-centric experience.
After all, brand-to-market interactions in both B2B and B2C ecosystems always involve people. It's no coincidence that many forward-looking companies already added a Chief Customer Success Officer in their leadership roster as a strategic initiative going forward.
It's All About the Customer Experience
On the other hand, the B2B sales model has some great tips that salespeople can borrow. One of these tips is content marketing.
Many B2B sales models are reaping great benefits from content marketing, which allows businesses to create high quality content to help market their products to their target audience. Content marketing is a great method for engaging sales prospects and nurturing leads, eventually turning them into customers.
Another important tip B2C sales model can adopt from the B2B model is focusing on the customer experience. The B2B sales model puts emphasis on improving the customer's experience, as demonstrated by their meticulous attention to details such as web design and customer support.
The Bottom Line
While there are differences in execution between B2B and B2C sales, both are undergoing similar and significant changes due to evolving customer behaviors. With rapid digital transformation, making sure we deliver a great customer experience whether it is B2B or B2C is the key to success.