Going from professional ballet dancing to running an AI startup may not seem like the most intuitive career trajectory…but when I share that body language and nonverbal communication is what brings this all together, things start to make a bit more sense.
When I retired from the Boston Ballet in 2016 due to an injury, I didn't think body language would ever play as much of an important role in my life again.
Boy, was I wrong.
Sales + the pandemic = video
The pandemic brought video firmly to the forefront of our lives.
For sellers in particular, video has become a 'need-to-have' channel of communication. This means skills for impactful communication over video are an essential part of our updated sales competency toolkit.
Bonus: Learn when to use video in the sales process (with video examples!)
When it comes to selling, we all intuitively know how important body language cues can be — both for shedding light on what others may be thinking or feeling, and also in their capacity to help us more clearly communicate our intended message.
And while it may seem sometimes that nonverbals are muted on video, we have found the opposite to be true. In fact, video is the only digital means of communication that actually amplifies nonverbal communication.
As sellers, it's up to us to seize the tools at our disposal. I'll walk you through my top 3 body language hacks for video — including with 4 videos I recorded just for this — so you can show up on video with full presence, confidence and the ability to build trust quickly.
---
Body language tips for video
Body Language Sales Hack #1: Don't sleep on your set up
It's easy to fall asleep as soon as someone mentions something about fixing your lighting, framing or your background.
But as sellers, we know how important those first impressions are.
On video, our setup is our virtual handshake. The choices we make in terms of lighting, framing and background are critical to ensuring we are showing up as we intend.
Our lighting should help our audiences focus on our faces. Don't be backlit!
Our framing should allow us to showcase our full range of body language from the lower belly up. This is your playground — it should be comfortable!
While lighting and framing best practices are quite streamlined, this doesn't mean everyone should have the same backgrounds — quite the contrary.
Our backgrounds occupy insanely valuable real estate when you consider the time our buyers spend looking at our video feeds. Use this to your advantage! Do you want to showcase your logo in a fun and creative way? Maybe you have a favorite color, house plant or photo that lights you up when you talk about it?
You might feel the urge to keep your space neutral — but oftentimes, the more of our own humanity we can showcase, the more quickly and seamlessly we can build that human connection which becomes the foundation for lasting relationships.
Check out this short video on a few simple, setup hacks you can take advantage of so that your video presence pops, right from the start.
ARVE Error: No attachment with that ID

Related: How to Enable your Reps in Real Time
---
Body Language Sales Hack #2: Use eye gaze and facial expressions to look natural on video
As humans, we look at people's faces and eyes for cues about how someone is feeling and whether or not they can be trusted.
On video, our eye gaze and facial expression habits often fall into habits we have formed when looking at screens. This can lead to mismatching emotional cues. I'll explain.
Facial expression
On video, we tend to adopt more neutral and less varied facial expressions than we do in person.
And ironically, research shows neutral (or poker face) expressions on video are actually more negatively perceived than in person. (This is largely due to the fact that we have fewer nonverbals to interpret, so the cues we do see carry more weight.)
How does this affect video calls?
When you're on a video call, you're serving the role of both active speaker and active listener. Keep your face relaxed, reactive, and expressive.
How does this affect video clips?
If you're recording an asynchronous video clip, you want it to cut through the noise and land as a refreshing human moment in your prospect's inbox.
Think carefully about your intention and the emotion you want to convey, and telegraph it clearly.
(The operative word here is 'intention.' As you'll see in the next section, this can be a practice that takes time to feel natural).
Eye gaze
There are two big pitfalls for eye gaze in video — eye contact and blinking.
Eye contact
We all know how counter-intuitive it can be to talk while looking into the lens.
Yet making "direct" eye contact through the lens builds trust faster, demonstrates respect and inspires confidence. It's awkward… but just do it.
Blinking
Another challenge of eye gaze on video is that we tend to blink less frequently.
Staring at someone is a pretty intense experience, as I'll demonstrate in the video below. So we want to keep our eye gaze as natural as possible, even when we are looking into the lens.
Pro tip: You really only have to anchor your eye gaze into the lens when you are the active speaker. When you are the listener, you want to ensure your eye gaze is focused somewhere consistent, ideally on the screen. (So if your monitors are set up such that you are looking completely away, you may want to move the screen to where your participants are closer to the lens.)
Recording an async video? The beauty of recording asynchronous sales videos is that you really only have to focus on your role as a speaker — so you can hone your body language accordingly. Paying special attention to your eye gaze and facial expression variation can be particularly powerful — and help you connect with your prospects in a more natural way.
Learn more: Free on-demand webinar about how to make custom videos to 2x your reply rates. (60 mins)
---
Body Language Sales Hack #3: Give yourself time to adjust
In my workshops, one of the first things I hear is that new body language vocabulary can feel 'unnatural' or 'inauthentic.'
No wonder — you are asking yourself to change the way you have been moving and expressing yourself for possibly years!
Building new muscle memory takes weeks, if not months. As a dancer, real change developed over many months, and although progress was sometimes hard to determine overnight, the incremental renewal day after day was where the magic came into play.
Particularly when we are speaking about things that affect our expressive features, like our eye gaze and our facial expressions as discussed in Best Practice #2, we have to give ourselves the space to practice intentionally and consistently.
For years and years, sellers have practiced in front of a mirror. One of the beautiful things about video is that you can rely on video itself as a tool to practice before sending any recordings for example, or even to practice your sales pitch itself.
Body language and nonverbals are a core part of who we are. We have ample opportunity on video to take advantage of an enhanced expressive toolkit, one that leverages a masterful setup, a way of expressing uniqueness to each individual, and results that truly underpin our success as professional sales people.
The good news here is that there are no shortage of opportunities to practice, to try new things, to review calls, get help from a colleague, a mentor, or dare I say it? An AI-enabled coach.
Check out this short video with some ideas on how you can incorporate practice into your day-to-day, so it can be a seamless part of your experience, and not have to feel like going to the gym.
After all this talk of powerful nonverbal communication hacks for selling on video — you may be wondering which areas you should focus on to improve. Well, turns out…there's an app for that.
As a member of the Sales Hacker community, Virtual Sapiens is offering you a free Virtual Presence Assessment. It takes 6 minutes, and you'll get a rundown of how you are perceived on video, the nonverbal cues you are nailing, and which ones you can improve. Get your assessment here.
For more body language hacks, check out our Body Language and Future of Work blogs at Virtual Sapiens.
---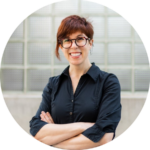 Edited by Kendra Fortmeyer @ Sales Hacker 2022