It's well known that sales coaching can improve revenue growth — by a whopping 16.7%. 
Imagine what could happen if you baked coaching into your day-to-day, creating a coaching culture that steadily improves performance and profits. 
You can, and you should…
Because in addition to driving revenue, a strong coaching culture can improve win rates, elevate team performance, reduce employee churn, and accelerate ramp. 
The question, then, is what that looks like: How do you create a strong coaching culture? Read on to learn:
What is a coaching culture

5 core components of a coaching culture

3 tips to motivate a coaching culture on your team
But First… What Is a Coaching Culture?
Coaching culture describes an environment where every task and process has an element of coaching built into it.
From management's perspective, it's a dedicated program that enables your sales team to learn new skills and become top performers and evangelists for your company.
Coaching culture emphasizes 
Continuous training

Self-improvement

Analysis

Regular feedback to create a more engaged and energized sales team
You can learn more about how to establish a Coaching Maturity Model here.
5 Core Components of a Coaching Culture
What does a coaching culture look like?
Honestly, there isn't one right answer. A strong coaching culture could easily look different in different organizations. But there are core elements of successful coaching that should be present. 
For example, we recently analyzed how hundreds of sales managers at SaaS organizations coach their teams. What we discovered is that top managers spend 12 hours a month on call reviews. That's 30% more than the average sales manager! 
We also noticed that the highest performing reps self-coach, listening to 24 calls during onboarding and about 8 per month when fully ramped.
You also need to take into account that people learn in a variety of modes and settings — some self-driven and some management-driven. 
Taking all that into account, we've isolated five core components of a coaching culture that you can easily implement right now: 
Team Coaching (film reviews)

– Assess what reps are doing well or struggling with as a group by dissecting recorded calls.

Self-Coaching

– Reps review their own calls or study peers' calls.

Manager-Rep 1:1s

– Deliver skill or account-based feedback. Reps can also bring clips from calls to review 1:1.

Onboarding

– Onboarding sets the tone of coaching culture from day one. Managers and enablement work together to build best practice playlists that new hires study from.

Peer-to-Peer Coaching

– Create pairs or small groups where reps give and receive constructive feedback from each other.
RELATED: How To Approach Sales Coaching Like a Pro – The Coaching Mentality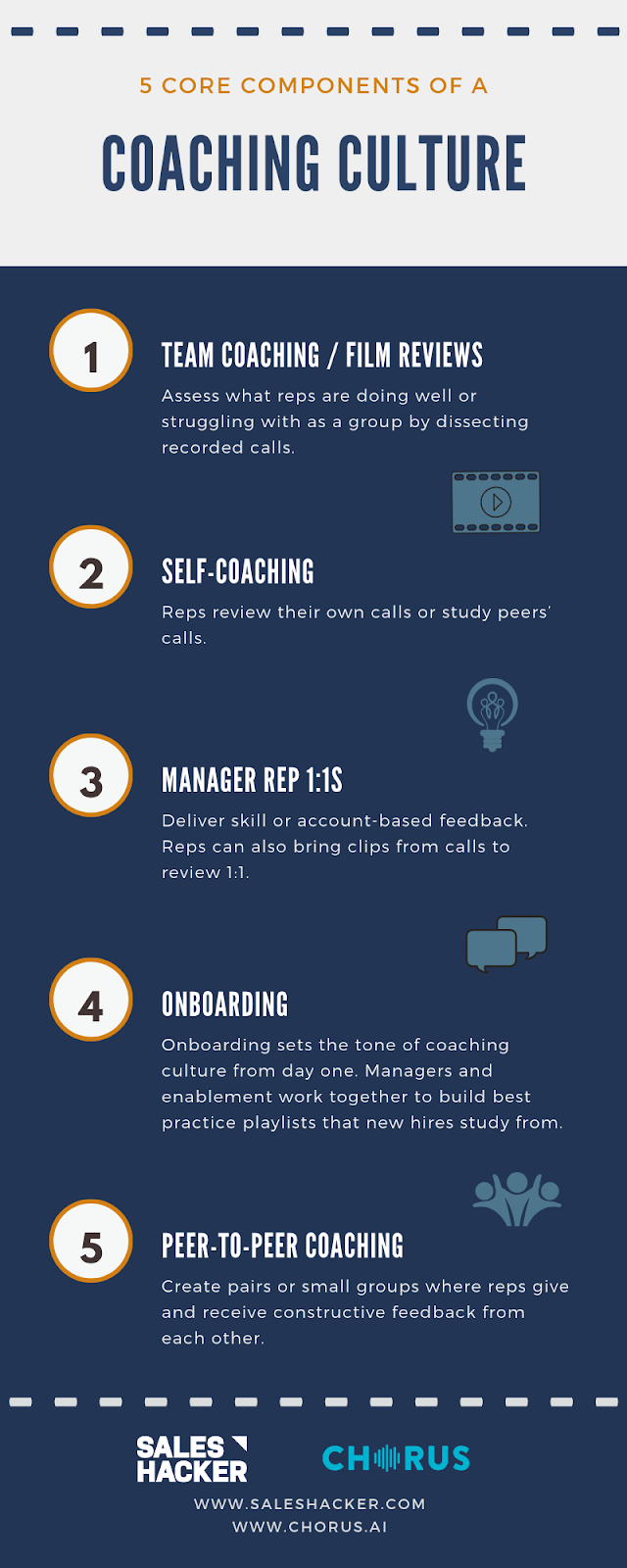 3 Tips to Motivate a Coaching Culture
Once you've got the core components of a coaching culture in place, it's time to get your team involved. Let's look at three ways you can motivate a coaching culture on your team. 
Tip #1. Make it easy to access 
In the past, the biggest challenges sales leaders faced when it comes to coaching were twofold:
There weren't enough coaches and content to go around.

Reps weren't provided with resources to coach themselves or their peers efficiently. 
With tech-enabled coaching, that's no longer a problem. 
At Chorus, reps record calls and add them to dedicated playlists, such as "Discovery" or "One Call Close!" Reps can peer-to-peer coach by adding comments to others' calls, ask for help by submitting their own calls for film review on Slack, or self-coach by listening to top-scored calls. 
Here are some of the most popular playlists among our team:
Contest: First Three Minutes – Your opener sets the tone for your call. Run an internal contest to see who gets the most out of the first three minutes of their sales call.
Setting the Agenda – It's critical that reps set the agenda for their calls and control them. Share best-in-class ways to set agendas throughout the entire sales process.
Best Of: Budget Qualifier – "Best of" playlists feature highlights of top sales calls. Budget qualification is one of the most difficult things reps do, so learn from top sellers firsthand.
One Call Close – Listen to the talk tracks from deals that closed incredibly quickly.
Delivering Pricing – Hear how top reps explain pricing to customers.
Best of: Buyer Intent – Learn how to pick up clues that demonstrate whether a buyer intends to purchase or not. 
Roadmap Concerns – Listen to how top reps handle objections about kick-off and implementation. 
Up-selling 101 – CS calls with live clients provide great snapshots of how to identify an upsell opportunity and bring new ideas to customers.
Customer Story Time – "Story Time" playlists are all about helping reps bring customer stories to life. 
Competitor Smackdown – Learn how to address calls where a competitor is mentioned. 
Tip #2. Be transparent about how reps succeed
We've all seen it before. Reps want to improve and climb the ranks, but they don't understand how to do it — or what exactly you're looking for beyond them hitting their number. 
It's a constant source of frustration in sales, but one a dedicated coaching culture can alleviate. With tools like call scoring and rubrics, reps know exactly what's expected. 
RELATED: How to Turn Your Sales Managers into Effective Coaches
Here's an example rubric for evaluating a discovery call: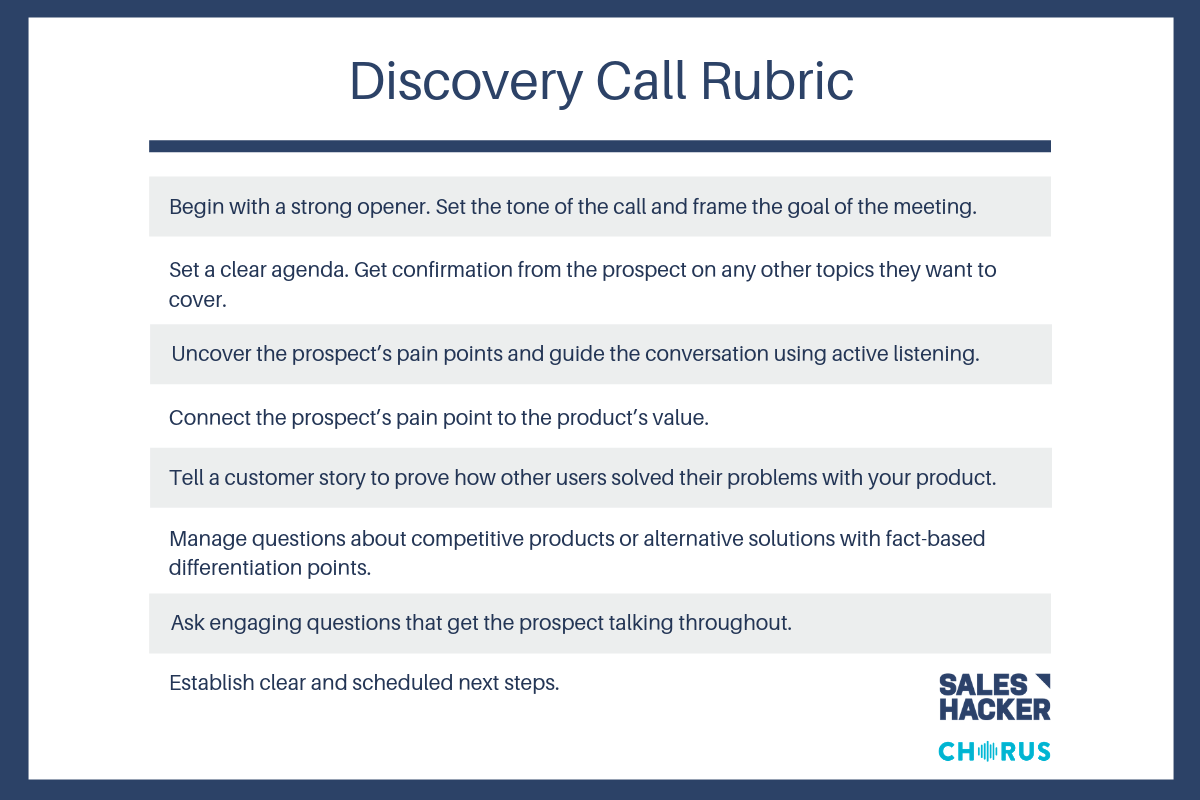 You can create scorecards for every sales task. They make it easier to communicate to reps what good performance looks like. They're especially valuable when doing individual coaching.
For group or peer coaching sessions, you can do something similar, using a hands-on film review exercise: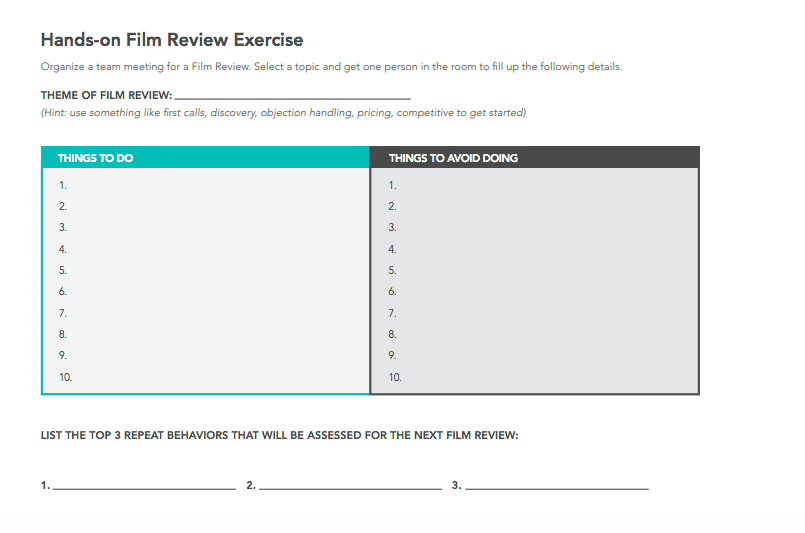 To do this exercise, first, organize a team meeting for a film review, focusing on how reps are handling one specific sales skill. 
Then as each film plays, have someone in the room record details on things that were done well (and are worth imitating) and things that were done poorly (and should be avoided).
For this type of exercise, I suggest moving beyond deal-coaching. Instead, work on coaching core skills, such as how to lead an effective discovery call or Quarterly Business Review. 
Tip #3. Run intentional 1-to-1s
A terrible 1-to-1 looks like this: Your rep shows up with very little idea of what to expect or how to participate. You shuffle in, a bit disheveled, between travel or calls and revert to grilling them on their current pipeline or the deals they're working — all of which you can access in the CRM.
RELATED: 5 Avoidable Sales Coaching Mistakes Even The Best Leaders Make
In a good coaching culture, meetings and 1:1s are used intentionally to coach your team. Consider this format:
Both the manager and rep bring (1) call to review

Identify a theme, such as pricing mentions 

Listen to at least (1) relevant moment together

Discuss at least (1) topic that's skill-based rather than deal-specific

Agree on a plan of action

Monitor progress the following week
The Key to a Coaching Culture
Bottom line, coaching shouldn't be treated as a line-item on your to-do list. If it's siloed, it won't be effective.
The key to creating a successful coaching culture is to integrate coaching into your management style. That means every interaction with your team — whether you're onboarding, sitting in on calls, or holding 1-to-1s — becomes an opportunity for coaching.
And it isn't hard to implement… 
Start by creating a formal coaching library that covers the 5 core components listed above. 
Then get everyone involved by making those coaching materials easy to access, being transparent about goals, and being more intentional in all your interactions.
Do it well, and everyone wins: Your reps will level up their skills, and you'll level up your revenue.