Have you ever wondered how other salespeople are tackling their roles? Structuring their days? Overcoming their challenges?
In this series, we're going behind the scenes with top salespeople to get the inside scoop. (You're welcome!)
Today, we're pulling back the curtain on a VP Sales in an early-stage, high-growth company, and for that, we talked to Collin Cadmus of Aircall.
About
Collin Cadmus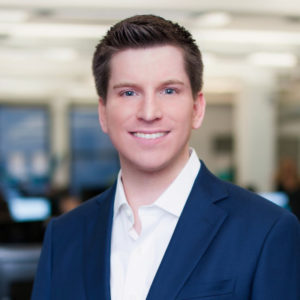 Company Name: Aircall
Title: VP Sales
City/Country: New York, NY
What You Sell/Quick Pitch: Aircall is a cloud-based phone system for teams that integrates into your existing tools.
Sales Cycle Timeline: < 30 days
Number of people reporting to you: 35
A Day in the Life of an Early-Stage, High-Growth VP Sales
Pre-Work Routine 
Contrary to popular advice, the first thing I do in the morning is look at my phone and check in on social, mainly Linkedin and Twitter. 
This gets my brain going, helps me wake up, and gets me thinking about sales without diving straight into work. 
From there I open up Slack and respond to any urgent messages from folks in our Paris office who are already 6 hours into the day. Then I get ready to head out to the office. 
During-Work Routine
I kick off every Monday morning with our weekly Revenue Rally, a stand-up meeting with Sales, CS, and Demand Gen. This is my favorite part of the week because it's my one opportunity to address everyone all together. It's a quick meeting, less than 15 minutes, and I use the time to recognize great performance from the previous week, highlight where we stand on key metrics, share important updates, and set expectations for the week. 
I wish I could say my days and weeks are structured rigidly, but it's nearly impossible given how fast we move and the number of curveballs thrown at me each day. 
My number one priority is supporting my team, so if they need me, there are very few instances where I won't stop what I'm doing to help them in the moment. I'm not hiding in a corner office and I don't give people a hard time for interrupting me. 
While this practice kills my ability to follow a rigid schedule, it's the only way to be a great VP Sales at an early-stage, high-growth company. 
While the structure of each day can change based on the needs of my team and the business, I do have many routines: 
1on1's with my direct reports

SDR and AE weekly meetings

Blocked-off time to focus on future planning, brainstorming strategy, analyzing metrics, etc. 
I also make sure to take time each day to walk the floor, check in with reps, and stay close to what's happening on the front lines. 
We also take lunchtime very seriously at Aircall. With our French roots, it's frowned upon to eat at your desk. This was a change for me and, at times, I feel guilty lounging and enjoying lunch with the team while the workload is massive, but we make a point to sit together and enjoy lunch every day. 
Post-Work Routine
I love what I do, so work doesn't typically have an end time for me, but I do make a point to get out of the office at a decent hour, take time to decompress, and have time to think. 
Spending 9–10 hours a day in an office with zero quiet time leaves no opportunity for thinking, so I need to do this after-hours. 
My nights are usually spent thinking about the big decisions I need to make and reviewing my schedule for the upcoming days to make sure I'm allocating my time appropriately. 
Finally, 1–2 hours before bed, I completely disconnect from work. I try to spend this time reading, at the gym, catching up with family, friends, etc., or getting some value from my Netflix account. 
Unique Details About Your Routine
I hear a lot of sales leaders talk about how structured their days are, but honestly, I don't buy it. Perhaps if you're running a later stage sales org that has years of structure and process in place it's possible, but the life of an early-stage VP Sales is chaotic, and I'm perfectly fine with that. In fact, it's what I really love about the work. 
Inside My Head
What's the one app you can't live without and why? Aircall, of course. 
Name one unsung hero to your day-to-day and why: Our Office Management Team, Whitney Minor and Emily Ide. Of the 235 people at Aircall, there's no question that I'm by far the most annoying when it comes to all things office space. 
In an effort to serve my team, I am relentless about making sure they have everything they need from equipment to snacks, to organic energy drinks, to the perfect temperature in each room. 
For me, those details are tremendously important for enabling a high-performance sales team and I couldn't do it without Whitney and Emily. 
What is the one thing you can't do your day without? Guru Lite organic energy drink. I even hauled a stash all the way to Morocco for our annual offsite. 
What's the one piece of advice you wish you had when you were 22? I'm fortunate enough to have amazing parents who have given me every solid piece of advice a person could ask for, but I definitely wasn't wise enough to listen to it all. 
If I could rewind time, I'd make sure to acknowledge that life isn't fair, not for anyone, and I can't ever expect it to be. Managing those expectations could have better prepared me for the tough times, of which I've had many. 
You have one communication channel to sell through that you can use for the rest of your life, and nothing else. What do you pick? The phone. More specifically, Aircall.