"I only want a team of A-players!" says every Head of Sales and CEO. Unfortunately, having an entire team of A-players is rarely, if ever, the case for a specific team or organization. "Why?" You may ask. Well, for a few reasons:
The simple fact that past performance doesn't automatically lead to future performance

How someone conducts themselves in the interview (confidence, polished rhetoric, maturity, etc.) doesn't reflect how they'll actually act once they're hired

People, unfortunately, aren't predictable. We, as humans, are mercurial, volatile and often inconsistent.
So, if no team is purely made out of A-players, then surely there are B, C, D, E F G and ad infinitum levels of players. But, you can slice a cake any which way you want. For simplicity and sanity's sake, let's say there are only three types of players on your team: A-players, B-players and C-players. Before we get to how to manage the three (hint: they're all managed differently), let's define them.  
Defining your Players
When I used to bring up the concept of A, B and C-players to candidates or recently hired salespeople, I'd say the following: "C-players miss their numbers often. B-players hit their numbers more often than not, but miss once in a while. The question of, 'Will I hit my number?' never occurs to an A-player. They're more concerned about how early they'll hit and by how much they'll surpass their number."
Now, that quick and dirty definition is all fine and well if you're looking to motivate and inspire people with typical sales bravado, but it's not good enough; it's too qualitative. In order to build any scalable system, there needs to be a healthy balance between qualitative and quantitative data.
The easiest way to classify your reps is based on performance (quantitative) and non-performance related (qualitative) data.
Note: Before getting to examples, it's very important to note that how you break out your reps into A, B and C-players depends on how much weight you ascribe to performance versus non-performance related items. For example, in my previous place of employment, we placed an emphasis on non-performance related items more than performance-related. In other words, if you were top closer but also most disrespectful, you'd be more likely to being out the door than an average closer who does all they can to positively impact the team and overall company. I've expressed this in a screenshot of FakeCorp, Inc.'s SDR team below the examples.
Examples of performance and non-performance related items below:
Note: With performance data, it's best to look quarterly. Month-to-month creates a level of unnecessary pressure and while a rep could have a horrible January, they could set themselves up for a monster March.
The list of non-performance related items can go on and on. Despite being qualitative, it's still data and should be treated as such. Meaning, managers document both good and bad non-performance related behavior (quick Google Doc or Evernote is perfect for this) and cite to reps when necessary.
Example spreadsheet: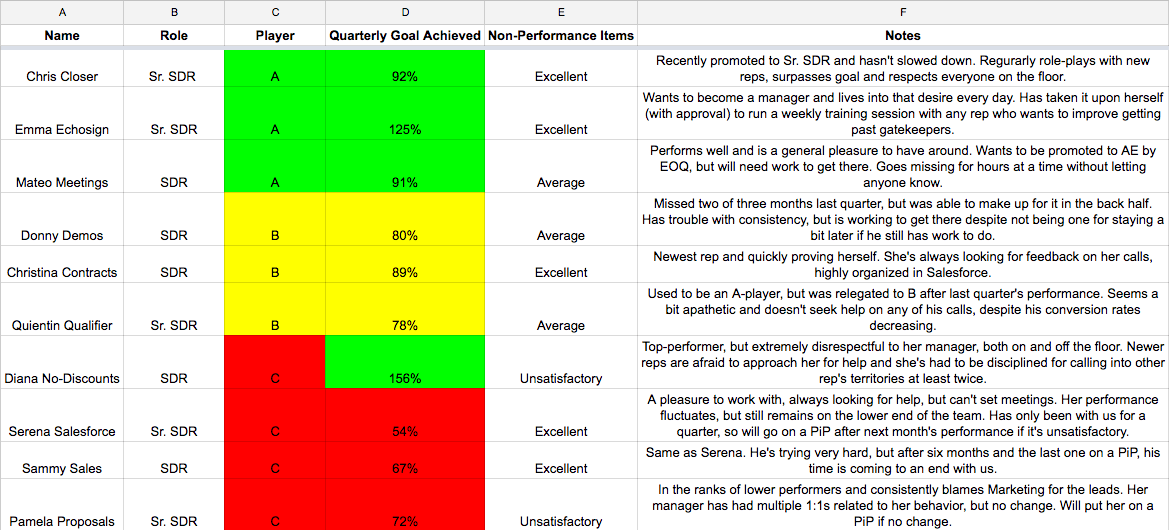 How to Manage Them
A-players
A-players are your all-stars. They consistently perform, both in numbers and in ways that move the organization forward. They typically move quickly and are encouraged by success, positive words of affirmation (albeit, some couldn't care less for them) and more often than not like making a nice commission check. The best way to manage them is by doing the following:
B-players
B-players are necessary! Yes, read that again. They're necessary. Not every rep is going to be knocking their numbers out of the park, each month, and the chunk of reps who are good, albeit not great, performers need to also be recognized and motivated. The need for this became so apparent in my last role that I needed to think long and hard about B-players. The best way to manage them is by doing the following:
C-players
Ah, the C-player. For one reason or another, it's not working out. But, that doesn't mean they need to go (yet). Some C-players are unaware they're C-players; some think their A-players because of their quarterly performance but are actually C-players because of behavior. Others feel it on every call they hop on, in every meeting they have to speak in and when they see their name on the board. The best way to manage them is by doing the following:
Calling a rep an A, B or C-player doesn't mean their status is set in stone. They can move throughout the rankings for better or for worse. The best thing to do to make your team A-player heavy is to ensure that managers are doing everything in their power to make everyone an A-player with the knowledge that not everyone will inevitably be one. Different players require different types of managing in order to make them successful, which is what everyone wants at the end of the day.