One day you might have to explain to your children that companies once had sales meetings in person, in a room with the lights dimmed and something called a PowerPoint presentation. (If you were lucky, there were donuts.) Then the pandemic came. Now we all use Zoom for our meetings. So you might expect us to say, "and everything changed." Not so fast.
The truth is that most sales meetings, online or in person, always were and often still are boring lectures. 
Lectures to salespeople fail to produce empowered and educated salespeople who are better able to close sales. Those wasted hours do nothing to increase sales. And this is why your sales meetings suck. I'm Mayte Vera, operations manager at TigerLRM, and I leverage my experience in sales enablement management to help users focus on strategic approaches to sales enablement practices and how to define and implement successful sales processes. In this article, I'll take you on a quick tour of why your sales meetings suck — and how to use sales enablement to transform them.
---
Mayte's cheat sheet:
Sales meetings are a waste of time unless sales teams are empowered and engaged.
Sales enablement systems generate authentic communication with your team.
Sales leaders need to communicate sales knowledge, not just product knowledge.
Sales teams need automated processes and systems that adjust to continuous change.
---
The basics: What is sales enablement?
Sales enablement is the systematic approach of providing your sales team with content, tools, strategies, and training to help them succeed. Short, sweet, and simple. From an organizational point of view, sales enablement allows teams from different departments the ability to function as one. It provides sales teams with the latest product information, marketing collateral, and L&D, and is a one-stop shop for everything sales- and product-related.
---
Why sales enablement matters
Selling has historically been an inefficient activity. Salespeople typically didn't get any guidance beyond "sell, sell, sell." Today, sales enablement means that you keep sales teams engaged, empowered, and informed. And the numbers back it up. According to G2, sales enablement is correlated with:
31% improvement in supporting changes in sales messaging
15% improvement in the performance of low-performing sellers
49% win rate on forecasted deals
6-20% increase in sales overall
---
How sales enablement changes sales interactions
Consumers on the B2C level and B2B level have changed their buying habits in the past 5-10 years as more and more information becomes available. Before buyers even consider a purchase, they do extensive research, including asking the opinions of friends, peers, and on social media. In fact, buyers have had close to 57% of their purchasing journey before ever talking to a salesperson. Because of that, buyers are expecting salespeople to be experts and trusted advisors in their fields. Sales enablement allows sales teams to understand products and services in greater detail than ever, along with questions and even objections. With sales enablement, you aren't just asking one salesperson a question; you are asking the entire organization.
---
Sales excitement vs. sales enablement
Sales meetings often become mini cheerleading sessions. We've seen this over and over. In product sales, for example, the new model is shown, music is played, and (short-lived) excitement is generated. But does it increase sales? Often the answer is no. There is a difference between the excitement of a new product or service and knowing how to sell that product or service.
---
Empowered sales meetings (that don't suck)
Running an empowered sales meeting using sales enablement techniques is different than a typical meeting. The meeting agenda or process needs to reflect on how clients come to their decisions and how sales teams can become trusted advisors. Remember, most buyers are very educated in the product/service — but that education doesn't take into account their unique buying dynamics and motivations.
What does sales enablement do for sales teams and clients?
Sales enablement allows for cross-department training and collaboration that help sales teams and any client-facing personnel to sell or upgrade clients more effectively.
Sales enablement facilitates standardized content and responses to engage clients better.
Sales enablement understands the unique needs of existing and potential client journeys and addresses individualized needs without placing clients in pre-defined silos.
---
How to power up your sales meeting
Before the meeting
Be sure that your playbook covers:
Your ideal customers. Have a description of who they are and why they need the product.
Motivations. What are the motivations for purchasing?
Objections. What are the typical objections, and how do you overcome them?
Collateral. Make sure your team has all the collateral that they need in one place.
Case studies. If possible, show successful examples of the sales process/cycle.
With sales enablement, your sales reps will come to meetings knowing what the product is, and more importantly how to sell it.
During the meeting
Answer questions. Ask for input on objections and overcoming them.
Talk about the new product/service's distinct advantages over previous products and competition.
Don't sell excitement — sell techniques.
Because your sales team will have the opportunity to view the product, the sales cycle, and case studies — before the meeting — they will be more empowered to do what they do best — close sales!
After the meeting
Encourage the team members to give feedback about closing techniques.
Make new case studies and customer profiles to enhance sales knowledge.
Sales enablement is a continuing process, as more data is gathered, it is refined to make the sales process become more efficient. Sales enablement helps sales teams have higher sales closing ratios. Businesses no longer have to spray-and-pray leads. They can spend reasonable amounts on new leads they know will be followed up with and that their sales teams can handle.
---
Streamlining sales enablement
If you haven't yet created a sales enablement system for your organization, here are some critical areas you should cover:
Sales training – From onboarding to veteran salespeople, your team needs to understand how to sell your products and services. What are common objections and unique selling points, and how can they reach the decision-makers.
Sales coaching – No matter where salespeople or customer service reps are in their journey, ongoing coaching can improve their closing ratios.
Collateral – Salespeople and others should not have to search for your latest marketing material. It should be easy for staff to give collateral material to your potential or existing clients.
Sales playbook – The sales playbook is a resource that clarifies roles, responsibilities, USP (unique selling points), your company's marketing strategy, and much more.
Automated lead management – Use AI-Driven data to automate lead management so that salespeople can concentrate on current prospects while having leads qualified and moved up the pipeline simultaneously.
---
What's next?
CRMs and AI data-driven lead management platforms aren't just for enterprise-level organizations. Small and medium-sized companies are rapidly adopting the same technologies and are competing with much larger companies. Sales enablement is growing not just for enterprise-level organizations but for much smaller companies as well.
---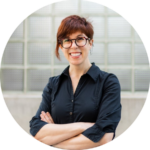 Edited by Kendra Fortmeyer @ Sales Hacker 2023