Video is the absolute best tool for job hunters.
Hands down.
It's the open secret to success!
It's the future, and the future is here. (It's just not widely distributed yet).
If you want to get a leg up and 10x your job hunt results, then stay with me for the whys and hows of sending video as a job hunter.
Table of contents
My story: How I landed an 80% interview rate with 0 sales experience
It was early 2020. I was making a career change from the public sector to the private sector, and started with sales roles as an entry point to make that career relaunch.
I had no official sales or business experience.
In February 2020, I emailed my first video pitch straight to the head of sales at a tech startup.
Within three hours I had a reply, and had an interview set up within a day.
In February 2020, I emailed my first video pitch straight to the head of sales at a tech startup. Within three hours I had a reply, and had an interview set up within a day.
…then, of course, in March 2020 the whole world turned upside down (and hiring freezes became normal). But I didn't let that stop me. I kept video pitching.
Within a matter of weeks, I landed 8 interviews out of 10 pitches.
Related: Top 28 Sales Questions and Answers for Your Job Interview
There was one BDR role I was especially excited about — but it asked for someone with 3 years of sales experience. And it had 1,400 applicants.
(Remember: How much sales experience did I have? Right. Zero.)
I cut through the noise. After I emailed my video pitch, the recruiter said:
"I wanted to immediately respond to you and let you know that this is BY FAR the best and coolest application I've ever seen in over 20 years of reviewing applications. You absolutely blew me away and made my morning."
Don't misread this as me trying to toot my horn. I'm simply seeking to convey that using video as a job hunter has truly incredible power.
Related: 3 Body Language Hacks That Will Change Your Sales Videos
Burn your resume! Send a video instead
Ask yourself, why are you sending a resume? Maybe you think it's "required." Or, maybe you never thought about it much, and just assumed that that's what you do.
That's okay! Don't beat yourself up if you haven't questioned this premise.
But if you think about it, the resume (and cover letter) is like going up to someone you want to date, and saying, "Here are 10 reasons why I'm dateable."
Nobody really is turned on by that.
So instead of the resume, try not to focus on yourself and your past. As a job hunter, you need to stand out and create value for the company.
A world-class way to do that is with video.
Related: 10 Sales Video Examples to Crush Quota from Call to Close
Think from the hiring manager's perspective. Sarah the hiring manager is waking up each morning, opening her email inbox, and looking at a bunch of black-and-white, bulleted PDF resumes.
How could you make her day?
Try sending her a 1-minute video, personalized for her and her company, sharing how excited you are about their mission.
The connection is instant. You build a human connection. You stand out, and you will signal your soft skills and mindsets of initiative, boldness, creativity, enthusiasm, and willingness to go above and beyond.
Pretty powerful first impression, yeah? Especially if you want a sales role.
Related: Secrets to Acing the Sales Interview: Tips From a Recruiting Leader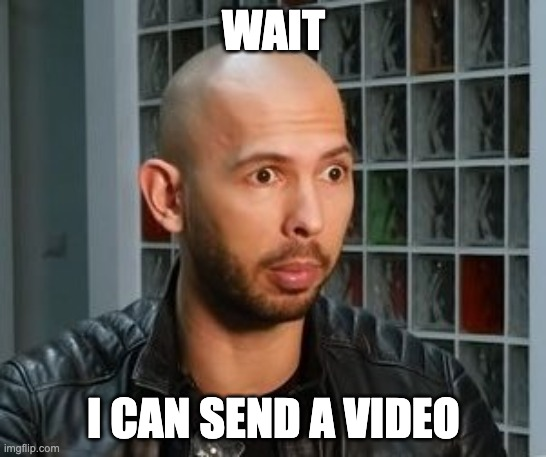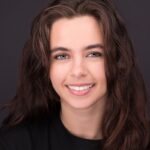 "I tried 'spray and pray' for 2 months — 10 apps per week. Started sending pitches and out of 7 pitches, I got 4 interviews and one job offer. Huge difference."
— Maxine, now Data Analyst at Aegis Health Services
Video pitches vs. resumes: By the numbers
Fast forward… I've now worked with thousands of job hunters to teach them to stand out on the job hunt, (via Career Hackers). Our data shows that a video pitch will see on average:
5 days to first interview
14 days to a job offer
80% response rate
35% interview rate
Compare this to a resume, and its less than 1% response rate…which approach will you choose?
It's a real no-brainer! But the video itself isn't a silver bullet.
In your video, you want to embody a mindset of entrepreneurial, creative energy. You want to be willing to put yourself out there, to be bold, to be different, to not care about "the rules," and to let go of waiting for permission.
You're a salesperson. You got this!
How to make a video pitch as a job hunter in 6 steps
I've got some pointers to dial in a solid video pitch. But what's key is that an imperfect video is better than no video.
An imperfect video is better than no video.
The bar is low, folks. If you're reading this in 2023, you still have first-mover advantage. Don't worry about perfection!
In fact, I dare you to send a "mediocre" video. You'll still probably do 10X better than any other approach you're taking as a job hunter.
Want to do more than mediocre? Follow these 6 simple steps:
Use a video tool like YouTube or Loom. The tool matters way less than the substance of your pitch. These tools are nice because the thumbnail will show a preview if you were to send in a LinkedIn DM.
Avoid scripting if you can. Just list a few bullet points in your head for what you want to say, then shoot the video and speak naturally. What's key is to frame the pitch from their perspective. What can you do for THEM?
Start by smiling! This helps you relax and be authentic. If you just take one tip from this post, it's to smile when you make a video pitch. 🙂
After you smile, tell the camera why you love that company. Prove you did your research. Be genuine. This can be simple. Let's say you're pitching Apple. Just a "Hey Apple, I love your mission to bring world-class user experience to your customers" will be of value. Then maybe share why that's personally exciting to you, to seal a personal connection with them, and build a bridge.
Share 1-2 tidbits about your accomplishments, your story, or your skills and how they relate to the role you are going for. It's key here to be yourself and to connect the dots for them, e.g.,"As a sales manager at Company X, I lead our SDR team to increase revenue 30% in 6 months, by focusing on building supportive 1-1 relationships. I'd love to do the same for you at company Y." Or even tell a story about your personal achievements and soft skills, e.g.,"I ran a marathon by showing up and training every day for 4 months, building that consistency muscle. I'll bring the same mentality and drive as a BDR."

(Seriously, running a marathon signals more about you than any college degree.)
Keep it at about 60 seconds. You don't need to say everything, just get them interested to learn more!
Learn more tips in this post, this webinar, and the videos below: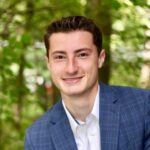 "For months I was struggling to fit my non-traditional experiences into a resume and it simply didn't work. With a video pitch, I was able to go from pitch to interview to offer within 24 hours. It felt like magic."
— George Garcia, now Strategy Associate at Night Labs
Treat your job hunt like a sales campaign with a cadence
When you stop to think about it, you realize that a job hunt is really just you selling a $75K+ product…. you!
So prove your sales skills from the beginning with how you showcase yourself.
That means you need to use email. Email your video directly to the hiring manager, and follow up as needed, like any effective salesperson!
Pick a human who will likely be your supervisor — like a sales manager or the VP of sales. To do this, you can use LinkedIn to find the "People" page on a company's profile.
Then use a tool like Hunter.io to find their email address.
Then, ship your pitch, and follow up as needed.
That means a little cadence, right? e.g.
Day 1: Email the pitch
Day 3: Nudge follow-up
Day 6: Send in LinkedIn DM
Day 7: Send to a new decision maker
Day 9: Email follow-up
Keep following up until you get a clear "yes" or "no." response. Be persistent — like, the most persistent person on the planet — so you can show your interest and willingness to go above and beyond. As Derek Sivers said, "Persistence is polite."
And don't bother with a resume. I recommend you signal your boldness by skipping it altogether!
Related: 5 Steps to Get Your First Sales Job in 2023
When you do this, you're implying "I know what matters most is the value I can create for you." And you signal that you're not waiting around for directions, or anyone's permission to get started.
Sell yourself as a job hunter. Send a video and pitch your services. Follow up and show your persistence. Keep knocking on the door until you get a clear "yes" or "no." But if you show your skills and hunger, you'll likely at least get an interview. ; )

Related: David's story doubling his salary with a video pitch
Bonus: Create a project
aka, how Gregory broke into sales with no college degree
If you want to stand out as a job hunter, send a video.
But if you REALLY want to stand out, then just start doing the job before you have the job — principle #6 in the Career Hackers Manifesto.
Want a company to salivate over you?
Then start working for them, without waiting for permission.
Examples of this: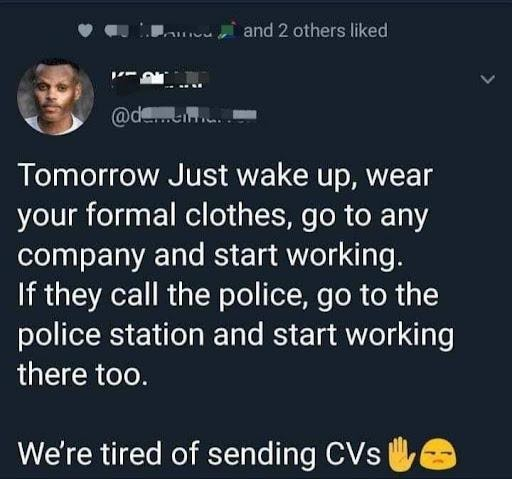 You can also create value in a non-sales-specific way, which is what Gregory Williamson did when he made a chatbot for a company to seal the deal with a company and break into sales with no experience.
This is how he did it:
"Before the interview, I went and looked at their website, looked at ways I could improve their platform (from a sales perspective primarily). And I noticed that they didn't have a chatbot on their website.
They had Intercom, but they just had a little box for you to message them and nothing more. So for after-work hours and on the weekends, you couldn't engage with people that were visiting the website.
So I thought, "Let me build out a chatbot for them." I went and started a free trial of Intercom and created an entire Q&A branch, built out a script for them, and then I put it all into my Intercom account."

Gregory embodied what I call the "I Went Ahead" mindset. This is when you just start creating value above-and-beyond without waiting for directions.
You just start solving problems.
You say, "I went ahead and wrote a new blog post for you," or "I went ahead and made a new logo for you," or "I went ahead and made a new video for you."
(As a job hunter you could always send a second follow up video pitch after the interview, to keep standing out from other candidates. In this case, share what you learned in the interview and how you're doubly fired up to join the team!)
Think from the company's perspective, and how they will be wowed by this value creation mindset!
It can not only land you a new job, but also make you indispensable.
You can read Gregory's full story here.
To succeed with a video as job hunter, hone your mindset
At the end of the day, a creative, bold, and persistent mindset is what you need to stand out. Video is the top tool to do that, yes. But you are selling YOU. What energy will you bring when you turn on the camera, humanize yourself, and pitch yourself?
It all boils down to what happens between the ears.
You want to embody the mindset of "I can create so much value, I don't need a resume."
Rather than wait around for opportunities to fall your way, you say "I'm going to create what I desire."
And above all, you need to let go of the three P's:
1) Permission mindset
Right now it's rare that any company will ask you to send a video. But you need to let go of asking for permission to do so. You just learned growing up in school, when you learned to raise your hand to go to the bathroom! You can shed that now! Just create value.
2) Perfectionism mindset
You may want to be sure your video is polished and perfect before sending it. Let that go. Good enough is good enough.
3) Preparation mindset
And you may wait to ship and send your video because you want to make sure everything is just right with your plan, and that you are fully prepared. Let go of that too. Just hold a bias for action.
You got this.
---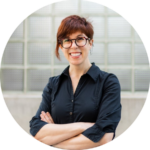 Edited by Kendra Fortmeyer @ Sales Hacker 2023