If you have a product that is absolutely crushing it in SMB/mid-market, you may be tempted to dive straight into the Enterprise market. Who could avoid dreaming of those seven-figure deal sizes, 3-year contracts, and trophy logos?
We have worked inside organizations that have successfully made the transition, but I have also worked in dozens of others who have failed to make the move.
This guide will arm you with the three most important things to address with your executive team before committing to the Enterprise market. Don't worry; we even included several examples you can use.
RELATED: The SaaS Executive's Guide To Building A Winning Go-To Market Strategy
Get Aligned Before Moving Upmarket
Before we start, we should point out that the move upmarket is usually initiated by the Board. Some Board members may have seen this move happen before and others may not. The Board and executive team need to understand that you can't simply flip a switch and tell your existing reps to start selling to Enterprise customers.
Aside from the areas we'll outline below, you need to hire or train sales reps who are capable of selling at an Enterprise level. That's five or more months of ramp, and likely a whole year of burning cash to get the new sales team ready.
You also need buy-in for additional supporting roles required for an Enterprise move. Everyone needs to understand the investment and time-frames associated with this decision.
We recommend you work cross-functionally with the executive team to cover the three most crucial product readiness elements described below. Then, still working together, present a project plan that the Board will buy into.
1) Product Market Fit Assumptions – Is the problem you solve relevant in the Enterprise market?
It is critical to realize that organizations of different sizes face different problems.
As an example, consider an analytics company that provides tightly defined, world-class reporting for a specific business function.
For organizations with less than 500 employees, this solution absolutely nails it. It's just right for business unit leaders because they don't have access to the insights they need to steer the business. SMB and Mid-Market orgs don't have an analytics department with data scientists, so technology fills the gap.
However, when moving up-market to companies with 1,000+ employees, the game changes. Within these organizations, there are sophisticated data science teams responsible for analytics and insights across all business functions.
A real-world example is Gusto, a payroll and benefits solution, which solves issues relating to in-house expertise and resources. In Gusto's case, the solution isn't (yet) relevant to enterprises which have a fully-baked HR team.
Never assume context remains consistent when moving upmarket. Your Product Management team should start the Customer Development process again and interview prospective Enterprise customers to find out if they have the problems you currently solve.
2) Product Readiness – Do you have the essential Enterprise features?
If you find that there is a pain point your solution can address, the next hurdle is determining your product readiness.
Let's continue with the analytics example from above.
Even if the Enterprise does need a reporting tool for their specific business function, there are other reasons the product might not be a fit. The complexity of systems integration, data warehouse construction, and need for the platform to be flexible mean they need an analytics solution that's tied to more than just a single data source.
Many SaaS products are successful in the SMB market because their function and process choices are built for the customer. Those products are often a 'fit for purpose' solution that is still somewhat rigid. It works well when you can find thousands of look-a-like small businesses. But in Enterprise, proprietary workflows and organizational design are critical to maintaining a competitive advantage.
Another real-world example: back in the mid-90s, Oracle coined the phrase 'packaged-based re-engineering.' These were weasel words for, "It is too hard to change our software, so you need to change your process to fit it."
SMB products, similarly, tend to have less flexibility or customization capability. When it comes to Enterprise, that just won't cut it.
In addition to having a flexible architecture, here is a basic checklist of features that your product org needs to meet:
Enterprise authentication and security controls. The ability to do single sign-on and be able to switch off user profiles centrally. For example, LDAP/Active Directory.
Integrations. Embedding your system into a workflow. For example, a Configure, Price, Quote tool that integrates with your CRM.
Real Service-Level Agreements that you can actually meet. This goes for both people and technology. It helps to be able to promise something like "1-hour response time" for situations where systems are down.
Reporting and analytics. The ability to create custom reports that filter any number of ways for any number of user groups.
Role-based controls. The ability to group users, such as Account Executives, and limit specific permissions for that group of users.
Sandbox Functions. The ability to do change management control and QA testing in a non-production environment.capability. The ability to review all system changes/entries made by any user.
It's not enough that your product/service architecture meets the minimum Enterprise checklist above. Your product also needs to be ready for the Enterprise customer to configure the product to their complex needs into the future.
3) Market Readiness – Do you have a go-to-market plan?
Pricing/Packaging
Product marketing needs to consider how Enterprise wants to buy your product. SMB customers may need monthly payment terms or a 'pay per transaction' fee. Enterprise might want different budget certainty and less administrative overhead.
A technique we use is to ask the customer what is valuable to them and why. Think in terms of 'deal dials' — price per user, payment terms, contract length, number of users.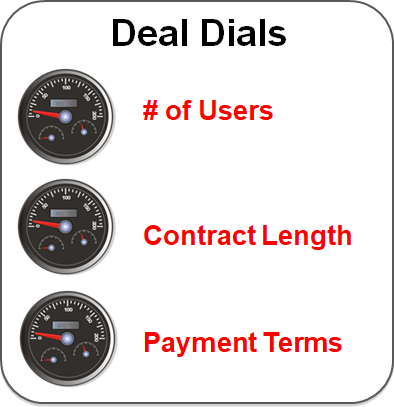 In 2007 I sold a $600K ARR deal to a Telco on a 3-year contract, with two year's cash up front. Why? The customer had plenty of cash available, they wanted budget certainty, and it reduced administrative overhead.
You would never think to ask an SMB for two years of cash!
Product marketing and sales enablement need to collaborate on commercial options and contract structures that fit the way Enterprise wants to buy. This will definitely be a team effort as it may cause angst within your Finance and Operations groups.
Post-Sale Delivery and Enterprise Service
Here's a scenario: your average customer has 50 users. On the last day of the quarter your hot-shot sales team lands a 1,000 user account. Everybody spends the rest of the week in an inebriated celebration!
As the fog clears and the caffeine kicks in the following Monday, you start to wonder how the heck you will work with the customer's IT department to deploy the browser plug-in, train the new users, and manage all the other related items.
Your three-person CSM team is terrified, and the Head of Professional Services has just decided to take an extended holiday in Tulum, Mexico. Who could blame them?
This is why there needs to be executive alignment on investing before any action. It helps ensure you have the right people and processes in place to support your first big deals. You may even need to hire to capacity before you need it. You will certainly need to document the processes previously held in your team's head as tribal knowledge.
The sorts of roles worth considering include:
Solutions/Sales Engineers for pre-sales and account hand-off
Post-Sales Account Management (Commercial)
Post-Sales Customer Success
Technical account management
Things to get in place or think through:
What implementation resources do we need? Should we partner?
How do we onboard hundreds of users?
What should our account management process look like?
Do we need technical account managers?
RELATED: Hiring Sales Reps: How to Recognize Top Performers BEFORE You Hire
Summary of 'Product-Readiness' and What's Next:
Part 1 of this guide gave you topics to workshop with your team to build a plan and be well-prepared to sell to the Enterprise. You are essentially conducting the classic consulting 'As-Is and To-Be' assessment ahead of embarking on this high-risk journey.
In part 2, we will look at the marketing, enablement, and personnel that will make your transition a success.