It's no secret that technology's evolution is changing the way sellers sell.
Eighty percent of the prospecting sales force is under 25 years old. This generation of sellers is the first to be raised on mobile devices, applications, and tablets. Sales teams, as a result, are conditioned toward a favorable user experience that utilizes minimalist designs to carry out actions in as few clicks as possible.
Take Slack, for instance. Slack allows users to type a name, a message and hit send in order to connect.
Steps involved in a Slack conversation:
Step 1: Open Slack
Step 2: Type the name of the desired coworker or channel
Step 3: Type the message
Step 4: Click "Send"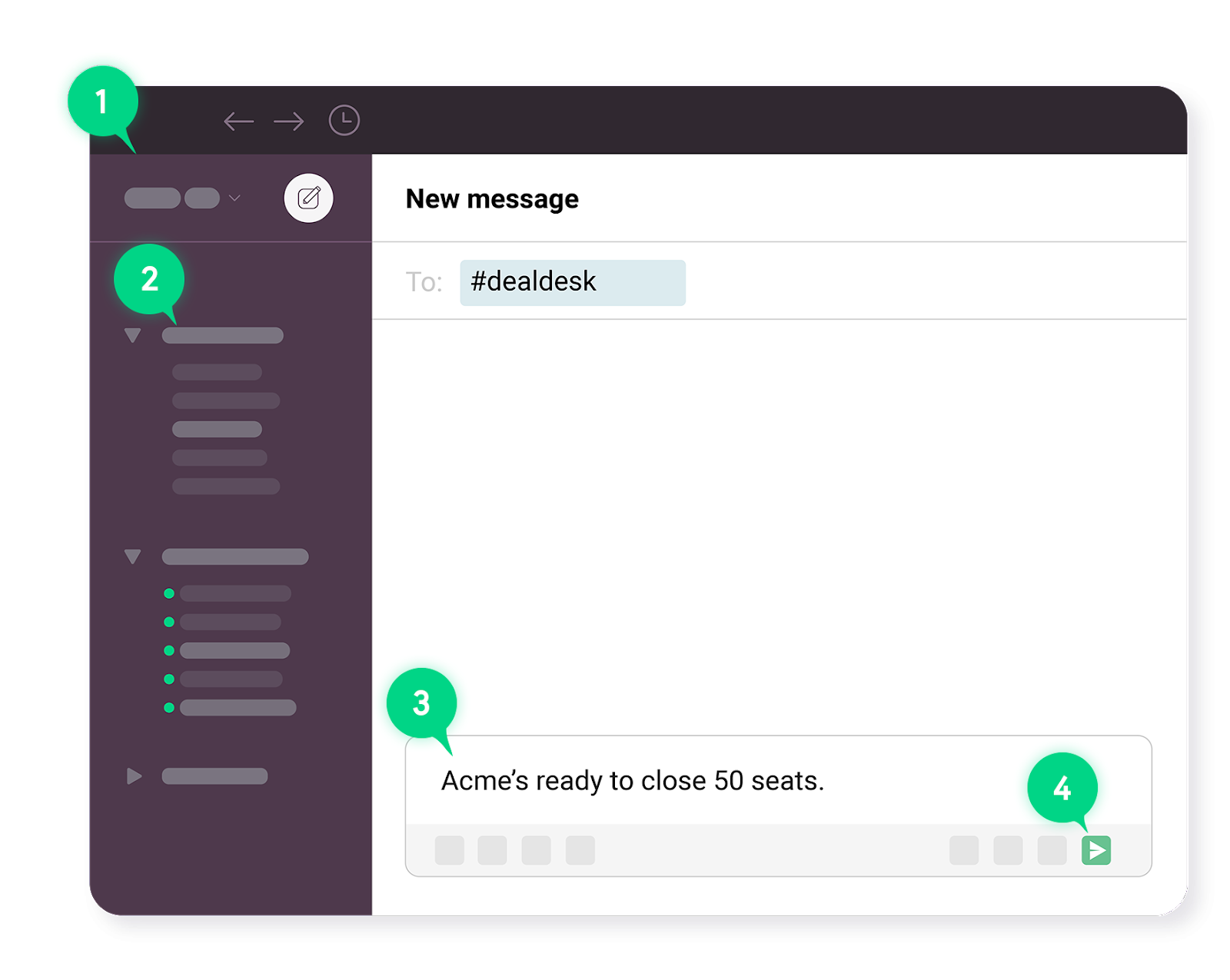 Four clicks and the message is sent.
Zoom offers a similarly simple process for connecting. The application syncs to Google Calendar, allowing users to click the link in their calendar and enter a scheduled meeting in just three steps.
Step 1: Open Google calendar or comparable scheduling software
Step 2: Select the appropriate event
Step 3: Click on the Zoom link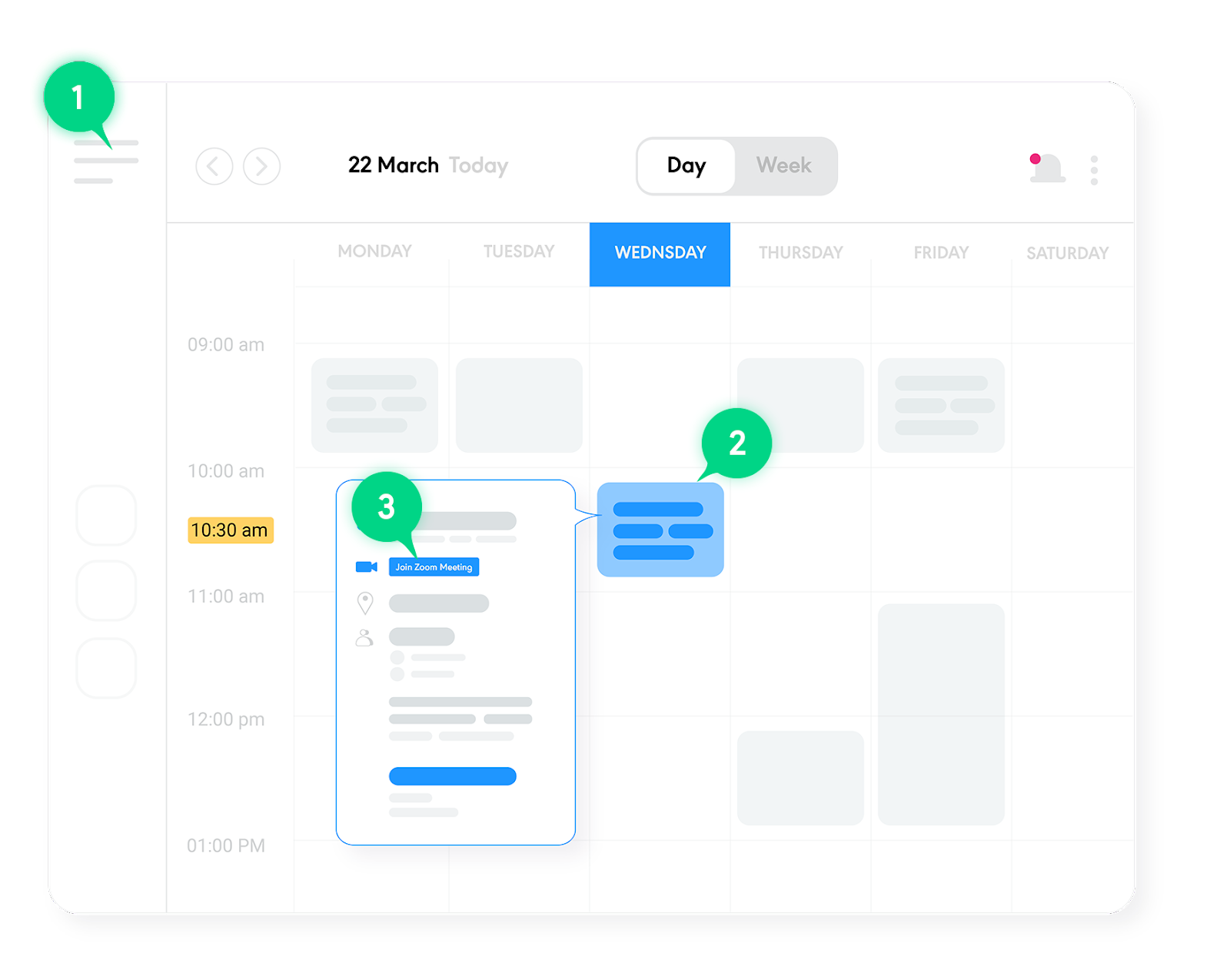 That was three clicks to get into a business meeting.
Other examples of technology that make it easier than ever to connect include calendar and scheduling platforms. These tools allow users to send a link to someone else, and the person on the retrieving end can choose the time that works best from a selection of different time slots. The capability to schedule a meeting in two clicks is a considerable improvement on the days of emailing back and forth in order to find a time that works best for both parties.
What all these examples have in common is that they use technology to simplify processes, thus adapting to a world that expects a more simple solution. One or two steps is all it takes to complete a task these days. Outbound prospecting shouldn't be any different.
Seen through this lens, any sales processes that ask employees to jump through hoops is not only unnecessary but is setting up younger employees to fail. Why should a sales process have people working harder, not smarter?
Today's sales processes
In simplest terms, the sales process is a potential customer's journey from facing an initial problem, to defining a solution for it, to making an actual purchase. And since the sales process is a journey for a prospect/customer, it is also the roadmap for a sales rep's job. A typical sales process consists of five to seven steps: prospecting, preparation, approach, presentation, handling objections, closing, and follow-up.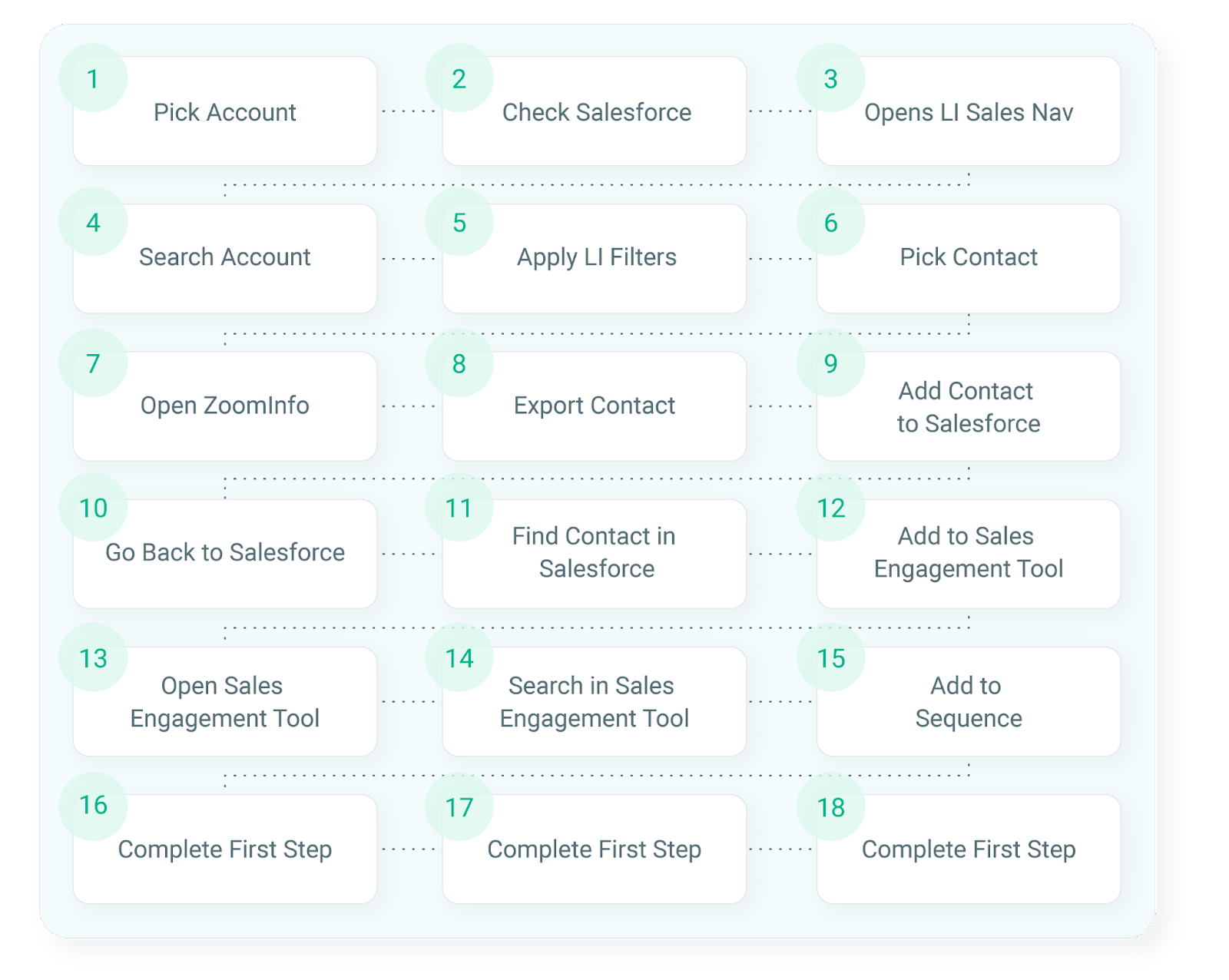 The sales process today is long and clunky. Sales reps who follow traditional sales processes often take 18+ steps just to get a contact into a sequence. The unfortunate side effect of having sales reps repeatedly perform mundane tasks is that it takes considerable mental energy, leaving them feeling not only unmotivated and unproductive but undervalued due to the task's menial nature.
The tedious and time-consuming tasks that occupy sales reps include:
Having to switch between multiple tools
Having multiple tools open at once
Having duplicate, incorrect, or incomplete data in the CRM and sales engagement platforms
Time spent on executing processes and less time spent prioritizing outreach
The result of performing this busy work? Low morale, low productivity, and high turnover. Sales leaders need to focus on defining activities that generate revenue and setting up processes that enable reps to spend more time performing those tasks.
High vs. low-value activities
Low-value activities are non-revenue generating sales activities; high-value activities are sales activities that generate revenue. Sales enablement teams constantly battle between making their company's sales processes as easy as possible while still allowing reps to spend time on the right activities.
Some examples of low versus high-value activities are: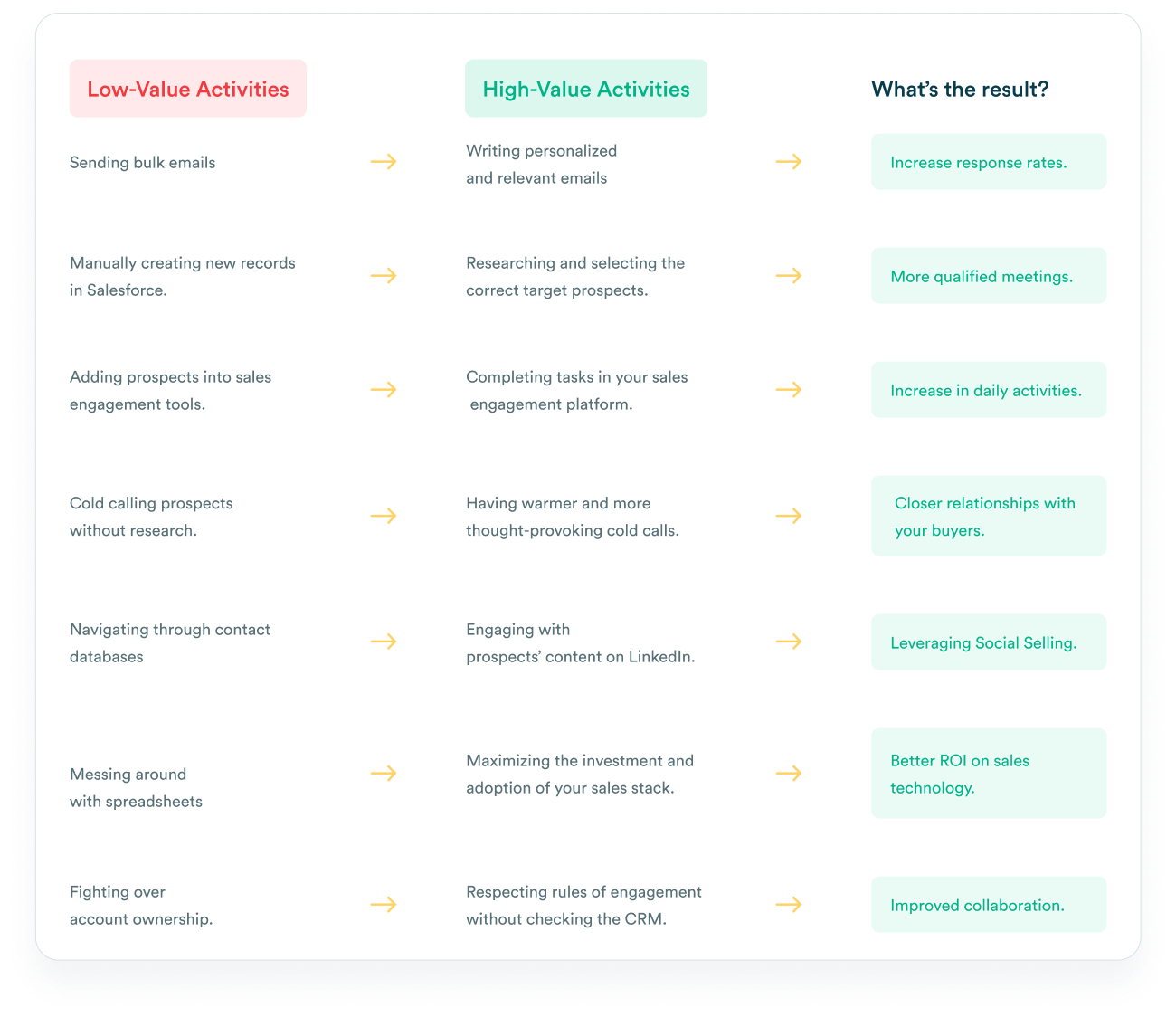 Automating tasks that don't require mental effort – such as data entry – allows sales reps to focus on tasks that should never be automated, such as personalized cold emails. Discerning the difference between high and low-value activities allows sales leaders to choose what tools to include in their stack, as well as how to set up processes.
What high-value activities a sales team should focus on
The future of prospecting is aimed towards one goal: to get the number of actions and time spent per account as low as possible without sacrificing the quality of outreach.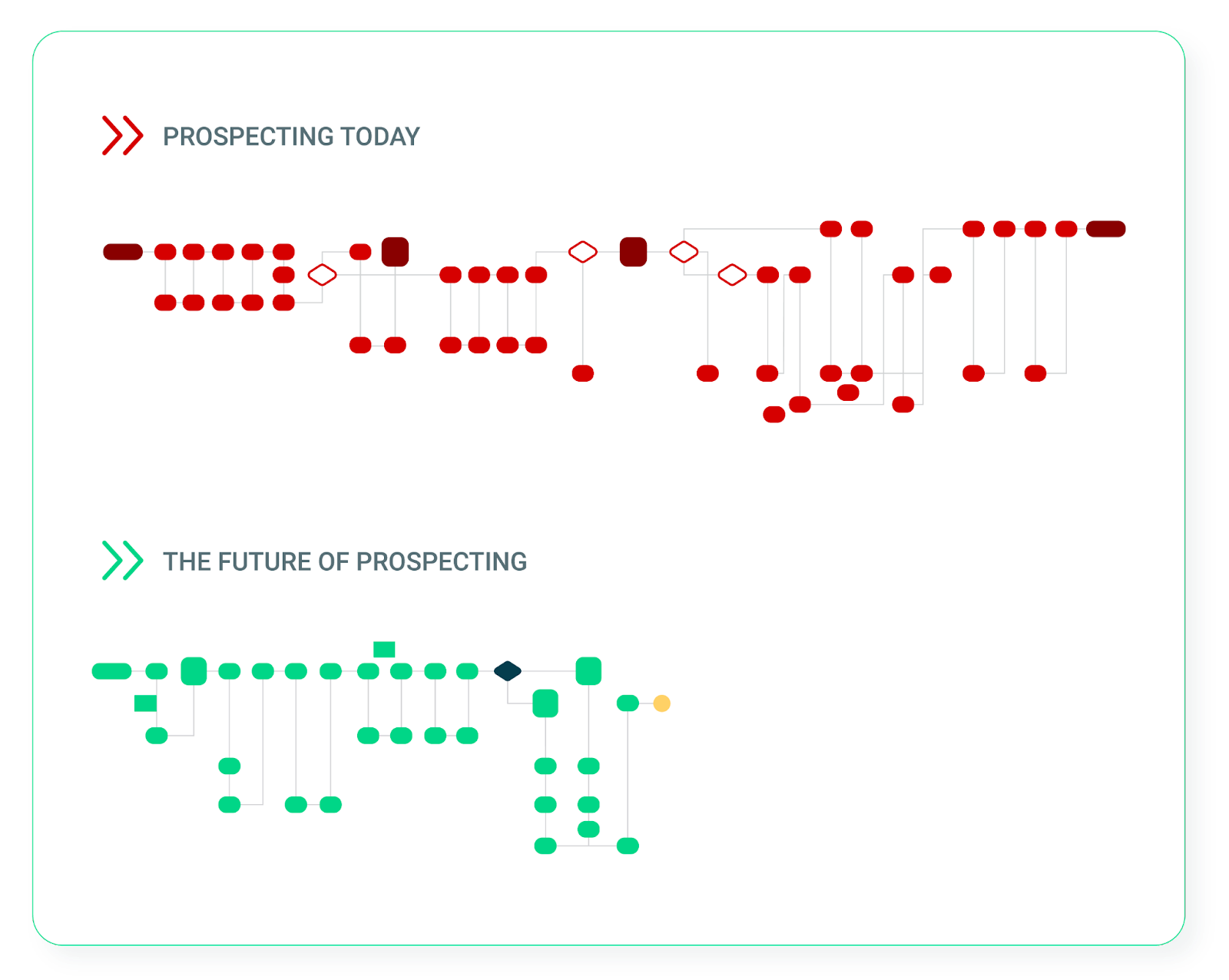 A sales process should:
Have a unified sales tech stack full of enriched data
A linear, measurable, and repeatable outbound prospecting process
Less friction to source and control pipeline
Maximized value and adoption of sales stack
High-quality research and personalized outreach
Reps spending most of their time on high-value activities
High-value activities mark the difference between a sales team generating revenue or not. If reps spend their time manually creating records in Salesforce or prospecting without research, they're doing their jobs wrong. Some examples of high-value activities and how a sales team should spend their time include:
Researching prospects on LinkedIn and other sites: Sales reps should grab at least five bullets on each prospect when conducting research. Each bullet can be a reason for reaching out. This exercise will result in having five different personalized cold calls/emails for this one prospect.
Writing personalized and relevant emails: Searching LinkedIn and other social media sites for triggers on a prospect is a valuable use of time. Whatever content prospects have created, shared, or posted about their own life and achievements can be turned into material for writing a personalized cold email. This attention to detail demonstrates that the rep views the prospect as not just an email address or opportunity for hitting quota, but a unique individual that is special to the sales rep.
Perfecting cold calling practices: Sales reps should never pitch or push for a meeting right away. Taking time to have a genuine conversation and focus on building the relationship provides value to prospects by demonstrating genuine interest.
Engaging with prospects' content on LinkedIn and other social selling tactics: Taking time to engage with prospects on LinkedIn (either through sharing content or commenting on their own), allows prospects to become familiar with a sales rep's name and eventually, come to think of them as a friend. Maintaining active contact with prospects on social channels builds a relationship and establishes trust.
Today's remote and digital world increases the importance of placing reps with customers and not being engaged in manual data entry and spreadsheets.
Research weighs in on how to best accomplish this shift: "CSOs can redirect SDRs' time to high-impact sales engagement tasks by dedicating demand generation or operations resources to streamline the data management process for SDRs. This requires resources to periodically calculate data coverage needs, source new data from third parties, and then load the data into the CRM. For existing CRM data, this requires continuously evaluating depth and quality, appending/enriching data with data intelligence, and, if necessary, orchestrating low-cost resources such as interns to scrub and append the CRM with updated data."
So how to go about automating tedious tasks that take reps away from performing revenue-generating activities? The right sales tech stack.
Tech stack basics for the sales process
A large part of simplifying sales processes includes choosing the right tools. Sales leaders should evaluate tools with easy-to-use interfaces and that speed up actions. When in the market for sales software, most sales leaders judge tools based on the core functionality and the included integrations. While these are important, there is a bigger problem to solve.
When searching for prospecting solutions, one must consider the impact that solution will have on the process. Sales teams use an average of 8.5 different technology vendors to create an opportunity, according to Gartner.
Many sales leaders think the more tools in their tech stack, the smoother the sales process. However, most of these sales leaders have been far removed from the prospecting process for years. While adding vendors can help increase performance, it also creates an opportunity to audit processes with the existing tools in the sales stack.
As a buyer, it's best practice to benchmark the number of steps a sales team takes to reach out to a new target account. Many teams are often surprised at the additional steps required to conduct the first activity on a prospect.
Sales leaders should keep several objectives in mind when investigating and evaluating vendors. The best candidates will be able to meet goals set at 30, 60, and 90 days of deployment. Some common objectives that sales teams are trying to solve during the evaluation process include:
Optimized speed: A valuable tool will decrease the number of steps involved in prospecting into a target account, bringing the tally as close to zero as possible.
Standardized processes: Tools that design and implement a consistent workflow can help users form stronger work habits, while also allowing team leaders to identify pain points for employees that are struggling.
Increased data coverage: More data means an expansion of the total addressable market, as well as fewer bottlenecks in outbound prospecting. These improvements allow teams to expand their pipeline faster.
Boosted adoption and ROI: Increasing the ease of use in a sales stack increases the value of sales engagement platforms such as LinkedIn Sales Navigator and a CRM.
Takeaways
Outbound prospecting should be simplified. Additional steps that involve multiple tools complicate the sales process and set up younger employees to fail.
The number of actions and time spent per account should be as low as possible without sacrificing the quality of outreach.
Low-value activities are sales activities that do not generate revenue; high-value activities are sales activities that generate revenue. Sales teams should be spending the majority of their time on high-value activities.
The difference between high and low-value activities should be the primary focus for sales leaders and how they should set up processes and what tools to have in their stack.
Part of simplifying sales processes includes which tools are used. Sales leaders should evaluate tools with easy-to-use interfaces and make speed to action faster.
Creating a sales process and choosing the right tools is a worthwhile challenge. It is important for sales leaders to listen to their teams. What are they struggling with? Why are they struggling?
Implementing the right tools so they can spend their time on the right activities shifts the entire workplace dynamic from one dealing with tired and underperforming employees, to that of an enthusiastic team hitting its quotas and generating revenue.