I get hassled for this all the time, but I am proud to admit that I am a cost evaluating, penny-pinching, profit-margin-analyzing geek to the core.
Early in my career, I saw firsthand how a $20M funded company went from startup to NASDAQ IPO to being delisted in the span of three years due to frivolous spending (but that's a story for another day).
My cost-conscious lens (plus our proven outbound sales program) has served my company, Leadium, well. We grew over 600% last year and hold steady at a 40% profit margin. I attribute a lot of that success to evaluating the value of every dollar we spend for every decision we make.
I am passionate about helping small to medium-sized businesses (SMBs) accelerate their growth with outbound sales. And while strategy is incredibly important, considering the cost of every piece of that strategy can be a game-changer to your bottom line.
The SMB Decision: In-House vs. Outsourced Sales Development
As a high-growth SMB, your number-one focus is consistent sales. Customer acquisition drives revenue, and revenue becomes your means of growth. Therefore, you are (hopefully) constantly evaluating how you will get your next customer.
Without enough high-quality leads, your sales pipeline dries up fast. Without a sales development team, you can find yourself struggling when it comes to pipeline generation. You can use lead-sourcing technology and sales automation, but you still need people to power those tools.
Based on my experience working with hundreds of SMBs across the country, 65% just aren't at the size or run-rate to allow for the economic investment required to establish a successful in-house sales development team.
For business owners and margin-focused executives deciding on how to structure their outbound sales program, it comes down to one thing: cost.
Can you confidently invest in every component that goes into building a solid, supported, in-house sales development program, knowing (and honestly evaluating) the current infrastructure that currently exists at your organization? Especially considering that outbound prospecting will not work consistently unless you have reps who are dedicated (at least 90%) to prospecting.
For SMBs, this is a pivotal decision: Do you hire an in-house sales development team or work with an outbound partner?
Sales Hacker has already covered the do's and don'ts on hiring outsourced sales professionals, tips for how to know when it makes sense for your organization, and the pros and cons of outsourcing sales development. And at Leadium, we continue to shine a light on the true costs associated with in-house sales development teams.
But why does nobody talk about the cost considerations?
Here are four key costs you should evaluate when deciding whether to build an in-house outbound sales team or outsource to an outbound sales agency partner.
The Four Costs of In-House Sales Development
1) Salary and Benefits
Personnel cost is a major factor in choosing between building your own in-house team and using an outsourced sales agency. And the difference can be significant. Let's use the Sales Development Rep (SDR) role as an example.
Many would argue that an SDR is one of the most integral hires attributed to the success of any B2B company. They reach decision-makers long before inbound marketing campaigns. Their contribution to the bottom line is visible and trackable. They're usually young, hardworking, and eager to hit goals. And if trained correctly, they're trusted to be the face and first-contact of your company.
Glassdoor says that a typical SDR gets paid around $74,000 with salary and bonuses.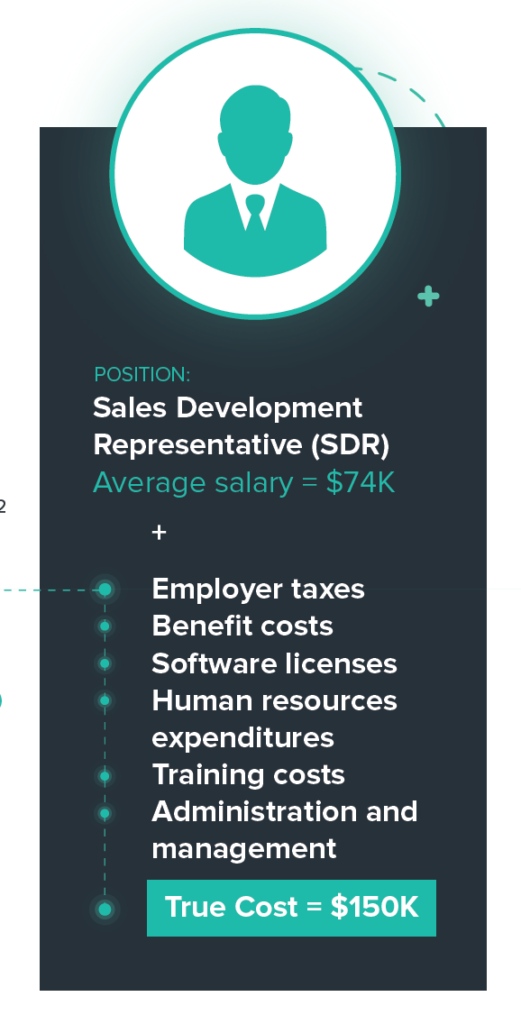 But that's not the entire picture. Companies pay a lot more than that. Some of the other expenses you'll incur with each SDR hire are:
Human Resource Expenditures
Employer Payroll Taxes
Benefit Costs
Software Licenses
Training Costs
Administration & Management
We'll talk more in depth about some of these expenses in a minute, but suffice it to say that an SDR could end up costing your company double their salary. That means the average SDR could come with a price tag of up to $150,000 per year.
Now, that's just one SDR. Who will manage them? Do you need more than one? Think about this cost x5.
What does it cost to get all of this from an outbound sales outsourcer? With an agency, it can cost the equivalent of $42,000 per YEAR for the entire outsourced program.
That's a third of the cost of doing it in house. And depending on the details of your contract, you could get a lot more for each dollar you spend. Not only will you get trained SDRs, you'll likely get sales specialists, researchers, account executives, and sales managers, all contributing to the effectiveness of your team, as well.
2) Software Cost
Software is a big part of sales development. Your reps will need a powerful CRM, as well as other tools like LinkedIn Sales Navigator, an Outreach tool, an email validation tool, business email accounts, and more. Those costs add up fast.
Because every company uses a unique suite of tools, there's no way to predict exactly how much you could save. But here are an example of some of the annual fees you might pay for sales software:
Hubspot: $14K+ (10 users)
InfusionSoft: $3500+ (10K contacts)
SAP: up to $1400+ (per user)
Salesforce: up to $3500+ (per user)
LinkedIn Sales Navigator: $1100+ (per user)
Outreach: $1200 (per user)
You might use three of these tools, as well as G Suite, ZeroBounce, cloud storage, and more. But even streamlining your choices, the costs will continue to add up, especially when you start scaling beyond a very small team.
And don't forget the costs of implementation or training, which may be necessary for complicated systems (there are organizations that offer Salesforce training for $250 per employee).
Combining those software costs with the high turnover of an in-house sales development team drives the cost up even further.
According to Mercer, the average American company has a turnover rate of 22% — while the average in-house sales development team sees turnover of 39%.
All of these types of software are included in your outsourcing fee with an agency. You get industry-leading technology and the expertise to put it to use without paying thousands of dollars extra.
3) Data Cost
The most talented sales teams and the best technology still need input to generate sales. And that input comes in the form of data. If an SDR makes 50 calls in a day, they're going to need a lot of prospects to build momentum.
When you have multiple SDRs on your team, you need a robust solution for filling your pipeline with prospects. There are three potential solutions:
SDRs find all of their own leads
Dedicated research team finds all leads for SDRs
Combining the two approaches
It's with the third option, when leads are found by the SDRs and a dedicated research team, that SDRs become more efficient. With this approach, SDRs can run defined sales campaigns and not get bogged down in researching their prospects.
But is it realistic for SMBs to have a dedicated research team for finding leads to pass to SDRs? In many cases, it's not. Which means you have to count the cost.
Even having a single full-time researcher can cost $50,000. Then, factor in subscriptions to lead databases and validation services –– which, depending on the number of contacts you source, can cost more than $30K per year.
Outsourced sales agencies have their own research teams on staff. They use databases, real-time research, validation software, and other human-led resources to ensure sales teams are getting the most accurate leads possible. And the cost for each of these resources is spread across hundreds of clients –– making it incredibly affordable to offer these services as a standard within a client's monthly agreement.
4) The Hidden Costs of Hiring & Ramping
Hiring is a resource-intensive process. You need to create job posts, interview candidates, and negotiate salaries with a constant stream of sales team members. It takes a lot of time and money. In fact, according to Glassdoor, you'll spend an average of $4,000 per new hire.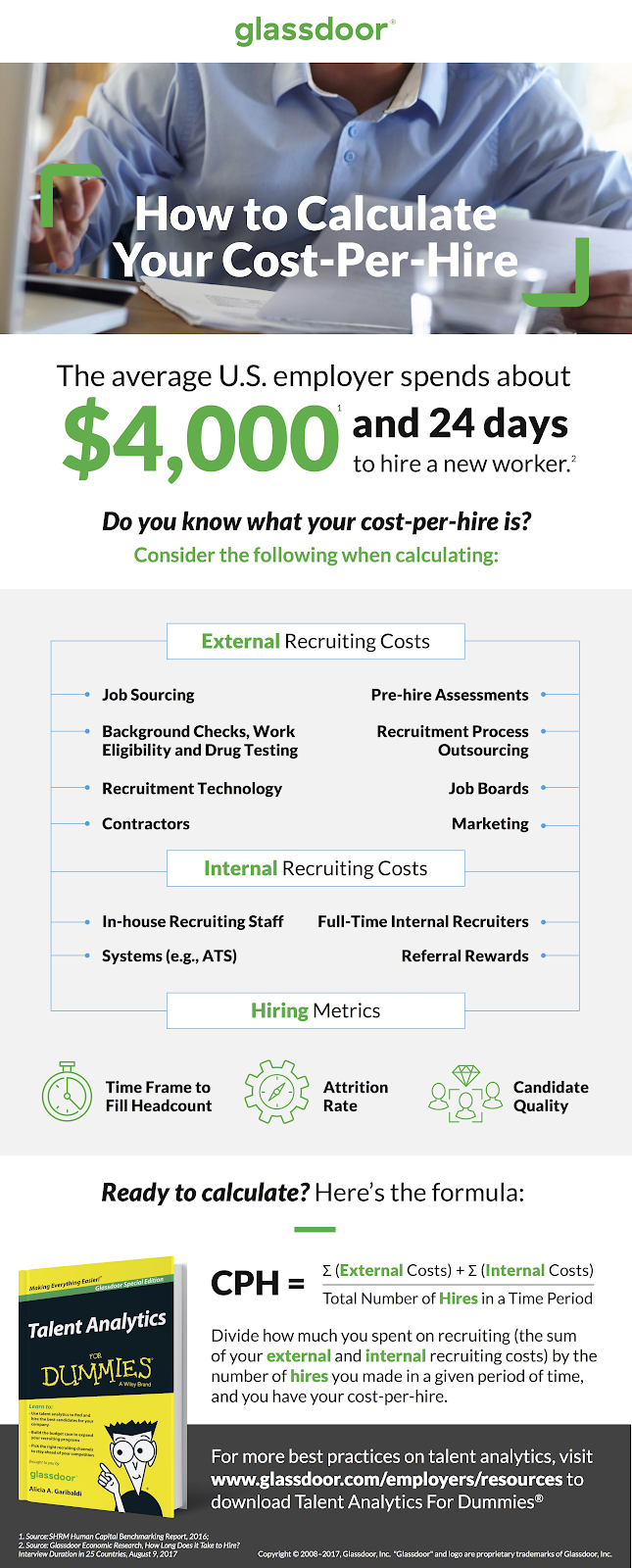 But those are just the HR costs. If a rep doesn't have much experience, you'll also need to invest in getting them up to speed.
Almost 75% of high-growth companies hire sales reps with a year of experience or less. And it takes an average sales rep three months to ramp up to full quota.
That doesn't sound so bad until you realize the average SDR tenure is only 14.2 months. So you're putting in all that work for 11 months of full-quota sales. And then you need to start
again with a new hire. You also take a risk on each new hire. Not every sales rep is going to fit
in well with your company culture. And a bad fit can mean an even shorter tenure.
Outsourced reps are already prepared to ramp up as quickly as possible –– usually, it takes less than a month before the SDRs are launching campaigns. And the hiring is taken care of for you.
A Final Takeaway
As Scott Barker mentioned in this Sales Hacker Webinar (where I was lucky enough to chat about my favorite subject, the ROI of using an outsourced sales development partner) engineering teams at large companies consistently hire off-shore developers and marketing teams across industries hire creative agencies to lead their advertising campaigns. Why do sales professionals still consistently think it has to be all in-house or nothing at all?
Remember, the question of whether hiring in-house or outsourcing your sales development is a personal one. What's right for another business may not be right for you.
Furthermore, if you do choose outsourcing, the level of outsourced commitment is totally up to you. It depends on what's right for your company and the structure you have in place. We've observed that 35% of companies that choose outsourcing typically use a combination of an in-house sales and/or marketing team with outsourced sales agency services.
SMBs come in all different shapes and sizes and are walking at many different points along the path to growth. But there is one universal truth for every B2B company: more meetings = more sales. How you get those meetings –– and keep profit margins high at the same time –– is up to you.