At the beginning of March, we announced the winners of the 2nd annual Sales Hacker Top 50 Awards, presented by Bravado.
But because we received more than five thousand nominations, it seemed a little unfair to only share amazing stories about 50 of them. After all, there are thousands of other salespeople about whom we heard incredible things!
So this week, we're sharing some of the runners-up: the folks who didn't get a billion nominations, but who clearly crushed it in 2018.
We searched through all of the reasons for nominations we received and picked out the stories about people in sales who do the hard work of elevating the sales profession. Each of these people gives without expectation of any returned favors – to their colleagues, their employees, and to the sales community in general.
You'll laugh, you'll cry… you'll message them on LinkedIn to ask them for advice.
Honorable Mentions from The 2019 Sales Hacker Top 50 Awards

Anita Absey – Chief Revenue Officer at Voxy
"Anita came on as the first CRO of Voxy in 2018 and has since scaled the inside sales team both in the US and in their international offices. She is a fantastic representation of what it means to be a sales leader– not just a sales manager– as echoed by the members of her team and others in the C-suite at Voxy.
She rapidly scaled sales at Voxy, while also playing mentor to numerous female sellers both within and outside of Voxy's walls. She has also led international expansion for the company while achieving new goals for them."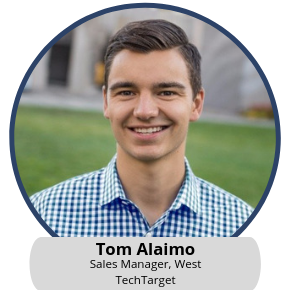 Tom Alaimo – Sales Manager at TechTarget
"Tom is an extremely positive, motivated and professional sales person. Apart from his work commitments, he also launched his Millennial Momentum podcast, blog and vlog that provides educational content benefiting everyone in a sales role.
I admire his hustle and positive attitude."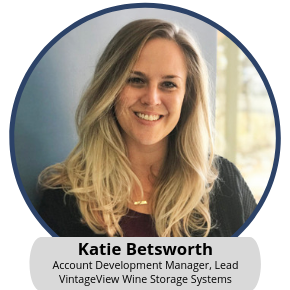 Katie Betsworth – Account Development Manager, Lead at VintageView
"Katie is that person who always goes above and beyond her job duties to boost everyone in the team.
In 2018, she helped mentor four new Sales Reps while the company was searching for a new Sales Director. She is the glue that holds the department together and is constantly crushing goals and expectations."

"Initially, Taylor was like any other 'inside-SDR' doing cold calls and emails to set meetings.
About 6 months into 2018 he took the initiative to speak to leadership and recommended that he go on the road and be in the market to get meetings/sales via an 'outside' approach. He completely knocked it out of the park and has been our top performing SDR going on 8 months now.
He is our in-house thought-leader and our go-to person for anything related to our prospects and sales methodology. He is a truly invaluable resource for all closed/won accounts."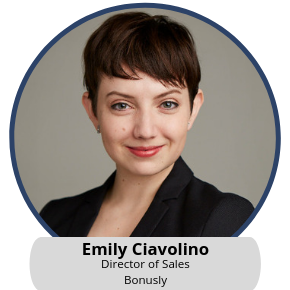 Emily Ciavolino – Director of Sales at Bonusly
"The Bonusly sales team grew from 2 to 5 teammates this year, and Emily brought on amazing new hires. Emily is a great motivator and knows the right balance of constructive and positive feedback.
In start ups, sales is a very important department that everyone in the organization relies upon for a job.
This year, because of Emily's leadership we have closed more deals, moved into the enterprise space and become a major competitor in the employee recognition space.
Emily is always finding great ways to support and enable her people to do their best whether it in by bring on new tools or hopping on calls to support her people. I cannot speak highly enough about Emily as a leader and as a motivator."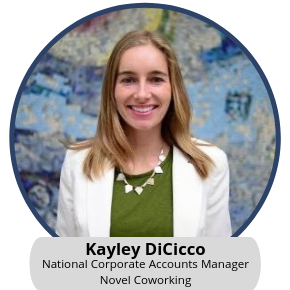 Kayley DiCicco – National Corporate Accounts Manager at Novel Coworking
"Kayley is an extraordinary salesperson – one of the best I've ever had the good fortune to work with. She is a tremendous resource for our company and has first been single-handedly responsible for our company's Chicago sales and absorption.
She more recently graduated to a national enterprise-client focused role all credits to her smart work. She is hungry, diligent, never gives up, and gets wins over and over again."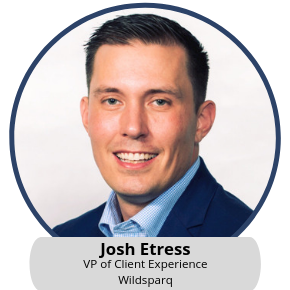 Josh Etress – VP of Client Experience at Wildsparq
"Josh has such a gift for pursuing a relationship while he is pursuing the sale. He works really hard, sets aggressive goals, chooses optimism over a scarcity mindset.
My office is right beside Josh's so I often overhear him connecting with potential customers. I have heard him offer encouragement and guidance that is outside of the scope of his role as a salesman.
Josh also leads a team in our organization with enthusiasm and vigor. He wants the best for each of the people he leads and works to encourage and challenge them to pursue excellence and relationships in their roles.
I also overhear Josh offer resources from his personal library to the people he engages with. I am reading a book now that he recommended and loaned to me because he thought I might enjoy reading more about creating culture on our team.
He relentlessly pursues excellence and cares so well for people as he goes.
Josh continually chooses the team over himself and is deserving of the honor of this award because he never draws attention to himself or his accomplishments. He is humble and kind and wants to see others succeed. That is something to celebrate!"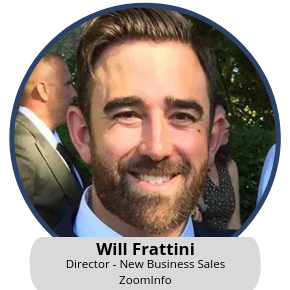 Will Frattini – Director of New Business Sales at Zoominfo
"The best way to describe Will is "Tom Brady but sales".
It is inspiring to work for Will as he leads by example. He began ZoomInfo as an Account Executive where he quickly became the #1 performing representative and has climbed the ladder to Team Lead, Manager, Senior Manager, and now Director.
Will is not afraid of change, and is constantly A/B-testing strategies and challenges the status quo. He makes decisions quickly based on data, and his actions lead to results.
Will has complete faith in his team and he doesn't micromanage, but somehow has the ability to know exactly where all prospects are in the funnel and offer great timely advice when you wouldn't expect him to be there. Above all, he makes sure we all embrace that family is first.
Under Team Frattini no one loses alone, and we all win together.
His sales acumen and keen hearing ability to decipher "what the client is actually saying" far surpasses anyone I have worked with. This has ultimately enabled his and his team's clients to gracefully navigate the journey of purchasing data for their sales/marketing teams. Will makes everyone around him a stronger sales professional.
Will is who he presents to the world and we need more managers like him in sales!"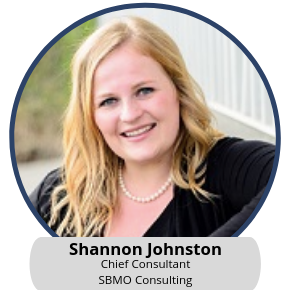 Shannon Johnston – Chief Consultant at SBMO Consulting
"Shannon helped me win 2018 in a big way.
She took me (a brand new sales rep) under her wings and gave me the tools & tips to succeed and sell the right way. She always stressed the importance of setting expectations correctly and making sure customers needs were met. With her guidance, I then grew to the number one rep for the company by early 2018.
In September I confessed to her I needed a bigger pond to swim in with my new-found skills and she encouraged me to keep growing even though I would no longer be working under her. So, I made the move – with lots of coaching from Shannon – to a Fortune 500 company.
Shannon continues to mentor me and help me grow my skill set in a variety of ways by sharing podcasts, books, sales info that she finds interesting and actionable. She is my constant source of encouragement. She always believed in me even when I'm not totally sure of myself.
It is not just the people working under her, she is keen on helping other companies and the society at large win as well. Shannon helps local women community through her own Lean In events. She offers them advice to grow their companies through sales and marketing. She's not about fast sales. She actually cares about the customer and the reps. She cares about selling the right way and winning customers for life."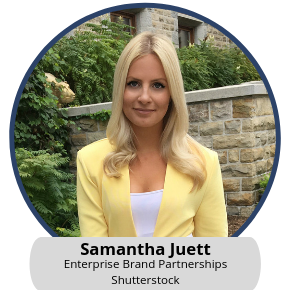 Samantha Juett – Enterprise Brand Partnerships at Shutterstock
"Sam goes above and beyond in her role as a sales development representative. She consistently achieves her target, qualifies high-value leads into genuine business opportunities, and takes a leadership role in spearheading multiple new projects to improve how Shutterstock connects with qualified prospects.
Sam is a thriving SDR star with a promising future ahead in her field."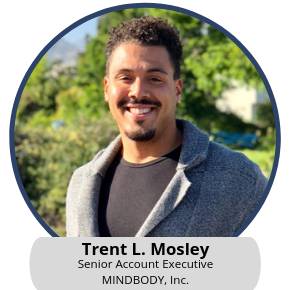 Trent Mosley – Senior Account Executive at MINDBODY Inc
"Trent made the difficult shift from being the top performing rep in an inbound model to being the top performing rep in an outbound model. He did this seamlessly, without complaint, and with every single customer loving his approach and style.
The term "too good to be true" could be stated about Trent and his work ethic, delivery of results, and attitude. Anyone would be so lucky to have him!"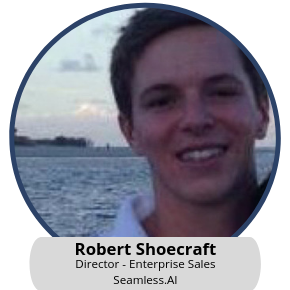 Bob Shoecraft – Director & Client Revenue Strategist at Seamless.AI
"Bob has set a standard for closing that's been unmatched at our company, not because he closes the most meetings but because of the company culture he's built around the sales team.
Bob goes out of his way to announce and thank each individual person that helps set up a meeting for him. When he closes deals he makes sure to not only share his victory but hand over the majority of the credit to the SDR who set him up for an alley-oop. He's a guy who brings joy to the Seamless team while also driving home results day after day."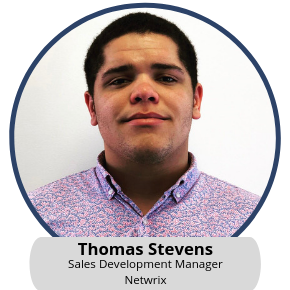 Thomas Stevens – Sales Development Manager at Netwrix
"Thomas began his TechSales career at Netwrix as an SDR right after he graduated college in 2017.
After just over a year in the role, he has raised the bar by setting new SDR sales records while also becoming a mentor within his team. Once a trainee himself, he is now training new SDR's on cold-calling & outreach best practices so they can compete to break the records sete by him.
Thomas proves the classic case that with an open mind to learning, a positive & transparent attitude to selling, and with a self-starter mentality, you can thrive as both an SDR and a Sales Leader. In a truer sense of words, the student has become the teacher."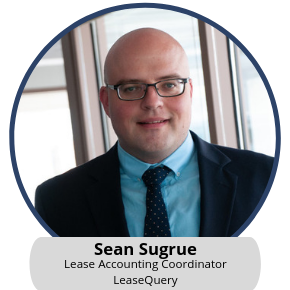 Sean Sugrue – Sales Development at LeaseQuery
"Through hard work, creativity, and authenticity, Sean led the team to their goals in 2018. Sean did not come from a typical SDR hiring profile. He actually spent the previous 10+ years in the service industry.
The tenacity and emotional intelligence he possessed elevated him to the top of a scaling team of 20+ SDR's who had much more experience in these types of roles. It was hugely impressive. He continues to strive for improvement every day and is clearly one of the top SDRs in the country."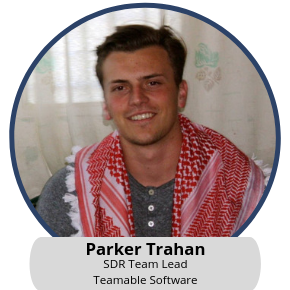 Parker Trahan – SDR Team Lead at Teamable Software
"When Parker started at Teamable in July, he was the only SDR. With a little coaching, he ramped up as an SDR within a week and set up 40 demos with prospects by August.
He sounds amazing on the phone, never gives up and always stays positive. He's super creative and a true team player with leadership skills – a golden combo in the field.
In a short period of time, he helped the VP of Sales to hire 7 AEs. Parker is a team lead now and carrying forward his experience he successfully onboards and coaches all newly hired SDRs."
Sound Like Somebody You Know?
Tell us who deserves some recognition for their great work in Sales in the comments below!
Or, share your story on LinkedIn or Twitter using the hashtag #SalesHackerTop50.