Sales can be an absolute grind. Even the most self-motivated salespeople need some help getting pumped-up sometimes. And that's where inspirational and motivational sales quotes come into play.
I've collected a list of the most motivational sales quotes of all time – the things that get me amped up and ready to take on the world. Let's hope they inspire you when you need that extra shove.
I've taken my inspiration from some of the all-time greatest sales books, sales leaders I respect, and basically anybody from history who dominated their competition.
Except for Genghis Khan. That guy was a d*ck.
Ready? Here goes.
Inspiring Sales Quotes to Motivate Your Sales Teams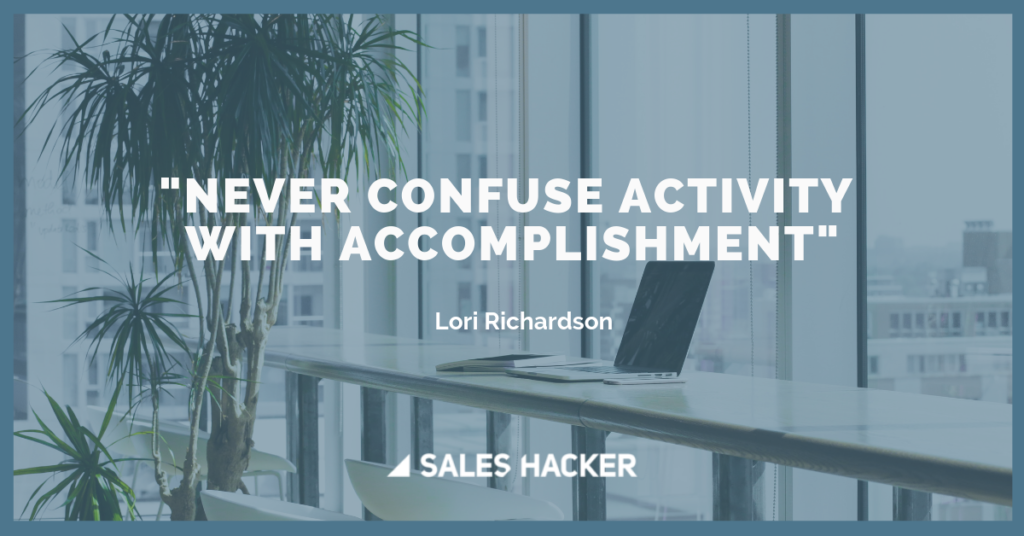 Motivational Sales Quotes About Attitude
"The one thing you're putting off or dreading? That's your brain telling you it's the thing you need to do most and next. Get it done. Stop dreading. Do." – Nancy Nardin
"Start working with your prospects as if they've already hired you." – Jill Konrath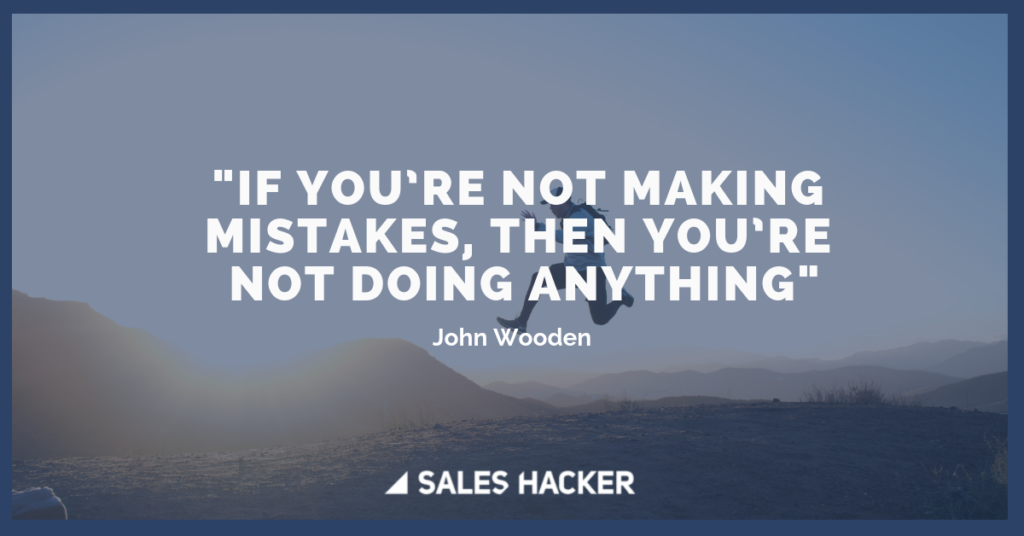 "If you're not making mistakes, then you're not doing anything." – John Wooden
"Leadership is a choice, not a position." – Stephen Covey
"Opportunities don't happen. You create them." – Chris Grosser
"Accountability breeds responsibility." – Stephen Covey
"Leaders must be close enough to relate to others, but far enough ahead to motivate them." – John C. Maxwell
"Be an example. Are you prompt? Are you professional? Are you engaged? As sales leaders, we have to set the bar high for ourselves as well as our teams." – Lori Richardson
"Quality performance (and quality service) starts with a positive attitude." – Jeffrey Gitomer
"Sometimes the most influential thing we can do is listen." – Bob Burg
"Stop saying 'later.' You WON'T do it later. Do it or decide not to do it." – Chris Brogan
"Treat your salesperson like you would treat your most important customer—because he is!" – Colleen Stanley
"A salesperson's ethics and values contribute more to sales success than do techniques or strategies." – Ron Willingham
"For a leader, getting results is more important than getting credit." – Bob Burg
"Success depends upon previous preparation, and without such preparation, there is sure to be failure." – Confucius
"Successful people do what unsuccessful people are not willing to do. Don't wish it were easier; wish you were better." – Jim Rohn
"There are no limits to what you can accomplish, except the limits you place on your own thinking." – Brian Tracy
"When a team takes ownership of its problem, the problem gets solved." – Jocko Willink
"What you focus on is what you get." – Bob Burg
"I never see failure as failure, but only as the game I must play and win." – Tom Hopkins
"Expect to make some mistakes when you try new and different approaches." – Harvey Mackay
"Motivation will almost always beat mere talent." – Norman Ralph Augustine
"Always do your best. What you plant now, you will harvest later." – Og Mandino
"Become the person who would attract the results you seek." – Jim Cathcart
"Whatever you are, be a good one." – Abraham Lincoln
"It is not necessary to do extraordinary things to get extraordinary results." – Warren Buffett
Related: Attitude and Conviction Affect Your Close Rate — Here's Why
Inspirational Sales Quotes About Prospecting
Sales Team Slogans About Selling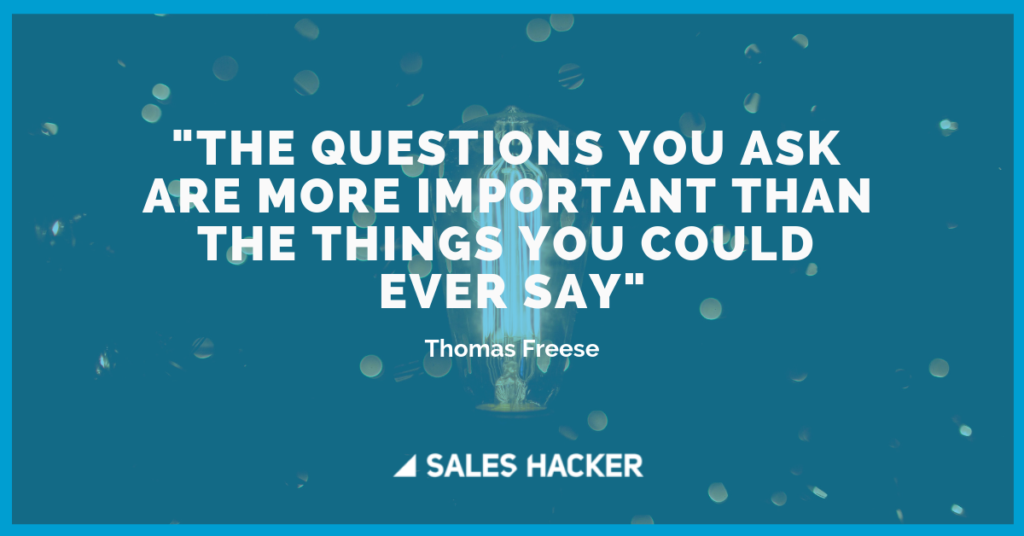 Sales Motivators About Closing Deals
"There is no magic to closing. There are no magic phrases. Closing the deal is completely dependent on the situation." – Alice Heiman
"Sales is an outcome, not a goal. It's a function of doing numerous things right, starting from the moment you target a potential prospect until you finalize the deal." – Jill Konrath
"The real problem with closing is not adequately defining or diagnosing the prospect's problems in the first place." – Keith Eades
The customer doesn't care about features – they care about solving their problems – Trish Bertuzzi
"A straightforward way to show buyers that you genuinely like them is to identify something about them that you sincerely appreciate." – David Hoffeld
"The story is the heart of the sale." – Matthew Pollard
"If you don't believe in what you're selling, neither will your prospect." – Frank Bettger
"Buyers don't believe anything you have to say to them about your product or service until they first believe in you." – Deb Calvert
Humanize the sales process or perish – Steli Efti
"Customers don't care at all whether you close the deal or not. They care about improving their business. It's easy to forget this in the heat of a sales cycle." – Aaron Ross
"Every sale has five basic obstacles: no need, no money, no hurry, no desire, no trust." – Zig Ziglar
Quotations On Sales Strategy
"It's not about having the right opportunities. It's about handling the opportunities right." – Mark Hunter
"Remember, people don't believe it when WE say it, they believe it when THEY say it – Shari Levitin
Buyers do business with you, not with your company and not with your technology." – Joanne Black
"You can't propose a mutually beneficial business relationship if you can't understand their business." – Craig Rosenberg
"You will attract way more buyers if you are offering to teach them something of value to them than you will ever attract by simply trying to sell them your product or service." – Chet Holmes
"Sales success comes from the right balance of quality human interaction and appropriate use of supplemental tools." – Deb Calvert
"The sales compensation plan is Batman, the sales contest is Robin." – Mark Roberge
"Statistics suggest that when customers complain, business owners and managers ought to get excited about it. The complaining customer represents a huge opportunity for more business." – Zig Ziglar
"Killer Salespeople Uncover True Problems Behind Desired Solutions." – Aaron Ross
"If you harness the power of innovation, you'll convert sales complexity into a brutal competitive advantage." – Tim Sanders
Sales Quotes to Boost Your Discipline and Success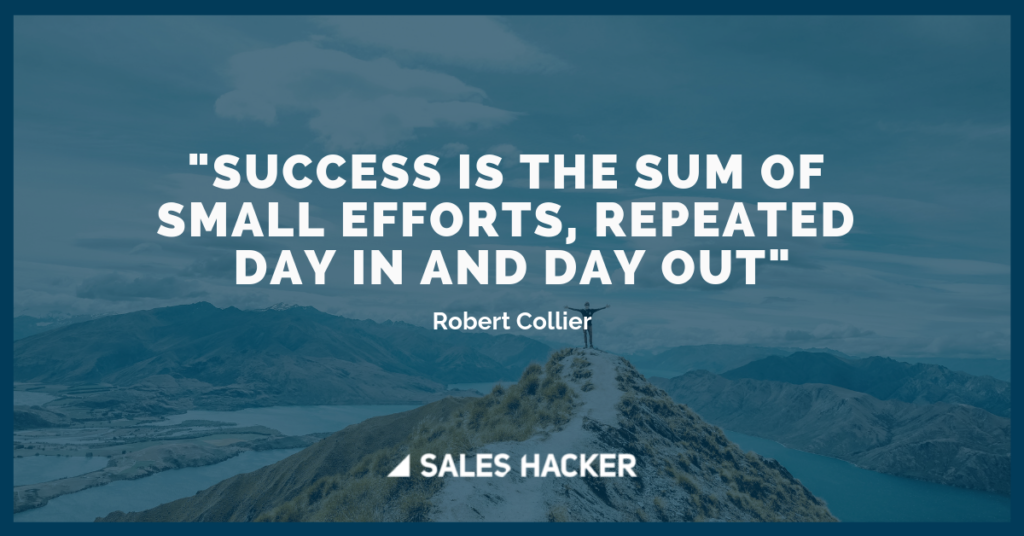 "Success is the sum of small efforts, repeated day in and day out." – Robert Collier
"Filter everything you're doing, saying and pitching and you'll improve just about every metric you care about today." – Matt Heinz
"Leaders must get across the why as well as the what." – John Doerr
"If you really look closely, most overnight successes took a long time." – Steve Jobs
"Success is where preparation and opportunity meet." – Bobby Unser
"If you want to succeed you should strike out on new paths, rather than travel the worn paths of accepted success." – John D Rockefeller
"Success is a science; if you have the conditions, you get the result." – Oscar Wilde
"Numbers alone won't fix anything. But they will help you identify where the problem is." – Steli Efti
"If you can't describe what you are doing as a process, you don't know what you're doing." – Edward Deming
"If you do not have a defined process that moves your people forward so they can achieve greater results, then what is it you are managing?" – Keith Rosen
That's it!
I hope some of these inspirational sales quotes made your nostrils flare and your heart race. If I missed a quote you find motivational as a salesperson, let me know in the comments!
Published July 2017. Updated January 2023.