We've been hearing a lot about RevOps lately, but how is it different from Sales Ops?
Which is which, and how do they connect? We asked the Sales Hacker community for their take to get the real scoop on how each differs.
How are RevOps and Sales Ops different?
Revenue operations (RevOps) brings together the siloed operations teams for marketing, sales, customer success, and customer support under one umbrella. It unifies the goals of each of these departments and ensures each team has the same targets and database as well as an integrated tech stack. RevOps is designed to provide a complete view of a company's revenue stream from prospect marketing to renewals.
The focus for Sales Operations (Sales Ops) is to support and enable sales reps to do their job effectively. This team brings a system to selling to the sales floor by providing clear sales processes, automating time consuming tasks, and deploying and upholding a sales methodology. Sales Ops leaders are responsible for driving high-level strategy as well as ensuring that the sales team's tech stack is optimized.
Both teams are tasked with securing revenue but some see RevOps as a natural progression from Sales Ops. Adithya Krishnaswamy, Head of RevOps and Growth at Everstage, says, "RevOps was an evolution of Sales Ops when people realized it wasn't just sales that needed operations anymore."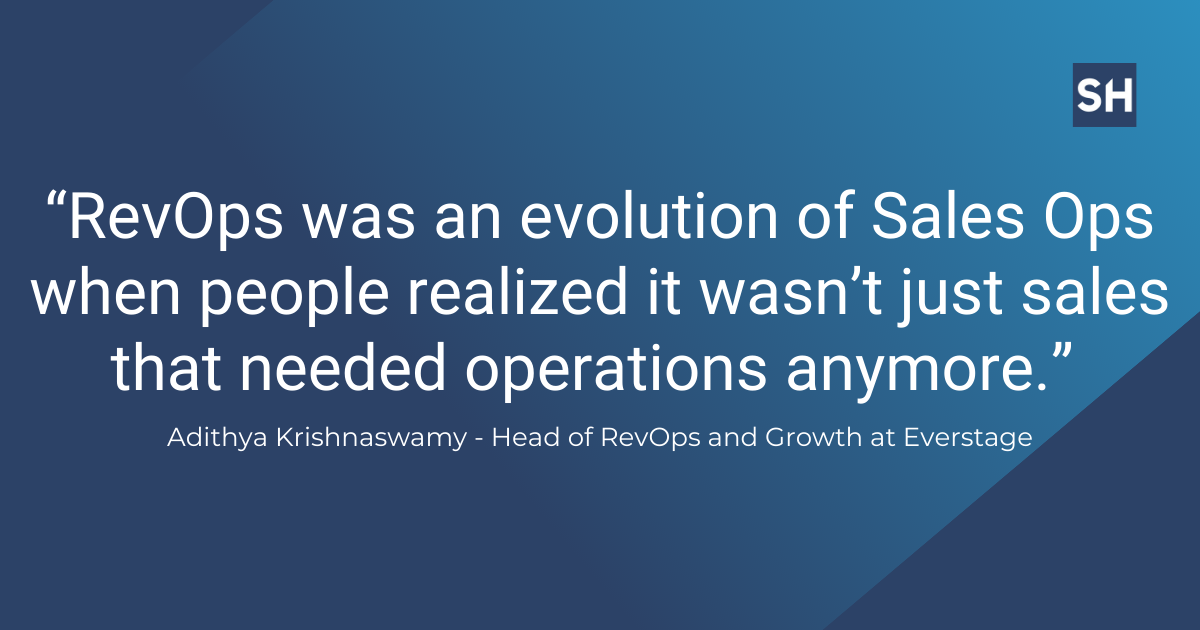 Related: How to Hire Your First RevOps Specialist
But there is a tactical difference between the two.
Asia Corbett, Head of RevOps and Community Ops at RevGenius, explains that, "Sales Ops focuses on territory planning, deal desk activities, opp reporting, commissions and comp, SDR and AE handoffs, and managing tools like Outreach and Salesforce. RevOps looks at the entire customer journey and the entire funnel from marketing (lead routing, conversion rates, etc.) all the way to customer success and support (onboarding, account health reporting, NPS and renewal processes)."
Sophia Francis, Director of RevOps at Dooly, believes that "RevOps can be defined differently at every company. I like to think of revops as the apex of the Ops team. This is akin to a table. Each leg has a defined area of focus to bear the load of the tabletop, or it will wobble. Revenue Ops is lifted up and made better by each of the other ops functions."
If you're trying to determine which operations team is for you, Crystal Grainger, Director of Revenue Operations at Kandji recommends defining your "north star" or "epicenter" first. "For us, that epicenter is the customer," she says. "Then, consider your internal customer, the teams that support the epicenter. For us as a high growth, SaaS based B2B product, that includes marketing, sales solutions, and client support and success."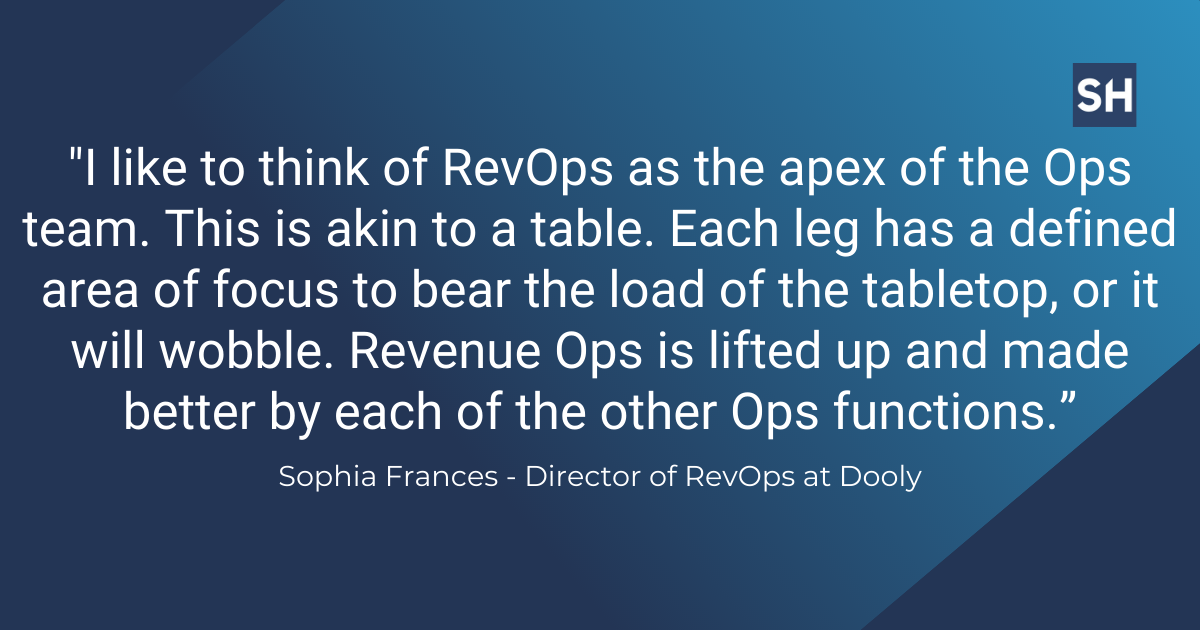 RevOps is about the big picture
Jacki Leahy, Salesforce Consultant at Eustace Consulting, sees RevOps as "the mature, holistic Chief of Staff to the CEO that prioritizes operational stability and iterates on efficiency with the lens of profitability and economics."
For many organizations, Sales Ops is just one element of the total revenue strategy while RevOps is the business framework that balances the needs of operations across every revenue generating team.
Strategic collaboration is the main tenet of RevOps. Scott Sutton, VP of Revenue Operations at ZoomInfo, says "revenue operations seeks to unify the, often at odds, functions of marketing ops and sales ops to optimize lead creation and conversion processes. Messaging is disjointed when GTM functions are separate. A more seamless process is possible with RevOps."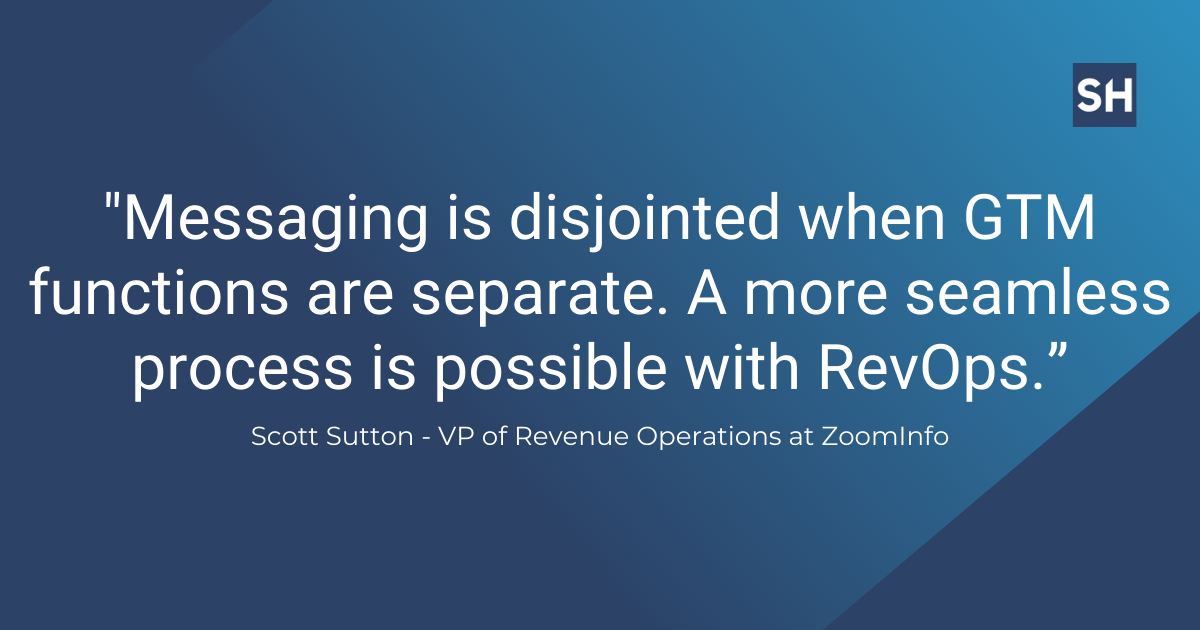 Part of the problem with traditionally siloed operation teams is mismatched metrics and data, leaving each department to defend it's choices. This is why Scott Edmonds, CRO at Syncari, advises that RevOps is really a way of working together, "toward aligned metrics, data, and processes that cut across sales, marketing, and customer success. For some, this is a dedicated role or team, and for others, it's less about the title and more about the objectives and behaviors of the individual or team."
Without coordination, it's very difficult to run an effective RevOps organization, which is why Johnathan Warren, Director of RevOps at Spiff, sees RevOps as a mindset and behavioral model. "In an ideal state, there's a RevOps team to support and focus on different functions, so the need to prioritize department needs isn't a zero sum game."
Sales Ops is there for sales reps
Sales Ops is focused on making their sales reps lives easier by providing an effective tech stack, reviewing order forms and advising on negotiations, and helping reps navigate the approvals needed to close deals.
This team analyzes data to determine strategy and best practices. Depending on your sales team's mandates, they may even help create incentive plans, monitor the adoption of new sales methodologies, and plan for sales territory alignment and forecasting.
There is a tactical approach to sales performance with Sales Ops that helps sales reps with "skills development and tool sets. They focus on the rep's development both personally and professionally," says Kris Holmes, Business Development Specialist at Proofpoint Marketing.
For startups, "they typically need to focus on the sales part first," says Ping Del Giudice, Sr. Director of Revenue Operations at Chainalysis. At her company, Ping started off in a Sales Ops role—then the job then evolved into RevOps.
How are they connected?
Many of our RevOps leaders argue that Sales Ops usually comes first at a growing company and that the line between the two can be blurry. RevOps "is often called Sales Ops (or at least has been historically)," says Amber Marsh, Manager of Sales Operations at Logic Monitor.
But if you are building out your revenue org for the first time, you can definitely straddle the line. Antoine Leprince, RevOps at Easy Movie, says that he "would start with a junior RevOps role that has a global scope, but a Sales Ops focus at first."
Regardless of which team comes first, ultimately Sales Ops only oversees the sales tech stack and processes while "RevOps oversees the larger picture across marketing, sales and customer operations," says Krystal Diel, Director of Revenue Operations at Capacity.
There are other teams within the revenue org that Josh Davis, Director of Revenue Operations at Spirion, argues are just as critical as Sales Ops, including: "business analysis, business intelligence, customer ops, or any of the other components that make up RevOps." If you don't bring the insights of each of these teams together, there will always be choppy handoffs between departments.
As Scott Edmonds said, RevOps is really a way of working together. It provides a framework to align everyone with a common goal. Which is why for some companies, "RevOps comes first as it covers more ground and involves more people," asserts Mason Kuang, Product Marketer at Rosetta.ai.
So while it's still common for companies to have separate operations teams for sales, marketing, and customer success, it will only "become increasingly difficult to unwind everything that was done and unify disparate systems, data, and processes," says Eddie Reynolds, Founder and CEO of Union Square Consulting, adding that starting with RevOps, "can set the company up with a far better foundation".
Share your take
After hearing from our 16 RevOps experts, we want to know what you think. Share your take on the difference between RevOps and Sales Ops in Sales Hacker's Revenue Operations community channel.