Almost every week, Iceberg RevOps' founder Taft Love gets messages from executives and CEOs at growth-stage companies asking for help with their first revenue operations hire.
These leaders are looking for the right person to own the implementation and management of their company's go-to-market tech stack. This usually includes a CRM and marketing automation plus any other systems related to sales, marketing, and customer success.
Related: Is a Revenue Operations Career Right for You?
Sounds basic enough, right?
But every leader deep in the search knows it's not.
For one, a new hire's to-do list is usually longer than one person can handle. Accept early on there will need to be some give and take.
Second, there's no such thing as a typical career path in revenue operations.
Folks occasionally start in revenue operations, but many others begin in sales or marketing and transition to revenue operations later on. Each candidate you interview will have a unique set of strengths (and weaknesses).
Previous company size also matters. A candidate from a large company (500+ employees) typically interacts with a smaller chunk of an organization's go-to-market engine. Candidates in this group can be exceptionally valuable within narrower disciplines.
On the flip side, a revenue operations resource from a startup has likely been responsible for a larger swath of the revenue funnel. Their technical and strategic prowess may not run as deep, but they can add value with big-picture perspectives.
Depending on what your own company needs, this could make a huge difference in who you choose.
Last, the need for revenue operations help is usually brought on by high-stakes situations:
The pressure of new revenue targets
Selling a new product
Growing your sales team
Fires need to be put out, fast.
Teams need to scale, fast.
There's no surplus of time for ramping and training someone new. They need to add immediate value.
So, what should you do?
How to hire your first RevOps specialist: Match their skills with your top priorities
Most companies need a new hire to do some combination of the following right away:
Put out fires
Build a revenue operations roadmap
Gather requirements and manage projects to completion
Priority 1 for RevOps hires: Put out fires
Executives and leaders usually have at least one very tactical problem in mind when they begin the search for their first revenue operations resource. Make sure candidates already have experience working in the systems you use.
Heads up—this fire-fighting phase may take longer than you think. That's because the root cause(s) of burning issues often lurk deep within an operational ecosystem.
Pulling out the weeds too quickly could rip out the healthy grass growing nearby.
Related: Building A Strong Foundation: 3 Priority RevOps Projects
Priority 2 for RevOps hires: Build a revenue operations roadmap
A great ops hire facilitates high-level discussions with company stakeholders to identify short- and long-term goals.
Junior operations specialists may struggle here. They either don't have the confidence and experience to manage these conversations, or they still get distracted by thinking tactically too soon.
Related: How to Use Sales Readiness Data for Revenue Growth
However, an experienced operations specialist instinctively knows to ask 'Why?' before answering "How?'.
Ultimately, you want to walk away with a detailed plan for how to build your operations so the company gets from Point A to B.
Download our full guide for interview tips to assess a candidate's facilitation and strategy skills.
Priority 3 for RevOps hires: Gather requirements and manage projects
Armed with high-level goals and an operational blueprint, it's time to get to work.
A great ops hire can think both strategically and tactically to gather requirements. For example, say a company's sales leader wants the new ops hire to lead an initiative for better sales forecasts.
Related: Create a Request Process to Level Up Your RevOps Game
In a perfect world, the operations specialist would identify key project stakeholders, conduct in-depth use case interviews, and create an exhaustive list of must-have forecasting features along with a list of nice-to-haves.
This is an ideal state. The person you actually hire might not be a pro in every one of these areas so it's important to recognize where they need extra support.
Then, the ops specialist should know how to update the systems (because you would have hired someone with relevant experience). Or, they at least oversee the process. As a last step, the ops person would help revenue teams adopt the process changes.
Check out the guide to see how Taft mines for gaps in a candidate's strategic consulting skills.
How to evaluate RevOps specialist hires: Technical skills and strategy
When hiring for operations, resist the temptation to think in binary: e.g. 'yes' or 'no.'
Every candidate has their own combination of technical vs. strategic abilities. The key is selecting the candidate with the ideal mix for your company.
Here's a hiring matrix Iceberg uses to evaluate its candidates.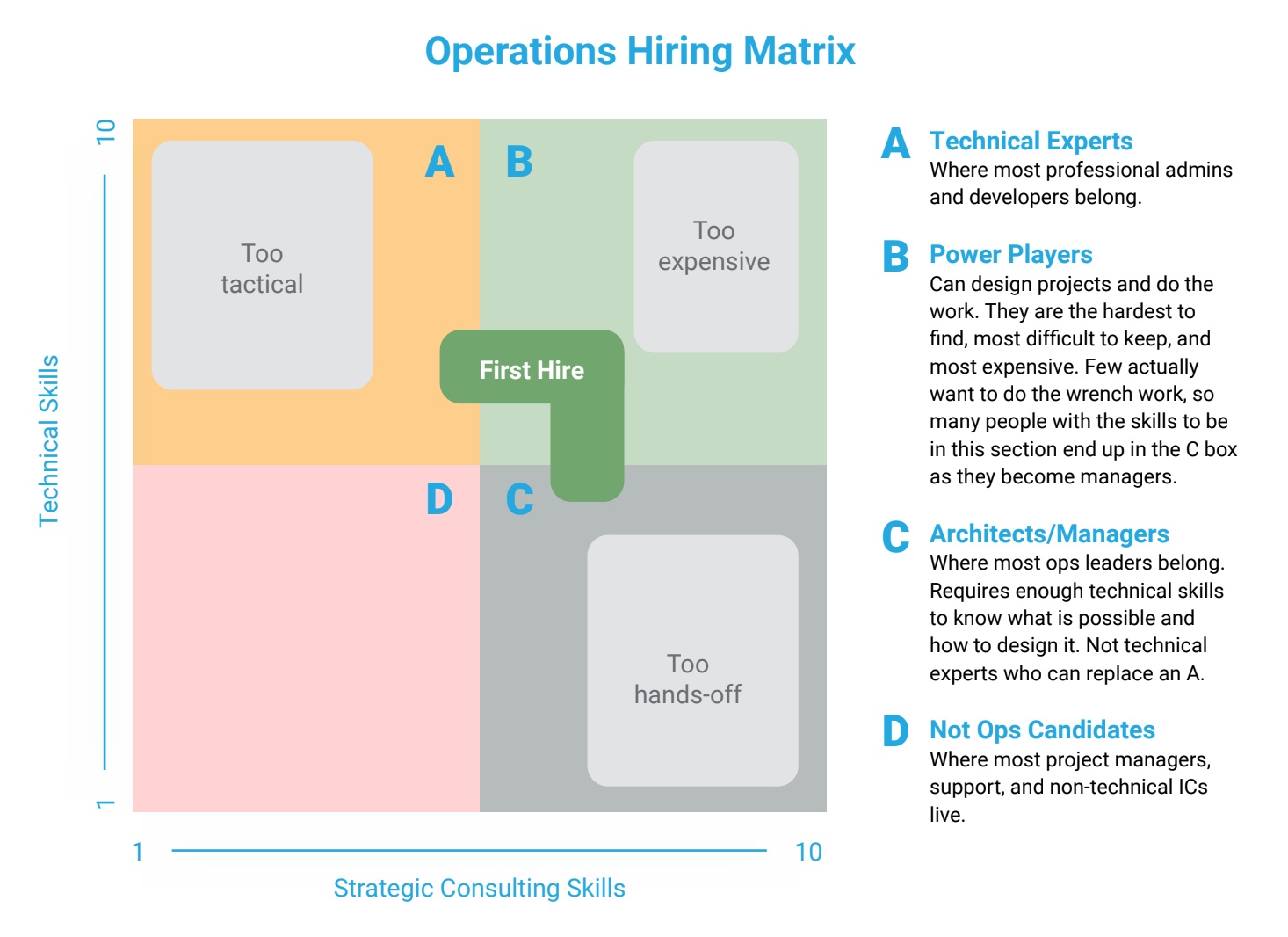 Except for those that fall in Quadrant D, candidates in each quadrant offer specific advantages and disadvantages.
The ideal first hire for most growth-stage companies has at least some strategic consulting abilities.
Related:RevOps as Change Management Leaders: a 7-Part Strategy
You've graduated beyond needing just an admin to turn a wrench. Decisions made now will either reinforce future tech stack development (and support revenue growth), or hinder it. Investing in someone with valuable perspectives rooted in experience will help you avoid expensive rework down the road.
Depending on your company's most expensive problems, you could trade off technical skills for strategy or vice versa to find a candidate that will deliver value on Day 1 (while also still fitting within your budget).
See the full guide for a deep dive into the strengths and weaknesses of each quadrant.
Make your first RevOps hire strategically: You can have it all, just not all at once (unless you have a big budget)
History shows the most successful candidates have a solid combination of technical and strategic consulting skills (Quadrant C in the matrix above).
These candidates already possess sharp instincts for how one decision may affect the whole tech stack. They can think big picture, work with stakeholders, and do technical work. Unsurprisingly, these people are hard to find, hard to keep, and the most expensive.
Finding the right balance of skills for your budget is key. The perfect mix becomes clear once you consider a candidate's skill set in the context of your most urgent challenges and long-term goals.
As one CEO decided, he could hire a mid-level operations resource with strong technical skills to put out fires today, then split the role and bring on an experienced strategist down the road.
Ready to make your first RevOps hire?
Grab the free operations hiring guide from Iceberg RevOps: "A Startup's First Operations Hire: Why it really is that hard, and how to get it right"
---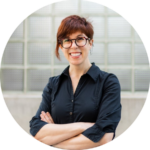 Edited by Kendra Fortmeyer @ Sales Hacker 2023