Is there anything worse than a deal stalling near the finish line because a seller cannot find the resources to build the buyer's confidence to sign?
Not much!
As a Sales Operations Manager in the digital document space, I've seen thousands of proposals, contracts, and pieces of sales collateral from hundreds of companies come across my desk — and the one thing I know for sure is that not all sales enablement content is created equal.
Especially today (it is the age of digital transformation, after all!), sellers stand out when they can turn around professionally written and beautifully designed content that meets the buyer's needs at exactly the point in a buyer's journey that they need it.
The challenge, of course, is equipping your sales reps with loads of content that helps them persuade and overcome objections.
Let's explore four types of sales enablement content (you often forget) your sales reps need to close the deal. We're going to cover:
Sales Enablement Content That Helps Close the Deal
Your sales reps need 4 distinct types of content to provide information, overcome objections, and persuade. When they're engaging with prospects, here's the content they need at their fingertips:
1. Proof Points
When the buyer needs evidence that your product will deliver as promised, they're looking for content that proves your claims. Things like:
Customer testimonials
Metrics
Case studies
Blog posts
This is possibly the most important type of sales enablement content. Simply put, no deal can move forward until the seller satisfies the buyer that your claims are valid.
RELATED: Sales Enablement Best Practices: 5 Dos and Don'ts for Peak Results
That being the case, sellers need quick and easy access to customer testimonials that answer the buyer's concerns, showcase your past work, and demonstrate what your product or service can accomplish for your customers.
Metrics are another powerful way to deliver proof. Sales reps should be armed with meaningful (and current) numbers that set you apart from the competition. Things like ROI results compared to benchmarks, and time-to-value stories are ideal.
Looking for self-serve options that let buyers research your solutions at will?
Create case studies. You can gate them, asking visitors to opt in to access them (great for lead generation). But it may be more valuable to make them readily available to anyone who wants to see them (no opt-in required).
You should also provide thought leadership in the form of blog posts.
Be sure to publish an abundance of customer reviews on publicly available platforms like G2 Crowd, Capterra, etc.
And don't forget social proof. With a solid social media strategy, you can respond to and engage with customers and prospects alike.
2. Evidence of Reliability and Support
Your prospects want to be sure you'll be easy to do business with before moving too far down the pipeline. Specifically, they want to get a feel for the level of performance and customer support they will receive from your organization throughout their contract.
When this question arises, sellers need to be able to feature your stability, scalability, flexibility, availability, and quality.
They need to convey to the prospect that your commitment to them as a customer is long-term and proven.
RELATED: What is Customer Success — A Smart & Actionable Guide
We mentioned metrics in #1 above, but they're just as valuable here. It's important to equip your sellers with tangible metrics like these:
Percent of uptime commitment
Performance record for the last three years
Your customer service and support commitments
Your industry-leading response times and five-star reviews
Your commitment to providing accessible products and services
3. Security & Compliance Information
Your prospects want to know they're working with a trusted vendor that takes security, compliance, and risk management seriously.
When addressing this concern, sellers need content that explains your approach to saving, processing, and securing customer information.
Be aware, this should be self-serve content that's easy to find on your website.
Your prospects will look here to review specifics around your standards, compliance, and certifications. And because this is published and easily accessible, you can address prospect questions before they are asked.
As a bonus, you'll be able to preempt rogue sellers who might be tempted to use their own language to explain these important topics.
4. Building Trust
Conga knows that when buyers are evaluating and purchasing technology, they've shifted to a relationship-based approach where trust, integrity, transparency and a focus on the customer are the most important issues on their mind.
That means you are now in the role of a trusted advisor in an ongoing partnership. In order to fulfill that role, you must show the buyer that you:
Sell (and renew) with integrity
Don't throw last-minute curveballs into the process
Stand behind your product
RELATED: The Dangers of Being Too Salesy (& How to Build Trust Instead)
Video content is invaluable for this. Give your sellers videos (from demo to feature showcases) that highlight the power of your product, and they're sure to close more deals.
Now, in a minute, I'll give you 4 tips for deploying content that supports these 4 seller needs. But first, let's look at why it's so critical you provide your reps the best possible sales enablement content.
Why Sales Enablement Content Is Vital to Reps' Success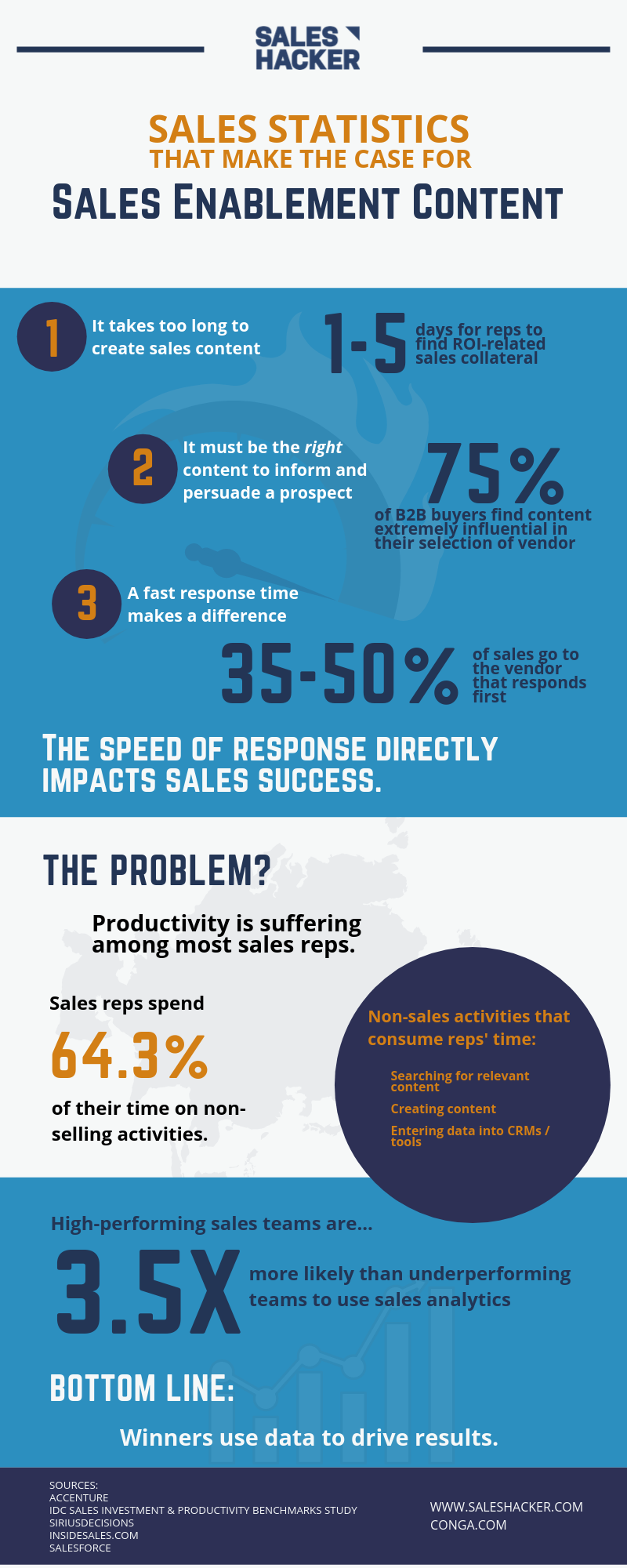 How to Optimize Sales Enablement Content to Fully Support Your Reps
Maybe you're ahead of the game and already have sales enablement content that supports your organization. Or perhaps there is a lot of room to improve.
RELATED: Demystifying Sales Enablement: What It Is, Why It Matters, And How To Do It Right
Remember that creating and maintaining content that fully supports the needs of your reps, providing…
Proof
Evidence of Reliability and Support
Security & Compliance
Trust
… takes joint collaboration across many teams at your organization.
Sales, Marketing, Product, Services, Support, Security, Legal, and maybe others, all need to help create and maintain the content your sales team relies on to close the sale.
Now, we recognize that it's not easy to make sure content is regularly updated with the latest stats or that new testimonials are added regularly.
In addition to identifying outdated content and updating it, you'll have to message sellers when new content is available and make sure they can easily find the most current versions when they need them.
But the simple truth is, creating and organizing this content for the sales team is the #1 thing you can do to set them up for success.
So how do you execute this mandate?
Here are 4 tips for deploying sales enablement content that actually supports Sales:
1. Determine a clear owner of the content pieces and set a sales content review calendar. We typically recommend quarterly updates, but depending on your specific company it may be more or less frequent.
2. Engage your marketing partners to help to structure on-brand content that looks and reads great.
3. Organize your approved sales enablement content in a central location that sellers can easily access. Establish a consistent naming convention and tag content (by type, by release date, by industry, etc.) to enable sellers to quickly search and find the content they are looking for.
4. Standardize the delivery of your sales collateral to prospects. Tools like Conga Collaborate let you curate your content and make it searchable in a centralized content library. They also notify sellers when the buyer interacts with a document, so it's easy to follow up in a timely manner.
The Results?
Equipped with the sales enablement content they need to inform, persuade, and overcome objections, sellers can confidently engage with prospects.
Even more important, they can easily inspire prospects with the confidence they need to partner with you now!
The bottom line, the investment of time and resources to create effective sales collateral for your sellers will be multiplied many times over.