No matter what your tech stack currently looks like, it's going to change.
It's a fact. New tech will constantly come to market and your needs will continually evolve. Which means you're going to be evaluating new sales tech on a regular basis.
But how do you decide?
In this article, I'll share a simple plan for evaluating new sales tech, so you can confidently say yes or no to any new offers.
Choosing New Technology: a Bird's Eye Perspective
When considering a new tool, the first step is always to identify the problem you are trying to solve. If a product doesn't solve the problem, you're decision is easy. It's a flat "no."
But in most cases, the decision won't be that easy. So here's how to decide whether tech is right for you.
First, identify the problem you're solving. Then, use these 5 criteria to decide whether the tech solves your problem and is a good fit for your needs.
Your goal? Tech is rarely a one-time purchase. So think of it as an investment in your growth and profitability.
RELATED: 5 Key Sales Tech Trends to Watch
The Tech Checklist: 5 Criteria a New Product Must Meet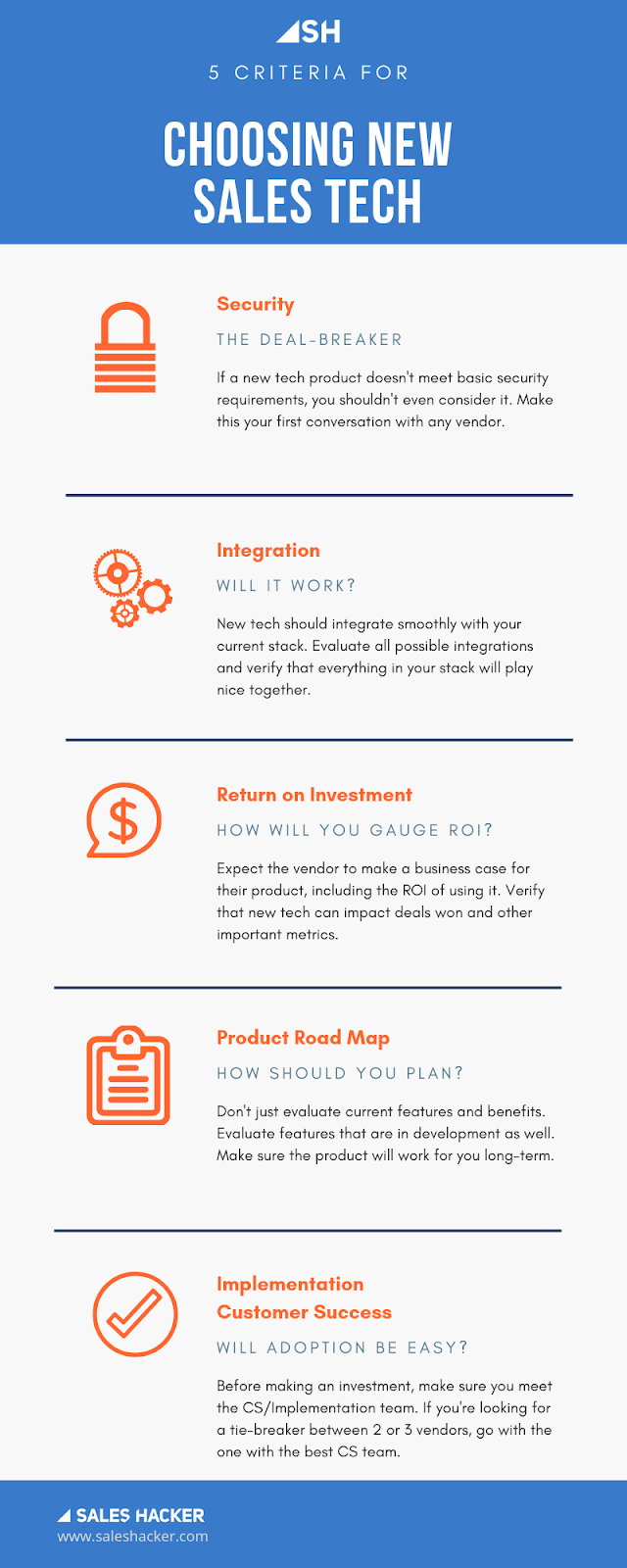 1. Security
Security is often the deal breaker (or at the very least, the deal staller). There's no need to waste either side's time if the tech does not meet basic security requirements.
In your first conversation with a new tech vendor, request all the security documentation. SOC 2 (Types 1 and 2) are standard these days, and a lot of companies (especially ones that deal with sensitive customer data) won't move forward without them.
If this sounds like a lot of trouble, think again. Getting hacked is bad for business and bad for public relations. Take the time to be sure your new tech is secure.
RELATED: The CCPA for Sales and Marketing Leaders: Everything You Need to Know (California Consumer Protection Act)
2. Integration
If you can check off the security box, then it's time to make sure the new tech can integrate with your current stack.
Most tech companies can give you a quick guide to how they work with Salesforce. But as a savvy tech buyer, you should send potential vendors a list of all the technology in your stack to see what other integrations may be available.
For example…
Think about how many of your tools integrate with Slack. One of my favorite new integrations is the Outreach/LeanData integration that allows you to kick off a sequence as soon as a lead is assigned. That kind of information can set one tool apart from the others in consideration.
3. Return on Investment
Do you know how you are going to determine the return on investment for the new tool?
Most tech companies should be able to help you out here. If they come to the table with a good understanding of your company and sales process, they should be able to help you make the business case and attach some dollars and cents to the ROI category.
If all they bring to the table is, "We help you do more of something," you might want to think twice about making that investment.
A recent vendor I worked with actually sent me a calculator after a deep discovery conversation and had me plug in a few of our metrics to see what the anticipated outputs would be.
Maybe the tool you are looking at is more on the content management or learning side. It doesn't matter. There is ALWAYS a way to determine ROI: content that is accessed, or that leads to closed won deals, or skill enhancement that leads to closed won deals, for example.
Remember, where there's a will, there's a way to get to ROI.
4. Product Road map
When you are evaluating a new tool, you're always going to be weed through the feature benefit dump. Everything in that dump is part of the evaluation process, but the savvy buyer dives deeper into discussions around the product road map.
With most companies signing multi-year contracts these days, you are not just buying a tool anymore. You are investing in a business that should yield greater returns over time as they evolve their product suite.
If your new partner is building out a calendaring tool, maybe you don't need to buy a separate one. Knowing what's coming helps you plan ahead and invest wisely.
5. Implementation/Customer Success
Some of the best closers are the CS/Implementation team! Meeting them and understanding what life after a signed contract is going to be like can put the final nail in the proverbial decision.
These are the people you will be working with closely as your implement, roll out, train, and troubleshoot the new tech, so they are critical to your success.
If I am in the final round with three vendors and one of them stands head and shoulders above the rest in terms of Customer Success and Implementation, the decision on who to move forward becomes incredibly easy. Every time.
Now You
This checklist should be your bottom-line criteria when choosing new sales tech. But every company is different, and ultimately, you'll need to fine-tune a checklist that works for your business.
What are the things you care about when evaluating sales tech? What keeps you from saying Yes?