If you're approaching sales enablement passively (or ignoring it completely), you're leaving revenue on the table.
Worse, your competition — who probably has a strong sales enablement strategy — will easily outpace you and drown out any of your basic prospecting efforts.
Okay, maybe a little dramatic there, but you see where this is going.
Even if you have a solid sales enablement strategy in place, most likely you can use some extra sales juice to boost engagement and visibility, or to accelerate deals and win rates.
Currently, only 30% of sales enablement efforts meet expectations set by the company. There is clearly some room for improvement via communication, expectations, and strategy.
Keep reading for 6 essential sales enablement tips you can use to power-up your sales results.
6 Essential Tips for Sales Enablement
Help Reps Push Value in EVERY Touch
The mantra of every sales rep should be to "add value with every touch."
You might be thinking, "Well, duh!" But it's easy to fall into task-completion mode — just ticking off tasks in our sales engagement tool, automating where we can, and forgetting to add value.
It's important to get back to the basics. Sales begin and ends with the buyer, so we need to make sure everyone's on the same page, prioritizing the customer, focused on the value-add, and helping prospects move quickly through the pipeline.
Here's the problem…
Generic pitches, lack of research, asking and sharing irrelevant items, etc., all put a strain on reps' relationship with potential buyers, which lowers the odds of having a long-term working relationship.
TIP #1 FOR SALES ENABLEMENT: Build a culture of delivering value. Evaluate your company's buyer journey, and look for ways you can deliver value at every stage. Always follow sales enablement best practice.
Equipped Reps With the Right Tools and Content
Sales enablement is about giving reps the tools and content they need to add value.
In emails, for instance, they may need case studies or whitepapers. In social posts, they may prefer infographics, short videos, articles, or some high-level education content.
The key, of course, is to understand what they need, then communicate the need clearly with Marketing, so they know what to create.
TIP: When asking Marketing for Sales content, your request should include:
The goal of the content piece
The persona or segment reps will be sending it to
The topic/idea
How you visualize it looking
To support sales reps, you'll need to have a library of content they can pull from. They'll need two types:
Content that is evergreen (always relevant)
Content that has the intent to expire (timely)
Then, once your reps have the right content in hand, you need to ensure you have the right technologies to effectively boost your sales enablement strategy.
This can be as simple as having social media profiles on LinkedIn and Twitter, using LinkedIn Sales Navigator, and having an employee advocacy program and a social listening platform.
Many platforms will fit in nicely with your company's tech stack, but what you need may vary. Look for something that makes your job easier and can naturally integrate with your company's tech stack.
TIP #2 FOR SALES ENABLEMENT: Content is king. Work with Marketing to develop high-value content in a range of formats that your reps can use in every touch. Think cold touches, follow-ups, and content for every stage of the buyer journey.
Encourage the Use of Social
A huge piece to a B2B sales enablement strategy is being active on social media. By now, most sales practitioners know social selling is a key place to engage with prospects and customers.
This means your company needs to value social media and enable you and your sales team to be active on these networks. LinkedIn, for example, is a powerful social tool to connect and engage potential buyers.
RELATED: How to Optimize Your LinkedIn Profile for Sales
This, of course, does not mean blindly throwing product or service pitches at them online. And it also does not mean connecting with a prospect and immediately pitching them.
There is too much of this on LinkedIn right now, and it makes your brand look bad.
So what should you do?
Connect, comment, like, and ask questions on prospects' posts is a great start. Other things you can share are:
Sales content that speaks knowledgeable about your industry
Social posts by prospects
The latest company blog post
And similar content
TIP #3 FOR SALES ENABLEMENT: Equip your reps to stand out in the social channels where your customers hang out. They need fresh content to share, stats, and more — and they need to understand the best practices for each social media channel.
Support Communication in ALL Channels
Sales need to use ALL the different communication channels to reach their prospects.
Social media (as covered above)
Text
Email
Inmail (still counts as social)
Out-of-office replies (yup, this is a touchpoint too!)
Whenever our sales team has an out-of-office status (whether they're at a meeting or on vacation), they include a link to an article or whitepaper for the recipient to read.
And of course, they also include links to their Twitter and Instagram (if applicable) so any prospect can follow their personal adventures. The human element and personal interests help build an emotional connection.
Of course, you may find that one medium works better than others for your business, but as times change, so will your best communication channels.
Don't neglect any of them. By being accessible in more channels, your reps will be more successful connecting with all their prospects.
TIP #4 FOR SALES ENABLEMENT: Different people prefer different types of communication. Make sure your reps can connect with prospects in whatever way they prefer. To do that well, you may need to provide templates, scripts, and persona battle cards.
Discourage Follow-Up for Its' Own Sake
You've seen them: follow-up emails that say, "Just checking in," or simply, "Following up." It's a touchpoint, sure. But it's not valuable or personal.
Typical follow-up messages don't sound like they came from a real person. Why would a prospect respond? Your reps need o delight prospects throughout the entire buyer journey.
As we've already established, every touch should ADD REAL VALUE. To see that in action, let's look at some emails our sales team has sent out.
Example #1
Hi Katie,
Catching up from our chat a couple of weeks back and curious to hear how the evaluations are coming along? If you haven't already, you should certainly read up on some best practices of launching a program might look like. Gartner has a great writeup about Employee Advocacy that you can check out here.
Talk soon?
Example #2 (after seeing something a prospect posted on LinkedIn)
Hi Kristin,
Speaking of the article you posted on LinkedIn today (love it, btw) I think you might like this one too. It goes into depth with both Dell and Adobe, which are also both beloved customers of ours.
How to Activate Employees and Harness the Power of Internal Experts
Enjoy!
These are follow-up messages, but they don't look like it. Instead, they come off as genuine messages from real people. That's far more likely to earn a reply.
TIP #5 FOR SALES ENABLEMENT: Give your reps so much valuable content for each stage of the pipeline, they're not even tempted to send no-value follow-up messages. Be sure to track how well each piece of content works, so you can see the trends. Then double down on what works.
Set up Less Obvious Touch Points That Add Value
Lastly, you can power-up your sales team by showing them how to add value to less obvious touchpoints.
For example, use Zoom's waiting room/lobby screen to add some value to demos and meetings. Below is a screenshot of Eric Fuessel's message in Zoom. Notice the heading at the top of the screen: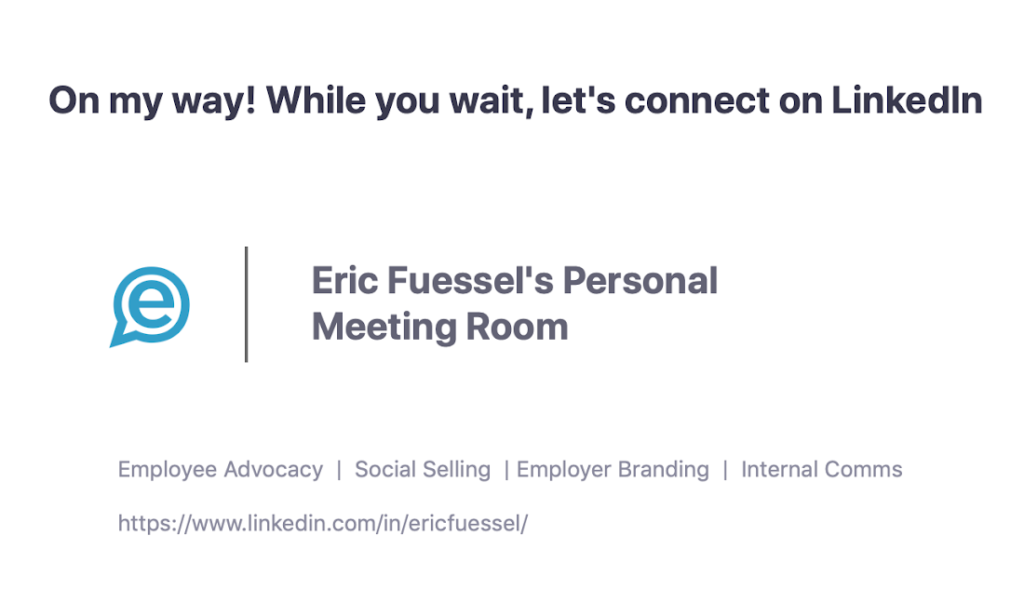 Incredibly simple, right? But it establishes a more personal connection and helps reps reconnect in the near future via social media.
Another value-add is using user reviews to your advantage. If you work for a software company in the B2B space, for example, tap into the power of G2 (Formally G2 Crowd), where reviews can build some serious sales power.
Whether you use it in out-of-office emails, social media, or when communicating with potential buyers, it's a simple way for prospects to see real feedback that can help them make purchasing decisions.
TIP #6 FOR SALES ENABLEMENT: Find unique ways your reps can boost engagement in the tools your team uses every day. Then, if you haven't already, create a strategy for getting reviews.
Final Thoughts
Your sales enablement strategy can make all the difference in how fast you close deals and boost revenue. It can also make or break your reps' ability to connect with potential buyers.
Don't just think in terms of content, training, and tool stacks. Look for little ways you can help your reps do their job better.
The bottom line, that's how you'll recover all that revenue left on the table.