New: Sales Hacker Preferred Partners Program
One of the most common themes and topics we see in the community is about what technology to use in the Sales Stack. Oftentimes the chatter in our highly engaged LinkedIn Sales Hacker Community revolves around technology for a certain layer of the stack. We see questions such as, "What solutions have you seen for lead generation and finding contact info?" or "Which solution are you using for outbound emailing, Company 1 or Company 2?" There are a ton of new tech solutions out there for sales, success, and marketers, so we created an easier way for you to peruse our top, Sales Hacker-endorsed vendors.
Today we're introducing Sales Hacker Preferred Partners. The partners listed are vendors in the space that we endorse to solve your needs in the sales, marketing, and success product categories. These are companies we've approved and have ongoing relationships with. Consider it a database for building your sales stack.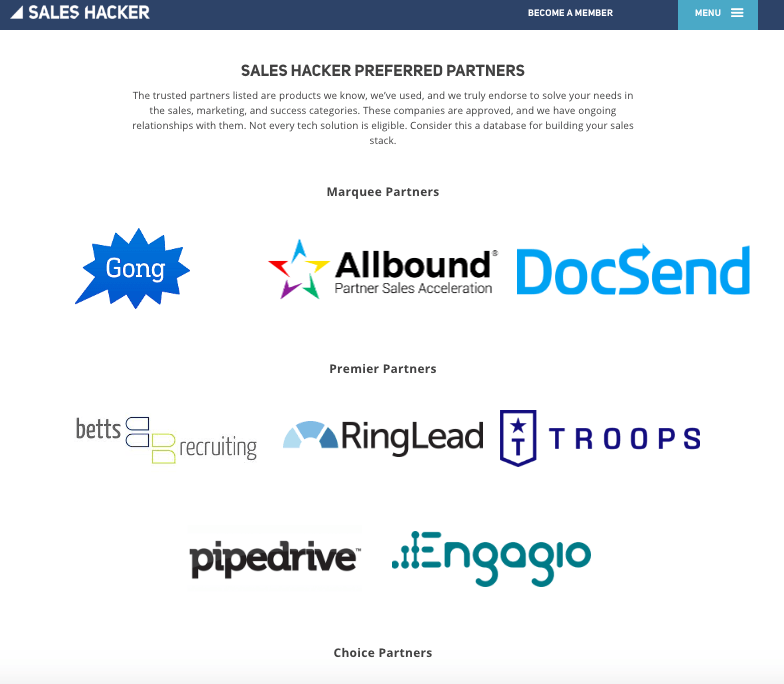 Preferred Partner Program Page
Over time, we aim to onboard more and more partners that can meet our standards, and work with them over longer-term relationships. As someone who gets asked quite often about which solution I recommend for a certain problem, this makes it a lot easier for us to push all recommendations and to one robust destination.
These trusted sponsors are products we know, we've used, and we truly endorse. Not every tech solution is eligible. As a subscriber and reader, nothing changes. But when you're ready to look for areas to enhance your sales process through your stack, you'll know where to turn.
For vendors, if you're interested in becoming a Preferred Partner, please Apply Here.