I run Capabiliti – a mobile-first platform that has been used by large enterprises to train, assess and engage their distributed users.
We built our product to cater to the stringent requirements of Enterprises, and we sold it to them. Now that our platform is sorted technically and with all the 'required' elements, we are in the process of opening it up to the world using a SaaS approach.
So we went Enterprise first – SMB second. There are multiple lessons that I can put forward, but that would result in a book. This post is just an introduction to the lessons we learned at Qustn. 
Here is some advice that was given to me by Girish Matrubootham of Freshdesk before he invested in us.
"If you want to target SMB clients (eventually), don't do Enterprise at all. Start straight with the product. Wait till the product is ready and then launch it straight for the SMB audience. If an Enterprise is ready to buy like an SMB in the early stages – do it. If not – dont".
I agree with it now.
Enterprises and SMBs are two entirely different beasts, and we are realizing that now. For all practical purposes, it's almost like a pivot, where everything changes from your product to your marketing and sales strategy. I guess the only saving grace here is that I have done sales to both for the past 18 years, so I understand the intricacies involved in the sales process. Consider this a very concise version of the lessons.
When should you start selling?
Enterprise sales process can start on rough demos and PPTs. SMB sales process should not start till your product is tested, and ready to take on paying clients – without you having to intervene. Enterprise sales should start way before the actual product is demonstrable/usable by clients. SMB sales only starts when you can 'show off' the product with flair.
Key skills to have in either case?
Enterprise sales process usually involves high touch. You will have to meet multiple stakeholders many times over before the closure happens. It needs a thick skin and persistence, above all else. Enterprise sales process requires the ability to negotiate, build relationships, map the account, scout out newer opportunities within the account and more. SMB sales process should not be high touch (there is a problem if it is).
It requires a higher level of marketing & product chops. You need to have the persistence, patience and process to repeatedly keep bettering the 'digital' interaction is key here.
You need it from reducing lead generation costs to managing the inbound data in your CRM to ensuring relevant drip campaigns to nurturing the leads and harvesting more from them to Inside Sales and closure. All of this is backed by a great product which keeps on getting better, based on hard data related to drop offs, heatmaps, social shares, and conversion rates at every stage of the funnel.
Here is a philosophy that I know Pallav Nadhani of FusionCharts goes by: "If you need me to come and explain the product to you – either the product isn't fit for you, or you aren't fit for the product."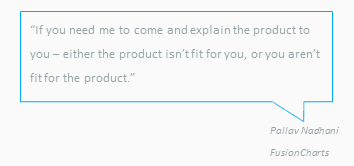 What are the key metrics to watch out for?
There is a typical Enterprise sales process called SPANCO, which is usually followed in Enterprise sales. Suspect-Prospect-Approach-Negotiate-Close-Order is the sequence, and it is used by a lot of companies. The metrics that make this process successful are a number of sales calls a day (to suspects) and the percentage conversions from each stage going forward (More on this sales process, soon). In the SMB game, the metrics are very different. Here is an excel template for you to be able to manage the metrics yourself. Please feel free to suggest changes that impact it positively and share it back with me! 

What are the buying signals?
Both customer sets give out buying signals, but they are very different. In the Enterprise sales process, the buying signal is just a state of 'progression'. Meetings become demos, which become technical discussions, which move to discussions with procurement, and finally a purchase order. Each stage could be a drop-off. In the SMB sales process, the buying signal is that the person revisited your site, looked at the pricing page, added someone else to the trial account, started using the product etc. Different. Yet similar.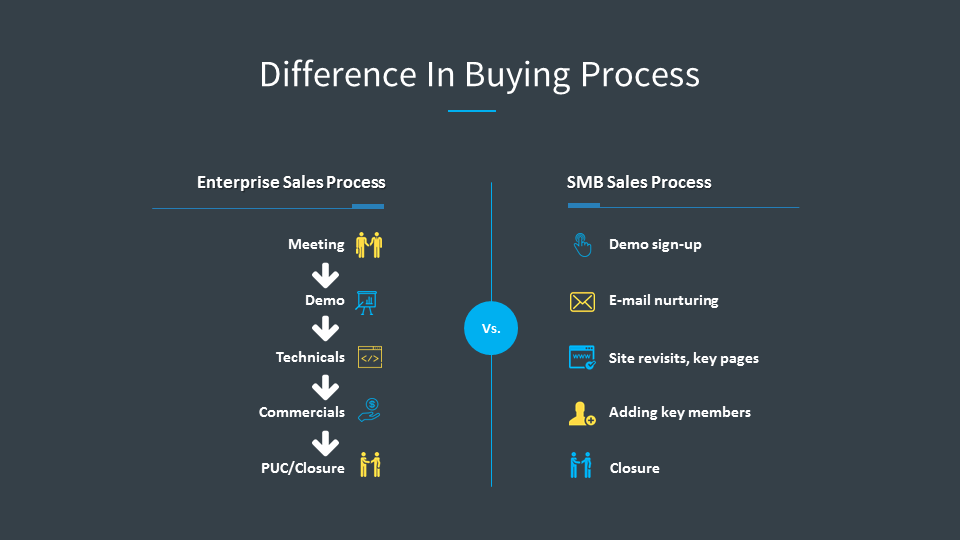 What's the typical deal size?
An enterprise sale typically is considered as something above a value of $50,000 per annum (or $4500 per month and above), and requires multiple approvals. SMB sales could range anywhere from $20 to $20,000 a year (or $1.6 – $1666 per month). As you can see, there is a gap between the $20K and the $50K levels. This brings us to the next point.
How long does it typically take?
This is the biggest difference between sales process cycles. An enterprise sales process could go on for 9 months till closure (if not longer) depending on the price and buying authority. Here is a great blog that talks about this in greater depth. An SMB sales process, primarily because of lower authority needs, can close anywhere from 2 days to 4 months. The gap between the $20K to $50K in the previous point highlights a zone where the size of the company comes into play, with more than one person getting involved in the decision making. This usually takes a bit longer than a normal SMB sale, but usually lower than a full-fledged Enterprise sale.
What are the biggest pitfalls?
The enterprise sales process will inevitably require customization, and your product might end up looking very wide, but not deep enough. Further – every new enterprise will ask for some customization – so a bit of 'service' gets added to the product company. In an SMB product sales process – typically that is lesser (or non-existent). The problem with an SMB sale is economics. You need to sell to 100 clients at $1000 per annum to make up for one $100,000 Enterprise client. Sounds simple? Trust me when I say that it isn't. Here is a great post by Tomasz Tunguz explaining why SMB focused SaaS companies need to move more upmarket.
Which sales process is easier to execute?
Even though I have written it – it's the wrong question. Usually, your product will define what your target audience is. Not the other way round. However, assuming that all else being equal, you have the choice of going in for an Enterprise sale vs an SMB sales process, here are the things you should consider:
Is your organization equipped for this? The enterprise sales process is ideally done through a direct sales approach and sometimes a channel sales approach. That means mid – senior-level sales folks who can manage sales cycles and have the ability to hunt and close. End to End. Beyond that comes to customer success. ≈ This is usually driven by their own Rolodex. SMB sales process requires digital marketers, product guys, account development executives, Inside sales reps, customer success folks and more. You need to make calls, send mails, and do the same thing daily. Enterprise is open and nurture. SMB is generating and quickly acquire.
Are you going to raise capital? If yes, Enterprise only companies will typically have a tougher time in the earlier stages. Get over the hump and get some good client names on board and it becomes much easier in the later stages.

What's your DNA? Are you a digital marketer or a sales guy? A digital guy is better off managing a mainly digital process whereas a sales guy will typically want to get his hands dirty and have a fat Rolodex.
Is your product Saasified? There is a feature (which you work on to get an enterprise order), then there is a product (which is ready to sell), and then there is a Saasified product (where you are able to capture all the relevant data related to a lead, nurture them through drip marketing and bring them to a closure)
In the end, I'll say this – the Enterprise sales process is exhausting. Physically and mentally exhausting. It takes a lot to get up after being slammed with a 'No' from an Enterprise that you were nurturing for 8 months – speaking from personal experience. The SMB sales process requires focus and rigor – Exhausting of a different nature. I, again, know it from personal experience.
You will do what you need to do to grow your business, and some of the best businesses have been built keeping both Enterprise and SMB sales open.
The question is – which sales process do you start with?