Wither the generalist. It wasn't very long ago that the title "sales leader" conveyed the image of someone who was half-big game hunter and half football coach. Their singular skill was instinct: They trusted their gut when it came to the deal and trusted their nose when evaluating talent.
Then along came technology, in particular automated data collection and analysis, which shattered this universal image of the role. Specialists in B2B sales, inside sales, field sales, high-velocity sales, solution sales, pre-product-market fit and post-product-market sales, and countless other permutations began to emerge.
Today, hyper-specialization has taken over nearly business function, and clever, persona-focused content marketers (a specialty within a specialty!) have effectively documented each disruption. But one phenomenon has gone largely under-reported: the rise in and fragmentation of operations roles.
Sales Ops vs Marketing Ops vs Business Ops: Let's Break It Down
Sales operations, marketing operations, business operations, customer operations, developer operations, and even a roll-up function – revenue operations – have all taken root in recent years.
Each specialty has its own tech stack, its own KPIs, its own online communities, and even its own conferences. But what hasn't existed is a cross-specialty resource – a way to understand the similarities and differences that distinguish the professionals who comprise each role.
It's with that understanding in mind that InsightSquared and LinkedIn teamed up to create "Sales Ops vs. Business Ops vs. Marketing Ops: A Visual Analysis," the first-of-its-kind study of the persona behind the rise of the three most popular operations specialties.
With the help of LinkedIn's research team, we compared sales ops, business ops, and marketing ops professionals worldwide against a number of human-interest characteristics – from education to company size, professional certification to gender identification – and we visualized the output into one massive graphic.
Whether you are looking to hire, become, market to, or sell to an ops specialist, there's a discovery waiting for you in this infographic.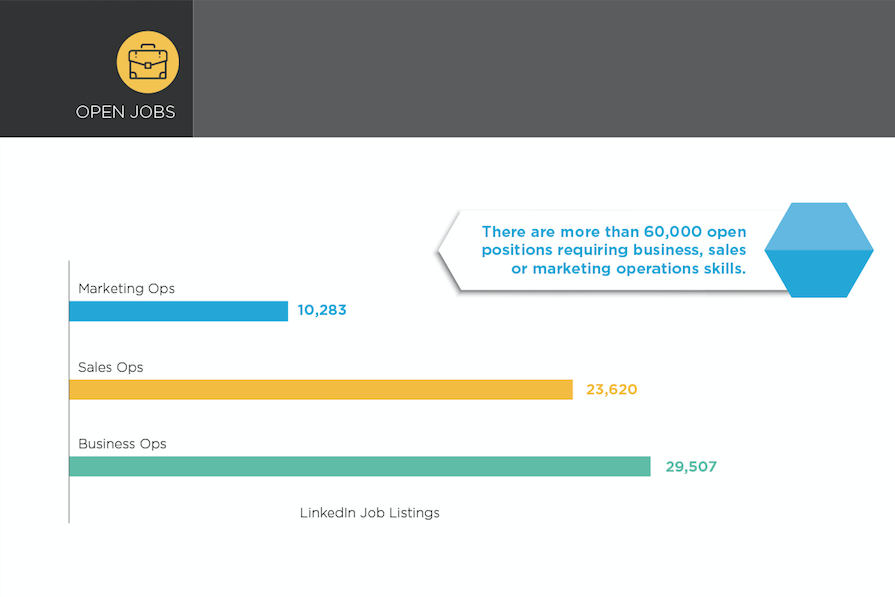 For job seekers, start at the end. There are nearly 60,000 job listings on LinkedIn that specifically call for sales, business, or marketing ops skills. If you are already an operations professional, you've picked the right career path. Given the demand for your skills and adjacent skills, you likely have maximum leverage in salary negotiations.
Interestingly, the number of sales ops professionals exceeds the number of business ops professionals; however, there are more job listings for business ops. Maybe business operations is becoming the dominant specialty? Or perhaps the roles are more difficult to fill?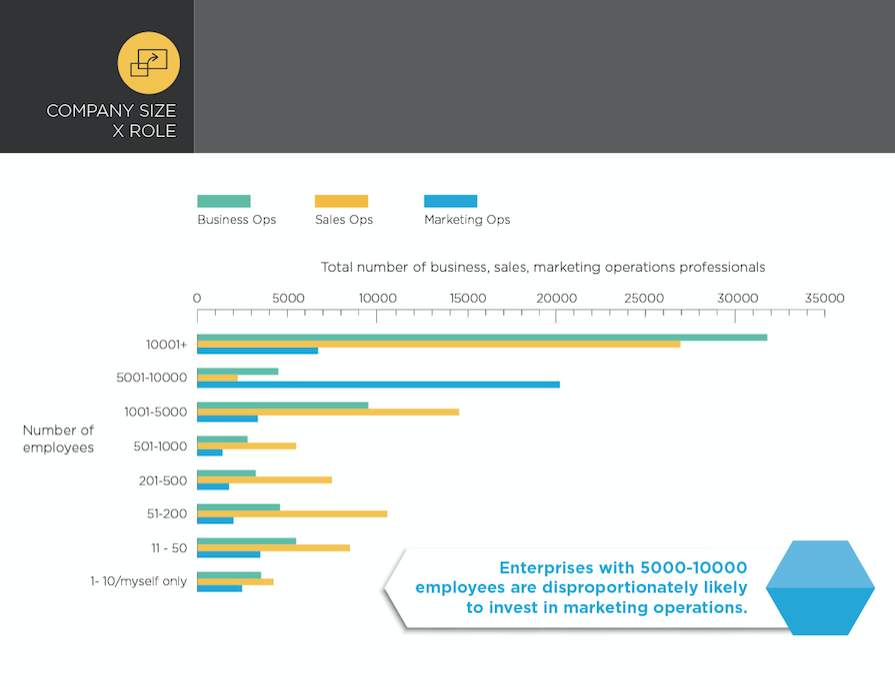 While marketing ops may trail its counterparts in the number of professionals and job listings, it is dominant in one area: mid-sized enterprises. The profession's sweet-spot is at companies with between 5001 and 10,000 employees. Having spent years in the marketing automation industry, I'd wager that these organizations have multiple business units each running their own marketing system of record, which creates a heavy ops burden.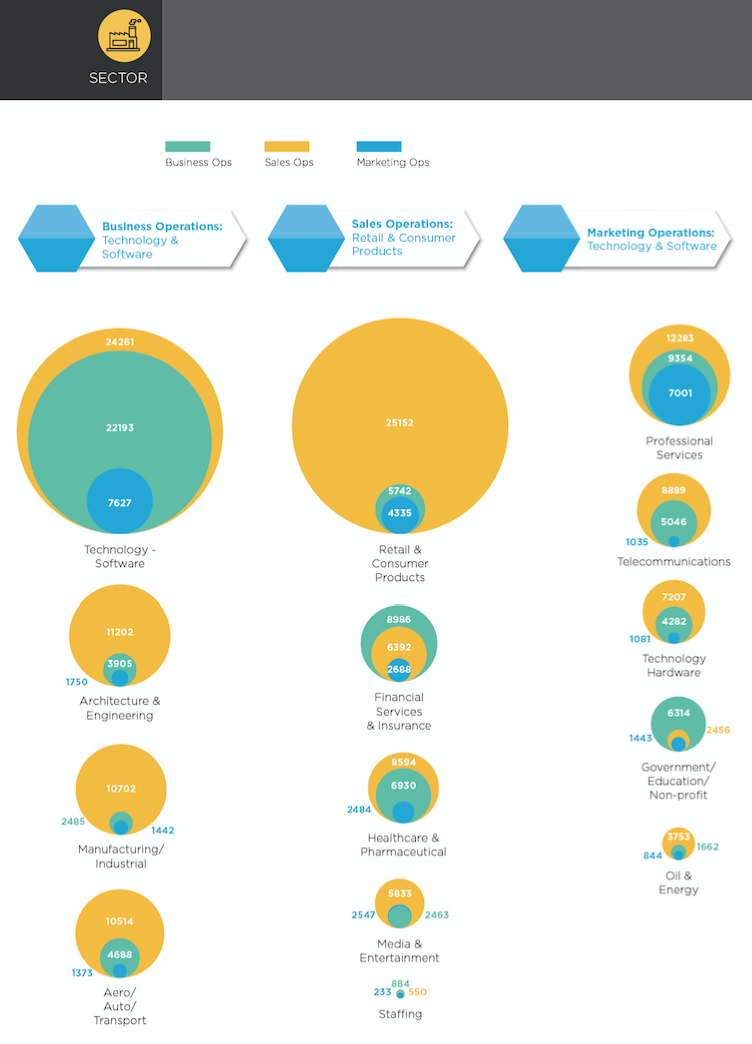 It's logical that the early-adopters in high tech would employ the most ops professionals overall, yet it may surprise some that the high-velocity – and increasingly on-line – Retail & Consumer Products vertical eclipses tech in sales ops hires.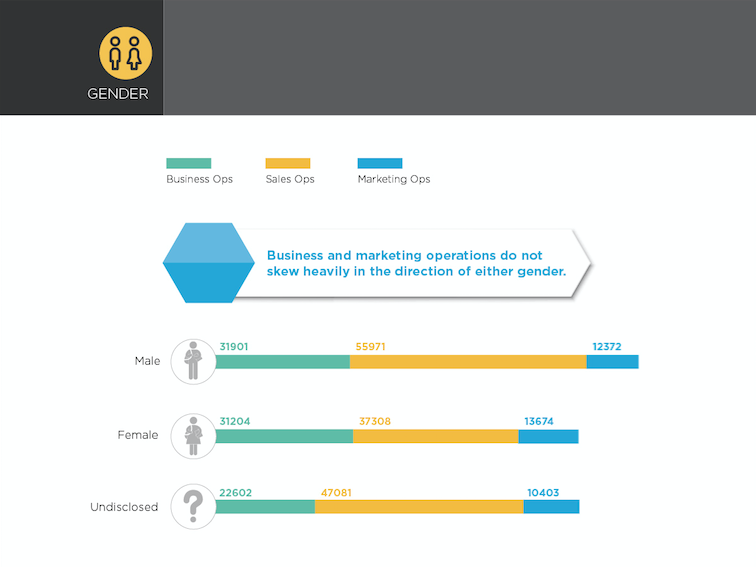 Given the tech industry's struggles with gender diversity and the popularity of ops roles in the tech vertical, we decided to see if ops suffers from a gender imbalance. It's encouraging that marketing and business operations are comprised of an even number of men and women; however, there are about 40 percent more men in sales operations. This dynamic merits further investigation.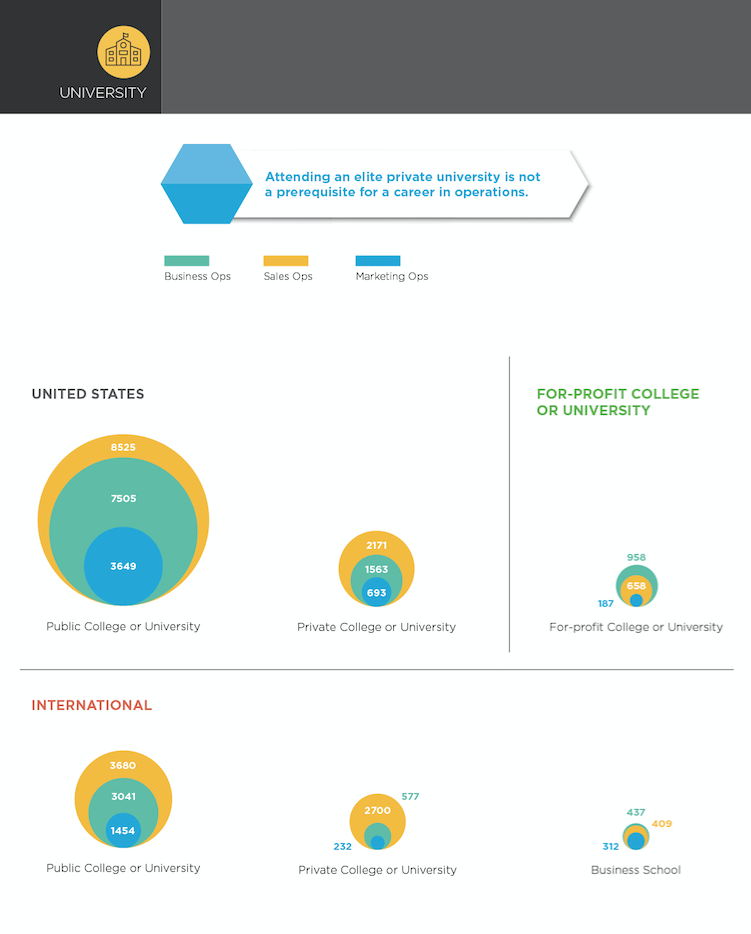 If you're thinking about pursuing a career in ops, we've got some more good news for you. There's no need to rack up massive private school loans. A state university degree isn't likely to hold you back.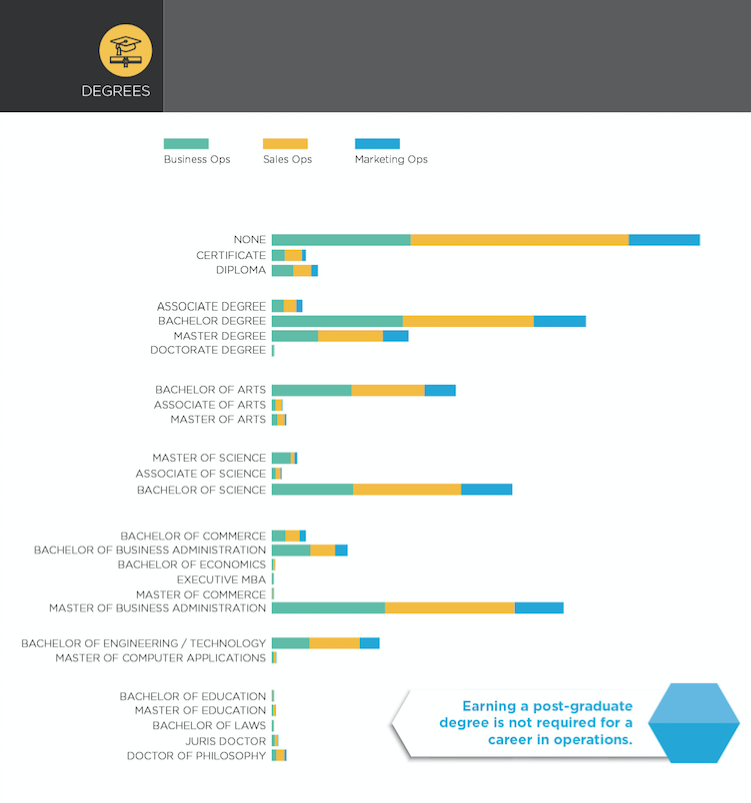 Similarly, an advanced degree isn't a prerequisite for an ops career.  In fact, there are more ops professionals with no degree than boasting an MBA.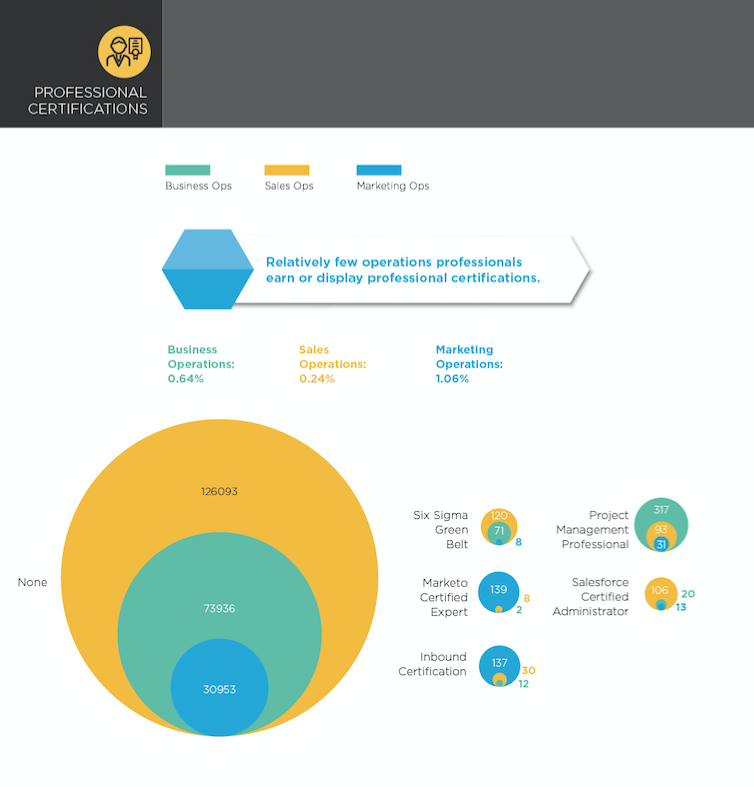 Speaking of education, many of the vendors that sell to the ops role also offer professional certifications.
While the primary goals of these programs are to create a sense of vendor "lock-in" with users, a secondary benefit is word-of-mouth.
The vendor expects graduates to display their certification on their social media profiles, thereby fostering a virtuous cycle of brand awareness. Not so much.
A microscopic percentage of ops pros display their professional certifications on their LinkedIn profiles.
Those are some of our preliminary takeaways from this project. Your turn.
What patterns do you see in this data?