Sales referrals have transformed the marketing and selling avenues. With the rise of social media, sales referrals aren't what they used to be. Think about it, how many times have you purchased a product because someone you know or follow on Facebook, Instagram or Twitter gave it a green light? So what should your referral strategy look like today?
With that said, we all know how important sales referrals are, but what most people don't know is how to ask for referrals. Just the same, they don't know the first thing about creating an email template.
Why Are Referrals Important In Sales?
According to the Harvard Business Review, "Nine in 10 buying decisions are made with peer recommendations." That's why in 2021, social media influencers are thriving and changing the game of referrals.
Statistics gathered by Influitive tell us, "Business-to-business companies with referrals have a 70% higher conversion rate, and they report a 69% faster close time on sales."
Even Nielsen has found that "84% of consumers say they either completely or somewhat trust recommendations from family, colleagues, and friends about products — making these recommendations the information source ranked highest for trustworthiness."
Knowing how impactful sales referrals are, why don't we as salespeople use them as often as we can? Largely because we don't know how to ask for referrals.
Sometimes, it's that referrals tend to happen after a successful close — the same time that most motivated salespeople are off chasing down the next deal. But in other cases, we don't do it because we don't have an effective process in place.
Sometimes, referrals tend to happen after a successful close. This is the time that most motivated salespeople are off chasing down the next deal.
In other cases, we don't do it because we don't have an effective referral strategy in place.
That's a huge mistake.
What Is a Sales Referral Strategy?
When you take the time to build a referral process, complete with a template, you can automate all or part of it, so you get all the benefits of referrals without needing to put the manual effort in after each sale.
When it comes to getting referrals, Trey Gibson (founder of Spotio) says one thing is sure: just ask.
"Customers aren't bogged down with referral asks yet, especially since only 29% of customers are providing referrals when 92% of customers said they would. With only 10% of companies tasking their teams to acquire referrals, there's a massive opportunity to capitalize on referred leads.

"This proves that customers don't mind giving referrals, but few companies are making it part of their process. Bake this into your sales process; you will see results."
Big Picture Tips For Your Sales Referral Strategy
The first step towards asking for referrals is having a referral strategy in place. A referral strategy or program is a systematic way of getting customers to make referrals about your business. It often entails rewarding existing customers for bringing in new clients. Rewards are offered as referral incentives. They can include discounts, coupons, free cash, exclusive access to apps or programs, etc.
Before we get into the 4 detailed steps on How To Ask For Sales Referrals, let's look at some big picture tips.
Tip #1: Don't Be Afraid To Get Scientific
As a sales rep, you've probably joined hundreds of other marketers and entrepreneurs in tracking web traffic, Google rankings, email open rates, social media follows, etc.
All these equal plenty of scientific calculations. So, start by getting scientific with your referral strategy. Come-up with a program that will track your leads and customers across all platforms, conduct A/B testing on different email templates, measure ROI, carry out free trials, email open rates and so much more. You can also conduct sales processes research to narrow down your scientific approaches.
Tip #2: Remember Testimonials Are Also Referrals
Testimonials are also referrals. Don't limit your referral strategy to only asking customers to recommend your program to people they know. Instead ask for testimonials and reward them after that. This serves as a good sales engagement strategy.
Use the testimonials to entice your customers' emotions and tap into the psychology of selling. People are more likely to trust another customer than a sales rep.
It's 2021, therefore get creative with your testimonials. Instead, of having your testimonials on one designated page, scatter them on your emails, on social media, i.e., official Facebook homepage, in different posts, or even your blog. For instance, you can quote your customer in an email and insert a link to redirect visitors to your official sales page.
Tip #3: Utilize Social Media and Connect With Influencers
Apart from email templates, you can venture and utilize social platforms in asking for referrals in sales. The game is changing so fast. Social media swooped in, and it's slowly taking over digital marketing.
We know that most people trust word-of-mouth from friends and family. But, it turns out people also trust digital influencers who do reviews as long as they have built their credibility.
This means that influencer marketing on social media will take your referral strategy to a whole other level. We're talking about all platforms with all types of celebrities and people with a huge following from reality stars, athletes, actors/ actresses, musicians, YouTube sensations and so on.
How to Ask for Sales Referrals (4 Steps)
When Should You Ask for Referrals in an Email?
Before we talk about how to ask for referrals, we need to talk about timing — your asks need to be timed correctly in order to be effective.
Generally speaking, the best time to ask for referrals is after you've proven value to the client. Don't ask for the share if the relationship is new or if you aren't sure your client is satisfied with the work you've done so far.
So how do you know when you've proven value? Every deal looks a little different, but there are several signals to pay attention to:
They tell you how happy they are.
Not only is this a great sign that customers are willing to make referrals, it offers a great jumping-off point for making the request.
For instance, if a customer compliments an aspect of your product or service, you could follow up with something like, "I'm glad you've found it useful. If you happen to know anyone else who could benefit in the same way, could you please introduce me? I'm always looking for others to help."
When getting referrals from an existing happy customer, Steve Benson (CEO of Badger Maps), recommends using the "land and expand strategy."
"The 'land and expand strategy' is where you get one person at a company to use you, and because you make them successful, you can ask them to recommend you in their company. They then tell their coworkers and management about you and spread the word about your product/service around the organization."
You've hit a key project milestone.
According to copywriter Nick Darlington, writing for the Freshbooks blog, "As the relationship evolves, they'll begin to trust you and learn what you're capable of. It's at this point you can comfortably ask for a referral."
You've over-delivered.
Freelance brand strategist Megan Elliott shares on the Bonsai website, "You want to make your existing clients so pleased with the work you deliver what they want to brag about you and the work you've done to all their friends and colleagues."
They've responded positively to your NPS survey.
In an NPS survey, you ask a single question: "Would you refer our company to others?" If the score is a 9 or a 10, you can confidently assume your contact is ready and willing to make referrals for you.
They refer others to you without asking.
Sometimes customers will be so happy with your product or service that they'll share it naturally, without your prompting. This is why customer service and success should be a primary sales priority. If that happens, you can be pretty confident that they'll be open to making referrals to others if you ask.
They ask you for a discount.
Sergey Butko, CMO of CallPage (a callback solution provider) shares his tip:
"If a happy customer asks your sales rep for a discount, a free trial of the newest feature, or any other price-related "favor," give them what they want, but in return for a referral. We use this mini strategy at CallPage, and it drives awesome results for both sides. Clients get what they want, and we do not give our tool away cheaper."
Steve Richard, Chief Evangelist, and co-founder at ExecVision, suggests different timing may be just as effective.
"Research by Georgetown University shows that a great time to ask for a referral is right before the buyer makes a decision toward the end of the negotiation."
In fact, according to the researchers in the report, "Sellers who add a favor request to a price discount are 40 to 50 percent more likely to close the sale than sellers who do not ask for a favor."
RELATED: How To Skyrocket Sales Referrals Engine
How to Automate the Referral Process
Once you've identified the common triggers in your referral process, you can start to build automation around them. As an example, here's a workflow you could build around the NPS survey
Sales Referral Automation Based on an NPS Survey
First, you would trigger an NPS survey email to go out a certain number of days after a key milestone. You can automate this by tying it to the completion of a key milestone tracked in your CRM, such as the completion of a project stage.
Based on the results of the NPS survey, you can then automatically trigger one of the following messages to go out one day after recipients complete the survey:
If you receive a score of 0-6, don't send a referral request template. Instead, send a "Can we fix this?" message to attempt to rebuild the relationship.
If you receive a score of 7-8, you still shouldn't send a referral request template, as recipients aren't enthusiastic enough about you to guarantee a positive referral. Instead, trigger a "How can we improve?" message and retest recipients after a set interval.
If you receive a score of 9-10, send a "Who else can we help?" referral request.
Referral Email Template: Here's a good referral request email.
Hello [name],
Wow! Just saw you gave us a great score on the customer survey you received yesterday. I'm so happy to hear we've met — and maybe even exceeded — your expectations.
Can you please do me a favor? I'm trying to find others who would benefit from the same features you've enjoyed. Is there anyone you can think of that you can introduce me to who might also be interested in our product?
Thanks in advance,
[signature]
Tweak the template as needed based on your business and its products or services. But don't stop here….
Recipients might miss a single referral ask. They're busy. Space in their inbox is limited.
As mentioned by Gary Galvin, CEO of Galvin Technologies, use technology to your advantage. Monitor how and when they engaged with your referral ask, "because although you may have sent the email on a Tuesday, it may not have been opened until Friday — wouldn't that be nice to know?"
To make sure they see your ask, build out a referral request cadence with multiple follow-ups — just like you do with your cold sales emails.
For instance, you could send:
A second initial asks message a week later to any recipients who didn't open your first request.
Automated follow-ups at specific intervals throughout the duration of a project.
Final requests at the close of a project or a few weeks after its completion.
Referral Email Template: Here's what a post-project referral ask might look like.
Hello [name],
It's been a few weeks since we wrapped up our work together — I hope everything is still going well with you and the team.
I know I've asked before, but is there anyone you can introduce me to that might also have a need for our [product or service]? I'd hate for them to miss out if they're [experiencing the same pain point you were].
Take care,
[signature]
One final set of templates to have at the ready is the series of messages you'll use in case contacts send you referrals. Act quickly by preparing the following templates ahead of time:
A thank-you email to your original contact that reassures them you'll follow up quickly and take good care of the person they referred.
An initial outreach message for connecting with the new referred contact.
A follow-up message for the original referrer sharing a status update on the new connection or further information if you've incentivized the referral process.
Say, for example, that you're offering a $500 invoice credit to any customer who books a year's worth of service with your company. In that case, not only would you want to mention the bonus-earning opportunity whenever you ask for referrals, you'd also need several templates for following up with your original contact.
And when you act on a referral, "it's a good idea to ask permission from the referring customer to use their name." reminds Justin Zappulla, Managing Partner of Janek Performance Group. As an example, "Thank you for providing me your colleague's contact information! When I call him, may I use your name?"
You can also look to set expectations to use customers as references right off the bat.
Says Karthik Rajaram, Global Director of Sales Development at Freshworks,
"Understand the approval process for references upfront and incorporate it into the contract when signing the deal. I have seen cases where the signing authority agrees to be a reference when signing the contract but there is a push back from legal when we ask for it after meeting the success criteria."
Referral Email Template: A message when the referral is successful.
Hello [name],
Thanks again for referring [new contact] to me. I'm excited to share that we've signed a contract to begin work together, and I look forward to helping them [experience some benefit] that you've seen already.
As a thank you for making the connection, I've asked our accounting team to issue a $500 credit to you. You should see it appear on your next invoice, but please contact me if you have any issues.
Thanks again, and please let me know if you can think of anyone else I should reach out to.
[signature]
Referral Email Template: A message when the referral is not successful.
Hello [name]
Thanks again for referring [new contact] to me. Unfortunately, it doesn't look like we're a fit for each other right now. But if that changes and they sign up for a service plan in the future that qualifies you for our referral bonus, I'll let you know right away.
Thanks again, and please let me know if you can think of anyone else I should reach out to.
[signature]
Automating Your Own Referral Email Process
As you can see, there's a lot of variability in the way you can set up your own automated referral email program. So while it's great to use automation to ensure the referral ask process happens in the first place, you still have to pay attention to how it's performing.
Troubleshoot different workflows. Test different triggers. Pay attention to what you're hearing from clients.
RELATED: How to Prospect with a Trigger-Based Approach
With a little effort, you'll be able to find the most effective referral approach for your needs. One idea from podcast host and sales trainer Donald Kelly is to build in referrals as part of your sellers' KPI.
He says, "Like anything else in life if you want to see results, you must measure it." Have your sellers set a weekly referral goal and report on it like other sales KPIs.
Make Referrals a Part of Your Playbook
The easiest way to ask for referrals is to make it part of your sales process.
"The referral process could even be a cadence that is predefined as a set play within your sales process and customer journey," says Tim Harris, VP of Marketing at DialSource. "When looking at the engagement an Account Executive has with an account after the completion of onboarding, implementation or post-sale. Sales organizations can empower their account executives to continue developing their relationship with the customer and can include a series of prescribed touch points within a referral cadence to do this."
Harris shares an example of what this playbook might look like.
PLAYBOOK: Implement 90 Days after Close/Won or Implementation Go Live.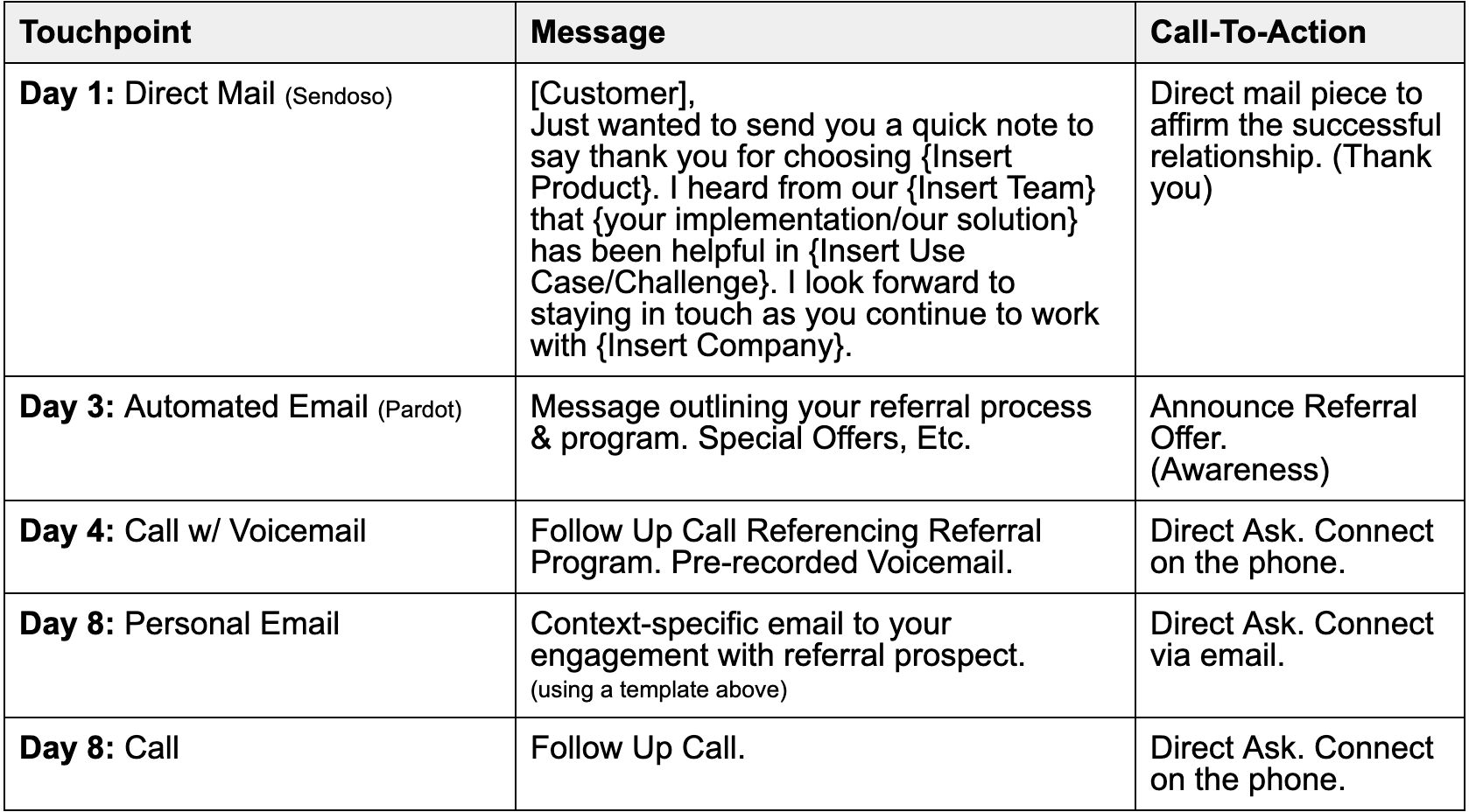 In this playbook, Harris uses Sendoso for direct mail and Pardot for automated email. But the tool isn't important. What matters is that you set up the right touchpoints to make sales referrals part of your sales process.
Building this process into a sales referral strategy allows your team to shape and adapt the messaging to fit your entire organization and gives Account Executives an easy-to-execute playbook of the next steps to follow when asking for a referral.
It also helps turn this engagement into a repeatable process that can be automated and prescribed to the Account Executive at specific stages in the customer journey.
Utilizing multiple channels and forms of communication helps to expedite the engagement process and also improves your chances of connecting with your customer.
Do you have an automated referral program in place? Share any other tips or tricks you've discovered while setting it up by leaving a comment below.