Did you know the average sales rep spends 65 percent of their time on tasks other than selling?
That means if the average sales rep makes $100,000 a year, the company likely spends $65,000 per rep on time that doesn't generate any revenue.
Where does all that time (and money) go?
A good portion of it goes to administrative tasks like updating spreadsheets, adding prospects to the CRM, performing research that could be automated, and – let's be honest – probably scrolling on Insta.
The good news is there are dozens of tools that speed up the sales cycle without turning your reps into robots.
The solution? Build a robust sales tech stack and ensure your team knows how to use them.
What is a sales tech stack?
A sales tech stack is a collection of tools that enable sales teams to spend less time on administrative tasks and more time selling by streamlining, organizing, and automating the sales process.
The number of tools can vary based on industry, the size of your sales team, and other factors, such as your target audience.
When done right, a sales tech stack helps your team find sales-qualified leads, automate tedious tasks, and track the most effective sales strategies so they can spend more time on revenue-generating tasks.
Basically, a sales tech stack lets your sales reps focus on selling instead of pushing papers.
What tools should be in your sales stack?
No two companies will have the same sales stack. The tools you use should solve the specific issues your sales team faces.
For example, a B2B company with a solid lead generation process might not need a tool to find more leads, but their team might need help nurturing leads due to the longer sales process. On the other hand, a SaaS platform might have its lead nurturing process down, but struggle to track the most effective demo process, resulting in sales reps closing fewer deals.
Sales tech stacks are unique to each company based on their goals, challenges, and the customers they target. So where do you start building your sales tech stack? You'll need a sales engagement platform or another outbound tool, but what about everything else?
Below, we'll cover the top types of sales tech stack tools, explore what types of companies need them, and list a few examples of each. Keep in mind that many sales stack tools do more than one thing. For example, HubSpot is a popular CRM, but it also offers real-time reporting tools.
Here are seven types of tools to consider adding to your sales stack.
1. Customer relationship management (CRM)
Can't remember the last time you contacted a lead? Or find yourself digging through emails to remember if a lead already had a demo or just downloaded a whitepaper? You need a CRM.
A CRM serves as a single source of customer and lead information to keep your team organized and on task. It tracks new leads, old leads, and current customers so you can see who they spoke to last and where they are in the sales funnel all in one place.
Some popular CRMs for sales teams include:
HubSpot offers automation, data organization, contact management, deal pipelines, and more.
Zoho One provides sales teams with a comprehensive sales toolset to stay organized across channels and build a repeatable sales process.
Salesforce helps companies grow their sales through a powerful suite of tools, including a CRM, productivity tools, and intelligent data gathering.
Pipedrive is designed with sales in mind. Features include lead management, communication tracking, sales automation, and detailed analytics and reporting.
2. Prospecting and lead generation
When it comes to leads, more isn't always better. Focusing on quality over quantity allows reps to spend more time nurturing leads that are most likely to convert.
Prospecting and lead generation tools help streamline the prospecting process and provide data to help teams uncover those high-quality leads and contact them. Some tools even help automate parts of the nurturing process so you can build relationships without spending hours sending LinkedIn messages.
Prospecting and lead generation tools to consider include:
Leadfeeder, a website tracking tool that tracks anonymous website visitors, qualifies them as leads, and provides contact information.
LinkedIn Sales Navigator, a paid LinkedIn tool that helps you find and connect with leads.
Leadpages, a full-service tool that enables small businesses to build websites, collect leads, deliver files, and split test parts of the lead generation process.
Several CRM tools have some lead generation features built-in, but these standalone tools often offer access to more data, better leads, and can help qualify leads more effectively.
3. Sales automation
Automation helps sales teams do more in less time by automatically nurturing leads, delivering files, and reminding sales reps to follow up on hot leads.
It doesn't just make sales reps more effective, it makes businesses more profitable. In fact, 61 percent of businesses using automation exceeded their revenue targets in 2020.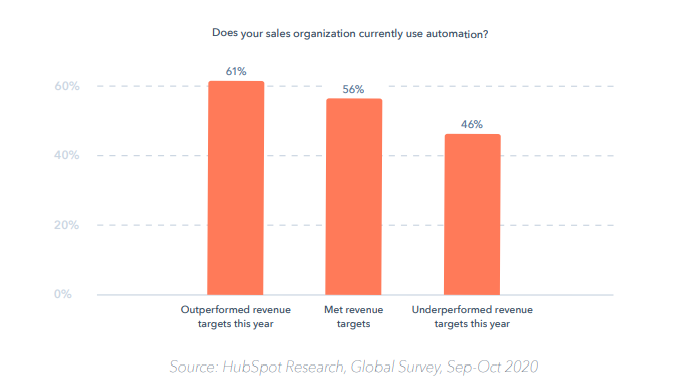 The good news is most sales tools today offer some level of automation. For instance, HubSpot also automates email marketing, social media posting, and ad campaigns. Still, there are other sales automation tools to consider.
Here are a few other sales automation tools to help sales reps work more efficiently:
ClickFunnels, a sales funnel and landing page builder.
Slack might not be a sales tool, but its workflow automation feature lands it a spot on this list. Create workflows to automate updates, crowdsource new ideas, and onboard. It also integrates with most other sales tools, including Leadfeeder, Hubspot, and Leadpages.
Zoominfo provides a 360-degree view of customers, prospects, and lead opportunities. It also integrates into workflows and CRMs to streamline the overall sales process.
Ambition is a performance management tool that streamlines goal tracking, coaching, scorecards, and automates sales alerts and insights. It's a powerful tool for sales teams looking to increase efficiency and accountability.
4. Learning management systems (LMS)
Sales training is a key indicator of sales rep success, yet 26 percent of sales reps report their sales training is generally ineffective, while 28 percent report it is just "usually" effective – which means there's a ton of room for improvement.
Learning management systems ensure sales reps have the knowledge they need to deliver sales results by streamlining product training, onboarding, standards training, and updating training materials.
Some LMS solutions to consider:
iSpring features a built-in course builder, an easy-to-use platform, and integrations with Zoom for webinars.
SkyPrep is an integrated online training software for onboarding, compliance training, and more. Features include virtual classrooms, course selling, and customer training support.
In some cases, you might not need a separate tool to manage training and learning. Salesforce and Zoho both support learning management through their platforms.
5. Project management
The best project management tools offer features like project tracking, task lists, file sharing, and scheduling tools to keep teams focused and on track to reach their goals. But sales teams need a powerful solution that helps track leads, manage tasks, and integrate with other sales tools.
Some of these features might be built into your CRM, but there are several standalone platforms as well, including:
Basecamp, which brings all your information into one place with features like project tracking, group chats, to-do lists, message boards, and check-ins.
Zoho Projects, a straightforward project management tool that works well with Zoho's other features, including their CRM. Features include task management, collaboration, document management, and reporting tools.
Workfront is an enterprise-level project management tool from Adobe that helps large companies plan, execute, and deliver projects.
6. Sales demo tools
Demos can make or break the sales process. Nail your demo, and leads turn into customers; get it wrong, and you end up with a leaky funnel that doesn't convert. The right demo tools for sales allow reps to deliver high-quality video and audio, share their screen, and integrate with other sales tools, like your scheduling tools.
Zoom is a popular video meeting tool that allows sales reps to meet, share their screen, record demos, and share recordings later.
GoToMeeting is a video conferencing tool with high-powered video, screen sharing capabilities, recording features, and the ability to fine-tune lighting, contrast, and saturation.
Tanida DemoBuilder makes it easier to create recorded demos with features like screen recording, bubbles, 3D effects, multi-track timelines, and a live Zoom feature.
7. Sales reporting and management
Reporting and data management solutions help sales managers and reps track what works and what doesn't in the sales process. For example, do you know what leads are most likely to convert? Can your sales managers see which reps are likely to hit their goals this month in real-time?
Sales and reporting tools provide all that data and much more. Some tools, like CRMs and automation, often have built-in reporting. But if you have several platforms in your sales stack, getting all that data into one place can be a challenge, which is when a standalone reporting tool comes in handy.
Sales reporting tools to consider include:
Salesforce is more than just a CRM and workflow management tool; it also provides robust reporting tools.
HubSpot also offers robust data about how contacts move through the sales funnel, which sales reps are killing it, and which outreach method is most effective.
Aviso is an integrated sales revenue platform that helps sales teams with forecasting, guide deals, opportunity management, and collaboration tools.
What tools do top sales teams use?
Having good tools in your stack isn't enough. Your tools need to play well with one another and adapt to your team's sales process. So what do other companies have in their stacks? Here are the tools eight top sales teams use to drive their business forward.
Ambition
Ambition is an enterprise performance management tool designed to drive accountability with real-time insights. Their sales stack includes zoom info, LinkedIn's Sales Navigator, and Outreach.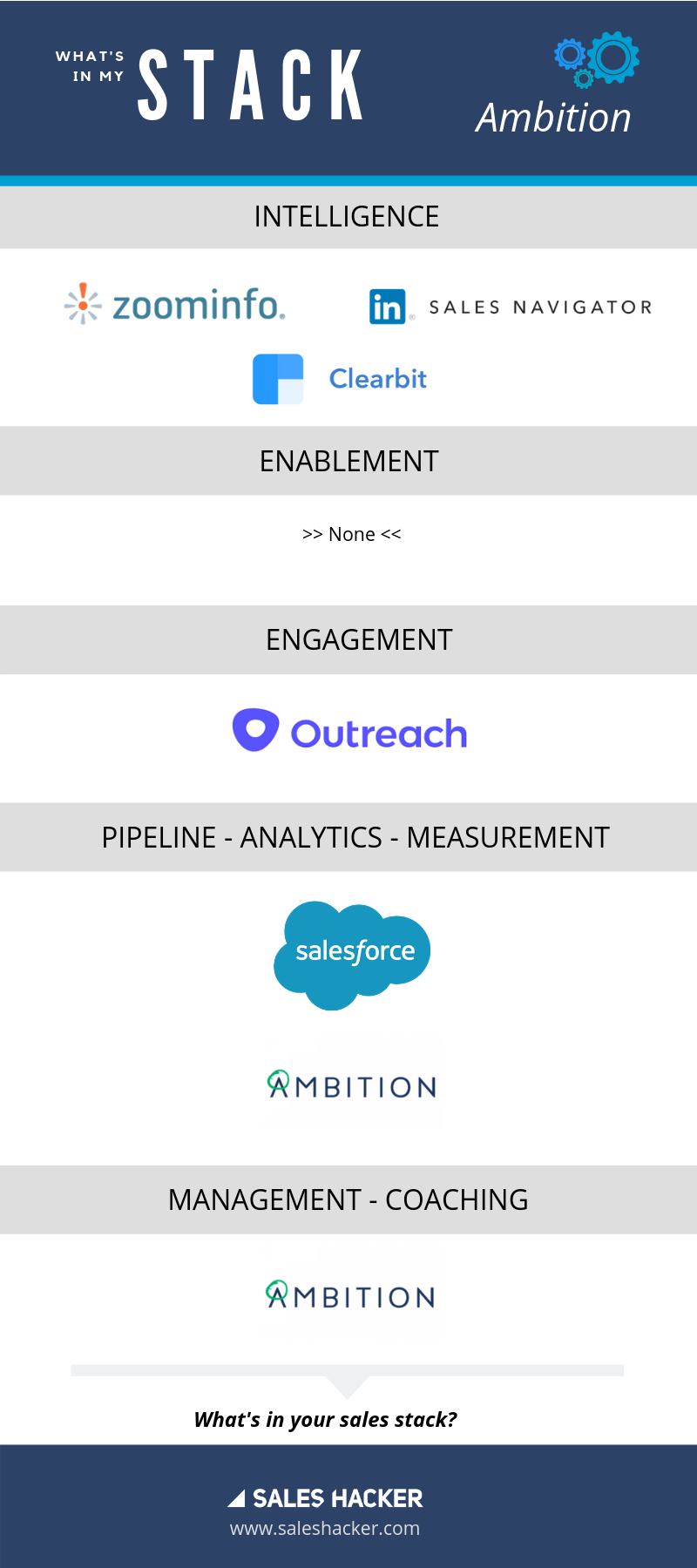 Why is this included in your tech stack?
This stack is very practical for a team of SDRs + AEs.
Chorus (recently acquired by ZoomInfo)
Chorus is a speech recognition tool for sales teams. As a sales tech tool themselves, they understand the power of investing in a solid tech stack.
Why is this included in your tech stack?
Our sales team embraces a wide variety of technologies, especially as new sales tools become available. Our tech stack is built this way to strengthen the B2B sales and marketing process. Using smart tools allows us to operate with more insight, and help our customers and clients be better at what they do best.
Clari
Clari is a pipeline management tool designed to make the revenue process easier from start to finish. Their tech stack includes their own tool as well as Sales Navigator, Gong, DiscoverOrg, and Salesforce.
Why is this included in your tech stack?
Our sales tech stack is unique because it's connected.
Engagement with prospects in Outreach, call recordings from Gong, content shared via Highspot, chat conversation via Intercom – these are all automatically captured and presented in Clari, providing complete visibility into all the various interactions between reps and prospects throughout the sales cycle.
So the secret sauce is not just to get great, best-of-breed tools for engagement, enablement, forecasting, pipeline management, analytics, etc., but to integrate them in a way that allows our go-to-market team to proactively manage the pipeline, identify risk, and forecast the business more accurately.
DocSend
DocSend is more than just a document sharing tool, it also offers engagement analytics, collaboration tools, and advanced document tracking. Here's what their tech stack looks like: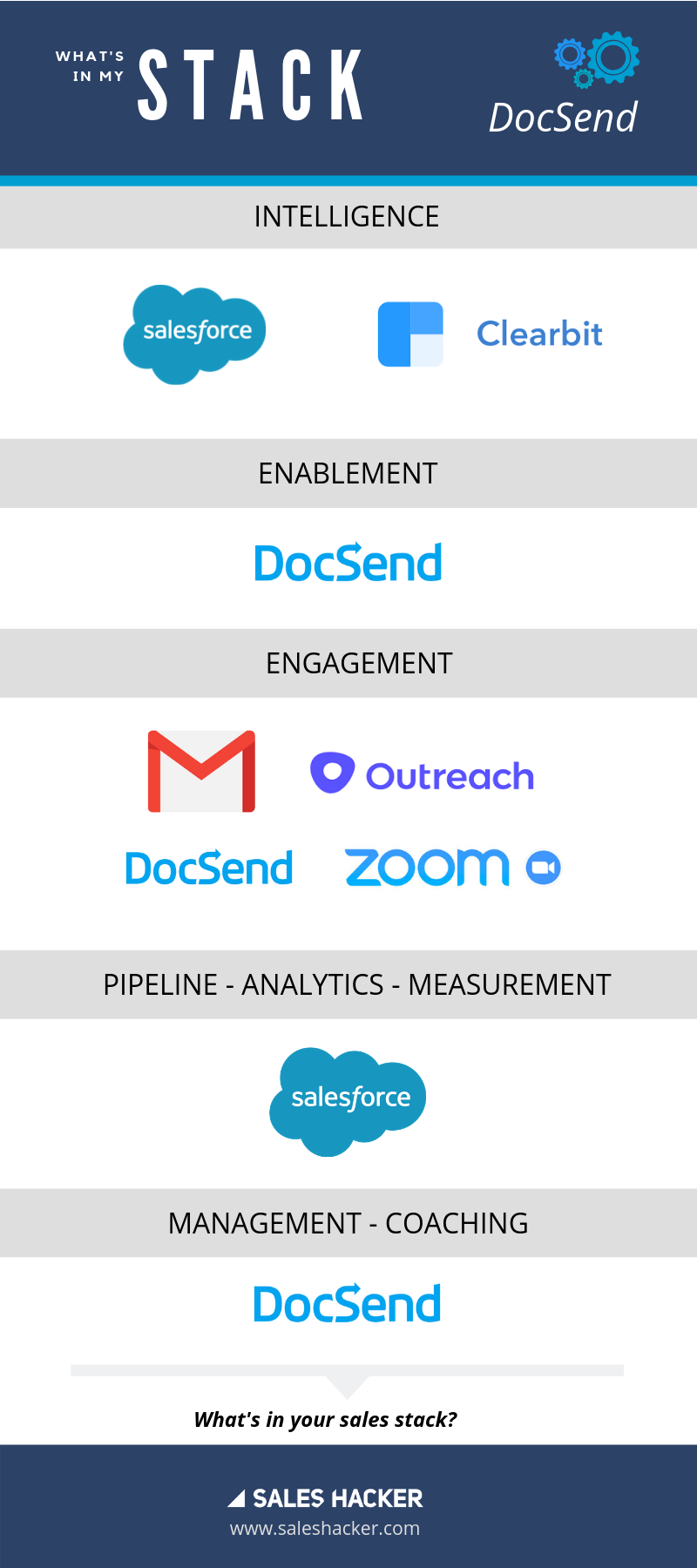 Why is this included in your tech stack?
The goal with this stack was to keep it lightweight and simple. There is a cost to every tool (beyond money) that you add to a stack, so we're careful about piling them on. Our stack is amazing because it is simple, clean, and works!
We focus heavily on DocSend for three reasons:
It allows us to organize documents so it's easy to find the right content at the right time.
We get deep insights into how people interact with the content we send.
We eat our own dog food.
Intercom
There's a good chance you've heard of Intercom. It is a business messaging system that helps brands like Microsoft, Amazon, and Facebook connect with customers and prospects.
Here's a peek at their tech stack: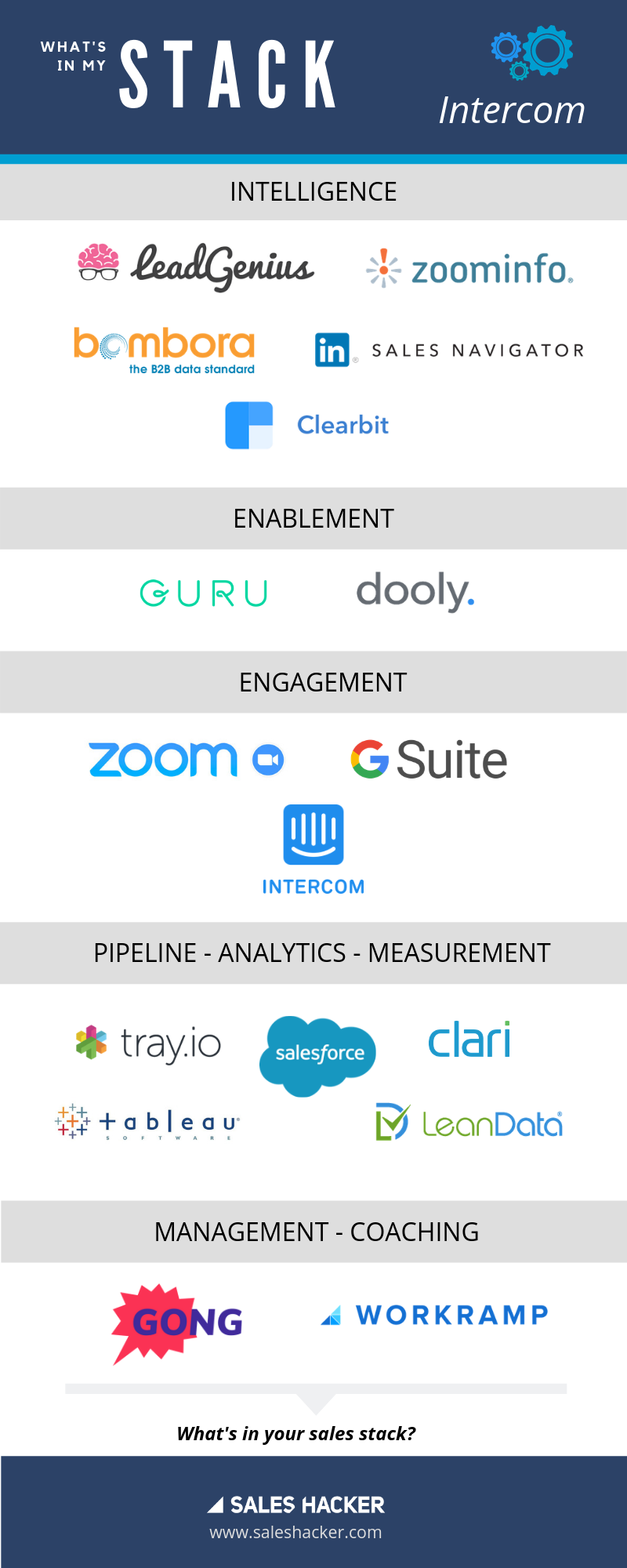 Why is this included in your tech stack?
At Intercom, we believe sales tools should support and improve our sales process, not replace our ability to perform mission-critical tasks like training a new sales rep or closing a tough deal. In our eyes, just adding technology doesn't equate to progress.
Our sales stack is designed with this mind. Each tool is chosen to enable a simpler, more efficient workflow for our sales motion and our sales reps. For a new tool to be incorporated into our stack, it must do at least one of these things:
Automate repetitive tasks
Accelerate our sales cycle
Assist our sales reps in the buying process
Eliminate low-value work
Our own product, Intercom, helps sales teams do all four of these things. Our sales reps use our live chat to proactively engage, qualify, and convert high-value leads in real time, shortening the time-to-close and enabling greater productivity.
We also use Custom Bots, our chatbots for sales, to automate the repetitive parts of the sales process, such as asking for demographic information, assessing initial intent, and scheduling follow-up meetings. Ultimately, we like to think of our sales stack as a growth stack – a system of tools that unlocks new ways of selling and better customer relationships.
Leadfeeder
Leadfeeder is a website tracking tool that helps B2B businesses see what companies visit their website and what actions they take when they get there.
Our sales tech stack consists of:
Intelligence: Pipedrive, Intercom, Google Analytics
Enablement: Intercom, Pipedrive, Leadfeeder
Engagement: Outreach, Pipedrive
Communication: Slack, Leadfeeder, MailChimp, Zoom, Calendly
Pipeline, Analytics, Measurement: Leadfeeder, Pipedrive
CRM: Salesforce
Why is this included in your tech stack?
Our sales stack covers three key categories: CRM, prospecting and learning about leads, and communication. Each tool we use plays a specific and vital role in helping our sales activities move quickly and smoothly.
We prioritize tools based on how easily we can get started and how well they can fit into our existing stack. The easier a tool is to implement and onboard the rest of the team, the less you have to lose when giving it a try, and the faster your team will reap the benefits.
Most of our tools play double (sometimes triple) duty, which reduces overhead and means fewer tools our team has to learn, while still providing us with the crucial data we need to drive conversions.
Nutshell
Nutshell is an all-in-one CRM and email marketing platform designed for small businesses. Let's see what they use to help turn leads into customers: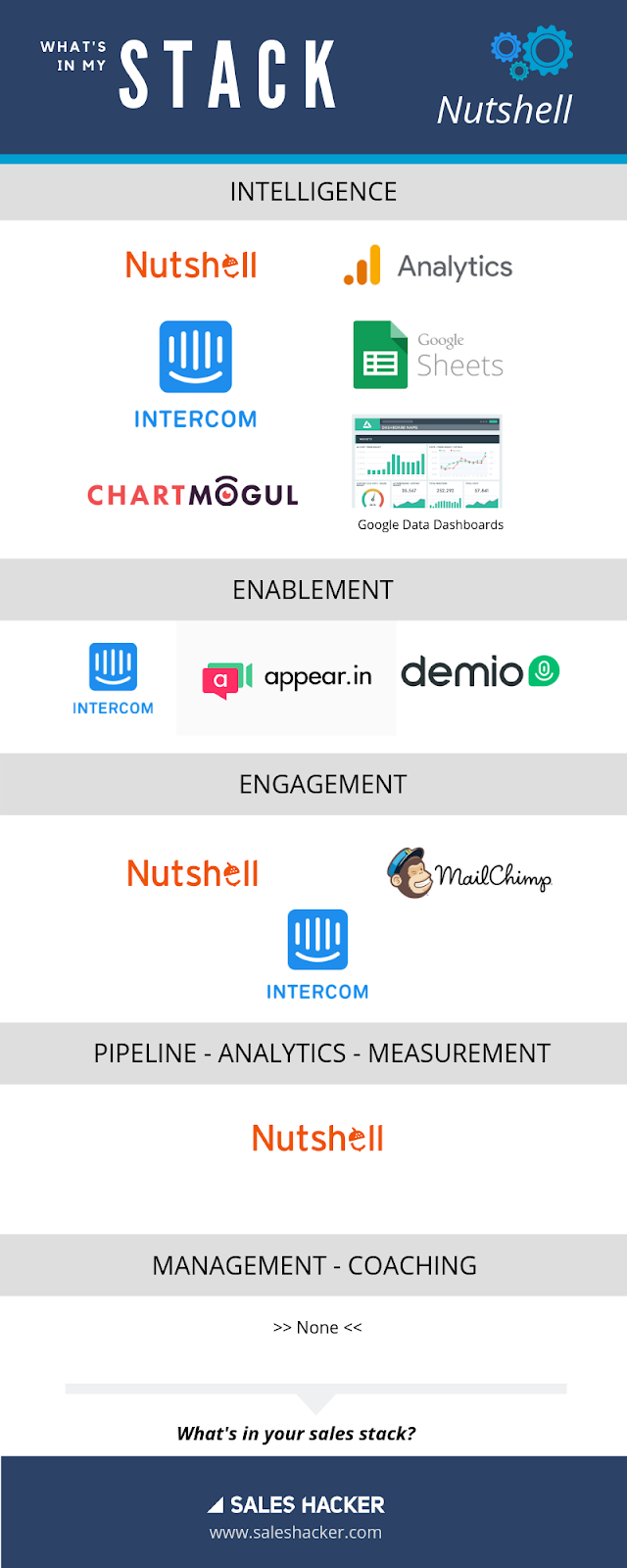 Why is this included in your tech stack?
The sales stack at Nutshell accomplishes three critical goals.
We're evangelists for our own product, so Nutshell plays a central role in our stack across all our teams, and using it heavily helps our entire team better service our customers.
Each aspect of our sales stack has been chosen to help support our sales teams' ability to deliver unique and customized experiences for each potential customer. That means tracking and understanding their behavior and bubbling that information up through our CRM, so each Nutshell expert can quickly understand and support our customers' individual needs and objectives.
Last but not least, our stack is designed to keep us focused on the North star metrics that drive our growth. We track everything, but the tools we use distill that information into actionable insights we leverage every day to make improvements to the overall strategy and tactics across our funnel.
Tip: Learn how to define the difference between a sales pipeline vs. a sales funnel.
The best part about the tech stack, as opposed to the single-point solution, is the flexibility it gives your team to adapt and evolve as needed.
Outreach
Outreach is a powerful sales tool in its own right, but even they need a little help from their friends. Here's a look at the tools Outreach uses to drive sales: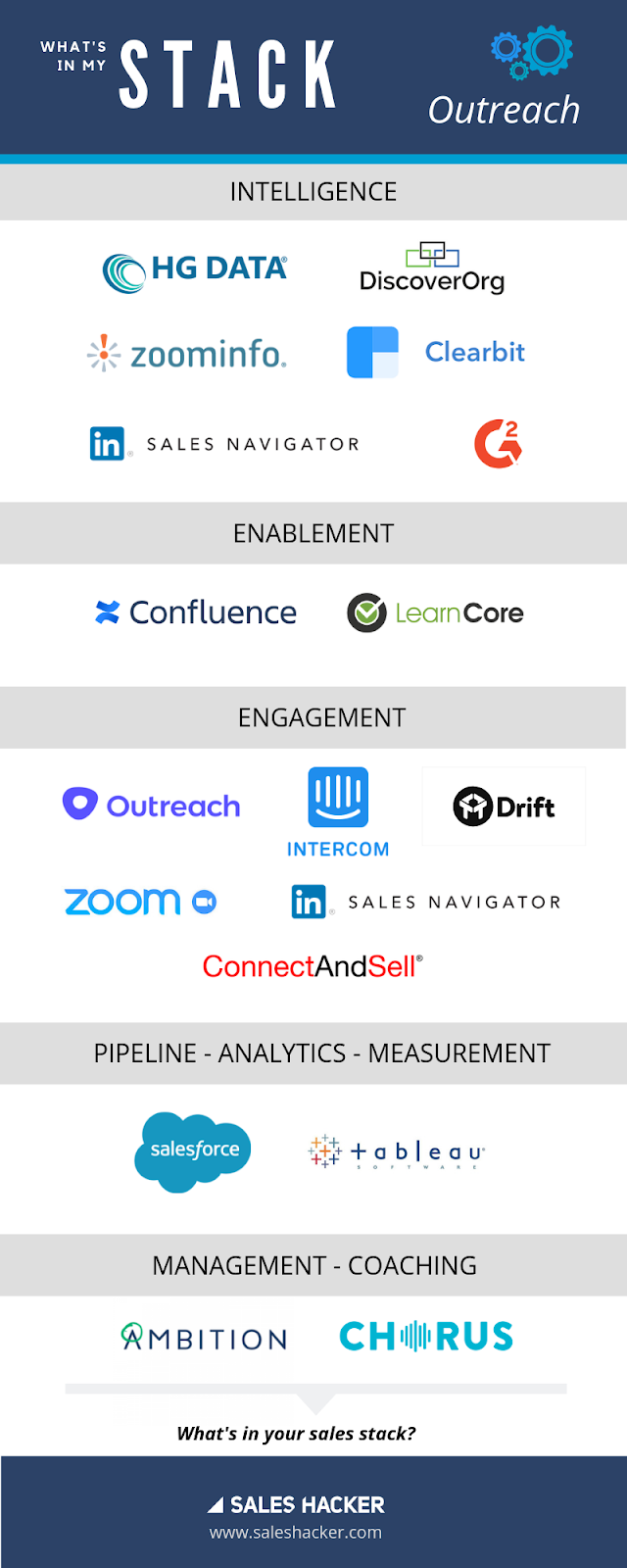 Why is this included in your tech stack?
Each element of our stack addresses a specific need, and it changes frequently. We regularly audit all technologies to check for redundancy, utilization, and value. As we've grown, we have phased into and out of certain elements of our stack and have adjusted accordingly.
How to build your sales tech stack
With so many sales tech stack tools, you're probably wondering where to start. That's fair. Building the right sales tech stack from scratch can feel overwhelming, but so can finding ways to add on to your current stack.
Before you start signing up for new sales tech tools, here's how to figure out what tools you need and what tools are nice-to-haves.
Evaluate your current tools. What sales tools do you currently use and are they working well for you? For example, if you have a CRM, does it help or hinder your sales team? If it works well, you'll want to make sure any additions to your sales tech stack integrate with your current CRM.
Evaluate your tech stack needs. Is your current sales process hitting roadblocks? What issues are you facing, and what tools will help solve them? For example, if you struggle to find actionable data, then a sales and reporting tool should be first on your list. If sales reps are constantly dropping leads or spending too much time managing their inbox, look for a CRM.
Consider integrations. What tools does your company currently use (and plan to continue using)? Make sure new tools integrate with your current email, chat, video conferencing, and lead generation tools. Some tools might not integrate natively, so check to see if integration tools like Zapier can help.
Consider future growth. A tool that works well for a small team might not work well for a larger team, so consider your company's long-term growth goals. Switching platforms can be a pain, so look for a sales solution that will work in the future.
Does the tool offer training? Even the best sales tools won't improve the sales process if no one knows how to use them. Ensure any new tools you're considering offer robust onboarding and training tools to make the most of your investment.
Your sales process is unique – your sales tech stack should be, too
Building the right sales stack can help your team streamline the sales process and plug leaks in your sales funnel. Luckily, there is a tool for nearly any challenge your team faces. Start by finding the right CRM solution, then choose sales tools that solve additional issues.
Just remember that not all the bright and shiny tools are going to be the right fit for your business. Be intentional, look at what is working for other sales teams, and realize you'll need to experiment.
Don't be afraid to test new products and integrations to see if they fit your needs, and don't be afraid to ditch tools that don't work for your team. Take the time to implement a training program to improve adoption rates and help your team close more deals.