My sales team and I did a lot of experimenting with the way we did outbound prospecting in 2015. By the end of the year, we moved from a "phone first" based outbound sales strategy to an "email first" strategy. The early numbers look like this "net" vs. "spear" prospecting strategy is paying off.
Here are 5 lessons we learned about casting nets using cold emails.
1. Your goal is still to get on the phone
Let's get one thing out of the way, I am not advocating that sales reps don't get on the phone. As a matter of fact, the goal is to spend more time on the phone. The question is how do we get to more conversations not dials?
During a busy day, have you ever had your phone ring, looked at the call display and then didn't answer? Be honest, of course you have. In our experience, certain people just don't answer their phone if the call isn't scheduled, and even if you do get them to answer, you're often catching them when they don't have enough time to talk. This is happening more and more. In our specific situation, we prospect a lot of sales leaders and our connection rates were very poor.
2. Email is just one tactic to "warm" people up
Again, your ultimate goal is to get the prospect on the phone. Warming the lead up first is the best strategy and cold emails is just one way to accomplish this. Whether it's persistence, timing, or the mere exposure effect, Yesware's data shows that sending a cold email then continually following up pays off, with 21% replying to your second email and even 10% replying to your eighth email. That's a lot of follow up.
[Tweet "Your ultimate goal is to get the prospect on the phone. @shaunricci @ideal"]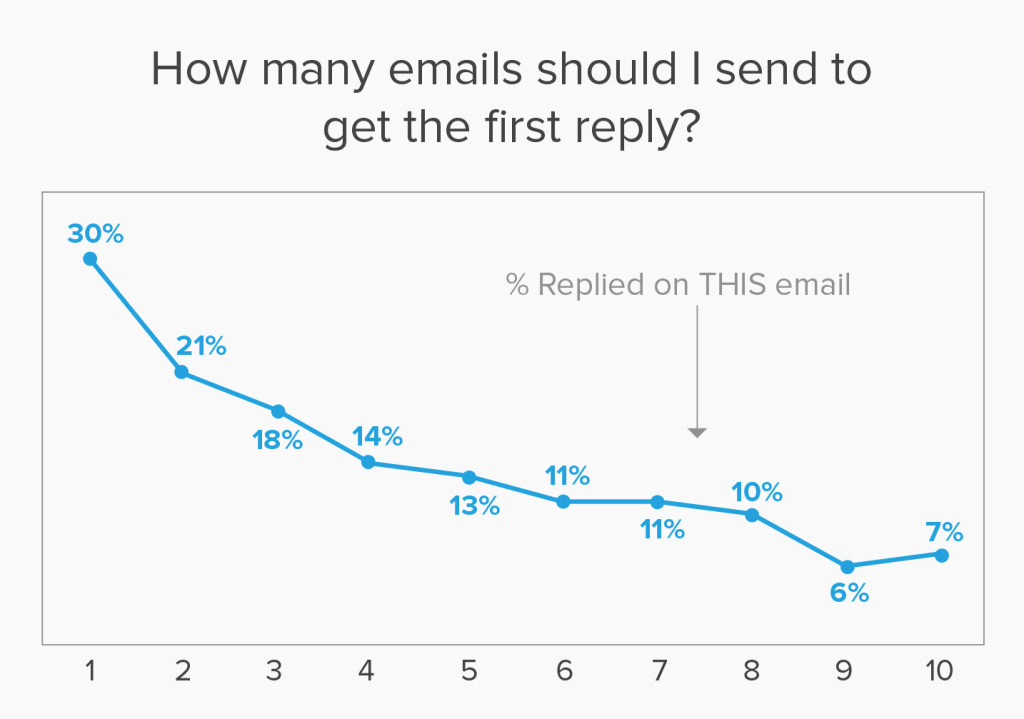 Source: Yesware
I suggest you also follow people on LinkedIn and Twitter, which are also great sources of information on the prospect that you can use to personalize your emails. Outbound prospecting is not a one-trick pony, it should involved email, social, and calling.
3. Personalization is key
For most products and services, quality over quantity of leads should be preferred. In B2B sales, this is especially true. If you approach prospects that are actually a fit for your product/service instead of sending a high volume of non-personalized emails, you're likely to resonate with more people. You only need to spend 10 minutes researching a prospect to have a good gauge if they are the right fit for what you're selling.
Take the time to do the research and mention in the first email why you think the prospect is a good fit. More often than not, the prospect will appreciate you taking the time to research them and at least respond with a "no" (which is the next best thing after a "yes").
[Tweet "Take time to do the research and mention in the first email why you think the prospect is a good fit"]
4. Use technology to help with outbound emails
The shift from cold calling to warming people up via email is swinging into full force, and there are new tools sprouting up seemingly weekly that can help with this. Think of these tools as the auto-dialer of email-based prospecting. These tools can greatly increase your email efficiency and effectiveness by enabling you to create email templates across your team, track which links are clicked, which subject lines are working, and automate some of the follow-up emails to prospects.
Here is a list of the ones that I've personally looked into. It's hard to say which one is better, but this list can help you find what is right for your workflow and budget:
outreach.io – I haven't used outreach.io personally but they keep coming up in online reviews so I thought I would include them.

ToutApp – great for sending and tracking emails and online interactions with your website and content you send to them. Has some support for phone-based prospect but it's limited.

SalesLoft – if you use their entire platform for emails and calling, this is a great tool as it includes a phone dialer as well as email prospecting.
5. Customize your approach based on your target
Not all prospects require the same approach. In the past few years, I've developed targeted customer personas, and they all require a different prospecting approach. Make sure that you change your activity based on the customer persona or job title.
Compliance Officers:

phone heavy, they don't get cold called and pitched a lot and if your approach is helpful and targeted, they seem willing to take a call.

Recruiting & HR Leaders:

warm up over email but also make sure that you follow up with multiple calls.

VP of Sales/Sales Leaders

: we recently shifted to an almost all email and social form of prospecting for sales leaders. Why? They get pitched all the time and in our experience simply don't answer their phones all that often.
How did we decide on a strategy per job title? You need to keep track of some simple metrics and then test, monitor, and tweak:

No need to get extremely fancy with the metrics, just measure one outcome for this exercise – number of connections made.

Next, start out by putting each customer persona on the same outbound campaign (7 phone calls and 3 emails spread out over 2 weeks, for example) and be diligent about tracking connections. Run this for 3 weeks and then make changes for the next 3 weeks.

Track the connection rates across personas and you will likely see different connection rates for each.

Start to tweak each outbound strategy based on results of the above experimenting.
So far, by switching from a "phone first" based outbound sales strategy to an "email first" one, my sales team's connect rate has increased by 30%. It's important to experiment to make sure this is the right for you, but if you're thinking about trying more cold emails, follow some of the lessons we learned above.
Are there important details to "email first" prospecting I've missed? Let me know in the comments.
**Are you looking for a sales job? My company, Ideal Candidate, matches talented salespeople with top employers every single day. Click here to find your match and make more money.**
Editor's note: Whether it's fixing leaks in your sales and marketing funnel or just about any other sales topic under the sun, you'll want to be in the room–virtually, of course–for the upcoming Sales Kickoff Summit 2016, a virtual event with over 30 featured speakers covering Sales, Marketing, and Social.