Cold email has earned an awful reputation. Prospects see them as a nuisance, and most just hit delete without even a casual read. As a result, open rates are plummeting. Even when the message is highly targeted, the open rate ends up being less than 10% on average. Most of us have developed a thick skin over the years as a result of the constant barrage of irrelevant emails.
Related: Email Open Rates: Which Benchmarks Matter Most?
Stop Being Lazy With Your Cold Email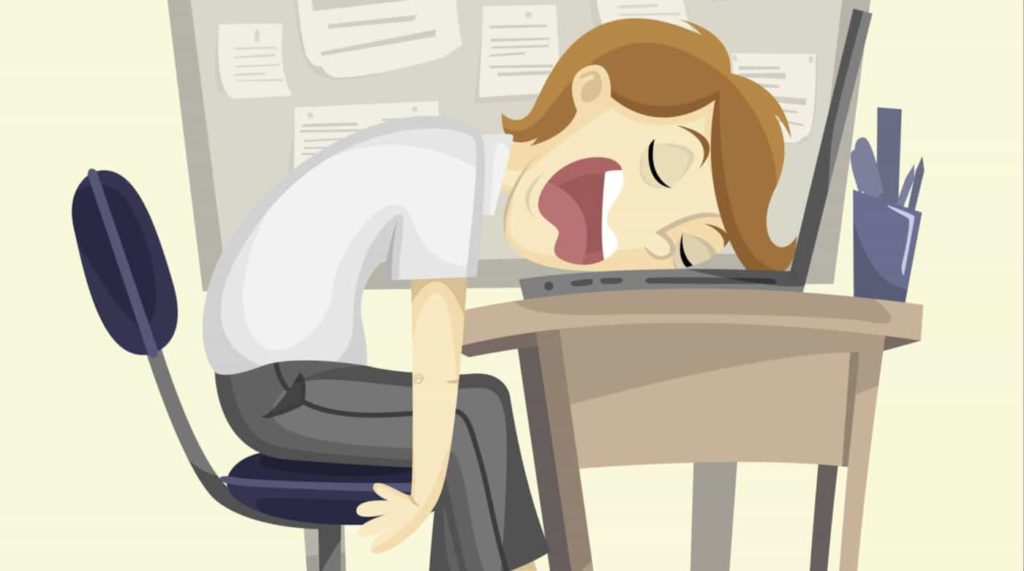 Not willing to settle for "status quo", we worked hard to crack the code of email copy that would put a smile on our prospect's face.
Our formula was not necessarily new or unique – we aimed to arouse curiosity in the subject and follow it up with a crisp and engaging body.
We pushed ourselves really hard to execute this formula to perfection.
The results of this effort were very encouraging.
More than a third of the recipients of these emails choose to reply to our cold emails, and close to 10% of those have converted into solid opportunities.
Here's an example of a highly personalized sales email: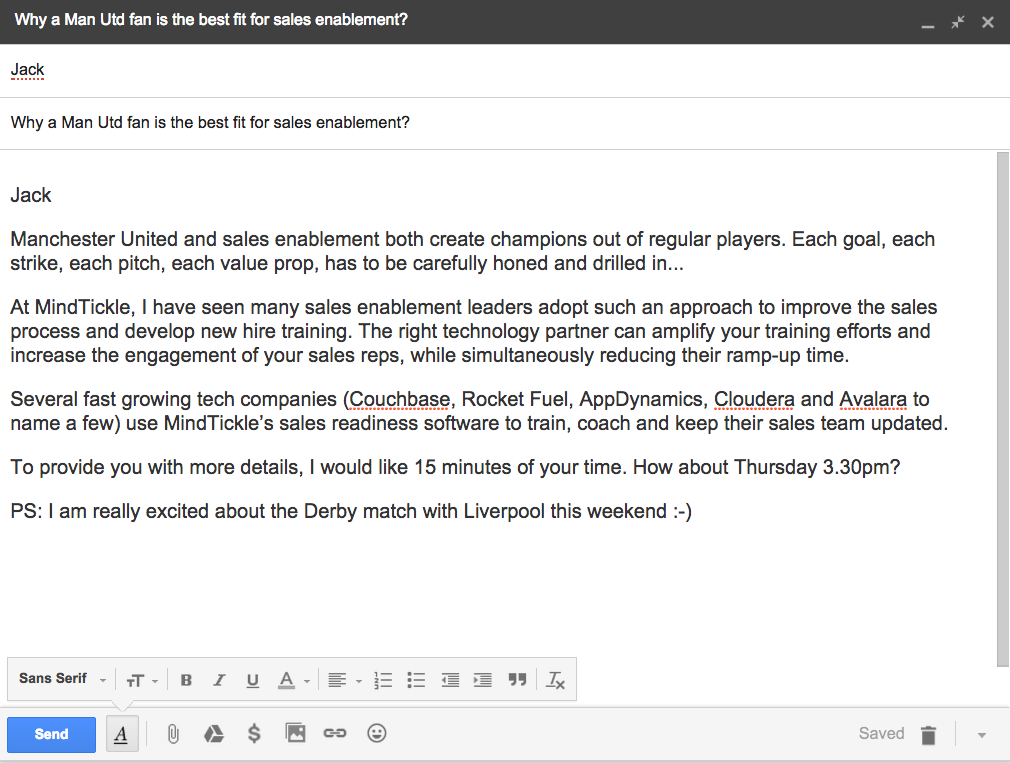 So, how exactly should you write your next cold email?
Follow these 5 simple cold email steps:
Research your prospect
Map individual KPIs to their business objectives
Learn About The Person (Not The Persona)
Connect with an engaging hook
Empathize
1. Search & Research Your Prospect Thoroughly
The objective of our research was not just to find out about their business, but to also understand what interests the individual both professionally and personally.
In this instance, we reviewed Jack's Twitter account and learned that he was a keen Manchester United fan. We also found out (using this clever LinkedIn hack) that he had recently been appointed as Sales Enablement Manager at a high-growth startup which had recently raised a large round of funding.
Sales Prospecting Tip: Use The "Show Me You Know Me" Approach
2. Map Individual KPIs With Their Business' Objectives
Once we had learned about the business and the individual, we made logical assumptions and weaved them into our message.
For example, as Jack's startup had recently raised big funding, it was safe to assume that the company was experiencing very strong sales growth.
As a Sales Enablement Leader, we knew that scalable expansion and shortening ramp-up time for new hires would probably be a key KPI for him.
At MindTickle, have seen many sales enablement leaders adopt such an approach to improve the sales process and develop new hire training.
3. Learn About The Person (Not The Persona)
Most people include personal information on their social media profiles. This gives us an idea of what their interests are so that we can connect with them on a personal level.
In this example, we knew from our social selling tactics on Twitter that Jack liked to 'coach' the team by live-tweeting during matches. We leveraged this information to relate his personal interests to his professional objectives:
"Manchester United and sales enablement both create champions out of regular players. Each goal, each strike, each pitch, each value prop, has to be carefully honed and drilled in…
PS: I am also looking forward to the Derby match with Liverpool this weekend :-)"
4. Connect with a Hook That Brings A Smile To Their Face 🙂
None of this research and copy would matter if Jack didn't even open our cold email. To get his attention, we crafted a hook that would make him curious, just like we would at a networking event.
In this example for instance, we connected his new role with his love of football:
"Why a Man Utd fan is the best fit for sales enablement"
As a result, Jack not only opened the email, but he also gave us an opening in his calendar.
Recommended Read: 23 Email Subject Lines to Spur Action
5. Empathize
Rather than jumping into a left-brain pitch of why our product is superior, we chose to paint a picture of what we can help him accomplish.
We sprinkled credibility on top by calling out recognizable names of companies that had investors or locations in common with Jack's company. Everyone needs a little reassurance even from someone they don't know….yet.
Conclusion
We've been refining these practices over the past year and our cold email open rates have consistently improved. Even when the timing has not been right, the friendly responses to our cold emails have been heartwarming. But don't just take my word for it, try it for yourself and watch your open and conversion rates improve out of sight too.
Editors Note: Guest Post by Mohit Garg, co-founder and chief customer officer of MindTickle.