In the wake of Covid-19's digital shift, social media adoption has continued to prosper.
With over 4.62 billion users, the social sphere has become the mainstream destination to connect, create, and consume.
As brands continue to move into an age of cross-platform promotion, what could the proliferation of social media mean for the future of e-commerce?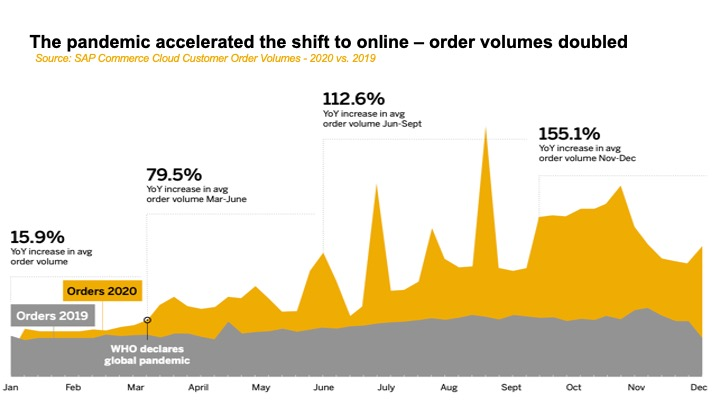 (Image Source: The Future Of Commerce)
Never fear — I'll navigate you through the rise of social e-commerce and divulge the best-kept social selling tactics for a campaign that targets a new active audience.
Social e-commerce: a tale of TikTok and Gen Z
Clearly, we've got to start with 2020.
On the back of a global lockdown, high street stores shut their doors. This led to more start-ups than ever before taking to the e-commerce playing field.
In fact, 87% of internet users said they made an online purchase during the pandemic, with many citing ease of use as the #1 reason for making the shopping switch. A further 72% of online consumers purchased goods via mobile e-commerce, with many opting for an app or social platform as their main vessel for online shopping.
As digital attitudes continue to evolve, the new 'active consumer' accelerated the growth of social commerce. Popular platforms such as TikTok and Instagram pioneered the way for social shopping. Users can now simply swipe up on popular posts for direct links to products and services, as well as shopping within the apps themselves.
As you can see below, 37% of Gen Z consumers engaged with shoppable 'buy' buttons on social media in 2020 alone. And that number has only risen since.
Related: How to Use TikTok for B2B Sales: 5 Winning Strategies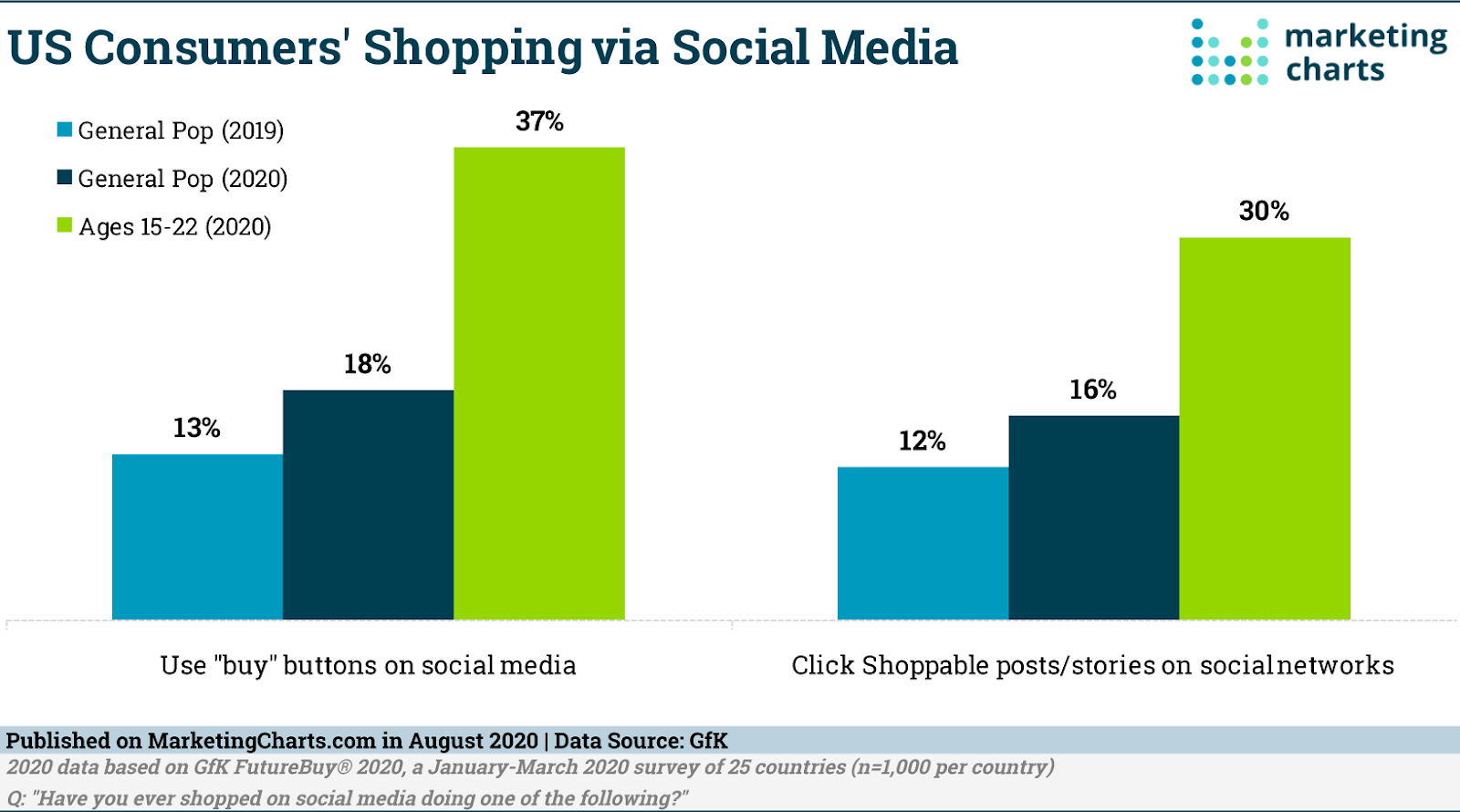 (Image Source: Marketing Charts)
As social media shopping trends continue to become popular in lead generation, it's time for brands to unlock their social funnels and start perfecting a selling strategy that targets a fast-paced platform-driven demographic.
Unlocking the social funnel
According to a recent Hootsuite study, business leaders that incorporated social selling tactics into their sales strategy were 45% more likely to see higher conversion rates in 2023.
In order to unlock the social sales funnel, company leaders must prioritise a content-driven experience when rewriting their sales strategy.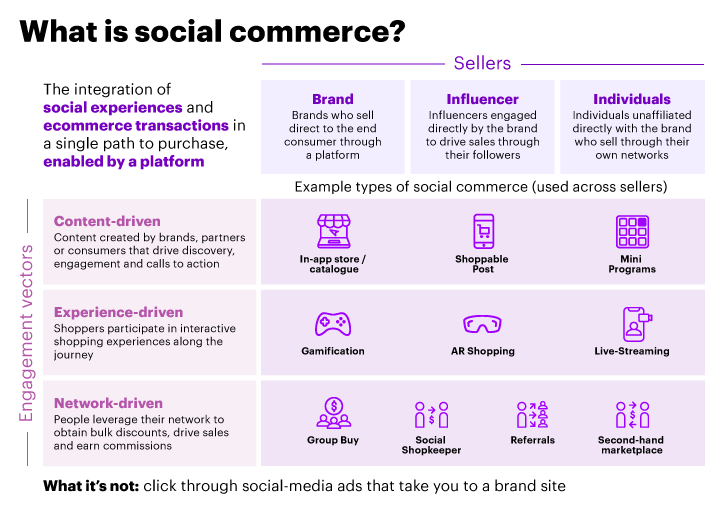 (Image Source: Accenture)
As you can see here, the key is to incorporate a social experience within the sales journey.
Whether that is through a shoppable post, experience interaction such as AR shopping, or simply selling directly through a social platform, such as the TikTok Shop, your new sales funnel must have a direct link to social media if you're going to target an active audience.
Social media is one of the first places a consumer will notice your brand. Rather than searching for products and services, shoppers of today expect to be targeted with personalised ads across their social platforms, with useful links, discount codes, and unique experience offers that set a brand aside from the rest.
5 social selling tactics to revolutionize your sales
There are a number of social selling tactics you can introduce to your strategy for a more social media-focused approach to audience targeting.
From improving content SEO to introducing immersive experiences to your social media-based consumers, the key here is to provide your target audience with a direct path from your social platform to your product pages in a few easy clicks.
1. Start social listening
Before crafting your new social selling strategy, take a step back and review your current social media presence.
The key here is to incorporate social listening into your planning stage. Start taking audits of your cross-platform consumer engagement and highlight which social platforms are your top performers.
Tapping into your demographic trends, and monitoring audience behaviour is also a great way to stay on top of their ever-changing preferences, especially in a post-pandemic landscape. In fact, eMarketer states that over half of all worldwide marketers have taken to social listening in order to better understand their consumers in 2023.
With a strong knowledge of your audience's values, preferences and trends at hand, you can create a more targeted sales strategy, and produce content that is likely to drive engagement on your desired platform.
2. Create experience-driven campaigns
Social media consumers are experience-driven. With so much content at hand, they are constantly on the hunt for new creative experiences that feed their interactivity demands.
In order to create a successful social selling strategy, combine the efforts of your sales and marketing team, to create a content experience that stands out from your competitors.
So try immersivity.
Using AR/VR enhancements to improve the shopping experience is a great way to gain attention from your social media demographic. From AR fashion try-on applications to interactive approaches to virtual reality, global e-commerce investments in AR shopping alone are expected to grow by 40% before 2023.
3. Prioritise video content
The key to social media success in 2022 is video content.
On the back of TikTok's video-based success, the 30-second snippet structure has been incorporated into a social selling campaign by a whopping 86% of e-commerce leaders.
When creating video-based content, sales teams should think about catchy, innovative methods to capture their audience's attention. Whether it is a product recommendation, or an attempt at newsjacking, the videos with the best potential for virality are often humorous, brand-focused takes on popular demographic trends.
Better still, videos that follow a short, 30-second structure tend to be picked up well by TikTok and Instagram algorithms.
4. Switch up your cross-platform strategy
The art of social selling differs enormously, depending on which platform you are targeting. From Linkedin to TikTok, each popular social platform serves a diverse audience and has its own viral algorithm.
While LinkedIn, for example, requires a more formal, text-based voice, Gen Z-dominated platforms such as TikTok are more attuned to video-based content that is short, snappy and informal.
Research your target platforms before releasing new campaigns. A successful cross-platform strategy should contain various versions of product/service promotion that directly speak to a specific audience.
5. Keep connecting With existing customers
Last but not least, the key to a successful social selling strategy is consumer retention. In a fierce e-commerce landscape, competition is at an all-time high for small business owners.
Therefore, while it is important to be constantly targeting new demographic opportunities, the smartest sales teams prioritise their existing relationships. Why not introduce a targeted paid social campaign to your sales strategy, that offers loyal customers discounts, offers and continued incentives.
It is now six times more expensive to target new customers in a costly social media environment, so focusing funds on consumer retention could see you walking away with much larger returns.
Have you had success with social selling? Share your experience in the comments below!
---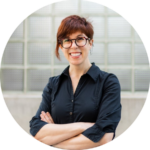 Edited by Kendra Fortmeyer @ Sales Hacker 2022, updated 2023