Using TikTok for B2B selling might seem unprofessional. But TikTok has proven a powerful channel for B2B messages.
In this guide, I'll take you through the top 5 strategies for leveraging TikTok for B2B sales — backed by research-based stats and live examples.
Why use TikTok for B2B sales?
Let's paint by numbers:
The top 5 TikTok strategies for B2B sales
1. Create fun, helpful, not-pushy content
Content is key for convincing B2B buyers, who go through an average of 13 content pieces before picking their partners.
And 84% of TikTok users tap into the platform to learn something new.
That means you can leverage TikTok videos to convince your audience that your product meets their needs like no other.
The TikTok clips I've found most effective share:
Tips
Hacks
Advice
In-depth information
Your goal at this point is to educate your audience in an engaging way. Why?
This establishes your expertise and builds your credibility.
Sharing relevant information sets you apart from the competition.
I love this example from ClickUp: a TikTok video showcasing how bringing your pets to work can improve productivity.
This video works because it's not pushy, and ClickUp customers feel like they have learned something new.
Why this is smart: Everyone loves pets at the office — but this example goes beyond the feel-good and straight into smart brand strategy.
ClickUp markets itself as an app that allows its customers to "simplify work and get more done." So this video — discussing tactics to increase work productivity — strengthens the association between the app and the concept of productivity.
Remember: Ensure your TikTok videos are relevant to your audience and brand.
2. Create connections to convert more cold leads
Online? It's time to get social.
Social selling has been proven to increase sales:
Opportunities: by 45%
Quota: by 51%
Performance: by 78%
TikTok is the rich environment for social selling. This channel helps you connect with your leads more personally, catching them early enough on the sales funnel.
Related: The Power of Social Selling (+ 7 Rules for Storytelling in Sales)
Why?
Like in any relationship, trust is the backbone of your B2B sales.
Here's how you can create that personalized communication and trust:
Create TikTok videos that your audience can relate to without being too salesy. The point is to build that connection first.
Show your human side. While B2B sales occur between companies, those companies are led by humans. Besides, B2B sellers and buyers are more on the same level than B2C ones. And that's why forging a long-term, genuine relationship is arguably more important in this case.
Offer relevant tools and help, no questions asked. The point here would be to position your company as the expert to draw in your customers. Pushing customers towards your products can backfire if you haven't built that strong relationship first.
3. Get creative and mix up your messaging
ShipBob's TikTok account is one of my favorites, offering a slew of videos that you can use as models on how to build connections with your audience, like:
Fun quizzes
The video below has people trying to guess how many packages they see.
How-to TikTok videos
This clip shows the process of packing fragile items and the benefits of taking all precautionary measures.
Direct reply videos
ShipBob responds to its customers through in-depth clips.
3. Create a larger base of prospects
Increasingly more studies show that people use TikTok for product discovery and as a search engine.
How does that help you as a sales (and not marketing) person?
Well, your potential B2B partners are likely on TikTok too. And that means you can make them aware you exist and are the best solution for them.
3.1. TikTok Ads
TikTok ads can make or break your product in the awareness stage, and you shouldn't leave your marketing department to do all the heavy lifting.
If you want to hit the nail on the head, you can start by creating an ad with yourself as the face of the company.
You don't have to be a marketer for this (I'll explain below).
Besides, TikTok will soon allow you to transform any video you already posted into an ad, using their TikTok Promote platform.
The right ads can sway your potential partners in the right direction:
You can help your prospects understand their true needs. For example, a client who always misses deadlines may not need harder-working employees or stricter schedules. They might need a better software communication tool.
You can position your company as The Solution. Connect with your customers genuinely and focus on your competitive edge.
NEXT is a B2B insurance company that used TikTok Spark Ads featuring content creators to increase engagement and notoriety.
As a result, their conversions increased by 20%, while their CPAs were 95% lower compared to other ads NEXT tested:
Side note: I have also used TikTok ads featuring influencers because this strategy reduces ad fatigue and CPA. At the same time, I have seen a spike in engagement and conversions.
I learned that using content creators allows you to not be perceived as spammy and to keep your audience interested.
But anyone can become a creator now. If you made a social media post anytime before, you actually are a content creator.
That means you can be the main character in a TikTok ad promoting your company. After all, you, as the seller, know best which arguments convince your prospects.
Even if you don't want to take that hands-on approach, your insights can still help produce compelling ads.
3.2. Challenges and trends
Reap current challenges and trends on TikTok to create buzz around your company. All you have to do is:
Participate in a trend/challenge that is already popular: You will not be front-and-center, but associating your brand with a popular movement is a less risky way to build awareness.
Create your own trend/ challenge: This method helps you personalize the entire process and create a unique hashtag that puts your company in the limelight. However, the chances of gaining traction and popularity may be fewer unless you have a strong strategy to back up the challenge.
Shopify is one of my favorite B2B companies. Here's a neat example from them, tapping into the "felt cute, might delete later" trend:
Again, you can do this with any smartphone. You don't need your whole marketing department creating anything fancy for you.
In fact, creating an authentic, funny post can easily turn your brand viral.
4. Increase expertise and credibility
I have already discussed ways to help you build expertise and credibility – two important pillars in any B2B relationship.
Paid ads, behind-the-scenes TikTok clips, or how-to videos can build your authority.
Here's the problem:
If you're a seller, these TikTok videos may seem like you're tooting your own horn.
4.1. TikTok Influencers
As a salesperson, you must have a thorough database of former and current clients. Review that list to find someone who would qualify as a TikTok influencer.
I know you're probably scoffing right now, but here's a tip from my experience:
Don't focus on someone with a million followers. Even what we call a nano-influencer with 500 followers can boost your business.
And if they're your clients, chances are you can convince them to speak on your behalf. That way:
You get access to an audience that trusts them.
Your products and brand receive trustworthy third-party recommendations.
It's more affordable than ads.
Sage Accounting Software partners with influencers that have tried this accounting firm's services. The resulting TikTok clips are credible and informative, reducing the worries potential prospects might have:
Now imagine asking one of your existing customers do a similar TikTok video for you. If they know their trade well, you're probably not their only business partner.
So their other business partners will see this clip about your company. Therefore, they can ask direct info on you and reach out if they need your services.
4.2. TikTok UGC
User-generated content (UGC) has already been proven to increase sales for both B2C and B2B companies. UGC can be more credible than influencer-generated content because it is produced by regular people who don't have a stake in your brand.
Besides, your potential customers may want to see how other companies use your products before buying them.
As a sales person, you won't be in charge with creating UGC TikTok ads. However, you will be in charge of:
Keeping a list of your closest customers who know your business well and are friendly with
Schmoozing your customers so they would want to recommend your company (you may not want to leave this step to CS)
If everything goes well, they can agree to appear in a TikTok clip like the one below from Monday.com:
5. Encourage recurrent purchases
Encouraging recurrent purchases can be done through a mix of tactics, some of which we have already presented above.
But there are a few other, more specific ways to achieve this goal:
5.1. Ask for Customer feedback
Use TikTok to get in touch with your existing customers and ask for their input. Heart-to-heart videos or direct messages can help you get more insights into your prospects' minds. Sure, this may be a CS function, but as a seller, you can reap the benefits of a more hands-on approach. After all, TikTok is all about being raw and native.
5.2. Share new product and feature announcements
As a salesperson, you likely want to announce loyal customers when your brand rolls out a new feature. But instead of reaching out to them directly, you can ask your company's marketing team to create a TikTok update.
This tactic increases product recall and creates desire. Plus, it reduces actual field work.
Your B2B customers are curious to see what else you can come up with, so they will be more likely to keep following your offers.
Grammarly has a well-put strategy, including new feature announcements that bring the app back into the limelight:
But here's a neat alternative: You can go on TikTok yourself, as a sales representative, and film yourself announcing the updates.
This approach is raw and genuine. Therefore, it's more convincing because it doesn't look like a conventional ad.
Incorporating TikTok into your sales strategy
If you read this guide, you now know the best ways to leverage TikTok for your business. Remember to create a solid profile that focuses on your customers' needs and post relevant content regularly.
Don't be afraid to try new techniques and keep monitoring your results to adapt your MO.
As you can see, TikTok is like any other marketing channel. As long as you have set the correct goals and tactics, adapting them to your audience, success is just around the corner.
---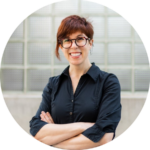 Edited by Kendra Fortmeyer @ Sales Hacker 2023