We're less than 2 weeks away from the first ever Sales Stack conference, and there's a lot to be excited about: incredible content from some of the world's most innovative salespeople, the top sales solutions being showcased, and all the bars open at noon!
Today we're giving you a closer look at what's going on at the event. Here's a breakdown of some of the top 5 things to look forward to.
1. Our Speakers
Top 3 Social Sellers on one panel? Yeah, you betcha. Jill Rowley, Ken Krogue, and Koka Sexton will be dropping knowledge on leveraging social in the sales process. But it's no fluff or general thought leadership. All content will be actionable, tactical, and something you can use right away at your company.
We also have:
Vice Presidents of Sales from venture backed, hyper-growth companies such as Zenefits, Influitive, Gusto, Guidespark and more talking about how they're scaling their sales orgs.
Venture Capitalists from Emergence, Redpoint, Storm, Scale, Bessemer, and Microsoft giving us insight into what their top-performing portfolio companies are doing within their sales processes, and where they think the future of sales technology is going.
Enterprise VPs from Intel, Adobe, Salesforce, and The Economist talking about the buying process at massive Enterprise companies.
Deep diving into the funnel from the top down with industry leading sales trainer John Barrows and VPs from Marketo, Achievers, Box and more.
Aaron Ross, author of Predictable Revenue and creator of the outbound sales process at Salesforce, discusses the modern SDR's role with Execs from LinkedIn, SalesLoft, InsideView, and Salesforce.
And much much more. You just need see the full agenda, HERE.
If you take a look at the lineup, it may look a little different than what you're used to seeing at most tech conferences. For Sales Stack 2015, we've focused on making sure we have way more gender equality across the board. We're very close to a 50/50 male/female speaker line up and the quality of the speakers is top notch.
As the lineups evolve in equality, so should the audiences. Hopefully Sales Stack will be a place women in Sales feel encouraged to come and interact, engage, and join in on the fun.
2. Ultimate Buying Environment.
We're putting a lot of emphasis on creating the ultimate buying experience at this conference. You can read more about it here, but real deals will be jump started or closed at this event. We are literally creating a shopping mall of sales solutions, and our attendees are interested in making their sales processes more streamlined through the use of technology. It's going to remind you of being in your favorite department store, except it's well laid-out and serves you fresh baked cookies in the morning and cold beer in the afternoon.
Our vendors are awesome. We have many of the top companies in the game involved. We have turned down vendors whose products don't meet our standards or whose values don't align with ours. I assure you, all of the vendors at Sales Stack can solve a real problem in your sales process.
Check out our vendors HERE.
Many of these sales solutions, people don't even know exist. Furthermore, sales teams don't even know what to search for, or what products to look at if they do know. Our friends over at TOPO Research and Advisory are the pros when it comes to doing diligence on sales technology and your sales funnel, and they'll be on-site at their Info Desk recommending their solutions based on your specific process. Then you can be free to roam the floors understanding exactly what technologies you need to implement in your funnel.
3. 1000+ Targeted Attendees
Join 1000+ like-minded salespeople who are at the top of their game. Our community is usually pretty high quality and super targeted, but this time we're going out of our way to curate decision makers from some of the largest sales orgs.
This will be the place to mix it up with your peers in the industry and meet your future employees or employers, investors or portfolio companies, and clients or customers.
Typical job functions appearing in the attendee list include:
Sales Operations

Sales Enablement

Inside Sales

Sales Development

Demand Generation
And the most common titles:
VP, EVP, SVP, GM

Sr. Director, Director, Manager
4. After Party and Bars open all afternoon
It's not a proper sales event without a few drinks. The bars will be up and running from 3pm onward, along with coffee and everything else that comes standard at conferences. There will be plenty of time and a few good places to grab a drink with old friends and new ones.
At 5pm sharp, we'll open up the event for Happy Hour at the venue. This will be epic! Drink responsibly of course.
The day before our event, we have our VIP Reception which is comprised of our speakers, sponsors, and special guests. If you're in from out of town and are looking for something to do on Monday night, check out our informal Happy Hour. Other companies, like Datanyze, are throwing customer dinners and happy hours around the event, so stay on the lookout.
5. Sales Stack Workshops by some big names
If you're in the need for some added hands-on knowledge brought to you by practitioners that do this day in and day out, you need to be at the Sales Stack workshops.
The Workshops run the entire day on Monday the 9th, in 3 – 4 hour sessions. These sessions include:
Helping you

build massive, high-performing leads lists by finding your ideal customer profile

and total addressable markets. There's a ton of freely and cheaply accessible data out there to help you nail this piece of the process down. We'll show you how.
Now that you have your leads lists set up and properly segmented, this next workshop dives deep into your 

perfect outreach sequence and messaging tactics

. Oh, and it's being presented to you by people who focus on this piece of the puzzle

for a living.
The last workshop of the day focuses on what everyone wants to know: the art of the Enterprise deal. These are the whales you need to go big as a company, but sales cycles are long and complicated. This session is centered around

helping you navigate the waters to land the biggest, business-changing deals

.
The content will be LiveStreamed and recorded, but that's just a tiny piece of the puzzle.
You need to be at Sales Stack 2015 if:
You're in Sales.
You sell a product or service.
Yup, that's it.
Tickets go up in price on October 30th, so grab them while they're still cheap. As an added bonus, we're extending our 50% off sale for another 24hrs with this LINK.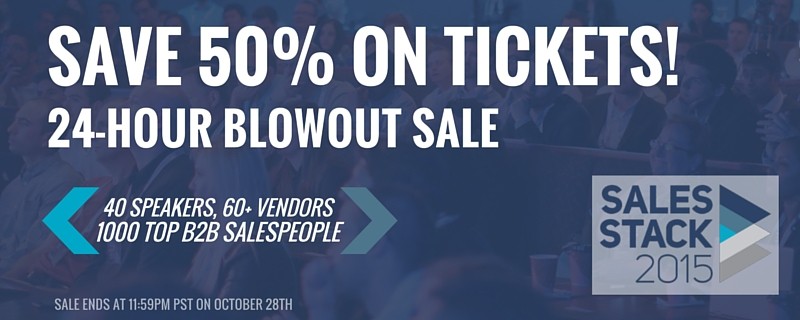 Bonus: The "How to Sell Your Boss" Checklist
What's your company's average deal size? Ok, so if you land even one deal from something you learned or a connection made at this event, you're way on top! I bet even 2 SQLs cover your ticket price, right?

If you learn one new thing you can implement at your company, what is that worth?

Is your company hiring? This is a great place to find talented salespeople who actually care, and who want to master their craft as a salesperson.

You can finally meet face to face with those big wigs at Company X. They desperately need your solution, but you haven't been able to get in touch… until now!

Hey boss, do we like saving and making money at this company? Because what we're able to implement in our sales process after attending this event will do both.

Lastly, If you're not investing in your employees growth, then your employees will find someone else who will.
Grab your tickets NOW! The 50% off discount will be valid for the next 24 hours only! Click here to register.