Editors Note: Guest post by Sean Gordon, CEO of Intelliverse
With the end of the year quickly approaching, companies are setting strategies in place for success in 2016. This is especially true for sales teams, as the sales cycle typically lasts for months and requires extensive preparation well in advance. However, this year teams are faced with limited time to prepare because of a shorter fourth fiscal quarter.
HubSpot predicts that 34 percent of sales reps will ultimately miss their quotas in 2015. To avoid a repeat situation in 2016 and set teams up for success, companies need to properly prepare. The first step is to understand their 2016 sales goals, which can easily be calculated using a strategy called The Rule of 78.  
The Rule of 78
The Rule of 78 is a formula that can quickly estimate a full year's worth of revenue for organizations that have a recurring revenue model. This formula not only helps create monthly sales goals throughout the year, but it also provides insight into where sales organizations need to be now in order to meet their January 2016 goal. This is the most important goal to meet in order to be on track for the remaining year.
So why 78?
If you acquire one customer in January that signs a one-year contract, you'll charge them the same recurring fee for the next 12 months (12+11+10+9+8+7+6+5+4+3+2+1=78). For example, a new sale of $100 in January will be calculated as $100 x 12 = $1200 for 2016. Then, if you bring in another deal in February, it will be calculated as $100 x 11 = $1100 for 2016. In March, that same deal with a new customer brings in $1000 ($100 x 10=$1000) for 2016. The below chart details how you can leverage 78 months' worth of revenue in a year based on the assumption that the same dollar amount is brought in each month.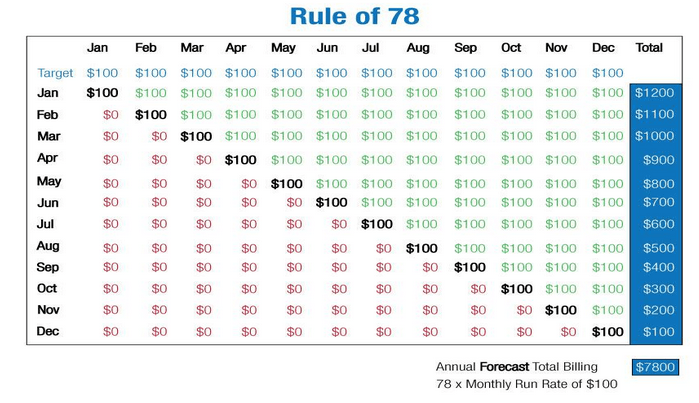 Therefore, when looking at sales quotas, sales leaders may use The Rule of 78 to determine incremental sales goals needed to exceed year-end quotas.
Here's an example of a practical use for The Rule of 78:
If the VP of Sales wants to bring in $1,000,000 of new revenue in 2016, divide $1,000,000 by 78, which is $12,821

$12,821 is the monthly revenue needed to meet the goal $1,000,000 by the end of the year

If your sales team is comprised of five sales reps, then divide $12,821 by 5 to get $2,564

Therefore, each sales rep needs to meet the monthly sales quota of $2,564 to meet the $1,000,000 year end goal set by the VP of Sales
If taking the Rule of 78 into consideration, it's almost impossible to start activity in January 2016 and make your numbers throughout the year. This is because the average sales pipeline for most organizations is anywhere from three to four months, depending on your target audience. With that in mind, sales teams need to build a strong pipeline today to carry them through not only the first month, but also the first quarter of 2016.
Putting The Wheels In Motion
Once sales leaders better understand goals as determined through the Rule of 78, they can begin to take the necessary steps to prep their sales teams.
First, start by having conversations with not only your sales teams but also with potential prospects and current customers. These conversations will give you unparalleled insights into what worked well, what didn't and what contributed to missed goals. Potential prospects, specifically, can provide feedback on the aspects of the sales pitch that were ineffective, and customers can provide advice on what they would like to see in the product roadmap.
Additionally, better understanding and listening to your salespeople is perhaps the most important component when preparing a strategy for success in anticipation of 2016. Do your sales teams have all the tools needed to succeed including the necessary systems and technologies? Is morale high? These are key aspects that can impact performance and sales goals.
Using this data, sales leaders can create a plan for success in 2016 today. While January may seem far in the distance, sales teams need to focus on the right October to December activities to ensure a fast start on January 1 in order to set themselves up for 2016 success.