The point of event marketing is to get people excited about your brand. Frankly, that won't happen if your sales booth isn't up to snuff.
Priority #1 is audience engagement — without it, you can't communicate critical information about your company's products or services. And when your audience is not engaged, you are losing out on a huge opportunity to generate leads and build interest in your product.
In collaboration with Diana Ohlhaver, we've put together 6 simple trade show tips, plus an infographic that will go a long way toward making your next conference or trade show sales booth more effective and profitable.
Booth Sales Tip #1: Engage Early
Engage with as many people as possible before or at the start of the event.
During one of the conferences we attended this past year, the talented Courtney Muniz, reached out to every single individual on the attendee list through Twitter, LinkedIn, and email before the event. By taking such a personal approach, she was able to persuade over 25% of the attendees to stop by our booth and learn about what we do at HackerRank. Eric Taylor was able to do the same through Twitter. 
In short, be social and be proactive! It seriously pays off.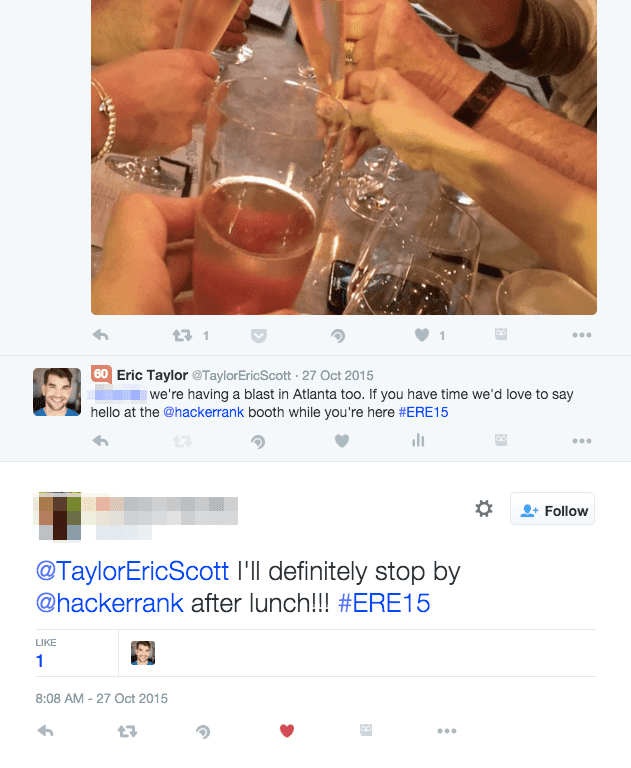 Booth Sales Tip #2:
Be Approachable
Your booth and staff should look inviting. Nobody wants to wait awkwardly for someone to put down his or her conversation or finish up an email. 
Be the first to initiate with a hello or a question, and invite visitors to sit down for a quick convo. 
Make them feel comfortable, and make sure they feel that you're interested in hearing what THEY have to say.
Booth Sales Tip #
3: Talk Less and Listen More
One size does not fit all. Ask questions, and tailor your solution to the needs of the person you're talking to. 
If possible, give examples of similar cases where you've been able to help a customer to make it relatable. People love hearing how you've helped others.
Think of this meeting at your booth like a short prospecting call.
Booth Sales Tip #4: Keep it Simple
It's crazy how many times I visit other companies' booths to learn about their products. They often explain their services or products so fast or with so much jargon, I have no idea what they've just told me. 
Explain what your company does as you would to a 7-year-old. Keep it stupidly simple.
I highly recommend practicing your company pitch to as many strangers as you can to see if they understand your value proposition. If they don't, make the necessary adjustments.   
Booth Sales Tip #5: Focus on Quality
Most companies try to get as many business cards as possible in the hopes of engaging the audience member after the event and setting up a qualified meeting with the participants. 
This strategy is incredibly inefficient. Focus on the quality of your prospects, not quantity.
You should build a real connection with the participants at the event. Focus on being compelling enough to get the opportunity to establish that next step at the event instantly. 
6. Don't Let Them Walk Away Empty-handed
Everybody loves swag and branded giveaways. 
Even if they're only taking it for their co-workers, kids, or dog, your brand is going with them, and it will stick around as a constant reminder of you. 
At the very least, make sure to give them your business card, you don't want anyone to leave your booth empty-handed.
Bonus Sales Booth Tip: Follow up with event leads without taking time from salespeople
After you engage with people at a trade show, it can be tempting to follow up immediately with massive amounts of calls and emails. But remember that they're getting the same from everybody else. 
It's better to not put all this extra effort on your salespeople anyway. Let your tools do the walking for you. Follow Outreach's model of how they followed up with leads in an efficient, but engaging way after Dreamforce 2018.

Now It's Time For You to Stand Out
Whatever approach you take, don't forget that sales conferences and trade shows are some of the most memorable experiences a sales team will have in any given year. 
If you devote the time and energy to making your sales booth stand out in a positive way, it'll pay off.
This short list is just the tip of the iceberg to engage with conference attendees. What are some of your favorite sales booth ideas?