For many organizations today, the lead generation process is the Achilles' heel of business development. Our ultimate guide shows you how to generate leads the right way, and how to do it consistently.
They spend tons of money to hire closers — salespeople who are fired up and ready to close deals— but they aren't generating enough leads to keep the organization busy.
How can your organization build a lead generation strategy that gives your team of closers a consistent flow of qualified leads?
This guide answers the most pressing questions about building an effective lead generation system, so you can implement the right process that keeps your pipeline full — and your salespeople busy closing deals.
What You Need to Know About Lead Generation:
Related: Top 50 Lead Generation Tools in 2023, Ranked & Rated
What is Lead Generation?
Lead generation can be defined as the process of attracting prospects and converting them into consumers of your product or services. Companies may use various strategies to achieve lead generation. Lead generation is the crucial first step in the sales process. At its root, it's about gaining the attention of the people who are most likely to buy from you.
Lead generation strategies include:
Blogging
Email marketing
Website Landing Pages
Coupons
Networking
Live events
Webinars
What Is Lead Generation?
Any activity that stimulates interest in a product/service and attracts potential customers for the purpose of filling the sales pipeline.
Some of the most effective lead generation activities today include digital marketing, cold emails, cold calls, SEO, webinars, paid search, social media, and online advertising.
Why Is Lead Generation Important?
We all know closing deals is important. What we frequently forget is, unless we keep the pipeline topped off, there won't be any deals to close.
That's why, to hit sales goals, every business must figure out how to consistently put leads into the pipeline.
Lead generation stimulates interest in a product/service and attracts potential customers for the purpose of filling the sales pipeline.
Some of the most effective lead generation activities today include digital marketing, cold emails, cold calls, SEO, webinars, paid search, social media, and online advertising.
Lead generation is the crucial first step in the sales process. At its root, it's about gaining the attention of the people who are most likely to buy from you.
The currency you'll use to gain attention? Trust and relationship.
The Foundation: Overcoming Attention Overload
Today's consumers are inundated with calls to attention. They get hundreds of emails in their inbox every day. They're bombarded with thousands of marketing messages. And they're juggling priorities both at home and in the office.
The digital marketplace has made it easier to connect with people, but it's multiplied the connections we manage on a daily basis. So to stand out, you need to rely on two factors that people subconsciously use to choose where they spend their attention: relationship and trust.
In other words, you need to overcome attention overload.
To understand how to do that, we need to explore two concepts that explain why people open one email and not another, or reply to one phone message and not another.
These concepts? "Rented attention" and "owned attention."
Rented attention is like old-school advertising. It's about leveraging someone else's audience and paying for a piece of the attention they've already earned. Years ago, that meant full-page ads in your industry's most popular trade magazine, or radio spots on the station your audience tunes into during their rush hour commute. Today, it's about asking someone to sponsor a blog post or email.
Owned attention is hard-won by offering so much value that you become the go-to resource for your industry. In this case, you're the digital magazine that everyone else wants to buy ad space on. Or the podcast that people line up to speak on.
Ultimately, if you've got owned attention, you've probably also got a huge email list and an engaged following on social media. People trust you and pay attention every time you speak.
Now, here's why this matters so much…
Every day, your leads are checking their email, scrolling through multiple social media platforms, and checking their phone messages. Time is limited and, by default, so is their attention. If they know and like you, they'll stop scrolling and open your email. If not, you get a quick glance and a swipe. That's it. Game over.
Today's consumers understand the tactics you're using, and they don't have any patience with them. So you need to work hard to overcome this attention overload and earn their trust. Your only other option is to pay to play — rent attention by buying ad space or mentions from someone who already has their attention.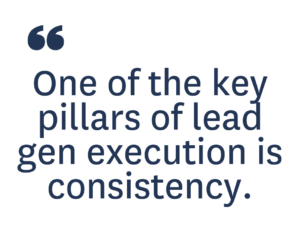 The Process: The Key to Consistently Generating Leads
To succeed in lead generation, you need a structured, consistent, and repeatable process that regularly puts leads into the pipeline.
The key word, of course, is repeatable.
Without a repeatable process for generating pipeline — and ultimately creating leads — the sales team must generate their own leads. Time spent on lead gen means less time closing.
That's rarely a formula for success and usually leads to frustrated salespeople, sales managers, and senior managers who can't achieve their revenue goals.
But have no fear. We'll walk through the process of building a strategic lead gen process in just a minute. But first…
What Is a Lead Generation Strategy?
A lead generation strategy is essentially a well-thought-out process for getting qualified leads into the top of the pipeline.
To formulate a lead generation strategy, you must first consider this: What are the key sources of business opportunities that you can regularly bring into your funnel so your sales closers can do their job?
Every lead generation strategy begins with identifying the absolute best, simplest, and most reliable sources of leads for the organization.
This isn't a one-size-fits-all scenario.
Different organizations have different ideal sources of leads. And at the same time, every company will have different processes for optimizing those ideal sources. Let's quickly review what's working today.
The 5 Steps To The Lead Generation Process
Any strong lead generation process essentially looks like a seamless combination of all the different strategies and tools you have in place to generate leads.
As one of my mentors always used to say, "You want to have many oars in the water."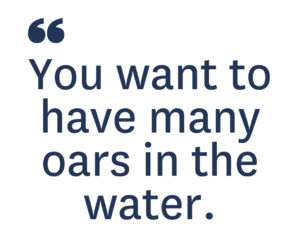 That means not relying on only one way to generate leads, but instead combining different lead generation strategies into a sequenced campaign to maximize the likelihood of generating an appointment from each individual outreach.
Combining your lead generation tools into a well-thought campaign is often one of the best ways to lay out your lead generation process.
So, for example, let's say you identify a certain ideal prospect and create a list of people who fit that criteria.
Next, you ask, "How am I going to reach out to these people?"
Well, you start to combine the lead gen strategies we mentioned earlier in this guide: cold emails, cold calls, asking for referrals, identifying shows or conferences to attend, etc.
You can even work with your marketing team to put together direct mail pieces or letters to get in front of your prospects over a sequence of events, so by the time you actually get them on the phone — or by the time they actually reply to that email — they already know who you are.
And, here are the 5 steps to having many oars in the water…
1. Set a goal
Before setting your objective, have a sit-down with your sales team and discuss what you'd like to achieve with the lead generation process. Have a clear goal that  makes the process easier for everyone within the team. Your objective should be attainable and clearly defined.
2. Create a plan
After setting a target, the next step should be formulating a plan. This is the next step in the lead generation guide. A lot of research goes into this process, including getting information on your target market, using surveys and questionnaires to come up with an Ideal Consumer Profile. Gather as much information about your ICP as you can, such as full name, email address, company name and state/country.
Lastly, do not neglect social media profiles — these are gold mines for data.
3. Simplify your message
Concentrate on crafting a simple yet authentic message that communicates your value and appeals to your prospect's pain points. Tone is important in this step — it should be conversational and friendly. As a sales representative, you want your prospect to feel like they can trust you — hence the importance of a friendly and relatable tone.
Use the most straightforward lead generation tactics first, e.g. emails and social media marketing and work your way to the expensive methods such as in-person meetings once you develop a working relationship with your lead.
Create valuable content and offers, implementing trending keywords and catchy article titles that appeal to the client's weak spots.
4. Develop a process to respond to leads
Create a response process that outlines how you intend to attract and respond to leads. The process may take the form of a web page, email address or phone number that leads will be directed to.
Customer Relationship Management tools such as Freshsales are useful for this step, since they automate and streamline the response process.
5. Maintain a lead database
Maintaining a database includes identifying which leads are worth pursuing, and nurturing. Also, you'll be able to identify which leads are not worth buying. Using lead scoring helps you track your leads. Better yet, it lets you prioritize them according to their value.
This process helps you target better leads and evaluate existing ones.
Top Lead Generation Tactics Today
The top sources of leads for businesses today are email, content marketing, and search, followed closely by live events.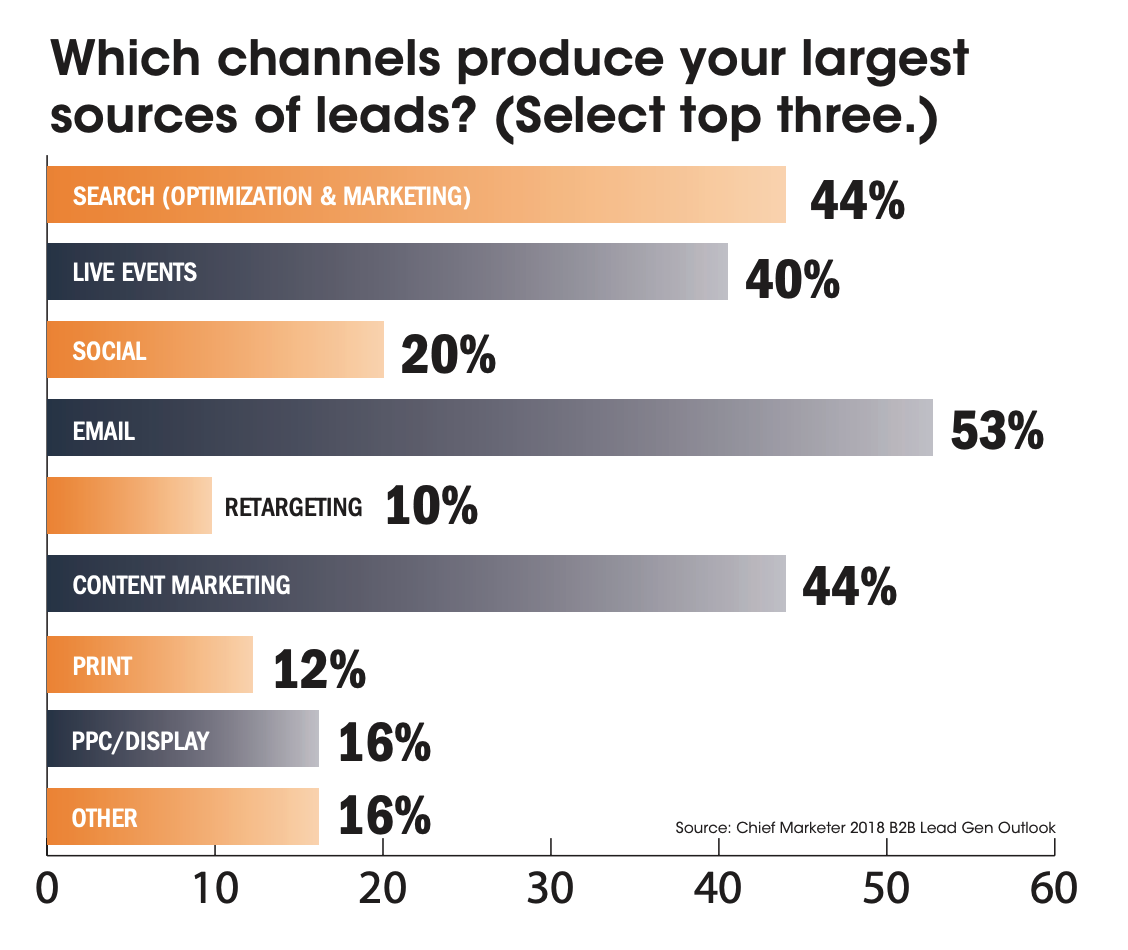 It's worth focusing on content marketing for a moment, especially since it's the fuel that drives most lead gen offers you'll make.
Content marketing has been one of the most popular (and strategic) lead generation tactics for years. That's because it informs prospects — giving them insight into their problems, your solutions, and what they can expect. Also, it can be valuable at every stage of the buyer's journey.
At the top of the funnel, when buyers are either unaware that they have a problem or unaware there's a good solution, content can attract people hungry for what you offer.
Blog posts, articles, and books
Speeches, webinars, and other presentations
Infographics, slide decks
In the middle of the funnel, when people are exploring their options, content can help them self-qualify and find the features and benefits that are most appealing to them.
Reports and surveys
Training and how-to guides
Templates, checklists, and other resources
At the bottom of the funnel, when people are considering a purchase, content can help them move off the fence and pull the trigger on closing the deal.
Case studies
Customer success stories
White papers
Simply by creating content and optimizing it for organic search, lead generation can be happening 24/7, building lists that your sales reps can then use to nurture leads and drive sales.
Keep in mind, though, that because content marketing has become so prevalent, it's getting harder to stand out. That's where owned attention comes into play. When you're well known in the community, even if someone doesn't already know you, they know who you are. There's a little more trust there from the get-go.
But let's assume you don't have much owned attention.
It's actually possible to create the name recognition you need to get noticed — even if you're a completely new connection. You do that by simply making enough touches in enough different channels to be noticeable.
That's why it's important to have a mix of lead generation activities. For example:
Live events
Email
Direct mail
Pay-per-click and display ads
Social media
How do you choose? You'll need to test different types of content to see what works.
Choose one or two types of lead generation activities and test their results. If something works, double down on it. Try to tweak your efforts to get even more leads. If something doesn't work, either test a new approach or try another activity.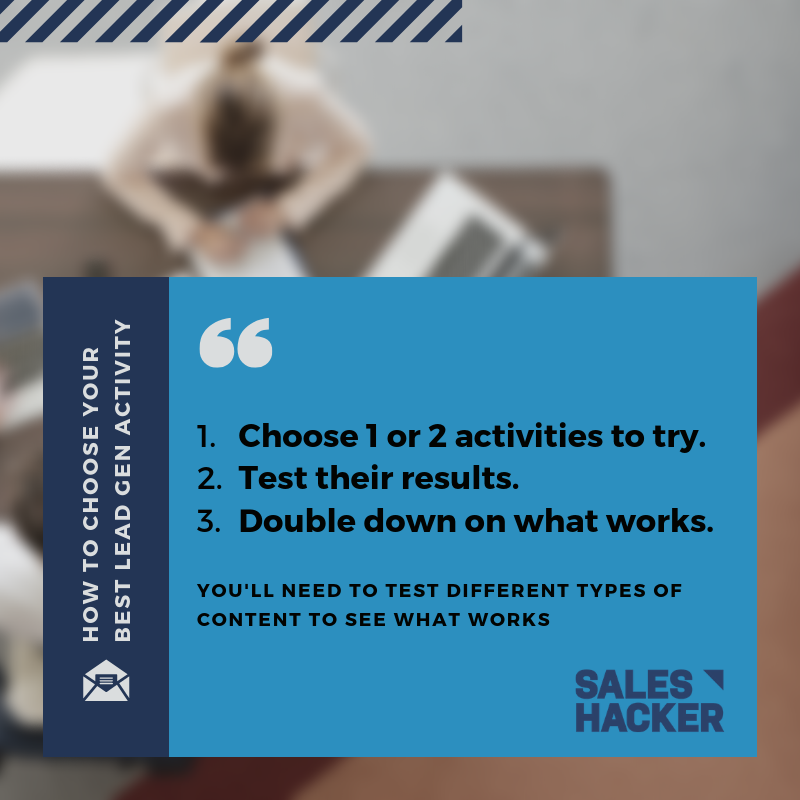 Be aware, if you want to focus on an activity that you aren't equipped to do now — either because you don't have the budget, tools, or manpower — that's okay. Set milestones for when you can try them. For instance: when we have 10 people on the team, or when we have a $XX advertising budget.
How to Keep Your Lead Generation Process Running Smoothly
Once you've identified the lead generation tactics that work best for you, the rest of the lead generation strategy is all about who is doing what:
Who will be in charge of ensuring that your lead gen processes are running?
Who will make sure the people generating those leads are using the most effective tactics?
Keep in mind that closers are rarely the best-equipped to be in charge of lead generation. Let them focus on working the pipeline. Let your SDRs or BDRs generate leads and qualify them, so the pipeline is filled with sales-ready prospects that your closers can work with.
Create Your Lead Generation Strategy
To set the foundation for your lead generation strategy, you need concrete answers to these critical questions:
Who will manage your lead generation activities?
Are they focused on outbound strategies through cold email, cold calls, generating referrals, or direct mail marketing?
How can you really optimize each piece to ultimately maximize the lead generation strategy?
Take your time. Base your answers on your resources and budget. Understand that your strategy will change over time, so you don't need to worry about making a mistake. There's no such thing as a "wrong" answer to these questions.
How Do I Start The Lead Generation Process?
First and foremost, having an inbound lead generation strategy is critical for B2B organizations.
Your goal is to create multiple "doorways" and "entry ramps" for people to find your organization and learn about what you do.
How to Start Generating Sales Leads
Albert Einstein once famously said, "Nothing happens until something moves." You must take action to:
Come up with your own lead generation strategy and implement it.
Go out and use the tools.
Come up with an accountability plan for what you are going to do on a daily or weekly basis to generate the number of leads you (or your team) needs.
When I work with clients on this, we often start backwards.
We begin by analyzing this question: "How many sales do we ultimately have to generate?"
From there, we proceed to ask ourselves, "How many leads do we have to generate to hit those sales numbers?"
Lastly, we conclude by answering this question, "What do we have to do on a daily or weekly basis to generate all those leads?"
Once we have a clear idea of the mix of activity, it's merely about executing the plan. And one of the critical pillars of lead gen execution is consistency.
We don't want to make 200 cold calls on one day and 0 calls on other days. We want to consistently track the number of cold calls, emails, and referrals for a week or a month. That way, the process comprises manageable amounts of activities that will generate leads.
Generally, you'll do that in two ways: inbound lead generation and outbound lead generation.
Inbound Lead Generation
What Is Inbound Lead Generation?
A lead generation strategy that uses high-value content in funnels and marketing campaigns to attract your ideal prospect and incent them to opt-in to your list.
While the emphasis is on providing information (not selling), when it's done right, inbound campaigns can attract sales-ready leads who are actively looking for a product or solution like yours.
Think of inbound strategies as lead generation activities that gain attention, build brand recognition, and attract website visitors.
They tend to provide a consistent flow of cold leads, which takes some of the pressure off your outbound lead gen strategies. With an inbound strategy in place, potential prospects:
Find you
Look for you
Read your content
Raise their hands to indicate they're interested in having a conversation
These are, of course, the pinnacle of leads for most organizations. For that reason, having a consistent process for putting out high-quality content is crucial.
Here are my 5 steps for getting your inbound process set up:
1. Create a targeted leads list.
You need to know exactly who you're targeting, and you need to be sure they're the right people to target.
Do specific company research to understand the DNA of your best customers. Use a search tool like LinkedIn, and enter your best customers. For companies, study their industry and revenue. For people, look at their age, income level, geolocation, housing value, and other demographic data.
2. Map out your entire prospecting campaign.
Don't try to wing it. You need a clear visual of the entire campaign. Like this: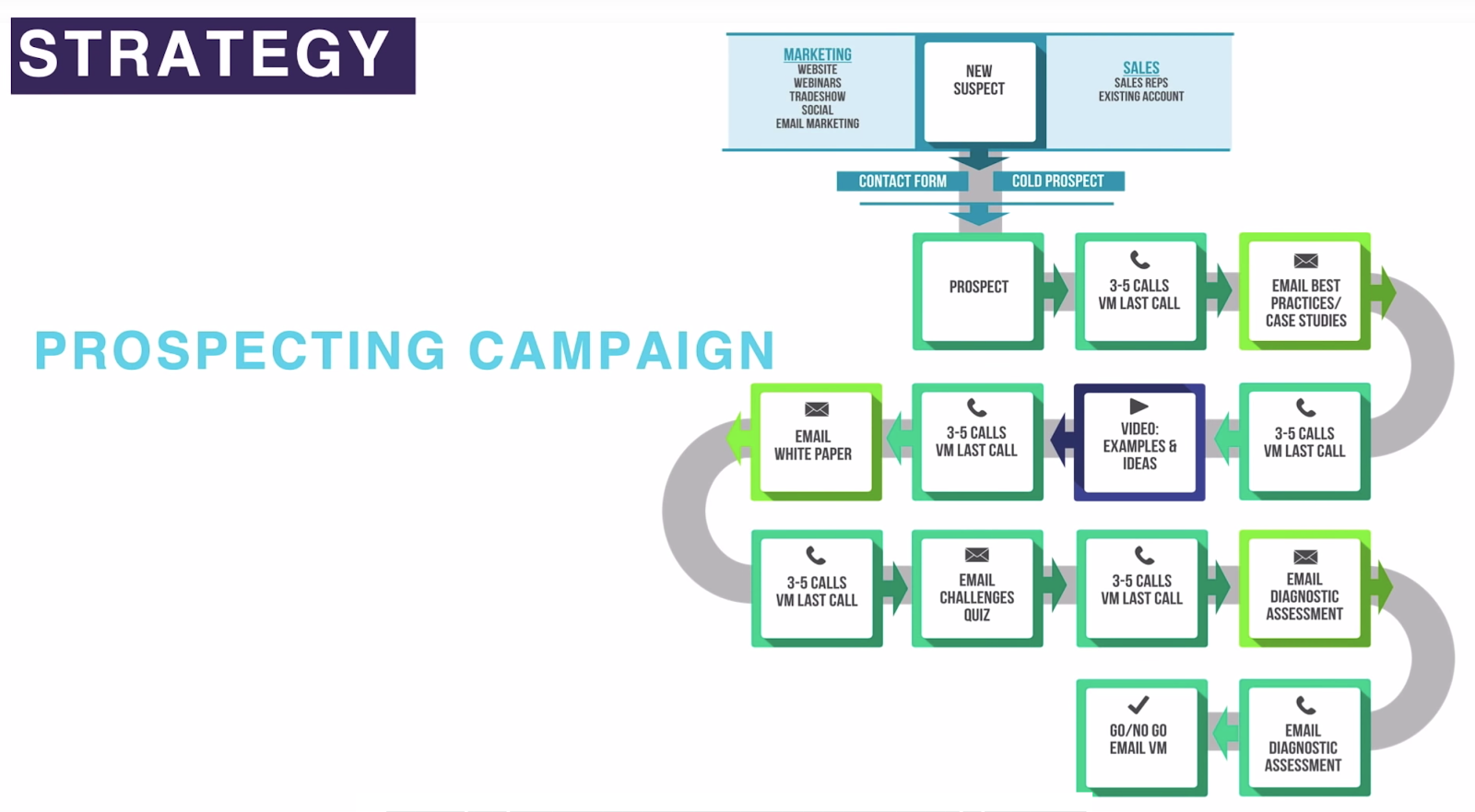 You need to know exactly what you'll do at each step, whether that's sending a direct message, email, or making a call.
3. Map 20+ touches over the course of a month.
Research has shown that sales reps are making way too few touches. In reality, it takes 18 touches to get an appointment. But, of course, 20 or more touches can be hard to manage, so you really need to stay organized and follow the process.
4. Use all of your tools.
You may have your favorite channel or tools, but it's important to use everything at your disposal. That's how you build name recognition and trust, so you earn people's attention.
It's a good idea to use a sales engagement platform that brings all your tools under one roof. That way, you'll get reminders that kick you in the butt to get you to take that next step, and you can dial a call or send the next email in your sequence from that tool.
5. Repeat, repeat, repeat, and repeat again…
Follow the strategy. Stay within the system. Always take the next step in your sequence, so you can continually refresh your leads list and reach out to new people.
One more thing: Be sure to take notes within your CRM. Think of it as your Prospect Relationship Manager (PRM), and track your relationship with each lead.
Outbound Lead Generation
What Is Outbound Lead Generation?
This is any lead generation activity, such as direct mail, cold calling, or cold email, that is pushed out to a target list that's based on demographics, industry, or job title rather than any behavior that indicated interest.
In most cases, with outbound campaigns, you have no idea whether the recipient is interested in your offer. The campaign is designed to pique that interest and drive action if they are.
In an outbound lead generation strategy, there are a couple of key methods for generating sales leads. Let's take a close look at the ones that are most effective today.
Cold Email
In today's marketplace, for outbound lead generation, cold email is the #1 preferred tactic. Cold email is really the cold call of the 21st century.
But it's not about sending a blast email out to 10,000 people using your Constant Contact or your HubSpot account. Instead, effective cold email is about creating highly personalized sales outreach that:
Connects with the prospect in a human way
Shows that you've done your homework
Convinces the prospect that you understand their issues
Ultimately, these emails should lead to prospects replying and giving a positive response. Cold email outreach has proven to be effective. But the key — even when done at scale using tools for automation — is extreme personalization for each prospect.
Cold Calling
Cold calling is another important way to generate sales leads. (No, cold calling is not dead yet. It does work.) However, cold calling can be frustrating because it's a very low-yield activity.
When done right, it can generate sales. But for that to happen, you must:
Show that you've done your homework
Make it clear that you know who the prospect is
Make sure that what you're offering is relevant to the prospect
As with cold email, a keys to effective cold calling is to only call the right people.
You want to make sure you're really connecting with the buyer. If you're going to go through the effort of making cold calls, then the list of people that you're calling must truly be a list of economic buyers — the people you really want to be talking to.
Referrals and Introductions
Another no-brainer strategy for lead generation is asking for referrals and introductions. The lowest hanging fruit for this tactic is to utilize your existing client base. Talk to your existing clients about who they know in their world who might also be a fit for your services.
Most salespeople don't ask for referrals and introductions because they're uncomfortable with the idea. They think asking for referrals will make their clients frustrated or angry.
But in the 15 years that I've been doing this, I've never heard of a single salesperson losing a client for asking for an introduction to another business.
By not asking for introductions to new sources of business, you're missing out on tons of opportunities to acquire new leads.
Resells and Upsells
Of course, another strategy for lead gen is simply to sell more deeply to your existing clients. That is, get in front of your clients and sell more to them.
Most organizations and salespeople are satisfied with the initial sale, but we can often actually sell much more deeply to our existing clients who already like and trust us.
Consider: What can you be doing to help them improve their businesses? If a client is generating you $50,000 a year, how can you turn that into a $250,000 a year account by simply providing more services and offerings that allow them to accomplish their key objectives?
Conferences and Networking
One final key source of lead generation is conferences and networking. If you can identify places or events where your ideal prospects are going to be, get there.
Do whatever you have to do to be there. If it means participating in the trade show, participate in the trade show. If it means just going to the conference as an attendee and talking to people, do that.
But before you go to any conference or trade show, create a specific plan. Identify who you want to talk to, so you maximize that opportunity.
You can also mix in some other lead gen tactics with a conference or trade show.
For example, identify who will be there and send them emails through a cold email campaign. Let them know that you're going to be there, too, and that you look forward to connecting.
You can also make cold calls to people doing the same.
And you can ask your existing clients for introductions to people who will be at that trade show.
Really leverage all of these lead generation activities to make sure you maximize your time at a show, conference, or industry event.
What Tools Do I Need to Generate Leads?
There are a bunch of amazing lead gen tools out there. What do you need? And how do you choose?
First and foremost, you want to find a tool you can use as an actual source for generating the lead data, such as a list company that can give you access to high-quality databases of prospect information.
The other key tool that any lead generation person should have is LinkedIn Navigator, which is one of the absolute best ways to identify your prospects by industry, by title, or by organization size.
Once you have identified who you're going to contact, you need a suite of tools to reach out to your leads.
Of course, you're going to need a phone.
And you're going to need your CRM system to organize those calls.
You're also going to want to use some cold email automation.
There are many, many tools out there for cold email automation that can help you send cold emails at scale.
Stand-alone tools:
Within your CRM:
Your sales engagement platform:
You want to start to leverage your time by using some of these tools.
From there, you can add a lot of other pieces of technology to your sales stack. But it really does start with some pretty simple tools that will help you organize this process, and then execute on a consistent basis.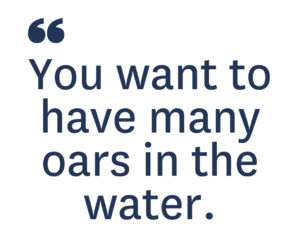 You Have a New Lead. Now What?
Lead generation is just the tip of the iceberg to the entire sales process, there are other processes that happen after getting a lead such as following up and implementing sales techniques.
Nurture the new lead:
After Lead generation comes lead nurturing which involves following up on the prospect and engaging them with the aim of building a relationship.
As a sales person, you want to convert your lead into a potential customer. To do this you must establish trust. Two ways you can achieve this is by using a personable tone and creating content that is catchy and valuable to the lead.
Create valuable content for the new prospect:
Ensure that your content is aligned to the prospect's interests and pain points. You can include it in your emails, website and social media profile. To increase your reach, a multichannel distribution approach is the perfect option.
Maintain communication through multiple channels:
Your channels should be interconnected to maintain communication across various channels. This is where marketing automation comes in. This technology is revolutionary since it streamlines and automates your marketing efforts to improve efficiency and increase sales and revenue. It also ensures that your leads receive the most relevant information at the most important time.