Revenue growth requires modern organizations to adapt and change with our current complex landscape.
We're in a post-pandemic recovery, looking down the barrel at an economic recession, with growing inflation. Adaption is more critical now than even two years ago.
"In life, change is inevitable. In business, change is vital." – Warren G. Bennis
Because of this, companies have become hyper-focused on the top line of their business. Unfortunately, this makes growth and profitability a challenge.
And it's safe to say, not everyone is thriving.
As cross-functional leadership teams across the country clamor to prioritize and agree upon the top threats to address, many underestimate the importance of effective change management.
Related: 6 Change Management Hacks for Sales and Marketing Alignment that Lasts
Here's why the majority of change initiatives fail and how RevOps can lead change to help their organizations evolve and thrive.
Spoiler alert: Complex org charts and fancy diagrams are not required.
Change management and change intelligence
Organizations initiate and respond to change every day, but their threshold for change can be small.
Some changes are seemingly smaller — say, the addition of new required fields for a sales team to complete in converting leads to opportunities.
Some changes, like expanding into a new global territory, are larger and require months of work from many cross-functional teams. These require active change management.
And when approached with change intelligence, change management can elevate organizations and those working for them to a more evolved and meaningful place.
Change intelligence is an idea developed by leading authority on change leadership, Barbara Trautlein, in her book of the same name.
Change intelligence demonstrates the power of:
leading with the heart (people)
to better engage the head (purpose)
to better employ the hands (process)
This approach, when applied with genuine support, commitment, and resources, is a proven recipe for long-term success of enterprise-wide transformation.
And the stronger a company's change competencies become, the better equipped they are to handle more the complex changes necessary to achieve a strategic advantage over their less resilient competitors.
Why the majority of change initiatives fail
Even with the numerous change management tools and strategies that have emerged over the decades, over 70% of change initiatives fail.
One of the biggest common denominators for why change doesn't stick or produce the desired results is the people responsible for implementing the change aren't on board.
As a result, change management experts leading with change intelligence put people at the center of their approach.
Research shows that when staff feel prepared and supported, organizations are:
6x more likely to meet project objectives
5x more likely to stay on or ahead of schedule
2x more likely to stay on or under budget
To quote Conga's Digital Transformation Officer Aishling Finnegan, "When organizations change, I try not to forget that people need to change with them."
Related: How to Hire Your First RevOps Specialist
Why RevOps are the ultimate change-makers
In RevOps, we're often responsible for strategizing change initiatives within our organizations. And we implement the cultural, technological, or operational shifts needed to achieve our revenue and growth goals.
We also have the benefit of being respected, trusted leaders in our companies. People trust that we use data-informed strategy to steer our executives in the right direction — and our leadership skills to align people, processes, and systems around our common goals.
Related: Getting Started With RevOps: Setting the Foundation
In essence, RevOps are the quintessential "growth hackers" — shaking up the status quo to optimize the revenue lifecycle, recruiting the best people and processes to help them get there as efficiently as possible.
Who better to lead change?
A 7-part strategy for RevOps to deliver transformational change
1. Map out your change management strategy
In any new venture, you need a map to guide your course.
Likewise, you need a well-defined strategy to serve as a blueprint for managing change effectively.
To develop a comprehensive change management strategy, get clear on the current issues and desired outcomes, while carefully considering the impact across the organization's systems, processes, and culture.
At a minimum, a change management strategy should include:
Key reasons for change, goals & objectives
Scope & timeframe
Changes in leadership team, roles & responsibilities
Communication plan for stakeholders, employees & end-users
Progress indicators & milestones
Most importantly, do not change every piece of your business or processes all at once. This not only puts your organization in a place of confusion, it can also cause errors, training challenges, and lack of adoption by employees.
2. Place your people front and center
Strategic planning is essential for change, but it's only one part of the success equation.
Any change can wear on teams, and the more poorly the change is handled, the more likely you'll experience voluntary employee turnover. Employees are expensive to replace.
Here's another reason to prioritize employee buy-in: McKinsey found companies identify resistance from employees and management as the biggest contributing factor to failed transformation programs.
As frustrating as resistance can be for those leading change initiatives, for those on the receiving end, the fear is real — and understandable. Change within a company ignites genuine concerns about job security, competency levels, and workloads.
Use the principles of change intelligence to put your people first — the change will follow.
3. Create a compelling vision for change
To inspire change across an organization, you must create a vision of the future that is significantly better than the present one.
This requires creating an emotional connection to the end goal that inspires everyone to push through the discomfort of getting there.
"Unsuccessful people will base their situations on the current situation. Base your decisions on where you want to be." — Aishling Finnegan, Digital Transformation Officer, Conga
To convert change skeptics into champions of change, you need to effectively answer the classic WIFM? (What's In It For Me?) for each person — from the top executives to those in the proverbial trenches. The approach won't necessarily be the same for all departments or levels of seniority, but the result needs to be.
For instance, leadership will most likely be swayed by data and dollar signs while legal and admin teams might be more motivated by more efficient processes and less cumbersome workflows.
Related: How RevOps Can Use Sales Readiness Data for More Predictable Revenue Growth
4. Rally your change champions
You must recruit a core team to promote your cause for change beyond the designated change management team.
Executive sponsorship is one of the most effective ways to promote change initiatives, but you also need to involve employees at every level to ensure company-wide support and success.
Aim to assemble a cohort of respected individuals and opinion leaders from different teams who are enthusiastic about the change and can influence others to get on board.
Another proven tactic is to win over your most outspoken critics. If you can succeed in transforming your biggest skeptic into your greatest champion, the case for your cause will no doubt be seen… and heard.
Do this by getting to know your critics. Take the time to understand what drives their perspective. What are their objections? What value do they need to see to buy in?
5. Align your trajectory, teams, & technology
Armed with a compelling vision, a clear strategy, and a crusade of champions, it's time to put your change strategy into action, aligning forces across the organization.
In RevOps, we are already skilled at eliminating traditional cross-team silos that threaten collaboration, efficiency, and business outcomes.
These are the same skills we can use to effectively lead change—working both vertically, to elicit continued support from leadership, and horizontally, to align teams, systems, and processes to achieve goals and outcomes.
Teams also need unified systems and platforms to optimize collaborative action and streamline workflows. If digital transformation is the change initiative, adequate training and support needs to be planned for and provided throughout the entire change process for smooth, efficient transitions.
6. Implement effective communication channels
To enhance widespread adoption and project outcomes, you must implement a clear communication strategy that keeps everyone informed, engaged, and motivated.
The strategy should include how you will roll out the change, and at a minimum, should aim to:
Create transparency about what change is happening and why
Communicate the benefits and impacts for those affected
Share what support and resources will be provided
Create open and/or anonymous Q&A and feedback forums
Communication tools such as surveys and Q&A sessions can also help strengthen trust between employees and leadership as well as provide insight into issues or ideas to improve project performance and outcomes.
7. Keep change in motion: measure, adjust, and evolve
In his Forbes article, Strategic Advisor Juan Riboldi affirms that many strategic plans fail because they are treated as an event instead of an ongoing, iterative process.
After your change strategy is rolled out, it's important to schedule regular evaluations to ensure your new initiative is performing at its best. You can integrate change measurement indicators to assess adoption rates, performance, and ROI, for example.
The key is to stay on top of potential issues and course correct when needed so as not to undermine the progress you've made or the trust you've earned among your fellow change leaders and recruits.
Final thoughts
With great change comes great opportunity…and responsibility. Leading enterprise-wide transformation requires more than fancy org charts and diagrams. To go where you've never been, you might have to build skills and strengths you've never had.
Herein lies the most crucial and challenging aspect of becoming a master of change — it starts with you. To be a strong leader, you need to acknowledge your weaknesses and do the work necessary to strengthen them, all while cultivating change intelligence — making sure you don't lose your people in your process.
---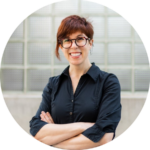 Edited by Kendra Fortmeyer @ Sales Hacker 2022